This Tater Tot Breakfast Casserole has super creamy eggs, bacon (or sausage), and 2 kinds of cheese! It's easy to make ahead of time and is perfectly freezer-friendly!
Be sure to try my Breakfast Tacos recipe next!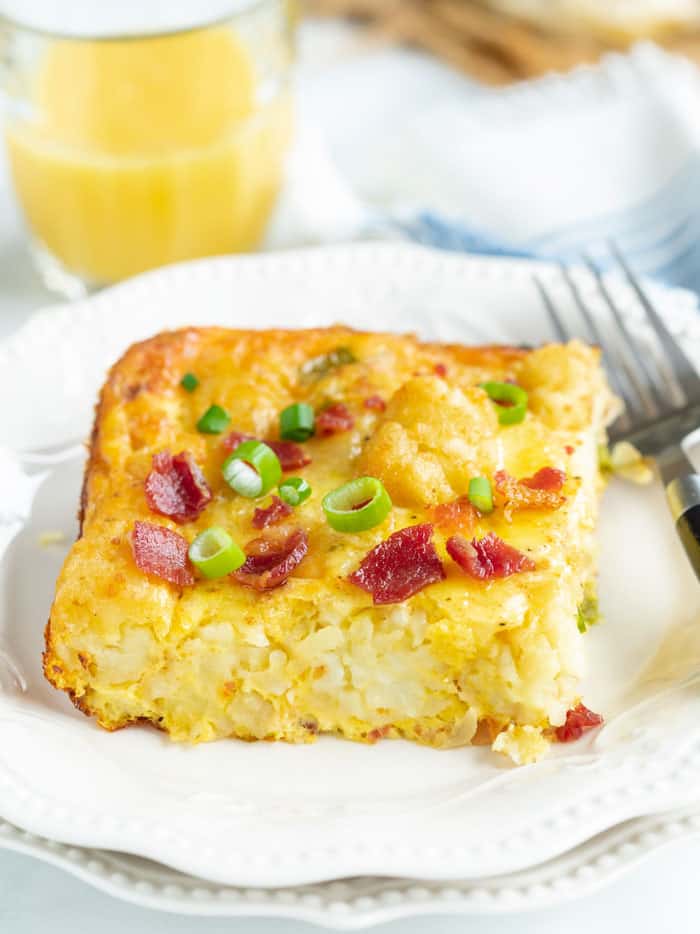 Tater Tot Casserole Ingredients
Bacon– You could also cook and crumble 1/2 lb. breakfast sausage, casings removed
Onions
Bell Peppers– Green blends really well in this casserole
Eggs
Sour Cream– The secret to extra creamy eggs
Milk– or half and half for extra indulgence
Feta Cheese– This blends really well into this casserole
Cheddar Cheese– I love using Hot Habanero Cheddar Cheese for a kick!
Tater Tots– Frozen
Optional Additional Ingredients Include:
Mushrooms
Spinach
Cherry Tomatoes
Sun-Dried Tomatoes
Caramelized Onions
Gruyere, Mozzarella, or Gouda Cheese
---
☝️ See how the top of the whisked eggs have a foamy/frothy top? Those are air pockets from vigorous whisking and will give you extra fluffy eggs, especially if baked right away.
---
---
Make-Ahead Method
Assemble casserole as instructed, but wait on adding the frozen tater tots until just before baking.
Cover and refrigerate for up to 2 days.
Let it sit out for 10 minutes prior to baking.
Freezing Unbaked Breakfast Casserole
Yes, this is possible!
Assemble the casserole (except for the tater tots). Cover tightly with foil, and freeze for up to 2 months.
Let it defrost in the fridge overnight.
Let it sit out for 10 minutes. Top with Tater Tots and bake!

Storing Leftovers
Leftovers should be stored in an airtight container in the fridge and are best if eaten within 3 days.
Reheat leftovers in a 350° oven until heated through, about 20-25 minutes.
You can also freeze leftovers for 3-4 months. I like wrap portion sizes in foil and store them in a labeled freezer bag.
Let frozen leftovers thaw in the fridge overnight prior to reheating in the oven.
A Fun Way to Use up Leftovers
Reheat, scramble it up a bit, and load up a flour tortilla for breakfast burritos!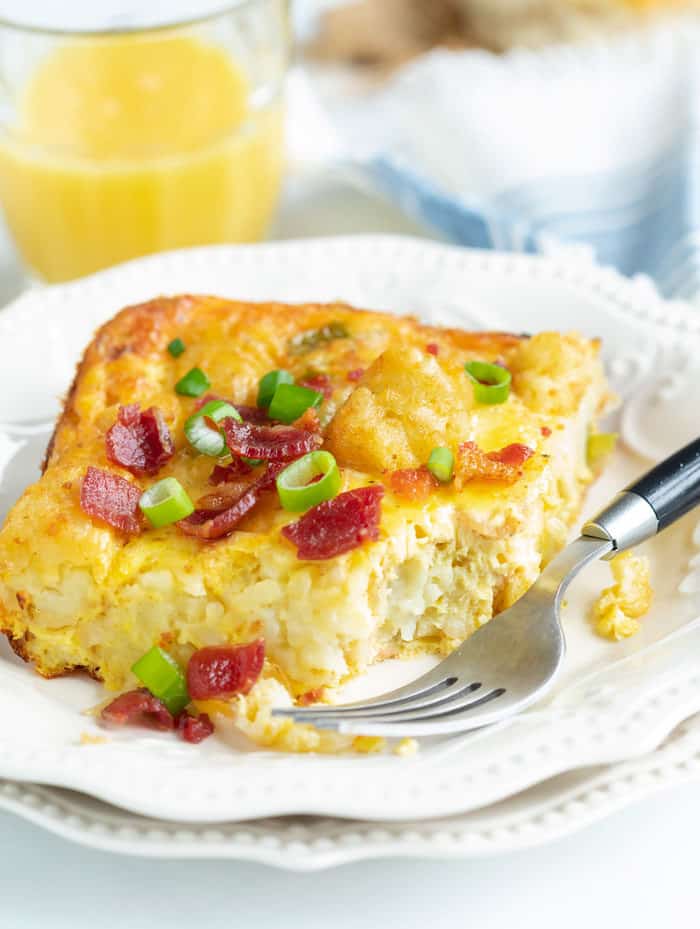 Try These Next
Get My Free Meal Plan
I've got a Free Meal Plan with 7 of my super popular recipes (complete with grocery list)! Sign up for my email list and I'll send it over now along with weekly dinner recipes!
And follow me on Facebook, Instagram, and Pinterest!
Tried This Recipe?
Leave a review, I love hearing your feedback! ⭐⭐⭐⭐⭐
Tater Tot Breakfast Casserole
This Tater Tot Breakfast Casserole has super creamy eggs, bacon and 2 kinds of cheese! It's easy to make ahead of time and is perfectly freezer-friendly!
Ingredients
5 strips bacon
1/2 cup white onion, diced
½ cup green bell pepper, diced
Salt/Pepper, to taste
9 large eggs
¼ cup sour cream, at room temp
½ cup milk
½ teaspoon cayenne pepper
1/3 cup feta
1 cup Cheddar cheese, shredded
3 cups frozen tater tots
Instructions
Preheat the oven to 375 degrees F.

Cook the bacon in a large skillet over low heat until crispy on each side.

Set the bacon aside. Once cool enough to handle, roughly chop it.

Reserve 1 Tablespoon of the bacon grease in the pan and drain the rest.

Heat the onions and peppers in the bacon drippings for 3 minutes over medium heat. Season lightly with salt and pepper.

Crack the eggs in a large bowl. Whisk vigorously with a fork or whisk to create a foamy consistency. These are air pockets that make the eggs fluffy.

Beat in the sour cream and milk until well-incorporated. Season with salt, pepper, and cayenne pepper.

Sprinkle the feta over the eggs, then the bacon, onions, and peppers. Note: You may want to reserve a little bit of bacon to garnish the top of the casserole with.

Top with grated cheddar, then with the tater tots.

Bake uncovered for 40 minutes, until the tater tots are crisp.

Let it sit for 5 minutes.

Top with diced green onions, serve, and enjoy!
Notes
I love using Cabot Hot Habanero Cheddar Cheese on top of this casserole and recommend it if you like a little kick!
---
The Tater Tots will sink into the egg mixture slightly, (this is fine!)- I like to position some tater tots on top of others so that they peek through the top without sinking down!
---
Optional Additional Ingredients Include:
Mushrooms
Spinach
Cherry Tomatoes
Sun-Dried Tomatoes
Caramelized Onions
Gruyere, Mozzarella, or Gouda Cheese
Nutrition
Calories: 423kcal, Carbohydrates: 21g, Protein: 19g, Fat: 30g, Saturated Fat: 12g, Cholesterol: 292mg, Sodium: 717mg, Potassium: 414mg, Fiber: 2g, Sugar: 3g, Vitamin A: 848IU, Vitamin C: 17mg, Calcium: 263mg, Iron: 2mg