Mouth-watering Pork Chops are lightly fried to golden perfection and are served with a simple garlic and white wine reduction over a bed of flavorful spinach and white beans. Add a fresh lemon wedge, and dinner is served!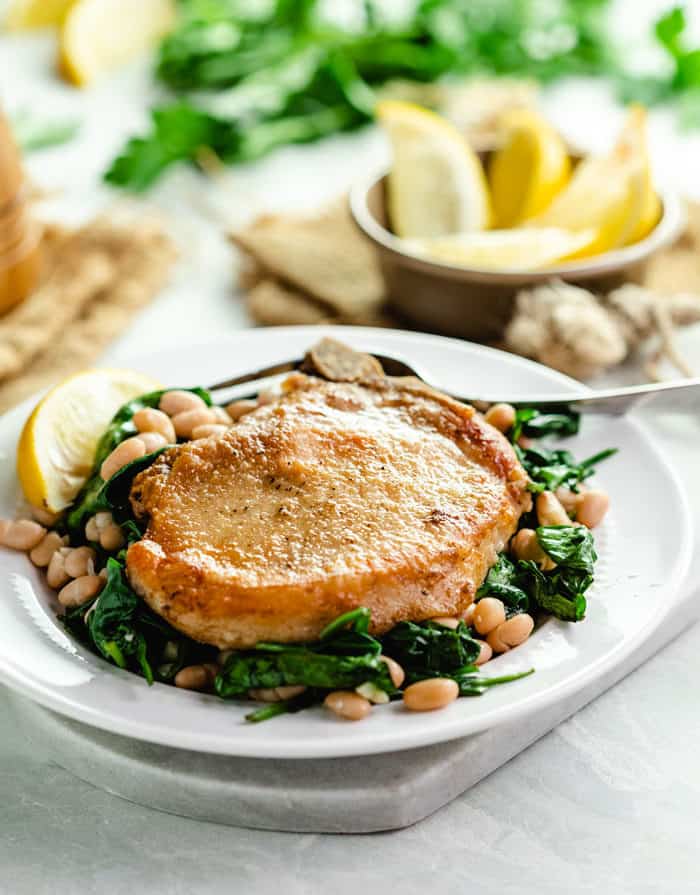 This meal truly has more flavor that you will ever guess. It's a guaranteed way to make sure that every single bite of pork chop disappears, and is living proof that a few simple ingredients can create amazing results in the kitchen.
I'll walk you through how to achieve that perfect sear, what the best pork chop cuts are, and the best white wines to use for the sauce.
I first published this recipe in February of 2017 and I have been in love with it since. Feel free to try this with chicken breast or thighs as well!
You can also make a gluten-free version but subbing the all-purpose flour for gluten-free flour.
How to Sear Pork Chops
Use a cast iron skillet for a nice, golden sear. It conducts heat the best and will give the pork chops a nice even color.
Sear over medium-high heat. The middle doesn't need to be done yet, we're just giving the outside color and texture.
Avoid moving the pork chops around as they cook, it will disrupt the sear.
If the pork chops are stuck to the pan, try giving them more time. They generally release from the pan when they're crisp on the outside and ready to flip. This takes about 4 minutes per side.
Best Cuts of Pork for Searing
Center cut, bone-in pork chops are excellent for searing because they are nice and tender.
Loin Chops may also be used. They are leaner than center cut chops.
Boneless Pork Chops work as well. They are also very lean. *Note- The lack of bone also means that they can be less flavorful than the aforementioned cuts above. *Also note, the lack of fat can create a dry texture and it's recommended that you brine them prior to searing.
This resource is a complete guide, with visuals, for all types of pork chop cuts.
Best White Wines for Cooking
Dry white wine that isn't sweet is the best for cooking. Examples include:
Pinot Grigio
Sauvignon Blanc
Unoaked Chardonnay
This resource includes a list of brands and prices of white wines that are best for cooking.
Storing Leftovers
(You won't have any.)
…But if you do, you can store these in an airtight container in the fridge for up to three days.
Try These Next!
Get My Free Meal Plan
I've got a Free Meal Plan with 7 of my super popular recipes (complete with grocery list)! Sign up for my email list and I'll send it over now along with weekly dinner recipes!
And follow me on Facebook, Instagram, and Pinterest!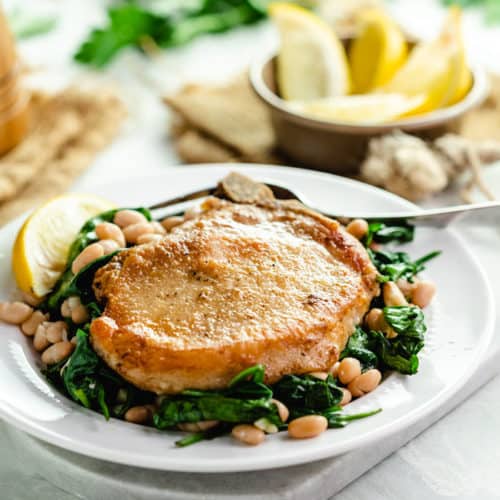 Pan Fried Pork Chops in White Wine Sauce with Spinach and Beans
Mouth-watering Pork Chops are lightly fried to golden perfection and are served with a simple garlic and white wine reduction over a bed of flavorful spinach and white beans. Add a fresh lemon wedge, and dinner is served!
Ingredients
Pork Chops and Wine Sauce:
2 Tablespoons Butter
2 Tablespoons olive oil
2 center-cut pork chops, bone-in
Salt/Pepper , to taste
¼ cup all-purpose flour
2 garlic cloves, minced
¼ cup dry white wine*, see notes
¼ cup chicken broth
1 lemon, cut into wedges
Spinach and Beans:
2 teaspoons olive oil
1 garlic clove, minced
14.5 oz. white beans
10 oz. fresh baby spinach
Instructions
Pork Chops and Wine Sauce:
Over medium-high heat, melt the butter in a large skillet (preferably

cast iron

), then add the olive oil.

Sprinkle both sides of the pork with salt and pepper, then dredge each side into the flour.

Sear each side of the pork chops until they're a light golden brown, about 3-4 minutes on each side.

Remove the pork chops from the skillet for now and set aside on a plate.

Add the garlic to the pan and cook until fragrant, about a minute.

Add the white wine and cook until it is reduced by half, about 5 minutes.

Add the chicken broth and pork chops back to the pan.

Squeeze half of the lemon over the pork chops and continue to simmer until the pork chops are a deep golden brown and cooked through, about 20 minutes. (Time varies based on thickness of the pork) – You can also put the pan in the oven at 325 for 20 minutes to finish cooking the pork that way.
Spinach + Beans:
Heat the olive oil in a large skillet over medium-high heat, then add the minced garlic and cook for about one minute.

Add the white beans and spinach and toss gently with a rubber spatula. Cook just 3-4 minutes, until the spinach just begins to wilt.

Place a bed of spinach and beans on a serving plate and top with that delicious pork! Enjoy!
Notes
Pinot Grigio, unoaked Chardonay, and Sauvignon Blanc are great cooking wines.