There's no greater comfort food than old fashioned Turkey Meatloaf. This recipe has the BEST tips for making extra juicy meatloaf, which includes adding cheese, BBQ sauce, ketchup, mustard, and more! It's all topped with an easy caramelized glaze that your family will love!
Be sure to serve this with some buttermilk biscuits and homemade mashed potatoes.

Turkey Meatloaf
When it comes to making meatloaf, there are two keys to success. You have to keep it moist and juicy, and you need to cook it to the perfect temperature.
Meatloaf can be really easy to make, but also easy to mess up if you don't follow a few simple rules. Let me tell you what you need to become a successful meatloaf maker!
Add Sautéed Vegetables
Sautéed vegetables such a onions and bell peppers add flavor, texture, and moisture to the meat.
Softening them in butter first is one of the keys to a perfectly tender meatloaf. (And picky eaters won't even notice the onions. 😉)
Be sure to add freshly minced garlic to the mix as well.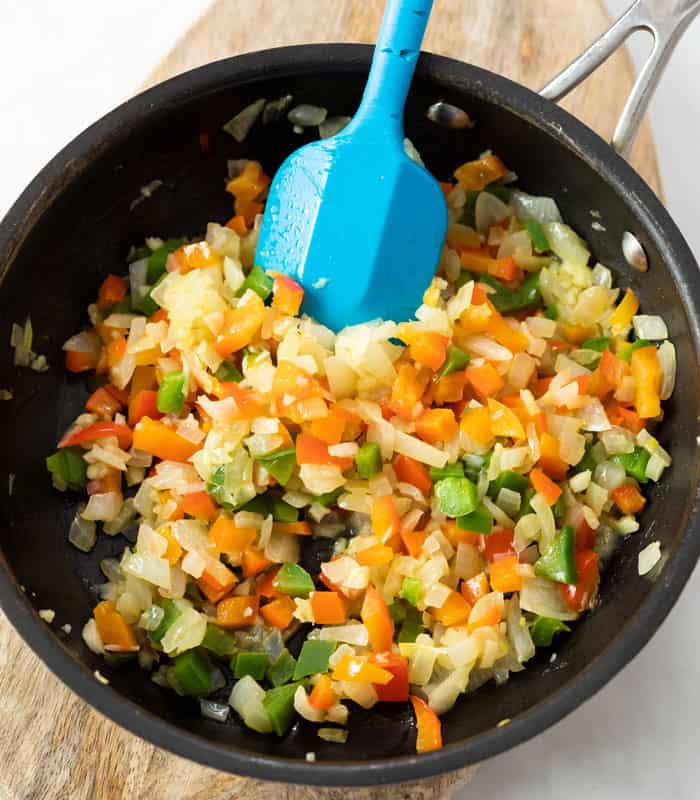 Use a Panade
A panade is a fancy word for a liquid combined with a starch. (In this case, half + half and breadcrumbs.) They combine to form a paste which gets combined with the meat to preserve it's tender texture.
When meat cooks, the proteins expand and contract and in doing so, moisture escapes. The starch in the panade turns to a gel when cooked and lubricates the fibers in the meat as it cooks.
Since turkey is particularly prone to being dry due to it's lower fat content, we're using half and half (or cream) for this panade instead of milk.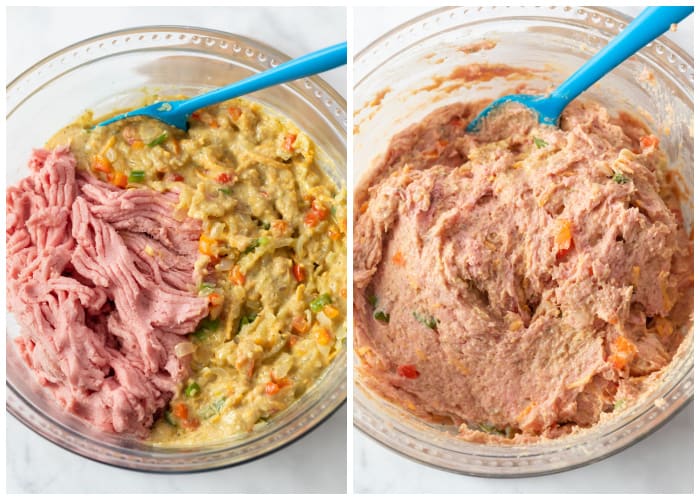 Keep it Juicy and Flavorful
Aside from the panade and sautéed vegetables, these ingredients will add additional flavor and moisture to the turkey:
2 Eggs, Shredded Cheddar Cheese, Worcestershire Sauce, Ketchup, BBQ Sauce, Yellow Mustard, Salt/Pepper.
We'll also be topping the meatloaf with a mixture that's 50% ketchup and 50% BBQ Sauce.
Don't Overwork the Meat
Combine the panade ingredients with the sautéed vegetables first, then gently fold it into the meat. Overworking the meat will cause it to be tough, handling gently keeps it juicy.
Use a Meatloaf Pan
There is controversy about using a meatloaf pan as it's said to prevent airflow which can make it tough. I've tried making too many meatloaf recipes without one, only to have them fall apart in the oven. (Except for The Pioneer Woman's Meatloaf which is wrapped in bacon, or my mini meatloaf which holds together well on a baking sheet. 😁)
Here's a trick that a Cracker Barrel employee shared with me about how they make their famous meatloaf. Use a meatloaf pan, but use your finger (or a silicone spatula, or both), to create space around the perimeter of the pan. This allows the 'crust' to develop more but also leaves room for airflow and meat expansion. This is the perfect method for juicy meatloaf that will stay together.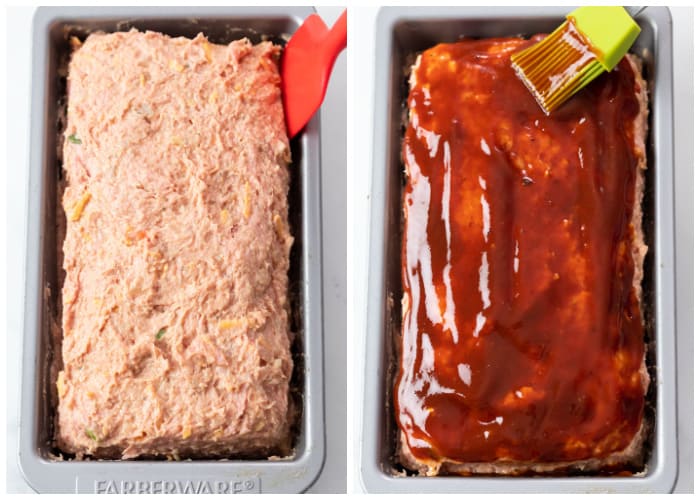 Bake at 325°
Baking at a high temperature can result in dry meat. 325° ensures that it stays nice and juicy.
How Long to Bake a 2 lb. Meatloaf
It takes approximately 1 hr +35 minutes to bake a 2 lb. meatloaf at 325° if you let it rest in the pan for 15 minutes afterward. (We pull it at 155° and it finishes baking outside of the oven.)
All ovens vary slightly so be sure to check out my next tip.
Use a Meat Thermometer
All ovens cook differently and it's important to pull the meatloaf from the oven when it hits 155°. It will increase in temperature 8-10° more when it rests. It's safe to serve once it's reached 160°.
See tools section below for recommended thermometer which can be read without opening the oven.
Let it Rest
Let the meatloaf rest for at least 10 minutes prior to slicing it. This is crucial. Not only does it prevent the juices from running out of the meat if you slice in too quickly, but it continues to rise in temperature 8-10° during this time, which finishes up the cooking process.
Make-Ahead Method
Combining the ingredients and forming your loaf a day ahead of time can actually improve flavor as everything has a longer chance to combine and blend.
Place in loaf pan and cover tightly with foil. Refrigerate for up to 24 hours prior to baking.
Let it sit for 30 minutes prior to baking if possible for more even cooking.
Storage
Store in an airtight container and refrigerate for up to 3 days or freeze for up to 3 months. (Meatloaf freezes very well!)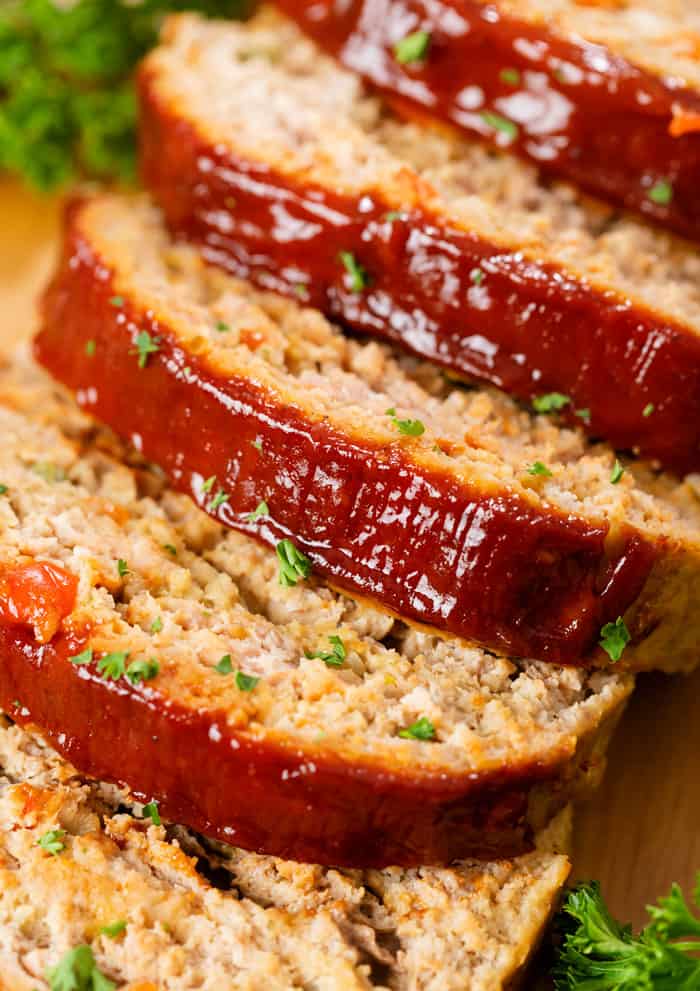 Tools for This Recipe

(Amazon affiliate links)– Check out all of my kitchen essentials here.
Try These Next
Meow Gallery: The layout none is not available in this version.
Get My Free Meal Plan
I've got a Free Meal Plan with 7 of my super popular recipes (complete with grocery list)! Sign up for my email list and I'll send it over now along with weekly dinner recipes!
And follow me on Facebook, Instagram, and Pinterest!
Tried This Recipe?
Leave a review, I love hearing your feedback! ⭐⭐⭐⭐⭐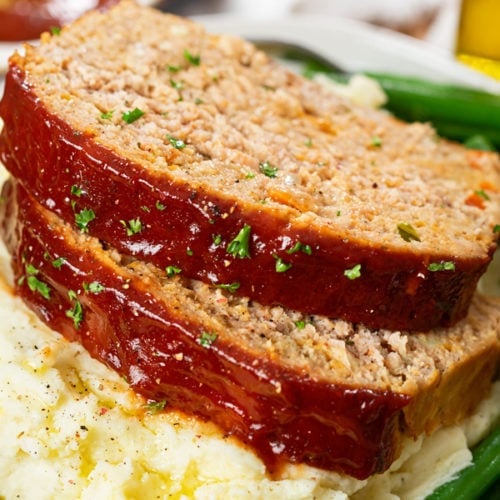 Turkey Meatloaf Recipe
There's no greater comfort food than old fashioned Turkey Meatloaf. This recipe has the BEST tips for making extra juicy meatloaf, which includes adding cheese, BBQ sauce, ketchup, mustard, and more!
Ingredients
1 Tablespoon butter
½ cup yellow onion, diced
½ cup bell pepper, diced
3 cloves garlic, minced
2 eggs
2/3 cup half and half, see note 1
2 teaspoons yellow mustard
2 teaspoons ketchup
2 teaspoons BBQ Sauce
1 Tablespoon Worcestershire sauce
¾ teaspoons salt
½ teaspoon pepper
2/3 cup Italian breadcrumbs
1 cup cheddar cheese, shredded
2 pounds ground turkey, 85% lean
Glaze for Topping:
½ cup ketchup
½ cup BBQ Sauce
Instructions
Preheat the oven to 325 degrees.

Melt the butter in a small saucepan over medium heat. Sauté the onions and peppers for 4 minutes. Add the garlic and sauté for 1 more minute. Remove from heat once nice and soft. Let it cool.

Whisk the eggs in a large bowl. Add the half and half, mustard, ketchup, BBQ Sauce, Worcestershire sauce, cheese, salt, and pepper and stir to combine.

Stir in the breadcrumbs, then add the cooled onions/peppers/garlic.

Add the turkey and gently mix until just combined. Don't overwork the meat or it will become tough.

Add the turkey mixture to a lightly greased meatloaf pan.

This part can be tricky but worthwhile: Use a silicone spatula and create space around the perimeter of the pan that's about the width of your finger. Spread any excess turkey from the sides onto the top of the meatloaf. This creates airflow around the pan which results in a nice outer crust and a juicier loaf. (See process shots in post above for visual.)

Combine the ketchup and BBQ Sauce and spread half of it over the meatloaf.

Place the meatloaf pan on a baking sheet to catch any overflow.

Bake for 45 minutes. Remove and top with remaining ketchup/BBQ sauce.

Bake for an additional 35-40 minutes or until the internal temperature reads 155 degrees.

Remove and let it rest in the loaf pan for 15 minutes prior to slicing in. It will increase an additional 8-10 degrees during this time.
Notes
Milk can be used instead of half and half of needed, but the extra fat content from the half and half helps keep the turkey moist.
---
---

Tools for This Recipe
Amazon Affiliate Links
Nutrition
Calories: 323kcal, Carbohydrates: 20g, Protein: 34g, Fat: 12g, Saturated Fat: 6g, Cholesterol: 108mg, Sodium: 1009mg, Potassium: 516mg, Fiber: 1g, Sugar: 10g, Vitamin A: 700IU, Vitamin C: 14mg, Calcium: 157mg, Iron: 2mg