Tortellini Al Forno
This Tortellini Al Forno features stuffed tortellini tossed in a rich and creamy garlic cheese sauce and topped with crumbled bacon.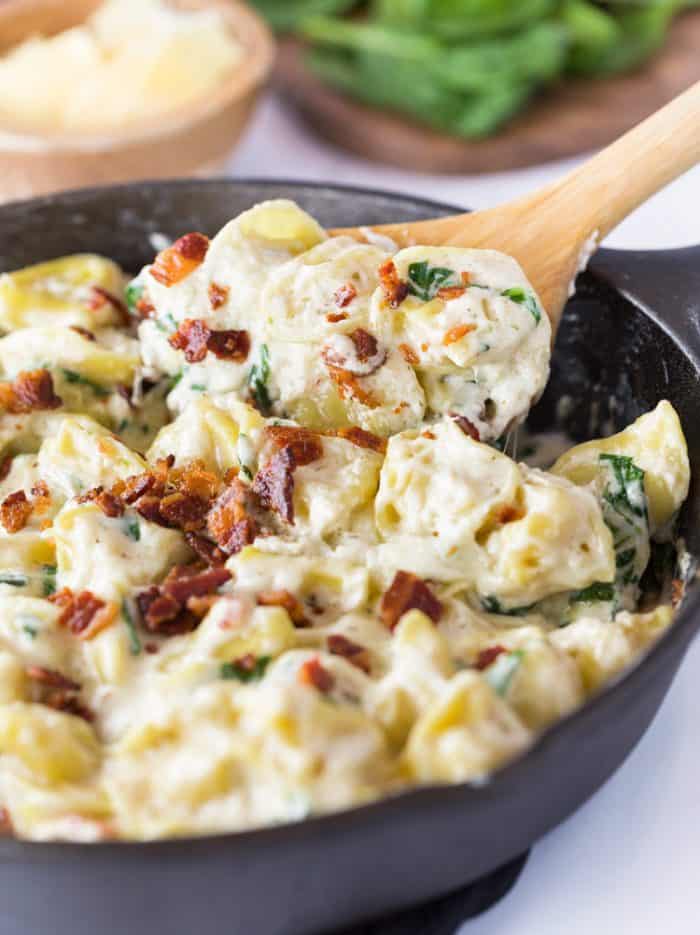 I just…want to go…to The Olive Garden. 
That's right. I want to go there with the hubs, get a Giant Olive Garden Salad to my face, and order some Tortellini Al Forno already. But my cute little squishy face toddler doesn't like sitting still for very long and I don't think my fellow Olive Garden-ers would appreciate her newest game of showing the world how loud she can scream, or how she can sing "E-I-E-I-O" over and over again (I never should have introduced her to Old MacDonald.)
Eh, I'm 97.8% kidding. I wouldn't trade that precious baby girl for all of the bread sticks in the world. It just means that I need to seriously master how to make Copycat Olive Garden Recipes at home. And I'm getting to be pretty good at it. So let's dig in here.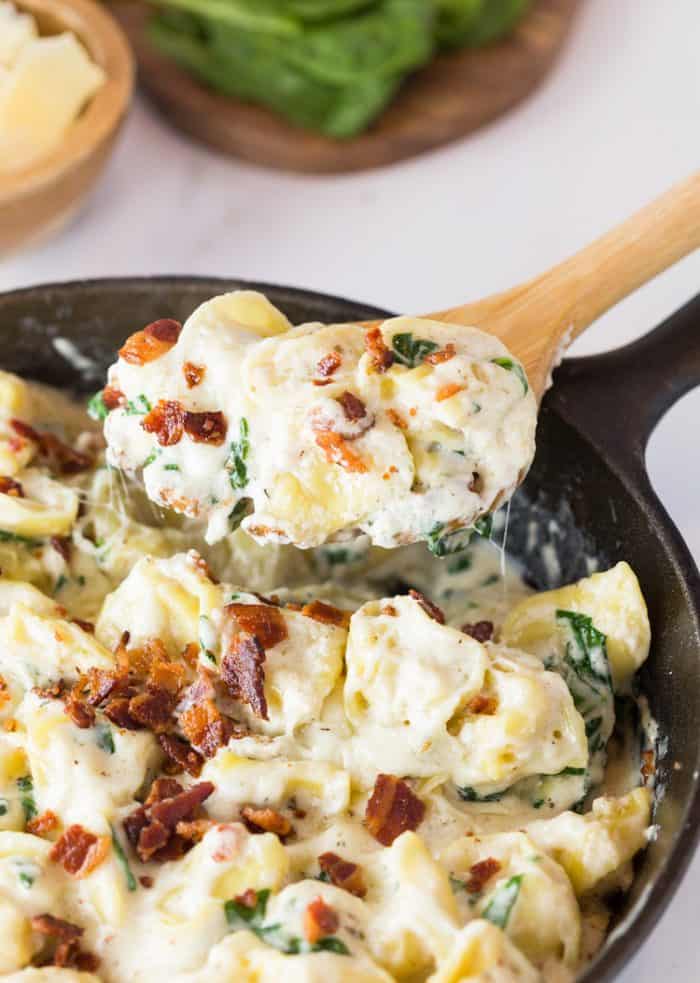 What is Tortellini Al Forno?
Al Forno = Food that's baked in the oven. (I'm not kidding. That's all it means.)
The funny thing is that this particular tortellini recipe has evolved over time to where it's often times not even baked in the oven anymore. (Kinda funny huh?)
I've actually tried baking this in the oven at the end and all that it does is cook the pasta too far past the Al Dente point. And it just adds an extra step, really. Not necessary folks, not necessary.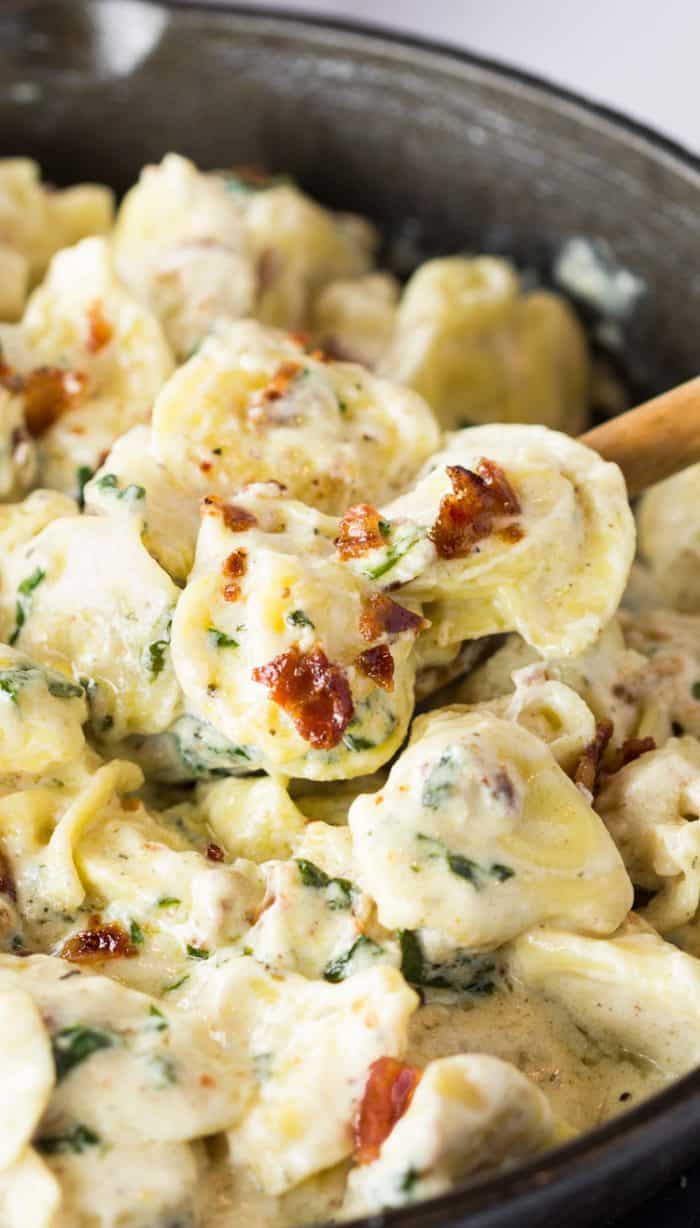 I need to emphasize how good this copycat Olive Garden Salad Dressing is. (And there's a video!) I can't even watch that video. It makes me too hungry.
And finally, I can't forget to at least mention this Olive Garden Stuffed Chicken Marsala recipe. I don't even need to add the word "copycat" to that one because I got it right from the Olive Garden website, and you'll know it when you taste it. It's totally, 100%, no questions asked, their exact recipe.
Now trust me. At this point, you should probably join my free recipe email list. You'll get a weekly email with my brand new recipes. And follow me on Facebook, Instagram, and Pinterest. (Don't make this be our last goodbye!)
See this recipe in action!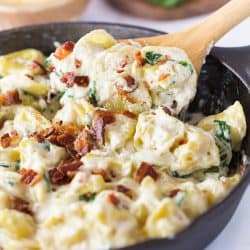 Tortellini Al Forno
This Tortellini Al Forno features stuffed tortellini tossed in a rich and creamy garlic cheese sauce and topped with crumbled bacon.
Ingredients:
1 (20 oz.) package refrigerated Tortellini (I like "Giovanni Rana" brand, and I prefer cheese stuffed!)
6 slices uncooked bacon
2 teaspoons minced garlic
2 Tablespoons all-purpose flour
1 pint half and half (equivalent to 2 cups) – you can sub whole milk.
Salt/pepper, to taste
½ teaspoon dried Italian seasoning
¼ cup Parmesan, shredded
¼ Asiago cheese, shredded (can also use more Parmesan instead)
½ cup mozzarella cheese
¾ cup spinach, finely shredded (optional)
Directions:
Use kitchen shears to cut the bacon into 2-3 inch pieces so that they equally cover the pan and cook evenly.
In a large skillet, (preferably cast iron), cook the bacon slowly on low heat. *Low and slow is best for bacon*.
Once the bacon is nearly cooked and crisp on each side, cook the tortellini in a large pot according to package instructions. Set aside.
Remove the cooked bacon from the pan, set aside to cool, and leave 2 Tablespoons of bacon grease in the pan. Keep the heat on low and add the garlic to the pan, cooking for about one minute.
Increase the heat to medium. Gradually whisk in the flour, stirring constantly, until all flour is incorporated and the grease has thickened.
Gradually add the half and half (keep stirring). Bring the mixture to a boil and add the salt/pepper and Italian seasoning. Reduce the heat back to low and stir for about 2 more minutes.
Add the Parmesan, Asiago, and mozzarella cheeses. Stir until well incorporated and thick. Toss in the spinach and the Tortellini and use a rubber spatula to carefully incorporate it into the sauce.
Once the spinach has wilted (about 1 minute), turn off  the heat. Crumble the cooled bacon into smaller pieces and sprinkle over the Tortellini. Serve and enjoy!
The spinach is completely optional, but I like the added color, texture, and flavor!
Adapted from GonnaWantSeconds
All images and text ©
Stephanie Melchione for The Cozy Cook
*This post may contain affiliate links