This slow cooker cheeseburger soup is loaded with tender ground beef and vegetables in a thick and creamy cheesy soup, the definition of comfort in a bowl!
Be sure to try my Hamburger Soup recipe next, (it's one of my all-time favorites!)
You guys, I'm a little ashamed of myself. I kind of ate like, SO much of this cheeseburger soup it's not even funny. One spoonful at a time. I mean, I'll just come right out and say it. I stood over the stove and just ate it right out of the pot, repeating over and over again in my head that each bite was my last little "taste".
I actually  had to put on a pair of pants and actually go out into the world after that (uh, to meet friends for dinner no less), and I couldn't quite fathom how much I had eaten. I suppose what I'm saying is, this soup is good. DANG good. But proceed with caution friends. Have another person there to keep you accountable for your actions.
Alright. Had to get that off my chest.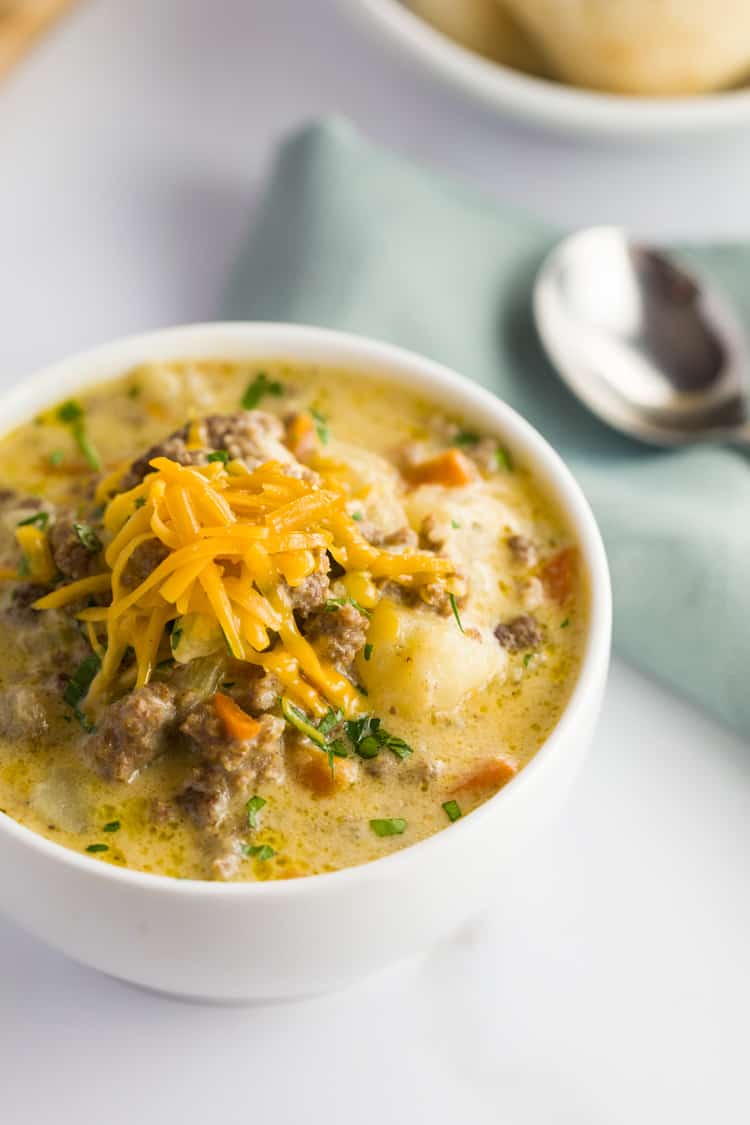 Using Homemade Chicken Stock
Whenever you make homemade soup, I highly suggest using homemade chicken stock. I promise, your cooking will taste ten times better.
Remember that you can always freeze leftover chicken carcass/meat and make chicken stock on a day when you have time! No defrosting necessary!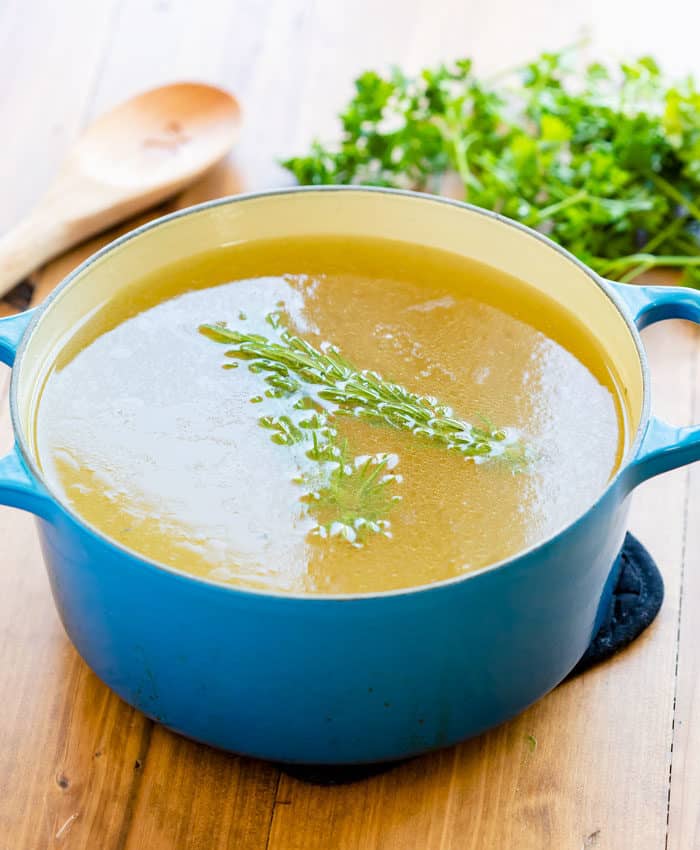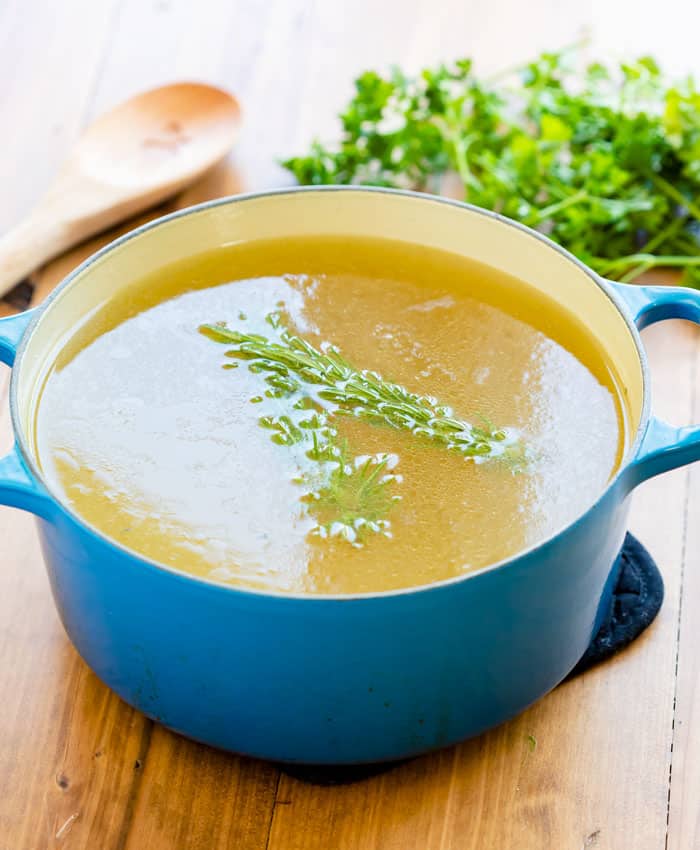 I'm a huge fan of recipes that have ground beef. I have a giant stockpile of ground beef patties in my freezer at all times, because when a recipe like this one comes to mind, I need to be ready to take action. This is serious business people.
I will say, cheeseburger soup freezes pretty well too. (Believe it or not, there was one occasion where I actually had leftovers and was able to test this theory out. Only once though. But still.)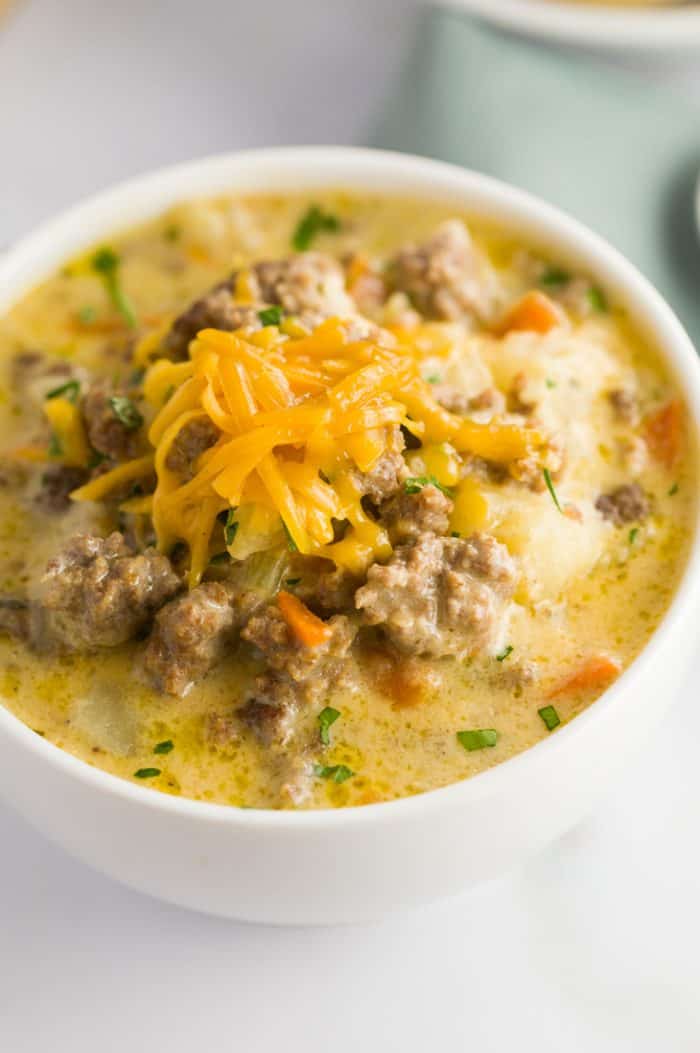 Try These Next! 🥣
Follow me!
Slow Cooker Cheeseburger Soup
This slow cooker cheeseburger soup is loaded with tender ground beef and vegetables in a thick and creamy cheesy soup, the definition of comfort in a bowl!

Ingredients
1 large russet potato, peeled & diced
1 medium yellow onion, diced
1 cup carrots, julienned (or diced)
½ cup diced celery
1 teaspoon dried basil
1 teaspoon dried parsley
4 cups or 1 quart chicken broth
1 pound ground beef
Salt/Pepper, to taste
3 Tablespoons unsalted butter
¼ cup flour
2 cups whole milk
1 16 oz. package Velveeta cheese
Instructions
Add the potatoes, onions, carrots, celery, dried basil and parsley to the crock pot and pour the chicken broth over it. Cover, and cook on low for 6-8 hours or on high for 4-5 hours, until the potatoes are tender.

When you're about 45 minutes away from serving, cook and crumble the ground beef in a large skillet on medium-high heat. Add in the salt and pepper.


Transfer the ground beef to the crock pot and remove any excess grease from the skillet.


In the same skillet, melt the butter, then whisk in the flour. Continue to whisk for about 1 minute, until it's a bubbly golden-brown roux.


Microwave the milk for about 25 seconds, it's best to add warm milk to the roux as opposed to it being cold right out of the fridge. Once heated, slowly pour the milk into the butter/flour mixture and whisk until combined.

Add the milk mixture to the crock pot, and stir to combine.


Add the cheese to the crock pot and stir again. Cover, and heat for about 30 additional minutes.

Notes
You can also substitute half-and-half for the milk, either using the full 2 cups, or one cup half-and-half and one cup milk. 2 cups of shredded cheddar can be substituted for the Velveeta.
Nutrition
Calories: 532kcal, Carbohydrates: 27g, Protein: 32g, Fat: 31g, Saturated Fat: 16g, Cholesterol: 108mg, Sodium: 1883mg, Potassium: 962mg, Fiber: 1g, Sugar: 12g, Vitamin A: 4650IU, Vitamin C: 15.8mg, Calcium: 573mg, Iron: 2.7mg