Slow Cooker Cheeseburger Soup
You guys, I'm a little ashamed of myself. I kind of ate like, SO much of this soup it's not even funny. One spoonful at a time, I mean, I'll just come right out and say it. I stood over the stove and just ate it right out of the pot, repeating over and over again in my head that each bite was my last little "taste". Oh my gosh, I mean I had to put on a pair of pants and actually go out into the world after that (uh, to meet friends for dinner no less), and I couldn't quite fathom how much I had eaten. I suppose what I'm saying is, this soup is good. DANG good. But proceed with caution friends. Have another person there to keep you accountable for your actions.
Alright. Had to get that off my chest. So anyway, before heading over to this dinner that I was obnoxiously full for, I had to pop over to Hannaford to pick up a dessert to bring. Can I just say, that Hannaford is literally 3 minutes from my house? Do you know how magical that is? (For anyone, of course, but primarily for a food blogger who always needs stuff?!)
The one near me allows you to order online and go pick everything up too, what is more magical!? If you live in NH, ME, MA, NY, or VT, you should see if you have this option too. It's saved my life, and they only charge a few bucks for this life-saving service. (Performing a large shopping trip with my toddler doesn't usually end well.)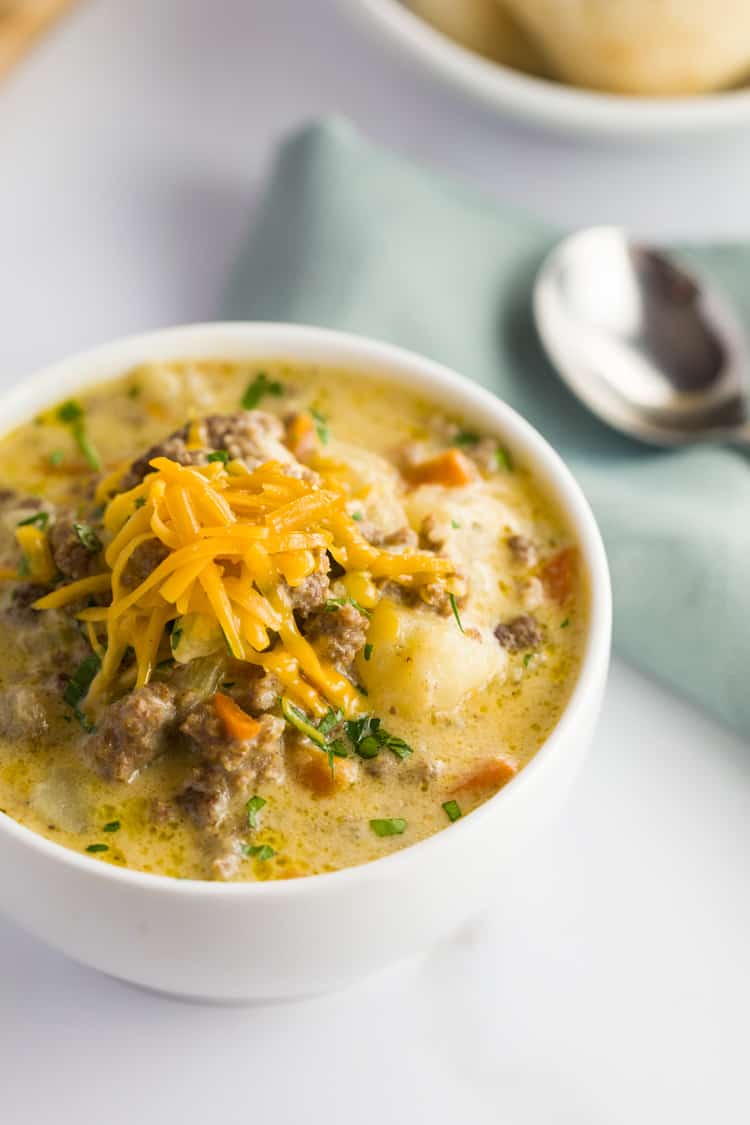 I'm also pretty obsessed with Hannaford Brand items. For this recipe alone, almost all of the ingredients came from their brand. And trust me, I'm not going to bother making a recipe with ingredients that aren't high quality ones. Waste of time, waste of money.

I'm kind of a numbers person, I mean, my 9-5 job is pretty much all numbers all day. My favorite calculation, of course, is to figure out how much money I save when I shop. (Who's with me?!) So, being the dork that I am, I calculated how much this meal actually costs per serving. All of my prices are based upon what Hannaford charges, items with an asterisk (*) indicate Hannaford Brand items.
So, how much does this meal cost?
$1.62 per serving?! Are you kidding me right now?!? ………..(I think I've made my point.)
As if I can't be more obsessed, I follow them on Facebook, Instagram, and Twitter. (And you should too, we can be twins!)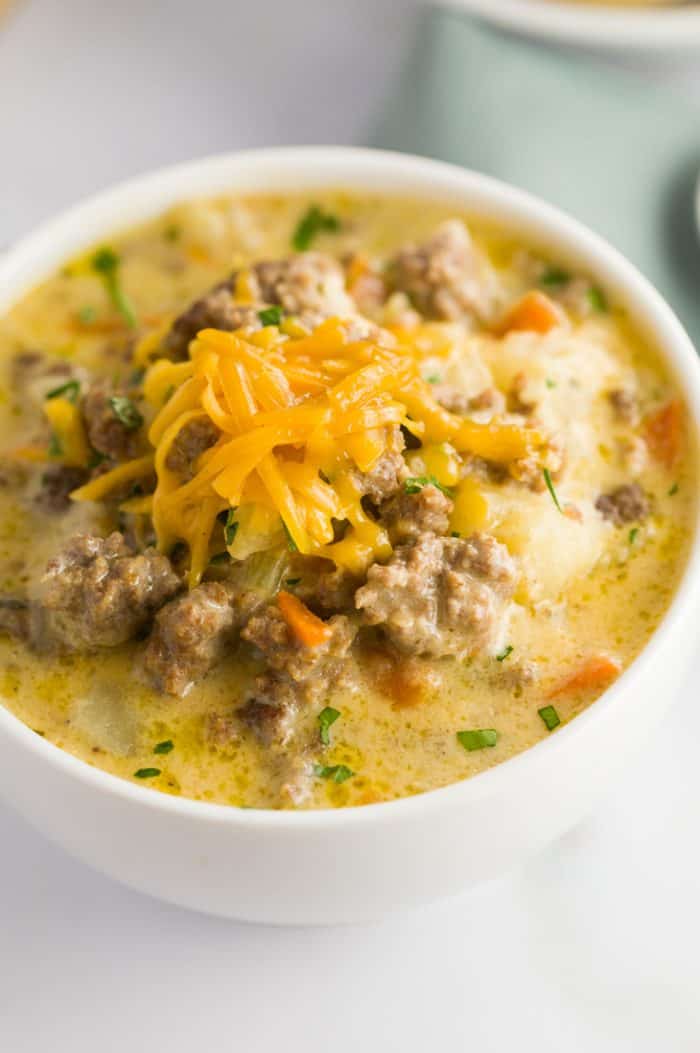 Slow Cooker Cheeseburger Soup
Tender ground beef and vegetables in a thick and creamy cheesy soup, the definition of comfort in a bowl and perfect for cold weather.
Ingredients:
1 large russet potato, peeled & diced
1 medium yellow onion, diced
1 cup carrots, julienned (or diced)*
½ cup diced celery*
1 teaspoon dried basil
1 teaspoon dried parsley
4 cups (or 1 quart) chicken broth*
1 pound ground beef (I used 85% lean)*
Salt/Pepper (about ½ teaspoon of each)
3 Tablespoons unsalted butter*
¼ cup flour*
2 cups milk (I used whole milk)*
1 (16 oz.) package Velveeta cheese, cubed (or 2 cups shredded cheddar*)
Directions:
Add the potatoes, onions, carrots, celery, dried basil and parsley to the crock pot and pour the chicken broth over it. Cover, and cook on low for 6-8 hours or on high for 4-5 hours, until the potatoes are tender.
When you're about 45 minutes away from serving, cook and crumble the ground beef in a large skillet on medium-high heat. Add in the salt and pepper.
Transfer the ground beef to the crock pot and remove any excess grease from the skillet.
In the same skillet, melt the butter, then whisk in the flour. Continue to whisk for about 1 minute, until it's a bubbly golden-brown roux.
Microwave the milk for about 25 seconds, it's best to add warm milk to the roux as opposed to it being cold right out of the fridge. Once heated, slowly pour the milk into the butter/flour mixture and whisk until combined.
Add the milk mixture to the crock pot, and stir to combine.
Add the cheese to the crock pot and stir again. Cover, and heat for about 30 additional minutes.
You are now ready to eat, my friends!
*Hannaford Brand recommended
You can also substitute half-and-half for the milk, either using the full 2 cups, or one cup half-and-half and one cup milk.
All crock pots cook differently, so cook times vary.
Want another slow cooker soup recipe?
*This post may contain affiliate links