Hamburger Soup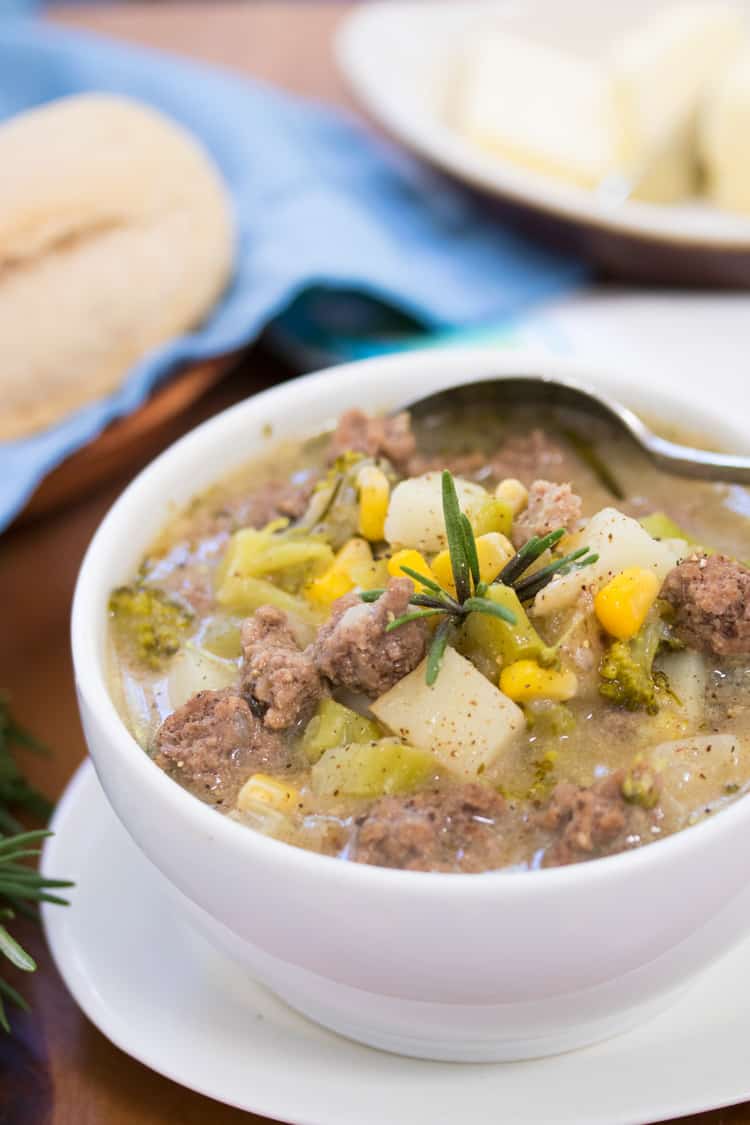 This hamburger soup is hands-down, one of my favorite recipes ever. It took me forever to get it on the blog because I never had any written instructions, I'd just wing it every time. And that, is sinful, because this recipe needs to be shared. I jokingly call this "Poor man's soup" because my dad always talks about my grandmother making it when they had no money. Only then I think they used ground beef and water. I upgraded it to include chicken and beef broth, and I love tossing in a can of creamy soup too. My husband and I love eating this on a cold, rainy day…preferably with a delicious dinner roll and some buttaaaaa! 😉
I used to think that this soup was just one of those family recipes that I loved because I grew up eating it, but that other people wouldn't really appreciate it. I discovered how wrong I was when I heated this up at work once, and a coworker asked me what the heck smelled so good. …"Well it's just like, this, Poor man's soup stuff that I make" (HA)… the next day I brought some in for her to try. Then when she heated it up, someone else asked her what smelled so good! They both grabbed a spoon and it and agreed that it was absolutely delicious. That's when I decided, it really needed to go on the blog. If you could smell your screen right now, you'd totally go make this right now…. but I suggest you take my word and make it anyway!
Hamburger Soup
Savory chunks of ground beef mixed in with your favorite vegetables in a creamy, mouth watering broth.
Ingredients:
1 pound ground beef (I use 85% lean)
1.5 cups water
2.5 cups chicken broth
2 cups beef broth
1 small russet potato, diced
1 small yellow onion, diced
2 sticks celery, diced
1.5 cups string beans (can sub broccoli florets)
3/4 cup frozen corn
1 (10 oz.) can cream of celery soup (can sub cream of mushroom)
2 teaspoons dried rosemary
1 teaspoon dried oregano
1 teaspoon dried thyme
salt/pepper, to taste
Directions:
In a large soup pot over medium heat, heat the water, chicken broth and beef broth.
Season the ground beef with salt and pepper and drop bite sized balls into the broth. (You can roll them neatly or just break it into pieces and toss it in)
Add the diced potato, diced onions, diced celery, and string beans (or broccoli. I love string beans but only had broccoli this time.)
Heat the soup, covered, for about 25 minutes. Mix in the cream of celery soup and seasonings.
Let the soup simmer for an additional 25 minutes, or until the potatoes and vegetables are soft and the meat is cooked through.
Add any additional salt/pepper as needed & serve!
All images and text ©