Hamburger Soup
This hamburger soup is an easy ground beef recipe with a flavorful broth and whatever vegetables you have on hand. It also makes a great freezer food for future meals!
Be sure to try my Split Pea Soup and Traditional French Onion Soup next!
This hamburger soup is hands-down, one of my favorite soup recipes ever.
I jokingly call this "Poor man's soup" because my dad always talks about my grandmother making it when they had no money. Back then, I think they just used ground beef and water. I upgraded it to include chicken broth and beef broth, and I love tossing in a can or two of creamy soup (optional, but I like the creamy flavor that it adds).
How to Make Hamburger Soup
Season uncooked ground beef with salt and pepper.
Add bite-sized pieces of the beef to a combination of beef broth, chicken broth, and water that is lightly boiling. Cooking the beef in the broth itself adds great flavor to the soup.
From here, simply add your favorite vegetables to the soup. This can include green beans, corn, broccoli, carrots, onions, celery, potatoes, even canned diced tomatoes!
For a hint of tomato flavor, add a Tablespoon of tomato paste. 
Season the soup with rosemary, thyme, and oregano. Feel free to toss in bay leaves if you have them.
Let the soup simmer until the vegetables are nice and tender and cooked through.
Personally, I love adding cans of creamy soups to the mix. I even add combinations of different soups like cream of celery, cream of broccoli, and broccoli cheese. It might seem odd but it actually tastes really good.
Using Homemade Chicken Stock
Whenever you make homemade soup, I highly suggest using homemade chicken stock. I promise, your cooking will taste ten times better.
Remember that you can always freeze leftover chicken carcass/meat and make chicken stock on a day when you have time! No defrosting necessary!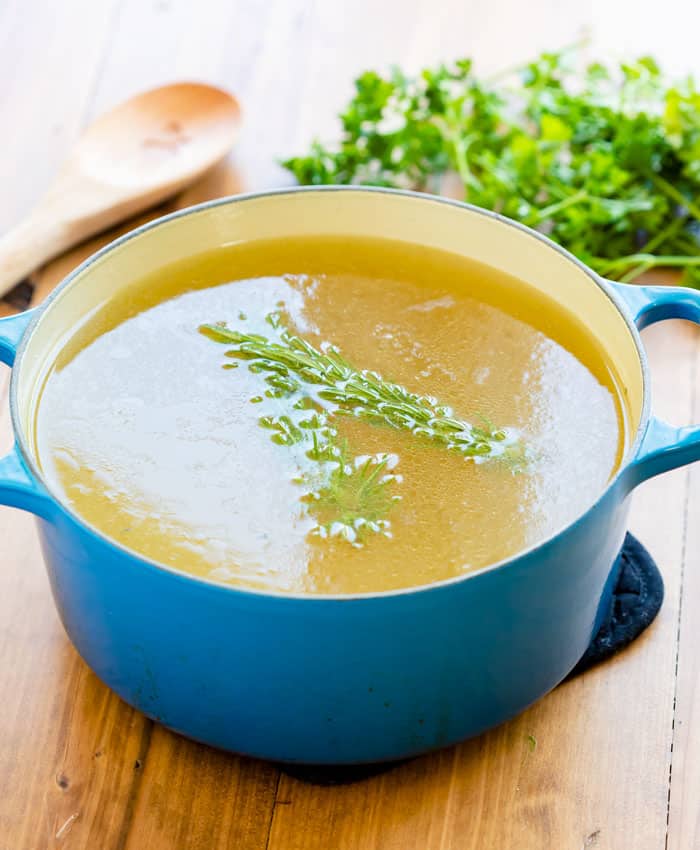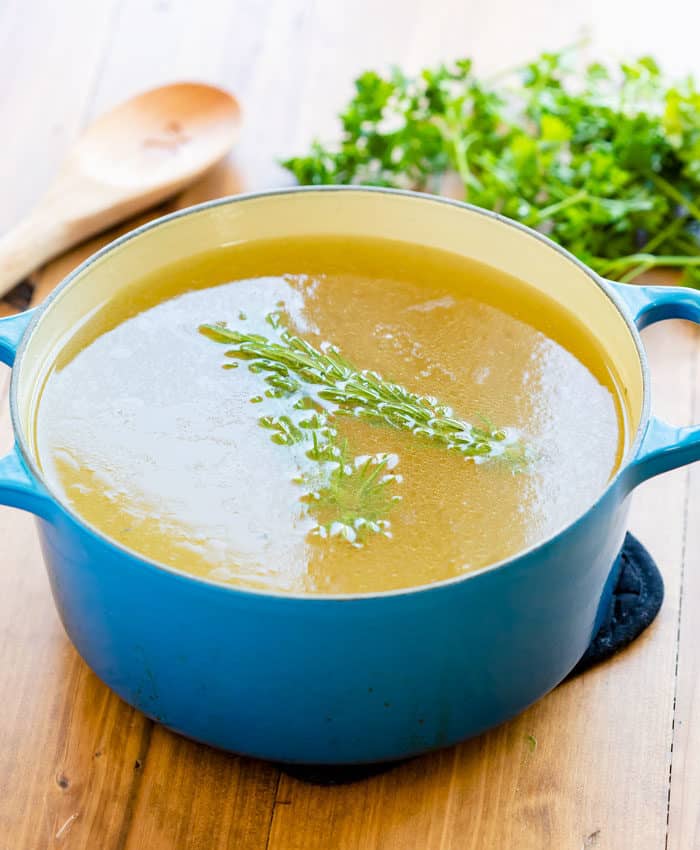 Storing Leftovers:
-Leftovers should be refrigerated and used within three days. 
-You can also freeze leftovers, and it's best if you eat them within three months. 
Try These Next!
Follow Me!
If you aren't on my free email list, you have to join! You'll get just one weekly email with my latest recipes and nothing more than that!
Plus, you've gotta follow me on Facebook, Pinterest, and Instagram too! Doooo it.
Hamburger Soup
This hamburger soup is an easy ground beef recipe with a flavorful broth and whatever vegetables you have on hand. It also makes a great freezer food for future meals!
Ingredients
1 pound ground beef, I use 85% lean
1.5 cups water
2.5 cups chicken broth
2 cups beef broth
2 small russet potatoes, diced
1 small yellow onion, diced
2 sticks celery, diced
1.5 cups frozen green beans, can sub broccoli florets
3/4 cup frozen corn
10 oz. cream of celery soup*, See Notes
2 teaspoons dried rosemary
1 teaspoon dried oregano
1 teaspoon dried thyme
1 Bay Leaf, optional
Salt/pepper, to taste
Instructions
In a large soup pot over medium heat, heat the water, chicken broth and beef broth, bringing it to a light boil.

Season the (uncooked) ground beef with salt and pepper and drop bite sized balls into the broth. (You can roll them neatly or just break it into pieces and toss it in). Don't brown the beef before dropping into the soup.

Add the diced potatoes, diced onions, diced celery, green beans, corn, and bay leaf.

Heat the soup, partially covered, for about 25 minutes. Mix in the cream of celery soup and seasonings.

Reduce the soup to a light simmer  and heat for an additional 25 minutes, or until the potatoes and vegetables are soft and the meat is cooked through.

Add any additional salt/pepper as needed & serve!
Notes
*Cream of Mushroom or Cream of Chicken Soup may also be used.
Nutrition
Calories: 295kcal, Carbohydrates: 17g, Protein: 16g, Fat: 17g, Saturated Fat: 6g, Cholesterol: 58mg, Sodium: 968mg, Potassium: 660mg, Fiber: 2g, Sugar: 2g, Vitamin A: 385IU, Vitamin C: 14.6mg, Calcium: 72mg, Iron: 3mg