Split Pea Soup
Carrots, onions, potatoes, split peas and ham blend perfectly together in this rich and flavorful split pea soup. (With video!)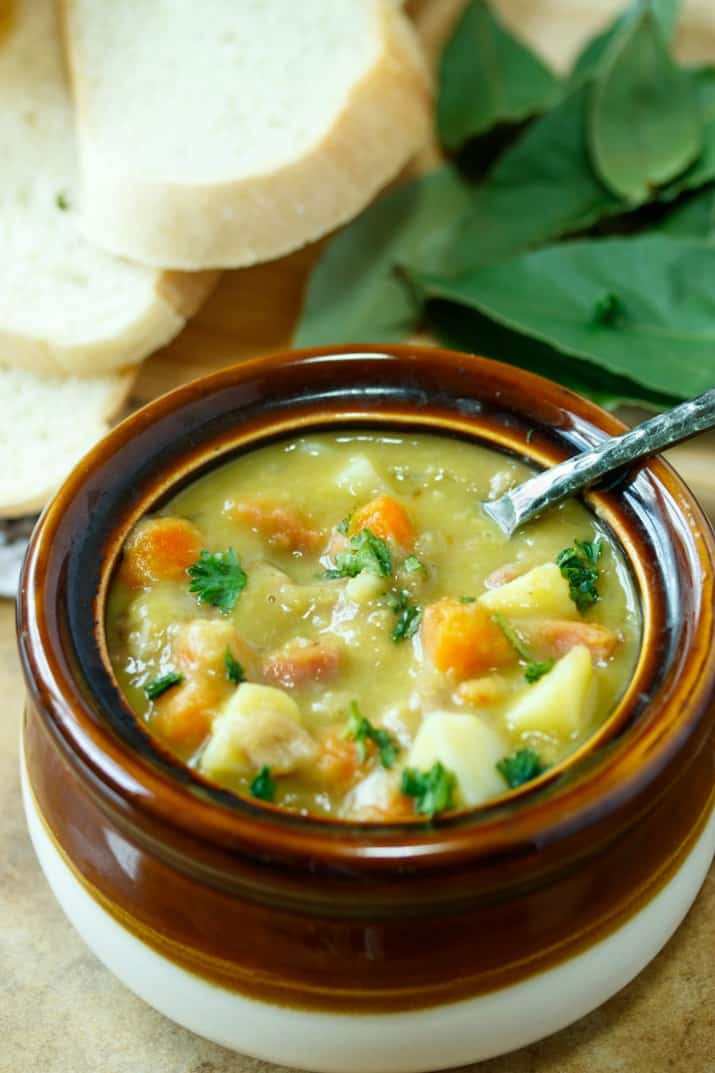 I realize that I'm making quite a claim here, when I say that this is the best split pea soup recipe ever, but it just is. My mom used to make this for us and I was sure that I couldn't do it like she does, but (gasp), I did! And you'll amaze yourself too. Check out the how-to video below to see how easy it is, and ready through the comments, people are in love with this recipe. But first, I must address a very important point. Ahem: 
Split Pea Soup with a Ham Bone:
Using a nice meaty, uncleaned ham bone is what gives this soup it's amazingly rich and savory flavor. Perfect for using up Easter leftovers! (But you can ignore all of the ham/ham bone references if you must, and make this recipe without it, I'll just look the other way.) 
Ham Bone Substitutes for Split Pea Soup:
Using smoked ham shanks or ham hocks are a great alternative and also add tremendous flavor. (If you can ask the butcher for one or the other, a shank is meatier and more preferable for this recipe.)
Chopped salted pork and/or chopped smoked bacon can also be substituted.
Soaking your peas overnight:
This is optional, but you may choose to soak your split peas overnight or for a few hours before making this soup to speed up the cooking process the next day. Completely dry peas take 2+ hours of simmering before the soup is ready. Soaked ones take about 1+ hours. 
Want more Soup?
Check out these options. I'm kind of a soup addict.
See this recipe in Action!
Now, grab your soup pot and let's go! 
Oh wait! Before you go, you should join my free recipe email list. You'll get a weekly email with my brand new recipes. And follow me on Facebook, Instagram, and Pinterest. Let's be friends for life!
Mom's (best ever) Split Pea Soup
Carrots, onions, potatoes, split peas and ham blend perfectly together in this rich and flavorful split pea soup- the best recipe you'll find and easy to make!
Ingredients:
8 cups water (or 4 cups low-sodium chicken broth, 4 cups water)
1 ham bone (optional but preferred!)
2 cups diced onions
2 cups diced carrots
1 Tablespoon butter
2 Tablespoons Olive Oil
2 cups (a 1 lb. bag) of dry split peas
2 cups diced ham
2 bay leaves
1 ½ Tablespoons onion powder (optional)
1 tablespoon minced garlic
1-2 teaspoons salt (optional: the ham bone adds salt to the soup already)
1 large russet potato, diced into cubes
Directions:
Put the water, onions, carrots, & uncleaned ham bone, in a large soup pot and bring to a boil.

Add all remaining ingredients except for the potato. Reduce the heat and let the soup simmer. Completely dry peas take 2+ hours of simmering before the soup is ready. Peas that have been soaked overnight take 1+ hours. Either way, I still chose (and recommend) that you let the soup simmer for several hours. This allows plenty of time for the peas to cook and the soup to thicken and to fully absorb the flavor from that ham bone.

Add the potato about 40 minutes prior to eating. When the potato pieces are done, you're ready to eat! It's as easy as that 😉

You can also use half chicken broth/half water for even more delicious flavor!

All images and text ©
*This post may contain affiliate links