This roasted broccoli and white cheddar soup is loaded with creamy white cheddar cheese that's enriched with the flavors of perfectly roasted broccoli and melted Parmesan.
Be sure to try my Copycat Panera Broccoli Cheddar Soup recipe next!
I think we can all agree that broccoli cheddar soup is the best thing to happen to the planet. But, the flavor that you get from roasting that broccoli and mixing it up with white cheddar cheese is pure heaven.
How to Make Extra Creamy Soup
Use a high-quality cheese (Tillamook & Cabot are great. If  you have a Whole Foods near you, Whole Foods 365 Sharp Cheddar Cheese is said to be the best.)
Purchase a block and shred it at home. 
Let the cheese come to room temperature after shredding it, before you add it to the soup.
Reduce the heat of the base before you add the cheese. If the liquid is too hot, the fat from the cheese will separate too quickly and the consistency will be grainy or clumpy.
Sprinkle flour over the cheese prior to adding it to the warm base. This helps to thicken the water that separates from the cheese once it begins to heat up.
Add the cheese gradually as opposed to all at once. Stir to combine as you do so.
Avoid aged cheeses and hard cheese, (such as Parmesan). Those won't melt nearly as well.
Using an immersion blender is also great when you're making soup. It allows you to control the texture and thicken the soup without having to transfer it to a blender!
How Long to Roast Broccoli
Broccoli roasted at 400 degrees takes about 15-20 minutes. It tastes great with some grated Parmesan sprinkled on at the end!
This is the olive oil that I like to use for roasting. 
Adding Wine
If you want to add an additional layer of flavor to this soup, you can add 3/4 cup of white wine while you add the onions. It takes this soup to a more an even higher level of sophistication.
Using Regular Cheddar
You can absolutely use regular cheddar cheese in place of the white cheddar if that's what you have on hand or prefer!
Using Homemade Chicken Stock
Whenever you make homemade soup, I highly suggest using homemade chicken stock. I promise, your cooking will taste ten times better.
Remember that you can always freeze leftover chicken carcass/meat and make chicken stock on a day when you have time! No defrosting necessary!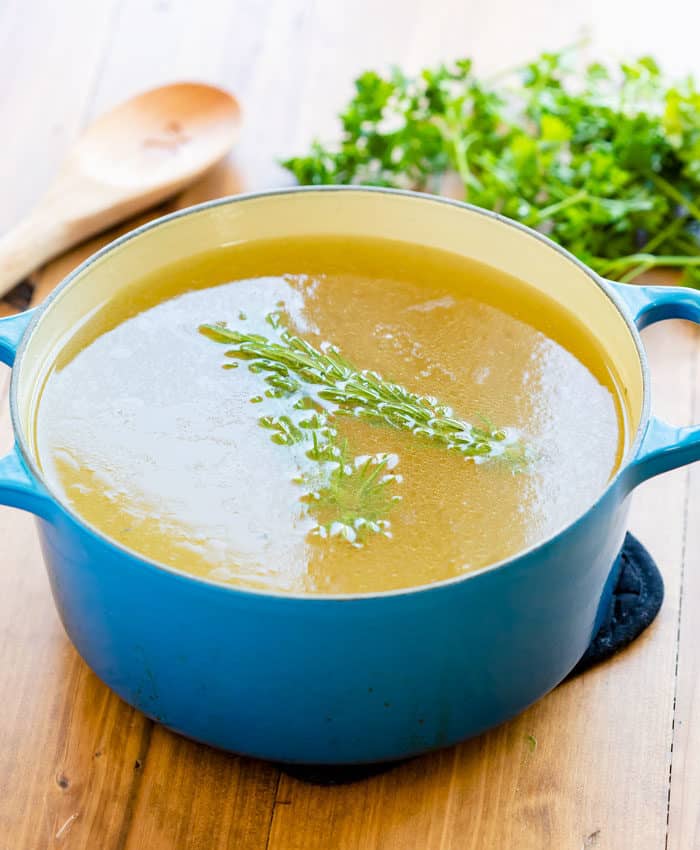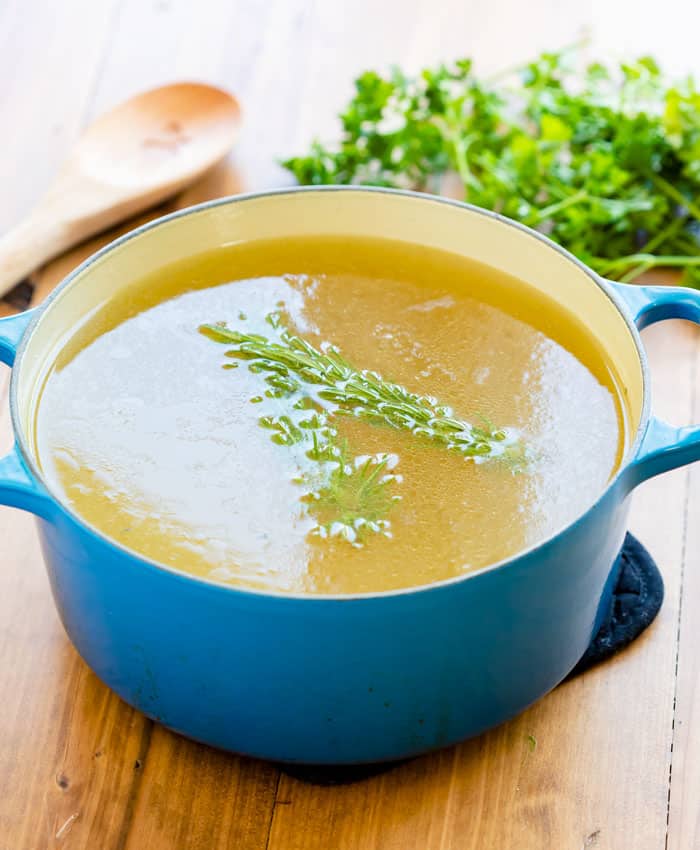 Storing Leftovers
Leftovers should be stored in the refrigerator and used within three days. 
You can also freeze this soup, it's best if used within three months. The texture isn't quite the same when reheated, but it's definitely still enjoyable.
Try These Next!
Follow Me!
Sign up for my free email list, and follow me on Facebook/Instagram/Pinterest. 😊
Roasted Broccoli White Cheddar Soup
This roasted broccoli and white cheddar soup is loaded with creamy white cheddar cheese that's enriched with the flavors of perfectly roasted broccoli and melted Parmesan.
Ingredients
3 cups broccoli florets, (large chunks so they don't burn while roasting)
2 tablespoons olive oil
Salt/pepper, to taste
2 tablespoons Parmesan cheese, grated
½ cup finely diced onions
2 tablespoons butter
2 garlic cloves, minced (or 2 teaspoons bottled minced garlic)
2 springs fresh thyme, or 1 teaspoons dried thyme
2 bay leaves
3 cups chicken broth
1 pint half and half (you can sub milk), equivalent to 2 cups
¼ cup flour, + 1 additional Tabelspoon, separated
2 1/2 cups sharp white cheddar cheese
Instructions
Grate the white cheddar and let it come to room temperature. This is needed to ensure that the soup is smooth and creamy.

Preheat the oven to 400 degrees.

Add the broccoli to a baking sheet and drizzle the olive oil and desired amounts of salt and pepper.

Toss the broccoli around to coat it evenly in the olive oil and heat in the oven for about 20 minutes, until the tops just start to blacken. (I recommend checking it around 15 minutes and keeping an eye from there)

Sprinkle the Parmesan cheese on top of the broccoli and heat until the cheese is just melted, about 3-5 minutes. Remove from the oven and set aside.

Melt the butter in a large soup pot, over medium heat. Add the onions and cook, covered, for 7 minutes.

Remove the cover, decrease heat to medium low, add the minced garlic, thyme, and bay leaves and cook for an additional minute.

Sprinkle in 1/4 cup of the flour and whisk with a fork, heating just long enough to rid the raw flour taste, about 2 minutes.

Gradually add the chicken broth and bring it to a boil, then decrease the heat back down to medium low.

Heat the half and half in the microwave until just warmed or no longer cool (about 30 seconds or so), then add it to the soup mixture.

If you prefer to slice your roasted broccoli into smaller bites, do so, and then add to the soup.

Turn the heat off and transfer the pot to a cool burner.

Sprinkle the cheese with a Tablespoon of flour. Gradually add the cheese to the soup, stirring as you do so. Serve once well-combined!
Nutrition
Calories: 629kcal, Carbohydrates: 19g, Protein: 25g, Fat: 51g, Saturated Fat: 28g, Cholesterol: 134mg, Sodium: 1245mg, Potassium: 599mg, Fiber: 2g, Sugar: 2g, Vitamin A: 1770IU, Vitamin C: 76.6mg, Calcium: 712mg, Iron: 1.9mg