These crock pot chicken tacos are loaded with shredded chicken and a creamy taco mixture full of your favorite Mexican flavors! This is delicious over lettuce wraps, rice, or taco shells!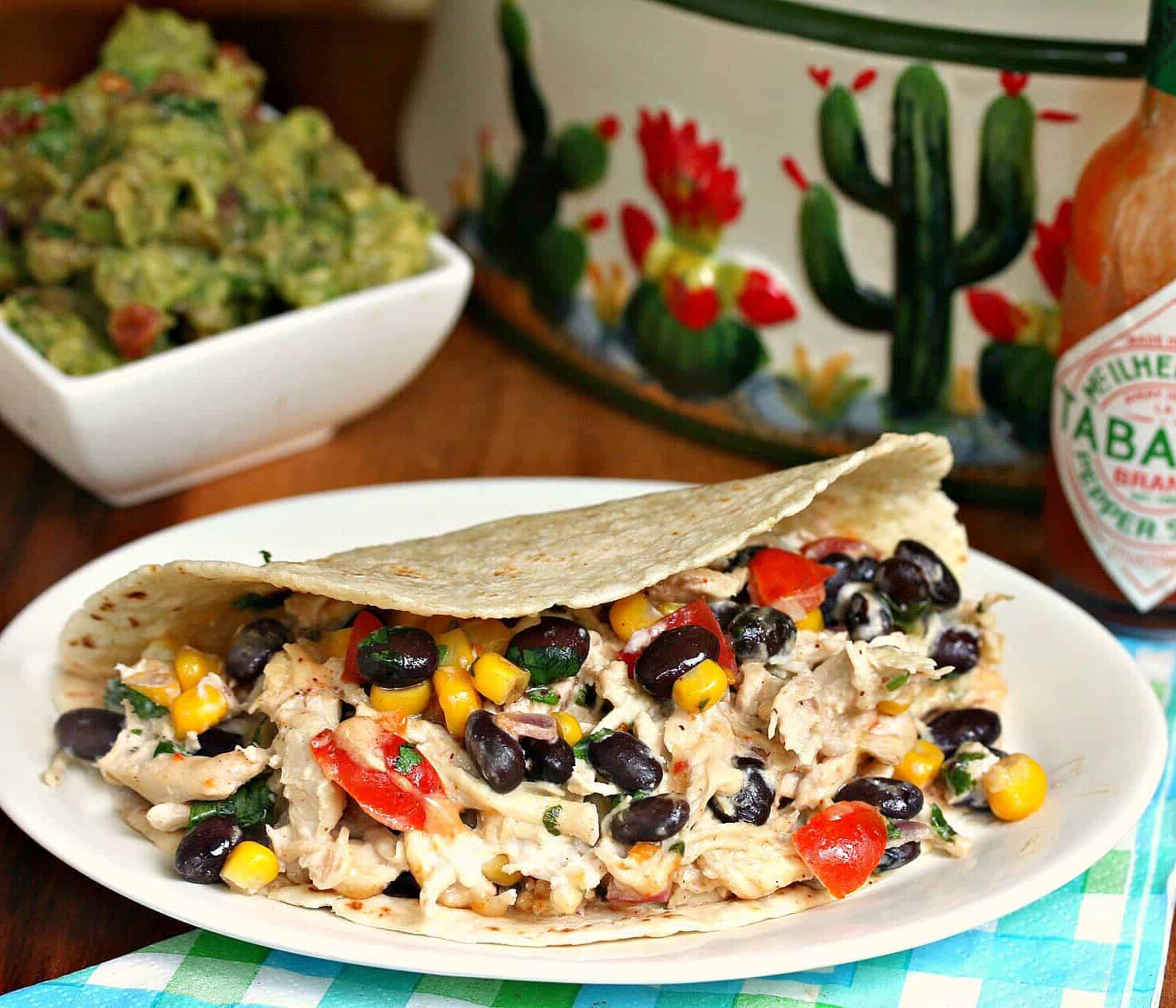 Daaahhh, I love crock pot chicken tacos. I love any kind of tacos, but lately tacos with shredded chicken are my jam. I don't know why this is. I'm usually a ground beef kinda girl. Anyway,I'm on a roll with making crock pot meals every Sunday now. There's already a little chill in the air here in New Hampshire so it's really put me in the crock pot mood.  And, it makes dinner really easy and ready to go whenever the hubs wants it. Usually I'm already full by the time he eats, because I have a ridiculous crock pot habit. I eat bite after bite of whatever is in there without even realizing it. I'm the worst. "This just needs a little stir…" I say to myself… (Every. Five. Seconds.)- I'm lucky there's anything left in there for my husband when it's all said and done. Ugh.
Ummmm on an unrelated note, I just watched Frozen for the first time yesterday. It was the cutest! ("Hi I'm Olaf and I like warm hugs! 😀 ") All that ice made me feel cold though, they could have used some crock pot meals during that fiasco…
Stick with me, I'll try to keep these crock pot meals comin'. You have to admit, this crock pot Mississippi pot roast looks pretty tasty, eh?
PSST: If you're in the market for a new Crock Pot, I just bought myself this one. Not only does it have a self-timer which will switch it to warm for you after a certain amount of time, but you can put the inside pot on the stove! So you can brown some meat right on the stove without having to use up another pan! (Ground beef or turkey tacos, anyone!?) 😉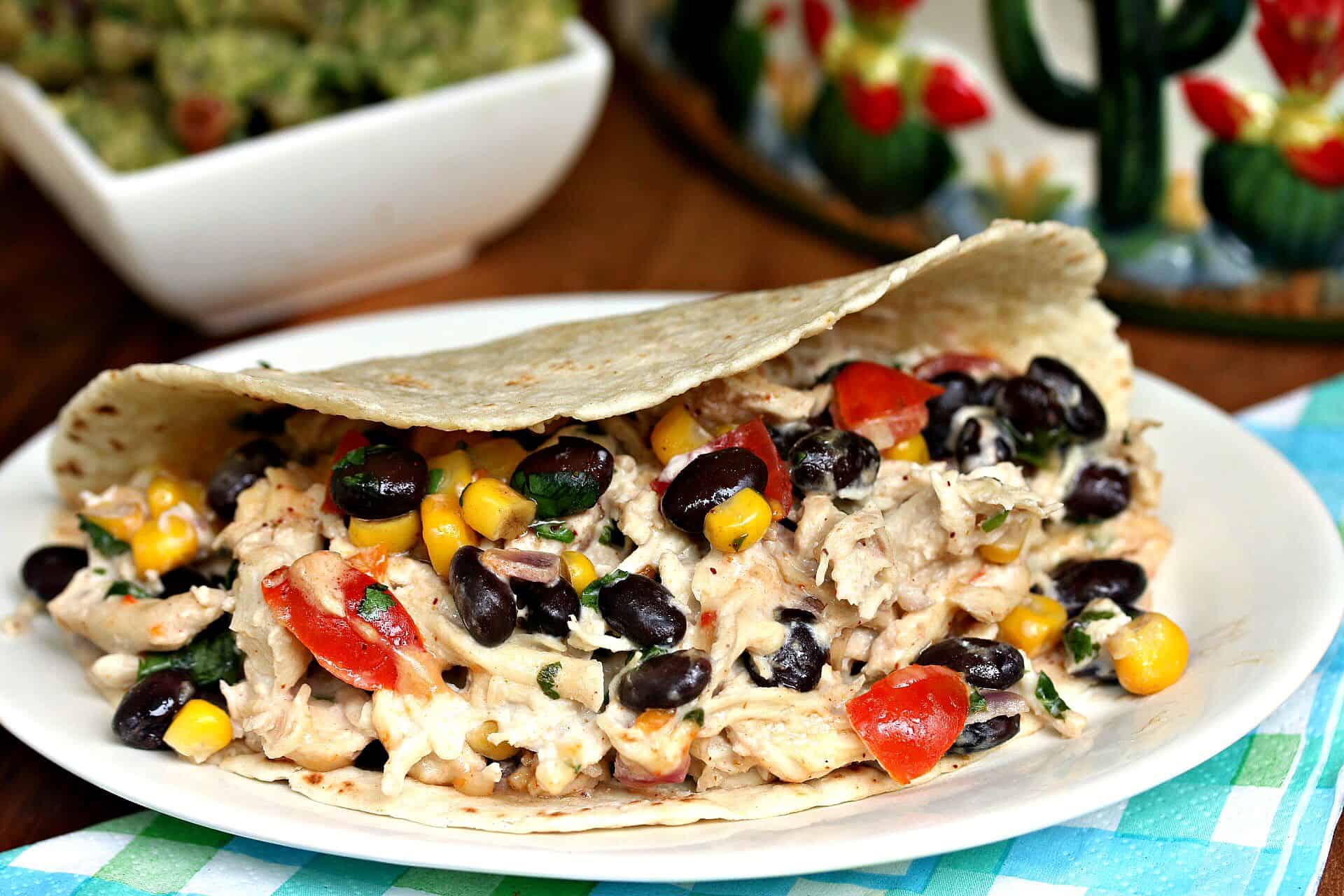 Follow me!
If you aren't on my free email list, you have to join. You'll get just one weekly email with my latest recipes and nothing more than that! And you've gotta follow me on Facebook, Pinterest, and Instagram too! Doooo it.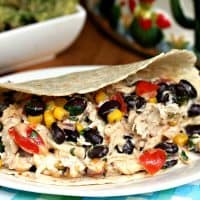 Crock Pot Chicken Tacos
These crock pot chicken tacos are loaded with shredded chicken and a creamy taco mixture full of your favorite Mexican flavors!

Ingredients
2 boneless chicken breasts
1 teaspoon cumin
1 teaspoon garlic salt
2 Tablespoons lime juice
8 oz. cream cheese, at room temperature
1 15 oz. can black beans, drained
¾ cup frozen corn
½ cup red onion, diced
½ cup salsa or diced tomatoes
2 Tablespoons cilantro
½ Tablespoons garlic, minced
¾ cup shredded Mexican Cheese, optional
Instructions
Sprinkle the chicken with cumin and garlic salt and place in the crock pot along with the lime juice and cream cheese. Cook in the crock pot on high for about 2 hours or low for about 4, until the chicken is white and soft enough to shred apart with two forks.

Add all remaining ingredients and cook for an additional 2 hours on high or 4 hours on low.

Serve over a bed of lettuce, rice, or with soft or hard taco shells!
Nutrition
Calories: 253kcal, Carbohydrates: 19g, Protein: 15g, Fat: 12g, Saturated Fat: 6g, Cholesterol: 55mg, Sodium: 519mg, Potassium: 434mg, Fiber: 5g, Sugar: 1g, Vitamin A: 475IU, Vitamin C: 4.9mg, Calcium: 173mg, Iron: 1.7mg