Instant Pot Roasted Potatoes
These Instant Pot Roasted Potatoes are pressure cooked in chicken broth for just 11 minutes, then sauteed to crispy perfection and topped with my grandmother's seasoning recipe!
Try serving this my Pioneer Woman Meatloaf recipe or with a Perfectly Seasoned Steak!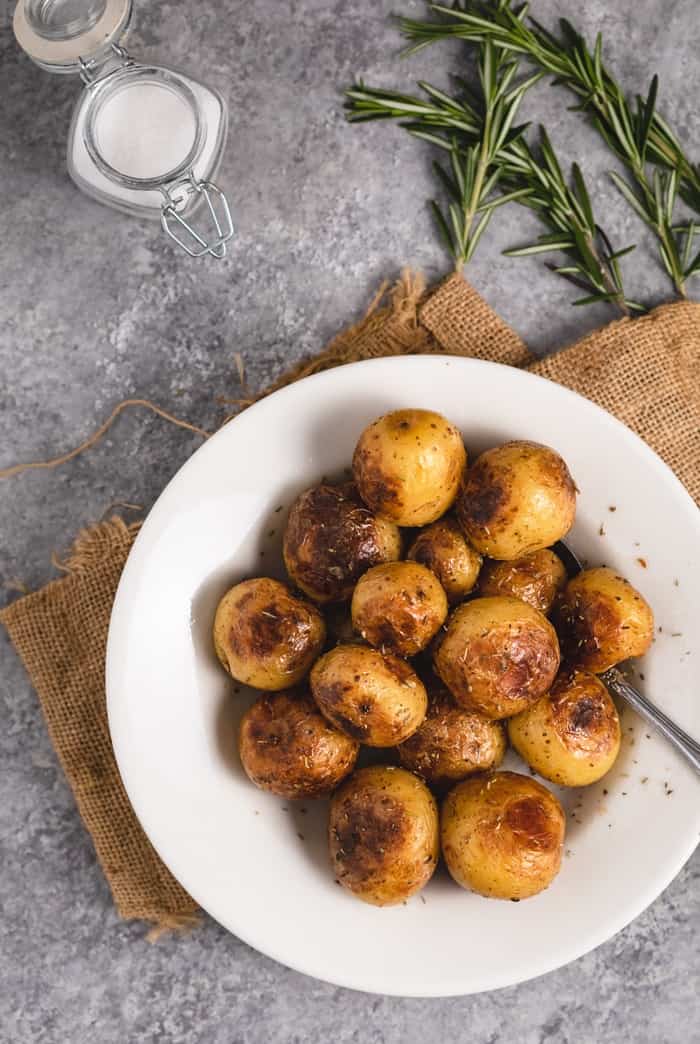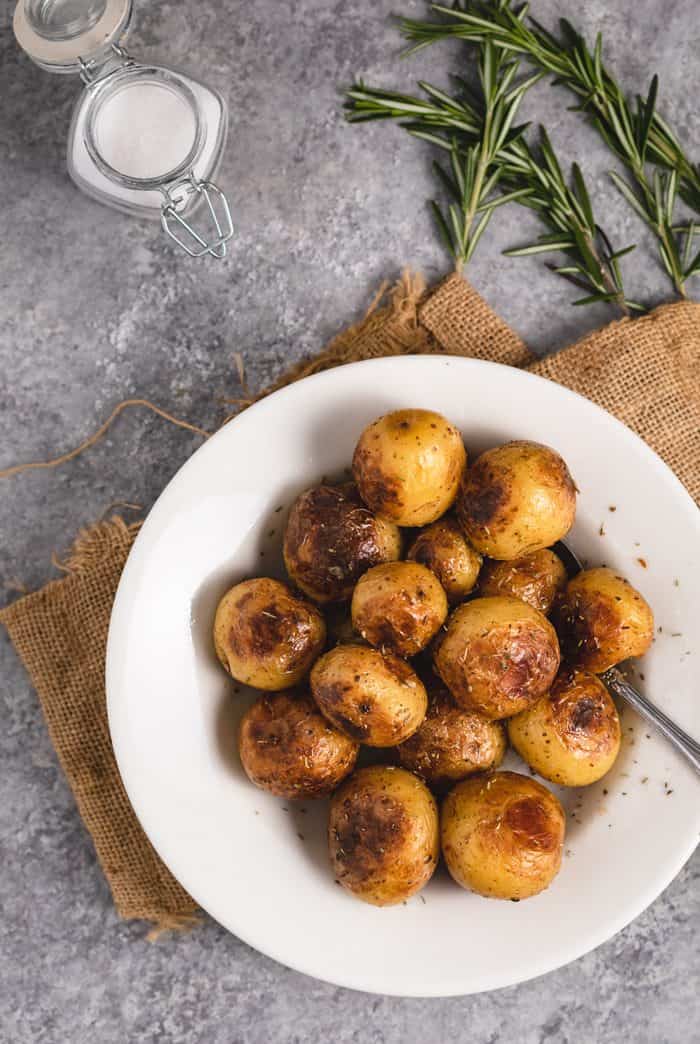 So, this is a totally revamped version of an original Instant Pot Roasted Potato recipe that I originally published back in February. Although the original method worked well for me, I had a handful of readers who had didn't have the same luck that I did, and that's not okay. So, I retested the recipe. But this time, I did everything in the reverse order. Boom. Magic. 
How do you Roast Potatoes in the Instant Pot?
-First and foremost, the potatoes should be pressure cooked before they are sauteed and crisped up. This is not the way that the Instant Pot recipe book indicates to do it, but it's the fail-safe way. If you crisp up the potatoes first, and then pressure cook, you run the risk of losing the crispiness of the potato, and having a pool of chicken broth left on the bottom of the instant pot.
👇🏻This is what the potatoes look at after pressure cooking, but before sauteing. If you forget to pierce the potatoes like I did with a few, they may split. Not a big deal, but a good idea to give them a poke before pressure cooking.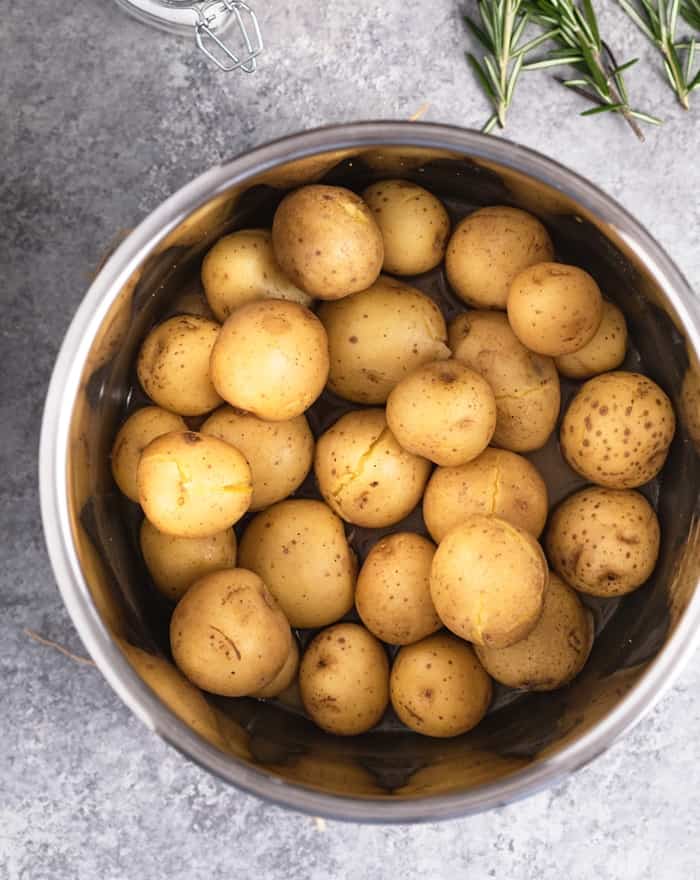 What Size Instant Pot is needed?
-I have a 6 quart Instant Pot, although any size should work well with this recipe.
What if the Burn Indicator Turns on?
-The more I use the Instant Pot, the more I see this message. As long as I've made sure that I've removed any specs from the bottom of the pan before pressure cooking, I don't worry about the message as it will go away with a little bit of time.
Can you Freeze Roasted Potatoes?
-Roasted potatoes can be frozen and reheated, but do lose a bit of their texture in doing so. The best way to freeze them is to wrap them in foil packets once they are completely cool. When ready to serve, unwrap them and bake in a 400 degree oven for 10-15 minutes.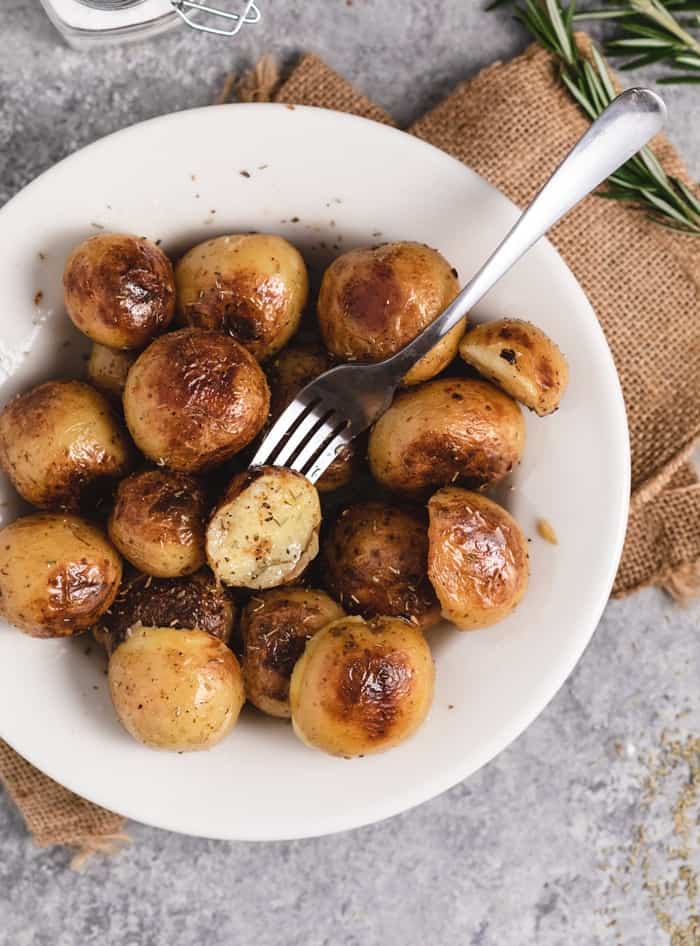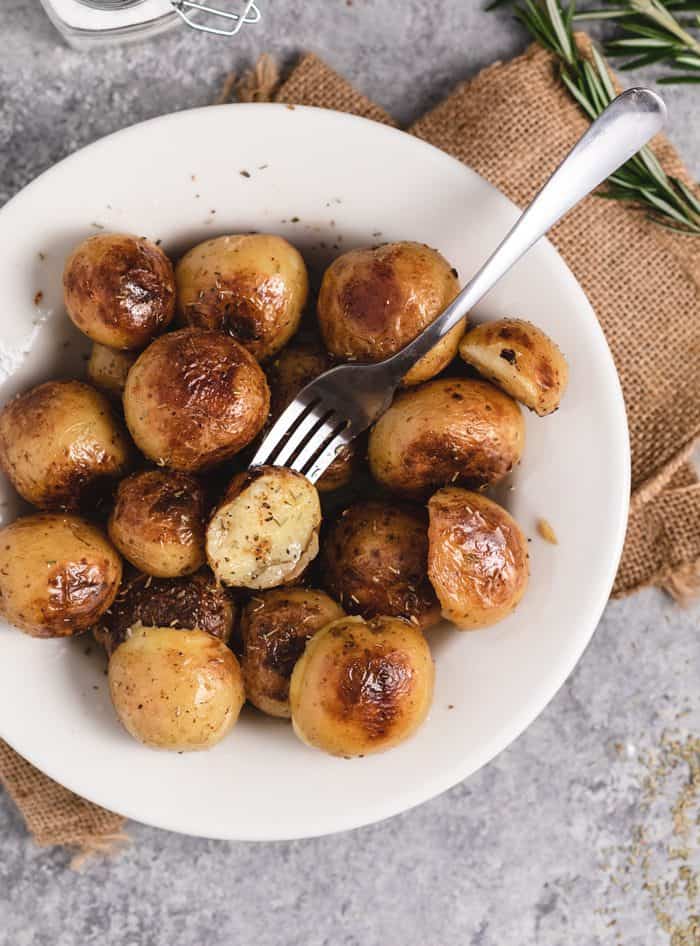 Follow me!
Now. If are obsessed with potatoes and making other delicious foods in a jiff like I am,  you should probably join my free recipe email list. You'll get a weekly email with my brand new recipes.
…And follow me on Facebook, Instagram, and Pinterest. 😊
Want more potatoes?
Instant Pot Roasted Potatoes
Baby Potatoes are pressure cooked in chicken broth for just 11 minutes, then sautéed to crispy perfection and topped with my grandmother's seasoning recipe!

Ingredients
2 lbs. baby potatoes* scrubbed clean
3 garlic cloves peeled
1 cup chicken broth
2-3 Tablespoons vegetable oil plus more if needed
Salt/Pepper to taste
Potato Seasoning
1 teaspoon Rosemary
¾ teaspoon oregano
¾ teaspoon thyme
¾ teaspoon sage
1/8 teaspoon nutmeg
1/8 teaspoon pepper
Instructions
Pierce each potato with a fork and place in the Instant Pot along with the garlic and chicken stock. Secure the lid and ensure that the steam valve is shut. Pressure Cook for 11 minutes.

Quick release the steam valve and open the lid. Drain out the chicken broth and pat the potatoes dry.

Set the Instant Pot to sauté mode. Add 1-3 Tablespoons of vegetable oil, along with the potato seasonings.

Leave the potatoes in place for 5 minutes or so to allow the first side to brown. Use kitchen tongs to carefully rotate them until each side is browned and crisp. Add more vegetable oil if necessary. Remove them from the pot and serve!
Recipe Notes
*I used very small Yukon Gold potatoes, they are separate from the larger Yukon Golds, generally in netted bags. The size of the bags at my grocery store were 24 oz. each and I used 1 + 1/2 bags for this recipe, although 2 full bags could be used.  Fingerling potatoes may also be used. 
Nutrition Information
Calories:
243
, Fat:
7g
, Saturated Fat:
5g
, Sodium:
229mg
, Potassium:
1010mg
, Carbohydrates:
41g
, Fiber:
5g
, Sugar:
1g
, Protein:
5g
, Vitamin A:
20%
, Vitamin C:
50.1%
, Calcium:
41%
, Iron:
2.1%
Course: Side Dish
Cuisine: American
Keyword: Instant Pot Roasted Potatoes