A mouth-watering cheeseburger served over a salad full of fresh lettuce, tomatoes, pickles, onions, and bacon. All drizzled with an easy homemade Big Mac Sauce.
Be sure to try my Crispy Chicken Salad and my Turkey Taco Lettuce Wraps next!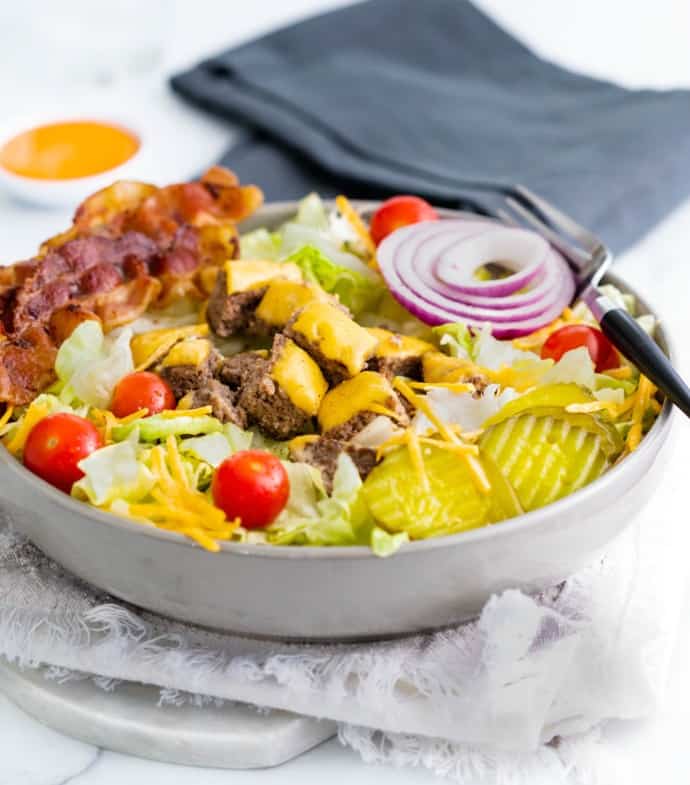 I'm pretty sure even non-salad lovers have to agree that Cheeseburger salad is pretty bomb, right? I mean… it's got bacon. It's got pickles. It's got a flippin' cheeseburger on top of it. 
I rest my case. I really do.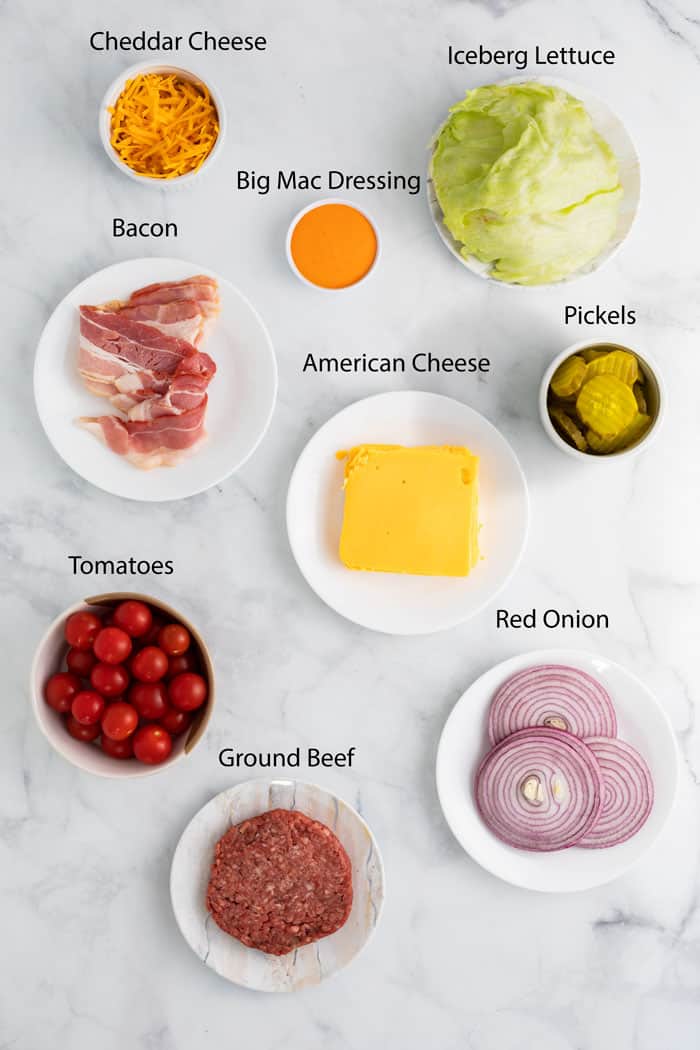 How to Make Cheeseburger Salad
Cheeseburger Salad is a perfect combination of everything that you love in a salad, combined with everything that you love in a burger.
You're really only missing the bun, although you can absolutely add in some croutons.
Typically, the ingredient list is as follows:
Iceberg lettuce, Tomatoes, Pickles, Onions, Cheddar Cheese, Bacon, Big Mac Dressing, and a juicy cheeseburger.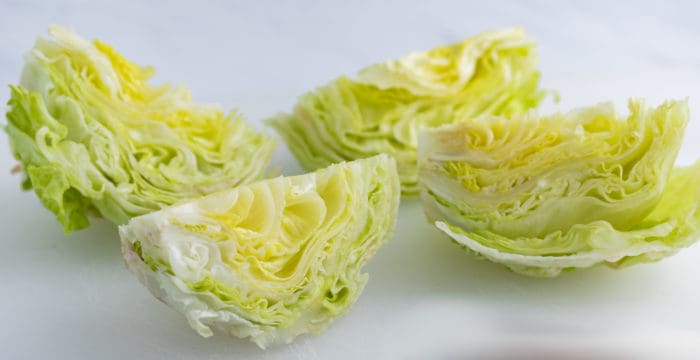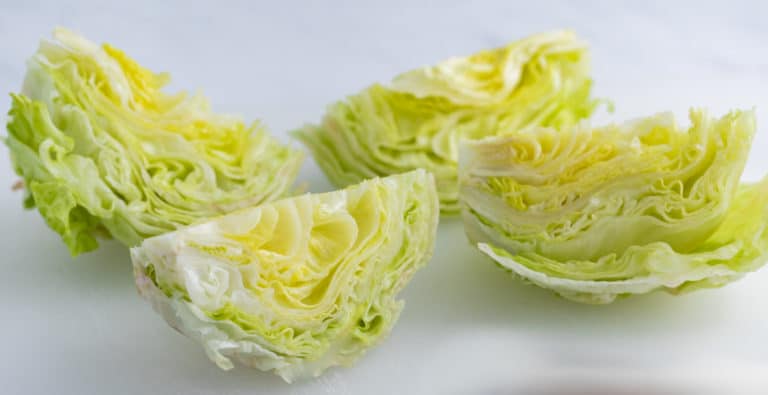 How to Cook Hamburgers on the Stove
Quick Tips:
Preheat the pan with a drop of oil or butter, the burger should sizzle when it hits the pan.
Cast Iron Skillets are best for conducting heat and giving the burger a perfect sear.
Cook over medium-high heat, it should take no longer than 10 minutes.
Ground Chuck, 80% lean is best.
Don't overwork the meat, handle it gently when forming the patties.
Use your thumb to create an indentation in the middle, it should resemble a frisbee. This helps the patty remain in a nice uniform shape.
Use a thin spatula for flipping to maintain the shape and texture of the burger.
This resource has a lot of great information and visuals on cooking hamburgers on the stove.
Big Mac Sauce Recipe
-According to Wikipedia, McDonald's has always referred to their Big Mac Sauce as their "special sauce", which was thought to be a secret by many. However, it's not a secret at all, and contains the following:
"Store-bought mayonnaise, sweet pickle relish and yellow mustard whisked together with vinegar, garlic powder, onion powder and paprika."
See the recipe card below for quantities of each!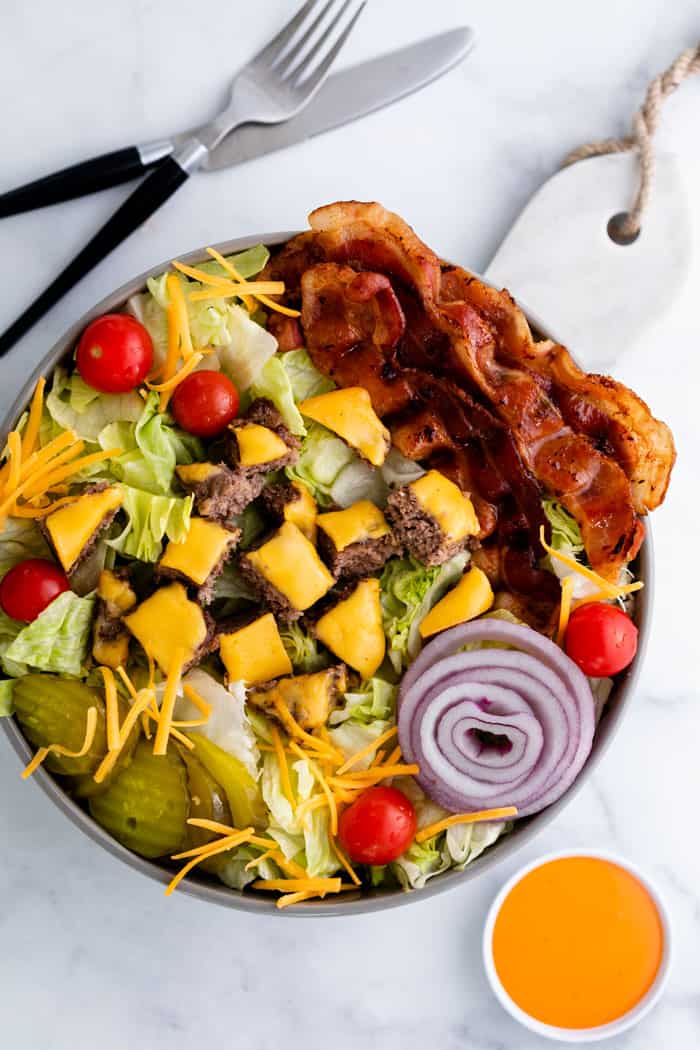 Try These Next!
Get my Free Meal Plan!
I've got a Free Meal Plan with 7 of my super popular recipes (complete with grocery list)! Sign up for my email list and I'll send it over now along with weekly dinner recipes!
And follow me on Facebook, Instagram, and Pinterest!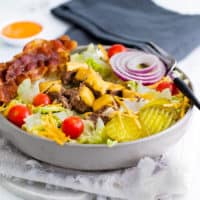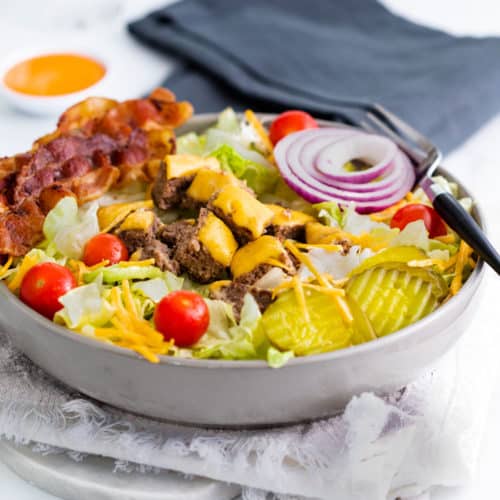 Cheeseburger Salad
A mouth-watering cheeseburger served over a bed of fresh lettuce, tomatoes, pickles, onions, and bacon. All drizzled with easy homemade Big Mac Sauce.
Ingredients
Salad (makes 1 salad)
1 1/2 cups chopped romaine lettuce
1/4 cup cherry tomatoes, sliced in half and each half into fourths
1 Tablespoon dill pickle slices
4 red onion strings
2 Tablespoons cheddar cheese, shredded
Burger (makes 1 burger)
3 strips bacon
6 oz. ground beef*
Salt/Pepper to taste
1 slice yellow American Cheese
Instructions
Combine the Big Mac Sauce ingredients together and refrigerate in an airtight container for a minimum of 10 minutes or up to three days.

Assemble the salad ingredients on a plate and place in the fridge.

Once the bacon is nice and crisp, set it aside on a paper towel lined plate to allow the excess grease to absorb.

Leave the bacon drippings in the pan and increase the heat to medium-high.

Season the ground meat with salt and pepper and gently shape into a patty.

Use your thumb to create a dimple around the middle of the burger for an even shape when cooked. (It should look like the shape of a frisbee.) See here for more info.

Add the burger to the preheated pan. Cook for no longer than 5 minutes on the first side. Use a thin spatula to flip and place the cheese on top. Heat for no more than 5 minutes on the second side.

Remove the burger from the pan and place onto a cutting board. Let it rest for 3 minutes to let the juices absorb back into the meat.

Slice the burger into cubes and place it on top of the chilled salad.

Drizzle 1-2 Tablespoons of big mac sauce over the salad and serve!
Notes
*Ground chuck is the best for burgers, 80% fat
Honey Mustard or Thousand Island dressing can also be used on this salad.
Nutrition
Calories: 951kcal, Carbohydrates: 7g, Protein: 50g, Fat: 79g, Saturated Fat: 32g, Cholesterol: 216mg, Sodium: 1260mg, Potassium: 845mg, Fiber: 1g, Sugar: 2g, Vitamin A: 6820IU, Vitamin C: 11.3mg, Calcium: 490mg, Iron: 4.7mg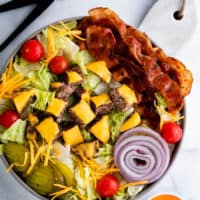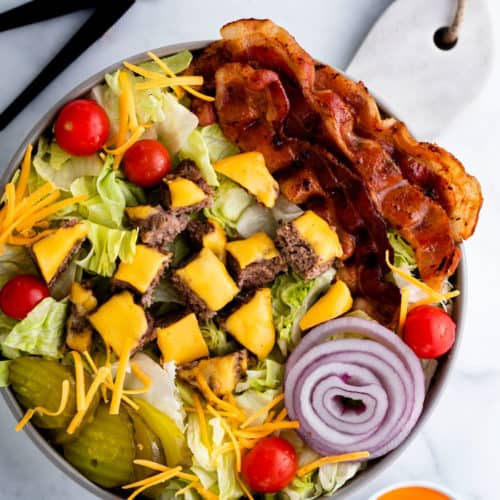 Big Mac Sauce
This Copycat McDonald's Big Mac Sauce recipe uses the same ingredients as the classic restaurant, this sauce is not only great on burgers, but over cheeseburger salad as well!
Ingredients
1/3 cup mayonnaise
2 teaspoons dill pickle relish
2 teaspoons yellow mustard
1 teaspoon white wine vinegar
1 teaspoon garlic powder
1 teaspoon onion powder
1 teaspoon paprika
Instructions
Combine all ingredients together and stir well. Place in an airtight container and refrigerate for a minimum of 10 minutes before serving.
Notes
There are approximately 2 Tablespoons per serving. 
The shelf life of this salad dressing varies, and is based on the most perishable component of what you added to it. Check the expiration dates on the ingredients you used for a better idea. 
Nutrition
Calories: 68kcal, Carbohydrates: 1g, Fat: 7g, Saturated Fat: 1g, Cholesterol: 3mg, Sodium: 87mg, Potassium: 10mg, Vitamin A: 125IU, Iron: 0.1mg
Big Mac Sauce Source: Genius Kitchen