Homemade Caesar Dressing
This creamy homemade Caesar dressing contains a handful of simple ingredients that blend together perfectly. You'll think it came from a gourmet restaurant!  
I have been on a quest to find the best Caesar salad dressing recipe on the planet. I'm very picky about Caesar dressing, and it's about time I started making my own version.
I personally love the Caesar Dressing that they have at the Pizzeria Uno Restaurants, so I checked out the ingredients that they use and created a homemade variation that I am obsessed with.
Don't be afraid of the fact that there is an anchovy filet in there. You can't even taste it, and I bet you and I have both unknowingly eaten it in restaurants on several occasions. 😲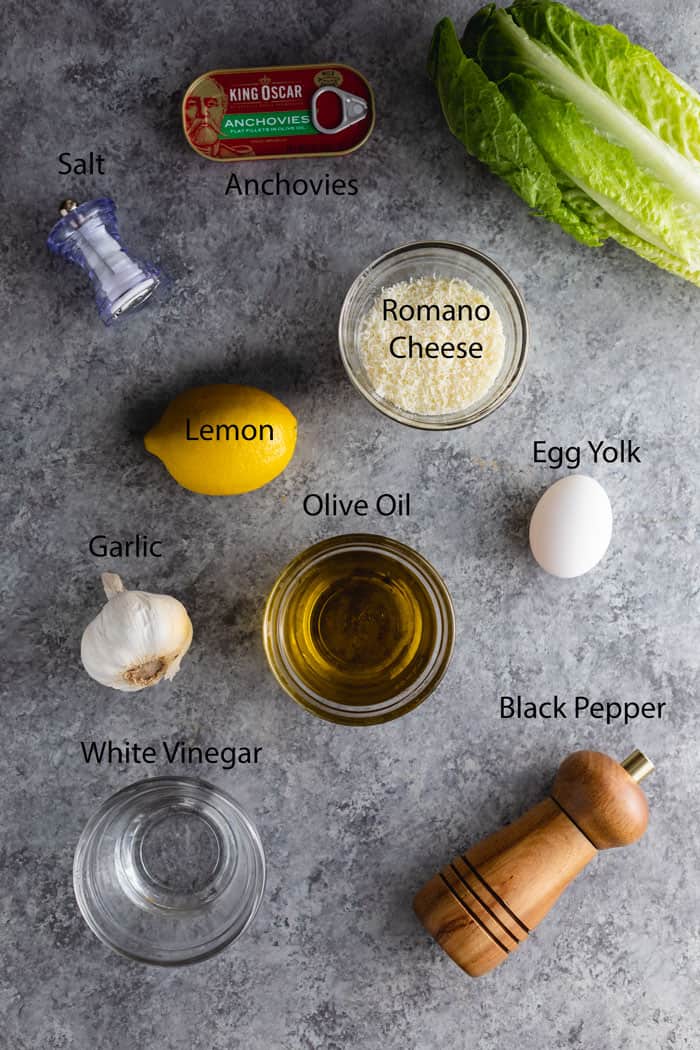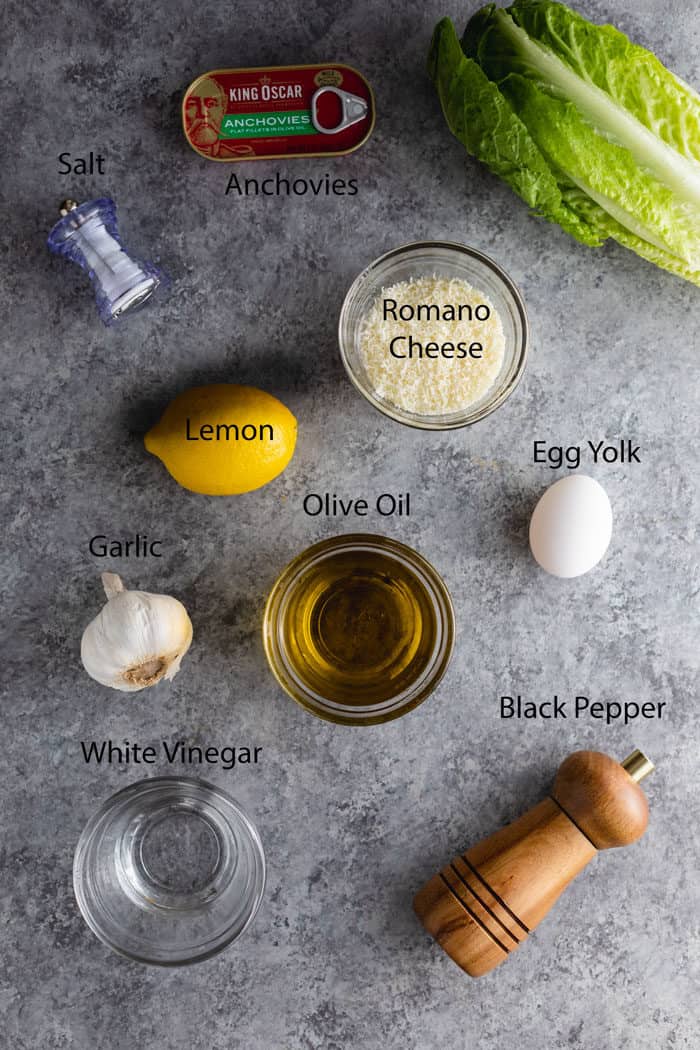 Best Olive Oil for Salad Dressing
-Make sure you use high quality extra virgin olive oil when making this recipe. In turn, it'll yield a high quality salad dressing and will ensure that the olive oil remains in liquid form when refrigerated.
–Lucini olive oil is a high-quality brand that I like to use.
-For more information about picking the highest quality olive oil that you can, check these guys out.
Consuming Raw Egg Yolks
Consuming raw egg yolks is certainly a personal decision, however the USDA considers it safe to consume raw egg yolks from pasteurized eggs, and notes that there is a low risk of an egg being contaminated.
This article contains more information about raw egg yolk consumption.
Storing Caesar Salad Dressing
-Homemade Caesar Dressing should be stored in an airtight container for up to one week.
–These mason jars make perfect storage containers. (This is the jar featured in these recipe images.)
–Note: Other homemade dressings that do not contain cheese or eggs (such as a vinaigrette) can be stored for up to two weeks.
Tools I Recommend for this Recipe
1.) Food Processor: If you don't have a mini food processor, I really love this one. It is small enough where I can store it in the cabinet with my pots and pans, but large enough to fit the ingredients that I typically need to combine.
2.) Box Cheese Grater: This box cheese grater is super sharp and has every size of grate that you would need. I use the finest grate when I make this recipe so that my Parmesan cheese is super thin and almost resembles a powder.
⭐PRO TIP: Buying blocks of cheese and grating it at home will always yield a better result.
3.) Garlic Peeler: This garlic peeler will remove the super thin skin from a garlic clove in a second. It really saves time and frustration for me on a daily basis.
⭐PRO TIP: Using cloves of garlic as opposed to jarred minced garlic is much more flavorful and worth the extra effort.
Don't Forget the Croutons!
-Try my homemade sourdough croutons with this delicious dressing for a real gourmet spin!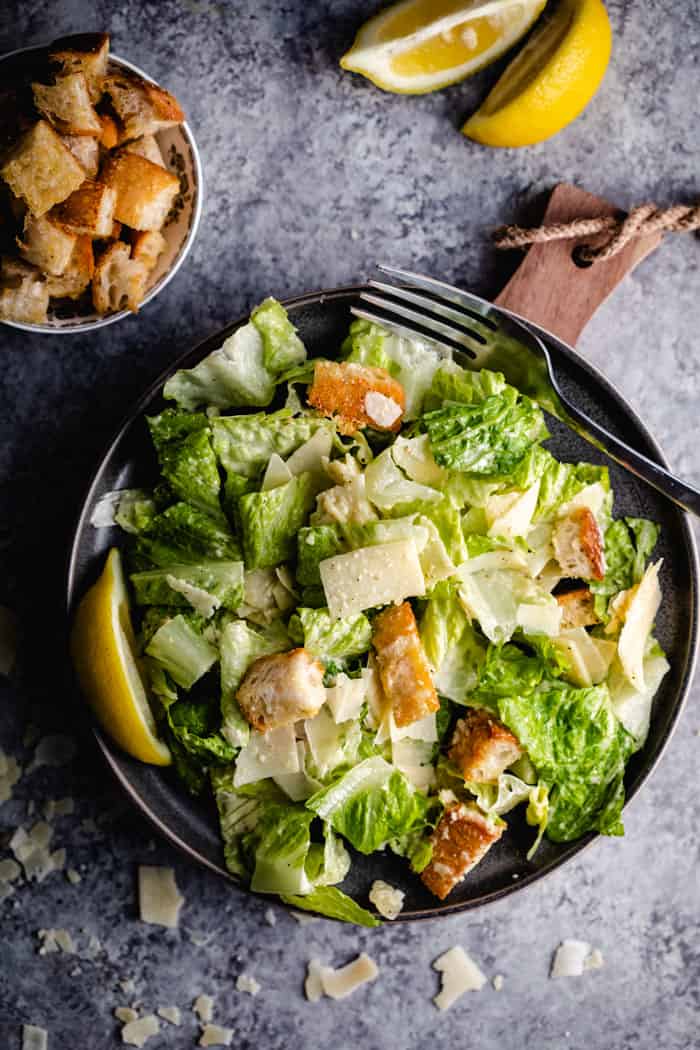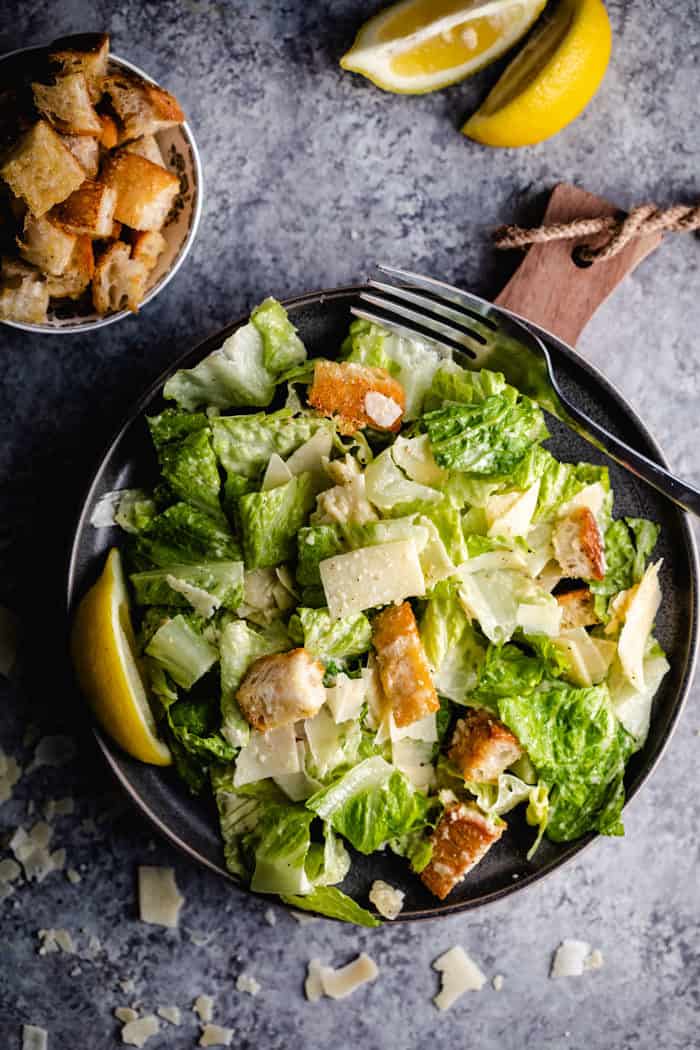 Try These Next!
Follow Me!
Homemade Caesar Dressing
This creamy homemade Caesar dressing contains a handful of simple ingredients that blend together perfectly. Pair it with some homemade croutons for an extra touch of gourmet!

Ingredients
½ cup high-quality olive oil
1/3 cup Romano Cheese finely shredded
1 Tablespoon white vinegar
1 egg yolk
1 teaspoon lemon juice
1 dash salt
¼ teaspoon black pepper
2 cloves garlic
1 whole anchovy filet I use one
Instructions
In a medium bowl, whisk together all ingredients except for the garlic cloves and anchovy filet. Whisk for a good 60 seconds, until well combined.

Add the whisked mixture to a

food processor

along with the garlic coves and anchovy filet. Blend until completely smooth.

Refrigerate for a minimum of one hour prior to serving, it will thicken upon standing.

Store the dressing in an airtight container in the refrigerator for up to a week
Recipe Notes
If the salad dressing is thicker than you'd prefer, add one teaspoon of water and stir well to combine. Repeat until you've attained your desired consistency. (Just tread lightly and add small amounts at a time.)
These mason jars make perfect storage containers for homemade dressing.
Nutrition Information
Calories:
116
, Fat:
12g
, Saturated Fat:
2g
, Cholesterol:
23mg
, Sodium:
41mg
, Protein:
1g
, Vitamin A:
40%
, Vitamin C:
0.4%
, Calcium:
39%
, Iron:
0.1%
Course: Salad
Cuisine: American
Keyword: Caesar Salad Dressing Recipe