This oven-baked Chicken Parmesan is STUFFED with Mozzarella cheese and covered in a crispy Parmesan breadcrumb mix with warm Marinara sauce.
Be sure to try my Chicken Parmesan Casserole Recipe next!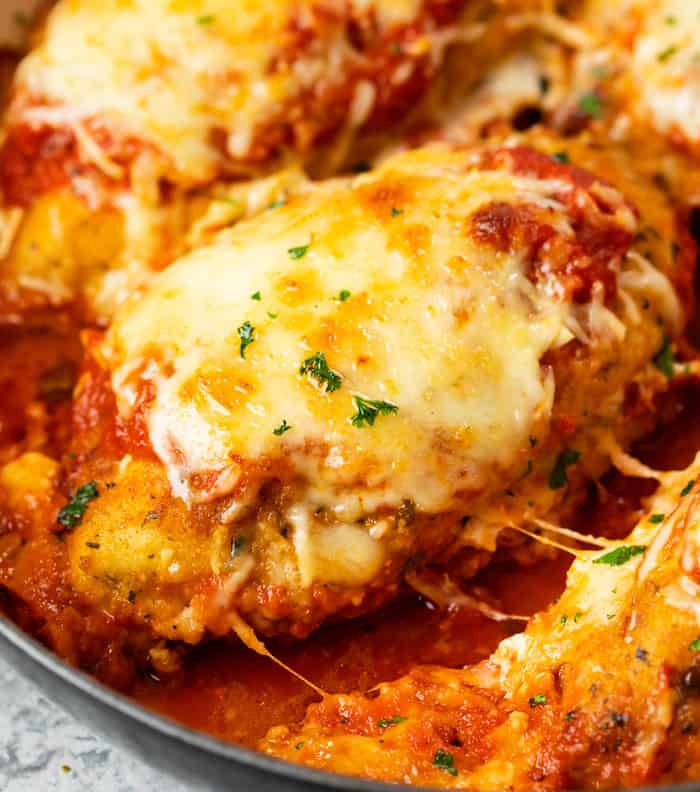 Chicken Parmesan (Cheese-Stuffed!)
Prepare to impress yourself guys. This right here? This classic Oven Baked Chicken Parmesan…tastes better than any restaurant I've been to.
Not only is it stuffed with mozzarella, but it's got the crispiest Parmesan breading.
You can also skip the mozzarella stuffing and make my classic Chicken Parmesan recipe!
How to Make it
See recipe card below this post for ingredient quantities and full instructions.
Use a knife to carefully create a pocket in the chicken breast. Stuff with mozzarella cheese.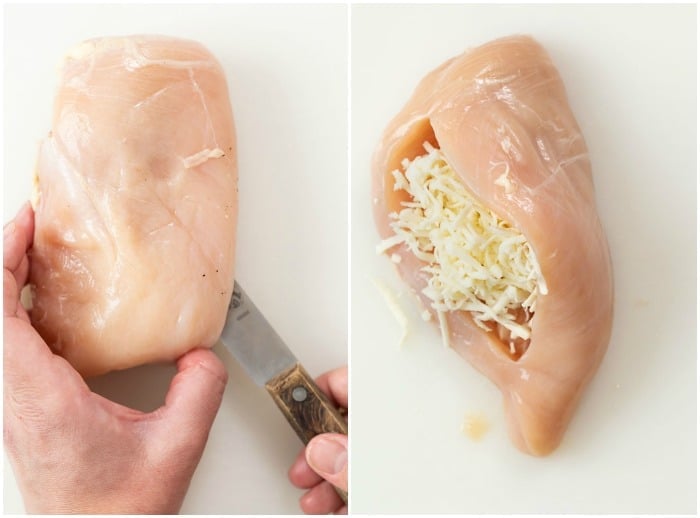 Coat the chicken in seasoned flour, a whisked egg mixture, and a Parmesan breadcrumb mix.
Brown each side of the chicken in a skillet with a little olive oil and butter. Remove and place on paper towels, which will absorb any excess oil for extra crispy chicken.
Return the chicken to the skillet and add marinara sauce.
Top with Mozzarella and Parmesan cheese. Bake at 400° for 20 minutes. Increase heat to 450° to brown a little more if desired, watch the entire time to prevent burning.
Sprinkle with fresh parsley and serve!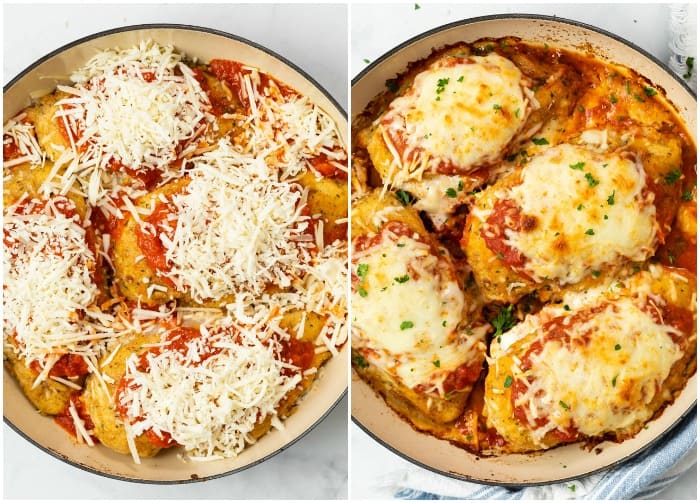 Can You Skip the Browning?
You can skip the browning step, but this why I choose to brown the chicken before baking:
It'll be Extra crispy on the outside. And it stays crispy even when topped with marinara and cheese.
Much more golden in color, the butter helps achieve this.
Tastes like restaurant Chicken Parmesan
Remember, we're only using a little butter and oil, we're not deep frying the chicken until cooked through.
However if you prefer, you can skip the browning and simply spray the chicken lightly with oil prior to baking.
Thinner Chicken Cutlets
Storage
Store leftovers in an airtight container in the fridge for up to 3 days.
Leftovers also freeze very well for future meals and are best if used within 3 months.
To reheat from a frozen state: Allow it to defrost in the fridge overnight. Lightly grease a dutch oven or oven-safe dish. Cover and bake at 350° for 30-35 minutes.
You still reheat partially frozen chicken Parmesan in the oven, it will just take longer to heat through.
Try These Next!
Get My Free Meal Plan
I've got a Free Meal Plan with 7 of my super popular recipes (complete with grocery list)! Sign up for my email list and I'll send it over now along with weekly dinner recipes!
And follow me on Facebook, Instagram, and Pinterest!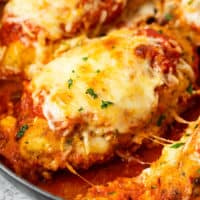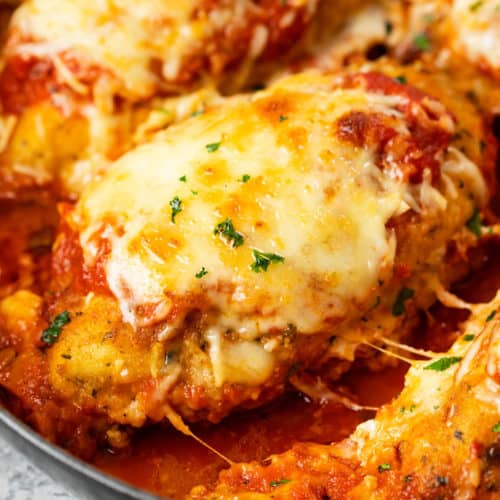 Cheese-Stuffed Chicken Parmesan
This classic oven-baked Chicken Parmesan tastes JUST like it's from a restaurant. Better yet, it's STUFFED with Mozarella cheese and covered in a crispy Parmesan breading with warm marinara sauce.
Ingredients
4 boneless skinless chicken breasts
2 ½ cups shredded mozzarella cheese, separated
1/2 cup shredded Parmesan Cheese, separated
½ cup flour
1 ¼ teaspoons seasoned salt
¼ teaspoon pepper
2 eggs
½ teaspoon garlic powder
1 cup Italian breadcrumbs
2 Tablespoons butter
3 Tablespoons olive oil
Fresh parsley, to garnish
2 cups marinara sauce
Fresh Parsley, to garnish
Instructions
Note: I recommend a 12 or 13 inch oven-safe pan for this recipe. A large dutch oven will also work. Otherwise, transfer the chicken to a lightly greased casserole dish after browning. Add the sauce/cheese, and bake as directed.
Stuff the Chicken
Pat the chicken breasts completely dry.

Cut a slice in middle of each chicken breast to create a pocket, don't cut all the way through to the other side. PRO TIP: Flash freeze the chicken for 10-15 minutes to firm it up for easier cutting.

Stuff each one with 2-3 Tablespoons of mozzarella cheese, close to seal.
Bread the Chicken
Create an assembly line for breading the chicken:

Plate #1: ½ cup flour + 1 ¼ tsp seasoned salt + 1/4 tsp pepper.

Bowl #2: 2 whisked eggs + ½ teaspoon garlic powder

Plate #3: 1 cups breadcrumbs + ¼ cup shredded Parmesan

Coat the chicken in the flour mixture and tap to rid any excess.

Dip into the whisked eggs just long enough to lightly coat the chicken, let the excess drip off the edge of the bowl

Generously coat in the breadcrumb mixture.
Brown the Outside
Heat the oil and butter to a pan over medium heat.

Brown the chicken in batches of 2, leave room around the outside to allow the edges to crisp.

Cook for about 4 minutes per side, until light golden brown. Add more oil if needed. (I use 2 spatulas to carefully flip the chicken.)

Remove from heat and place the chicken on a paper towel lined plate. The paper towels absorb the excess oil, leaving you with crispier chicken. Note: The inside is still very raw.
Bake
Preheat oven to 400 degrees.

Return the chicken to the pan or transfer to a casserole dish. Spoon marinara sauce around the sides and on the top.

Sprinkle generously with remaining mozzarella and Parmesan cheese.

Bake uncovered for 20 minutes.

If desired, increase heat to 450 degrees and cook just until it browns more on top, watch closely the whole time.

Remove from the oven, garnish with parsley, and serve!
Notes
The chicken is done when the internal temperature reaches 165 degrees.
---
Romano cheese can also be added to the mix.
---
If you have trouble keeping the mozzarella in the chicken, a toothpick or two will help keep it in place.
---
Be sure to serve this with my 20-minute Creamy Tomato Pasta and some Garlic Bread with Cheese!
Nutrition
Calories: 567kcal, Carbohydrates: 24g, Protein: 50g, Fat: 30g, Saturated Fat: 15g, Cholesterol: 187mg, Sodium: 1975mg, Potassium: 949mg, Fiber: 3g, Sugar: 7g, Vitamin A: 1327IU, Vitamin C: 10mg, Calcium: 553mg, Iron: 3mg