Chicken Piccata
Perfectly seared chicken with a light Parmesan crust simmered in a flavorful lemon sauce and served with pasta.
I must begin with a disclosure. Ahem. I haven't always been a chicken piccata fan. (I know, I know, it's crazy.) My husband…I don't always like to give him credit for things, but he's gotten me to re-think some foods that I wouldn't otherwise eat. I think the three big ones are mussels, buffalo chicken pizza, and chicken piccata.
What is chicken piccata?
Piccata literally means "to cook in a sauce of lemon, butter, and parsley." I guess we could have gathered that.
Anyway, I am obsessed with reruns of The King of Queens. (It's like, in my bio.) And there is an episode where Carrie freaks out because she orders a meal without capers but the restaurant adds capers to it anyway. I have watched this show well before my love for chicken piccata developed and so I really had no idea what a caper was. 
What are capers?
Capers are actually little flower buds! (Aww.) They come from a plant called a Finders Rose, and until they are pickled, they actually taste really bitter. But the pickling process gives them that slightly sweet and very salty flavor, which I love.
(Carrie was all wrong to ask for no capers with her meal. Just sayin'.)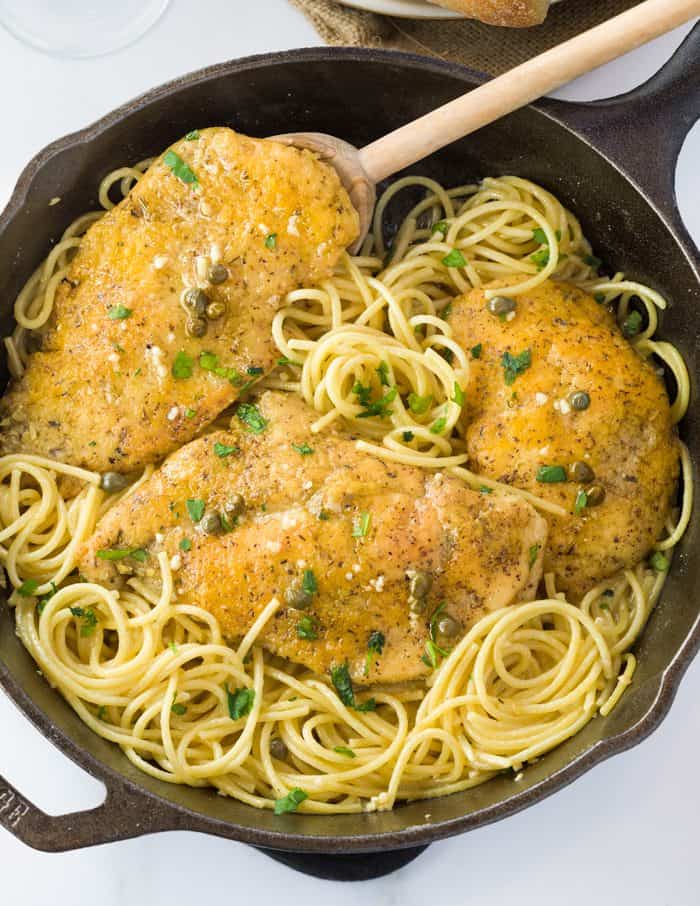 More about this chicken piccata recipe.
I gotta tell ya, the way that we cook this chicken is bomb. It's lightly coated in a Parmesan crust and then seared to golden-brown perfection. Then the sauce is cooked in the very same skillet that we cooked the chicken in, which gives the sauce that much more flavor.
So let's talk about the lemon sauce while we're at it. It's got just enough lemon. But not too much, it won't make your face twitch with tartness overload. It's also got a touch of cream, but also, not too much. There's a splash of white wine, (which makes everything delicious), and some garlic, and chicken broth. Can you even!? I love using a cast iron skillet because it gives that chicken such a good sear and in turn, gives the sauce a ton of flavor!
Follow me!
Now. If you like this recipe, you should probably join my free recipe email list! You'll get a weekly email with my brand new recipes. And follow me on Facebook, Instagram, and Pinterest. (Don't make this be our last goodbye!)
Check out my other recipes!
Chicken Piccata
Perfectly seared chicken with a light Parmesan crust simmered in a flavorful lemon sauce and served with pasta.
Ingredients
1/2 lb. spaghetti
2 boneless/skinless chicken breasts
2 Tablespoons Italian seasonings
Salt/Pepper, to taste
¼ cup all-purpose flour
¼ cup Parmesan cheese, finely grated
4 Tablespoons olive oil, divided
4 Tablespoons butter, divided
2 teaspoons minced garlic
¼ cup dry white wine, such as Pinot Grigio
1 cup chicken broth
2 Tablespoons lemon juice
¼ cup Capers, drained and rinsed
2 Tablespoons half and half, optional
Fresh Parsley, chopped, to garnish
Instructions
Cook the spaghetti according to package instructions. Drizzle with olive oil, toss, and set aside.

Slice each chicken breast in half to form 4 thinner pieces of chicken. Coat each side generously with Italian seasonings and sprinkle with desired amounts of salt and pepper.

Combine the flour and Parmesan cheese together on a plate and coat both sides of the chicken, pressing down to ensure it sticks. This will ensure a crispy, golden coating.

Heat 2 Tablespoons of the olive oil in a large skillet (preferably cast iron) over medium-high heat.

Add 2 of the chicken pieces to the skillet to avoid overcrowding the pan. Sear the chicken on each side. Refrain from moving the chicken around as it sizzles, it will hinder the nice golden sear color. If the pan gets too hot, reduce the heat to medium. Each side will take 3-5 minutes. Once each side is a nice, golden brown and the middle is cooked, set the chicken aside. Add the remaining 2 Tablespoons of olive oil to the pan and cook the remaining 2 chicken pieces, then set aside.

Melt 2 Tablespoons of the butter in the pan. Add the garlic and cook for 60 seconds. Add the white wine and bring to a boil. Allow the white to reduce a bit, (about 5-6 minutes).

Add the remaining 2 Tablespoons of butter to the pan, along with the chicken broth, lemon juice, and capers. Scrape up any brown bits from the bottom of the pan to give the sauce plenty of flavor.

Whisk in the half and half and bring to a gentle bubble, then reduce the heat to low. Add the pasta to the pan and use tongs to toss it around in the sauce. Add the chicken back to the pan and use a spoon to drizzle extra sauce over the top of the chicken. Sprinkle with fresh parsley, and serve!
Nutrition
Calories: 589kcal, Carbohydrates: 52g, Protein: 23g, Fat: 30g, Saturated Fat: 11g, Cholesterol: 73mg, Sodium: 792mg, Potassium: 434mg, Fiber: 3g, Sugar: 2g, Vitamin A: 500IU, Vitamin C: 8.7mg, Calcium: 151mg, Iron: 2.7mg