Cheesy Chicken Noodle Casserole
This cheesy chicken noodle casserole is made with a creamy mushroom sauce, chicken, cheese, and broccoli. You'll want to keep this one in the rotation!
Try my Broccoli Cheddar Chicken and Rice Casserole next!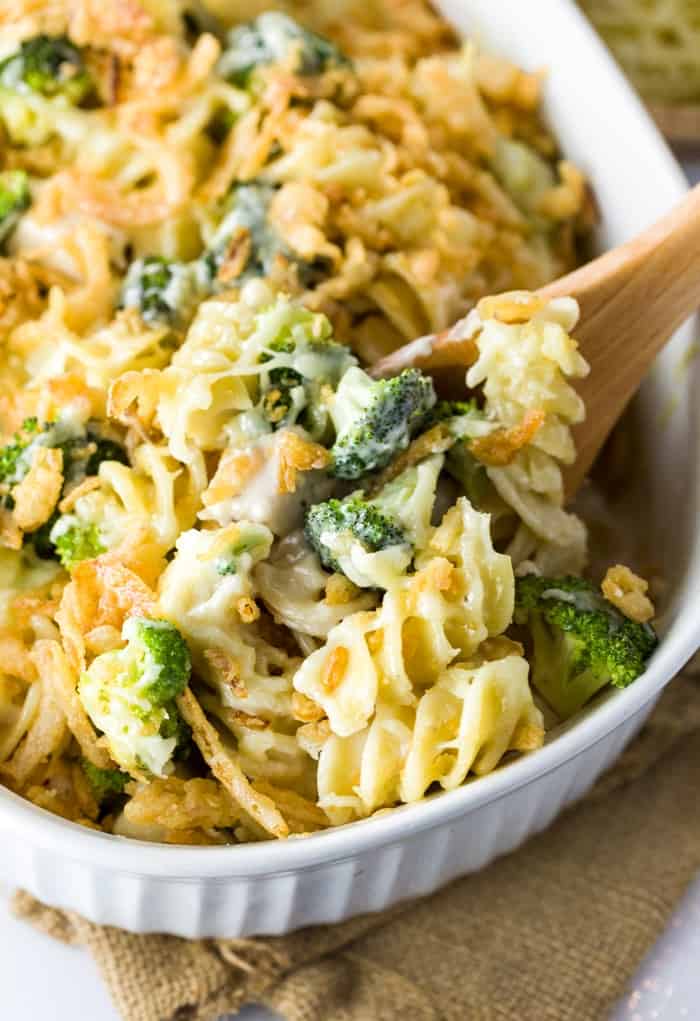 I just love me a good casserole. Especially this one and I'll tell you why. It's loaded with cheese. And cheese is one of my interests. (Yes, cheese is a valid interest.) If I had a dating profile, cheese would be at the top of my interest list. 🧀🧀🧀
I also love this recipe because you can throw in whatever veggies you want. Carrots, corn, peas, anything. Plus, you're not morally obligated to add a vegetable at all! I wont' tell. There is one non-optional part about this recipe though. Those crispy fried onions on top. I made a separate trip to the store solely because I had about 1/8 cup left of them at home and that was just unacceptable. That golden crunch on the top and the flavor that they add, it gets me every time.
Best kinds of pasta for casseroles
Firm, spiral pastas like Fusili or Rotini work perfectly in casseroles. They maintain their shape after baking in the oven and soak up every bit of that creamy cheese sauce! Penne, Rigatoni, and Ziti are short, tube-shaped pastas that also work well.
Why casseroles are the best
Casseroles are killin' it all over the place for several reasons. They generally only require a handful of ingredients, they're easy on your wallet, they're portable, easy to make ahead of time, comforting, and easy to alter based on what you have at home. (Plus, many of them contain cheese. ☺)
👉If you're in the market for a new casserole dish, I totally have my eye on this one because it's pretty, and this one because it's safe for the oven and the stove top.
Speaking of delicious, comforting, creamy goodness, save this Olive Garden Alfredo Sauce recipe for a rainy day!
Follow Me!
Try These Next!
Servings: 4
Cheesy Chicken Noodle Casserole
Course: Main Course
Cuisine: American
Keyword: chicken casserole, chicken noodle casserole
This cheesy chicken noodle casserole is made with a creamy mushroom sauce, chicken, cheese, and broccoli. You'll want to keep this one in the rotation!

Ingredients
4 cups dry Fusilli (Rotini works as well)
2 boneless skinless chicken breasts cut into cubes
Salt/Pepper to taste
10.5 oz. cream of mushroom soup (cream of chicken works well too)
8 oz. sour cream
1/3 cup milk
2 cups broccoli florets
8 oz. cheddar cheese shredded
½ cup French's crispy fried onions
Instructions
Preheat oven to 350 degrees.

Season the cubed chicken with desired amounts of salt/pepper.

Place the chicken in a casserole dish and cook for 10 minutes. Remove the chicken from the oven and drain any excess water.

While the chicken cooks, boil the pasta for two minutes less than instructed on package, drain when finished.

In a small bowl, combine the cream of mushroom soup, milk, and sour cream. Pour it on top of the pasta. Add the diced chicken, broccoli, and half of the cheese. Gently stir with a

silicone spatula

.

Add the remaining cheese to the top of the casserole. Bake in the oven for 15 minutes, covered.

Add the crispy fried onions and bake, uncovered, for 5-7 minutes, until the top is a light golden brown. Serve and enjoy!
Recipe Notes
-I have used egg noodles for this recipe as well, but they are thinner and don't hold up quite as well as Fusilli or Rotini. 
-I like to use Cabot sharp white cheddar cheese in this casserole. 
-If you prefer your casseroles to be extra saucy, you can use a little less pasta!
Nutrition Information
Calories:
741
, Fat:
38g
, Saturated Fat:
21g
, Cholesterol:
130mg
, Sodium:
1076mg
, Potassium:
742mg
, Carbohydrates:
57g
, Fiber:
3g
, Sugar:
5g
, Protein:
40g
, Vitamin A:
1255%
, Vitamin C:
41.7%
, Calcium:
534%
, Iron:
2.3%