This Easy Shepherd's Pie recipe is made with ground beef, brown gravy, and frozen vegetables in less than 30 minutes on the stove top. Broil in the oven for just 5 minutes and dinner is served! Make it with my homemade mashed potato recipe, or use up leftover mashed potatoes!
Be sure to try my Homemade Sloppy Joes recipe next!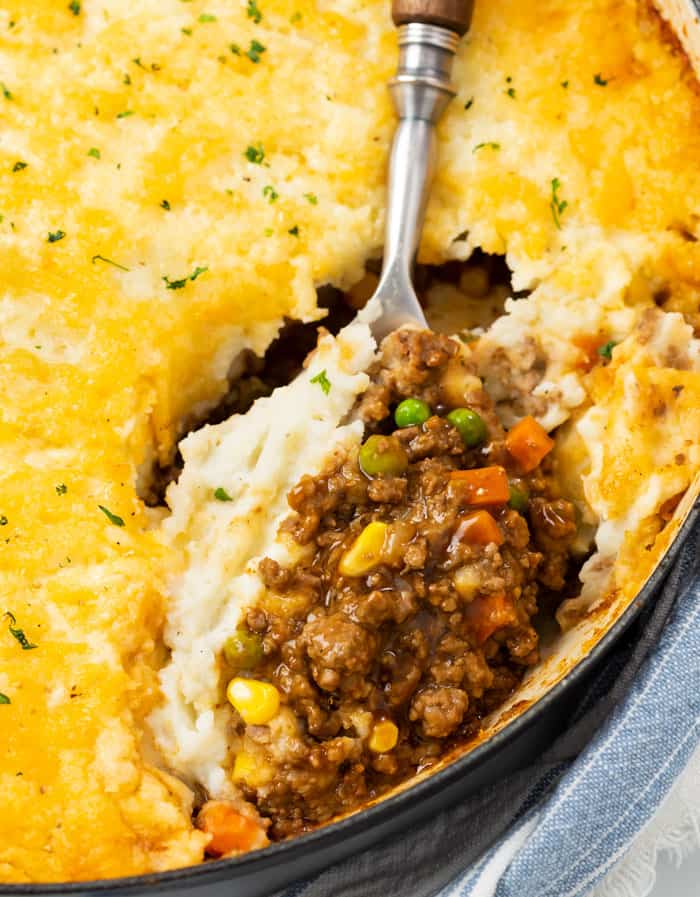 Easy Shepherd's Pie
When it comes to comfort food, Shepherd's Pie is a classic.
The best part about this recipe is that there is no need to let it simmer extensively on the stove top like most Shepherd's Pie recipes. Even 30 minutes of simmering can be a bit much during a busy weeknight.
Most recipes also call for up to 2 lbs. of ground beef, which is a bit much if you have a family of four. This one conveniently calls for just 1 lb. of ground beef, frozen vegetables, and some pantry-friendly items to add amazing flavor to the filling!
Shepherd's Pie vs. Cottage Pie
Shepherd's Pie originated in 1849 and contained sliced meat as opposed to minced. It's important to note that the type of meat in the original dish (beef, lamb, etc.) was not specified. It's signature characteristic was sliced meat topped with mashed potatoes and baked.
The dish has since evolved to include different varieties of minced meat, those varieties depend greatly on the region it's being prepared in.
Countries outside of the US commonly prepare Shepherds Pie with lamb, while the US often prepares it with ground beef. While Cottage Pie is used to describe this dish as being prepared with ground beef, it's also common to hear it referred to as Shepherd's Pie in the US.
Per Wikipedia:
"Shepherd's pie, cottage pie, or hachis Parmentier is a ground meat pie with a crust or topping of mashed potato of English origin. The recipe has many variations, but the defining ingredients are ground red meat cooked in a gravy or sauce with onions, and topped with a layer of mashed potato before it is baked"
The Broil Method
To keep your filling nice and juicy and the potatoes super creamy, simply broil the potatoes for about 5 minutes prior to serving in order to achieve the classic browned crust we all know and love.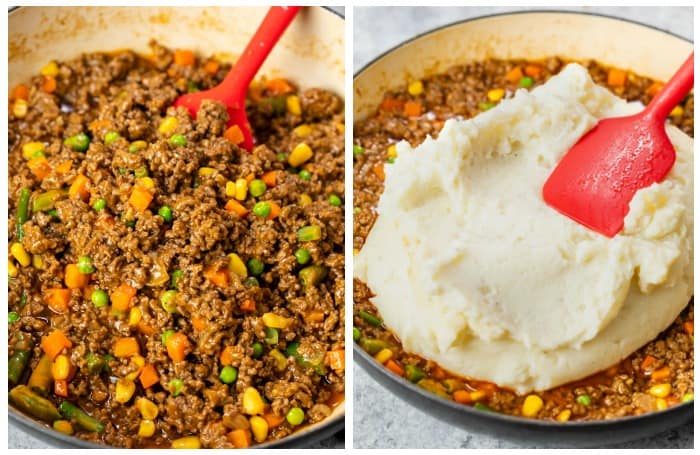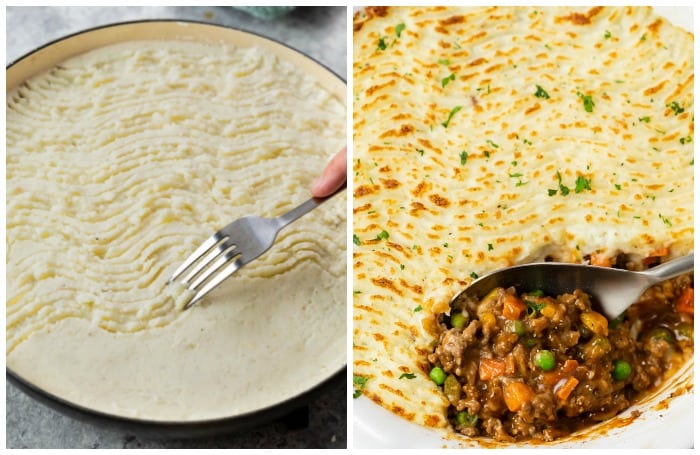 Using Store-Bought or Instant Potatoes
If you're not up for making homemade mashed potatoes, 3 cups of store bought or instant mashed potatoes may be used for an easy shortcut!
---
Make-Ahead Method
1-2 Days Ahead: Store in Refrigerator
When ready to serve, cover and bake in a 350° oven for 35 minutes.
Remove the cover and broil at 550° for about 5 minutes.
1-2 Months Ahead: Store in Freezer
Let it cool completely and store in an airtight container.
When ready to serve, let it thaw overnight, then cover and bake in a 350° oven for 30 minutes. Remove the cover and broil.
OR, cover and bake the frozen pie at 350° oven for 1 hour. Remove the cover and broil.
---
Storing Leftovers
Leftovers can be refrigerated for up to 3 days. Reheat in a 350° oven or in the microwave.
Leftovers also make a great freezer food.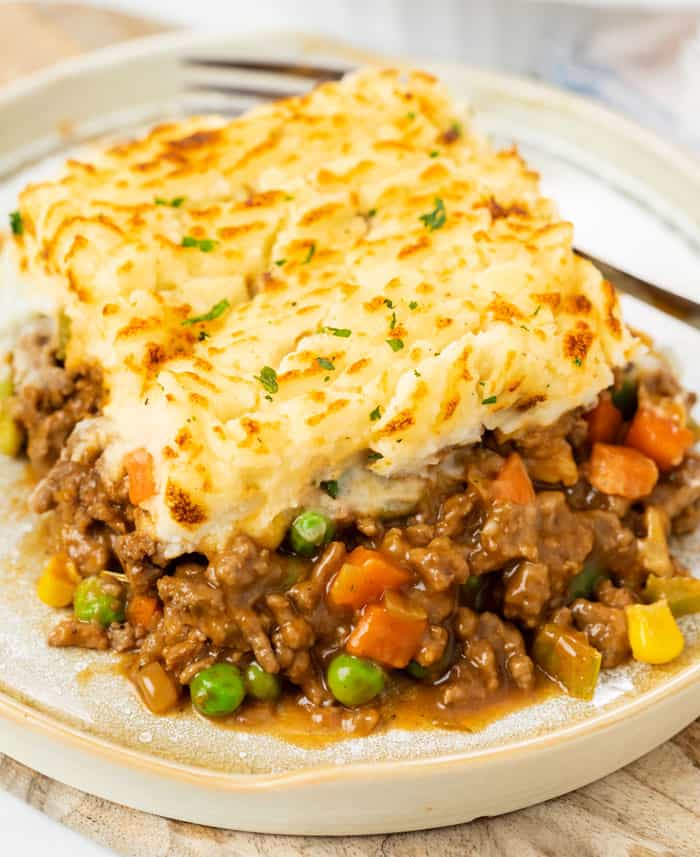 Try These Next!
Meow Gallery: The layout none is not available in this version.
Get My Free Meal Plan
I've got a Free Meal Plan with 7 of my super popular recipes (complete with grocery list)! Sign up for my email list and I'll send it over now along with weekly dinner recipes!
And follow me on Facebook, Instagram, and Pinterest!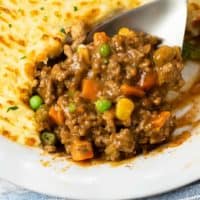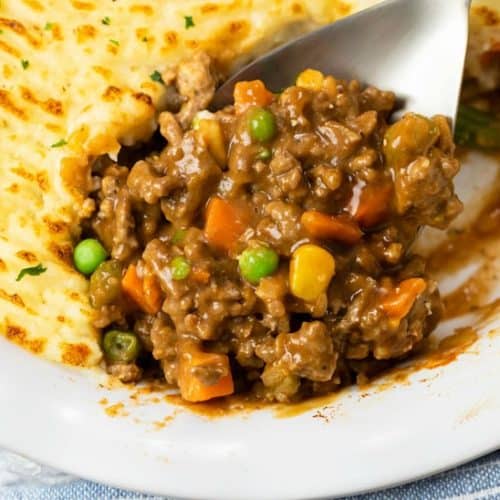 Easy Shepherd's Pie
This Easy Sheperd's Pie recipe has a delicious ground beef filling with gravy and frozen vegetables. Prepare it on the Stove Top in less than 30 minutes, then broil for 5. This is a perfect shortcut dinner for busy weeknights and a great way to use up leftover mashed potatoes.
Ingredients
1 Tablespoon olive oil
¾ cup yellow onion, finely diced
1 rib celery, finely diced
2 cloves garlic, minced
1 lb. ground beef, I used 85% lean
2 Tablespoons flour
1 Tablespoon tomato paste
½ teaspoon dried thyme
½ cup chicken broth
1 cup brown gravy
Salt/Pepper
1 cup frozen mixed vegetables
3 cups mashed potatoes
Instructions
Prepare the Potatoes.
My homemade mashed potato recipe is perfect for this recipe, you'll make a half batch to end up with 3 cups. While the potatoes boil, prepare the filling.
Prepare the Filling
Preheat oil in a large pan over medium-high heat. Add the diced onions and celery. Saute for 3 minutes. Add the garlic and cook for 1 minute.

Increase heat to high. Add the ground beef. Cook and crumbled until cooked through. Drain all excess grease.

Reduce heat to medium-high. Sprinkle in the flour and toss to coat. Add the Tomato Paste and thyme. Cook for 1-2 minutes.

Deglaze the pan with the Chicken broth. Use a silicone spatula to scrape up any brown bits from the pan, this adds flavor to the filling.

Add HALF of the brown gravy. Stir in the vegetables until heated through.

Season with salt/pepper and add more gravy if desired. Taste and adjust seasoning as needed. Remove from heat.
Assemble
Transfer to a lightly greased 9-inch pie pan or 7 x 11 casserole dish. Carefully spread warm mashed potatoes on top.

Use a fork to "rake" lines into the mashed potatoes.
Broil
Set the oven rack about 5 inches away from the broiler. Set to a high broil, 550 degrees.

Broil for about 5 minutes watch it after 2 minutes, it will go from perfectly browned to burned quickly.

Remove from heat and serve.
Notes
PRO TIP: Add a layer of cheddar cheese below the mashed potatoes for melty, cheesy deliciousness!
---
If you prefer to double this recipe, bake in a 9 x 13 casserole dish or use a wide (12-inch), oven safe skillet on the stove and transfer to the oven.
---
Using Store-Bought or Instant Potatoes
If you're not up for making homemade mashed potatoes, 3 cups of store bough or instant mashed potatoes may be used for an easy shortcut!
---
Nutrition
Calories: 528kcal, Carbohydrates: 52g, Protein: 26g, Fat: 24g, Saturated Fat: 9g, Cholesterol: 81mg, Sodium: 451mg, Potassium: 1005mg, Fiber: 6g, Sugar: 4g, Vitamin A: 2371IU, Vitamin C: 47mg, Calcium: 54mg, Iron: 4mg