Peanut Butter Oatmeal Banana Dog Treats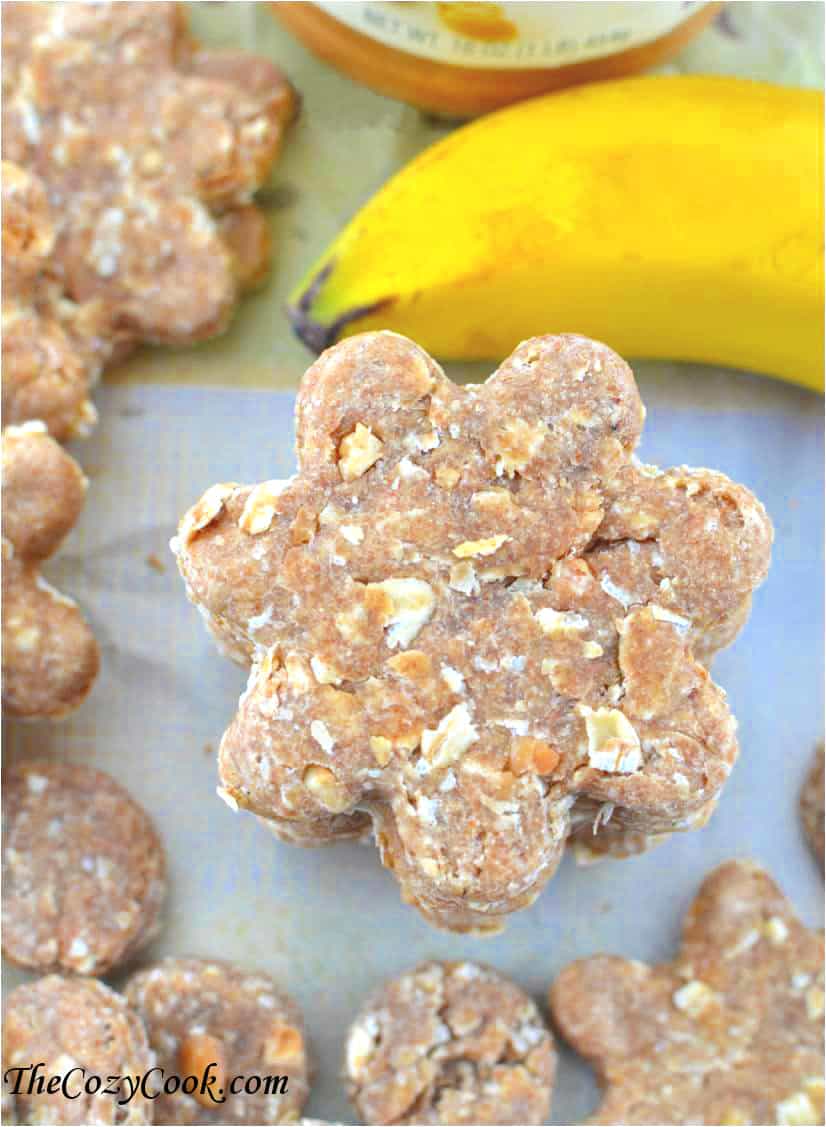 This shop has been compensation by Collective Bias, Inc. and its advertiser. All opinions are mine alone. #ProPlanPet #CollectiveBias
Toby! Have you met Toby? He's my little baby. A little baby that just turned one year old…(what!? How'd this happen.) So it's only natural to celebrate with some homemade dog treats, they are his favorite. So far he's had peanut butter bacon, and apple carrot. Now it's time to toss a banana in the mix. The pup is obsessed… with bananas. I have to sneak them from him when I eat them! (Which never works, his nose is ridiculous. How do they do it!?) Anyway, these treats are by FAR his favorite ones ever.
Getting him to like treats? Easy. But honestly, picking out his new adult food was not going to be so easy. He's got a picky pallet, this one. And if he doesn't like it- he won't eat it. I must have paced around PetSmart for an hour looking for the right adult food for him. The associate asked me if I needed help….like, twice. But I had no choice but to decline. This was a serious, motherly decision. I mean this was his first step into adulthood for crying out loud. (Yes, I know what I sound like, and no, I can't help myself.) This moment was huge. And I needed to focus. And that's when I saw it. Purina® Pro Plan® Focus. With a little Yorkie on the front! This was it! I knew it.
The moment of truth came the next morning when I filled his itty bitty bowl with this itty bitty food (with teeny-tiny bite-sized pieces- it's the cutest food ever). Man, he scarfed that food down like a BOSS. (phew!)-And not just the first day either. Every day. Guys, if you have a little picky eater on your hands, you should seriously think about this. He makes it look so good. And getting his day right is really important. (Trust me, I'll do whatever it takes to get a little more focus outta this guy)
Some other things I love…
The 1st ingredient listed is real beef, chicken, lamb, or salmon (real food= crucial.)
Now little Tobes doesn't do dog shows, but 8 out of the last 8 Westminster best-in-show champs were fueled by Purina® Pro Plan®. Pretty cool.
I've also noticed that Toby's energy levels seem to be better than ever (my husband can attest to this, he keeps us BUSY!) His coat also looks great and he's really healthy overall, I'm a lucky mom 😉
Who is your furry friend?!! A little pup? A huge one? A kitty Cat?
I'd love to hear about your pets- I mean, you did just have to hear all of that about mine, it's really only fair 😉
For my latest Cozy Creations, Giveaways, and more, follow me on Facebook, Twitter, & Instagram! And signup to receive my latest recipes right to your inbox…it's free 😉
Visit the Purina® Pro Plan® MyPLAN website to get your dog's MyPLAN recommendation and a rebate offer for a free bag of Purina® Pro Plan® Dry Dog Food (4-6lbs, up to $18.99.) Good only in U.S.A. A.P.O's, F.P.O's. Void where taxed, prohibited, restricted. Allow 6-8 weeks for shipment. LIMIT ONE REQUEST PER INDIVIDUAL, ADDRESS, or EMAIL ADDRESS. Offer expires 04/30/2015. See full terms.

Peanut Butter Oatmeal Banana Dog Treats
Ingredients
1 egg
⅓ cup peanut butter (chunky or creamy)
1 cup whole wheat flour
½ cup oats
1 mashed banana (1/2 cup)
Instructions
Preheat oven to 300 degrees
Combine all ingredients in a large bowl and knead until a dough ball forms. If it's too sticky, add a little more flour.
Roll it out on a lightly floured surface and cut into shapes with cookie cutters. (I use the cap of spices for tiny circles, since he's itty bitty.)
Place the cutouts on a baking sheet and bake for about 15-20 minutes.
Notes

I like to keep a few days-worth in an airtight container on the counter and freeze the rest, taking them out (and letting them come to room temp) as I need them!


Recipe Source: MissMollySays.com