Homemade Dog Cake
This homemade dog cake has a tasty blend of peanut butter, honey and carrots will make this cake your furry friend's favorite treat!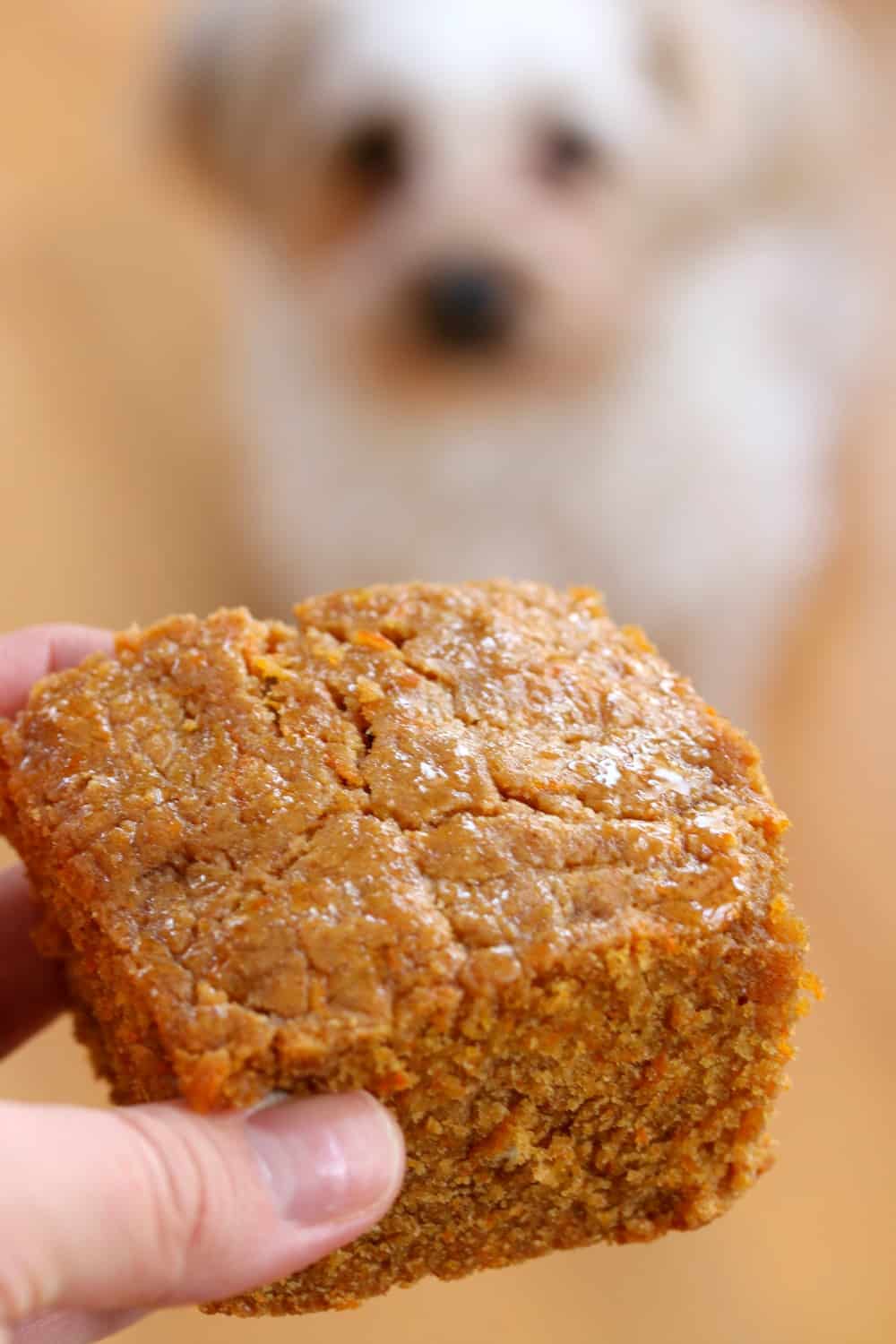 Yes, I made a birthday cake for my dog. His name is Toby, and he is too cute not to eat cake. Every little puppy deserves a special treat on their birthday!
I'm not much of a baker, so I was please to find that dog cake is easier to make than people cake… and I'm not gonna lie, I tried a taste and it wasn't half bad 😉
If you have a little four-legged friend in your life, you have to make them a cake. You HAVE to! Just seeing them like their chops over it is worth the entertainment, I mean… look at him. Look at that tongue! 
This cake is chock-full of things that your little furry friend will get excited about…. carrots, peanut butter, honey… (heck, I'm excited about those things….) and it's been making great treats for him too, we couldn't really feed him the whole cake on his birthday, he's too teeny tiny. But we break off pieces after he does something good and he LOVES it.
If you're into making other types of dog treats for your little pooch, you've gotta try my Peanut Butter Bacon Treats, Apple Carrot Treats, & my Peanut Butter Oatmeal Banana treats! (Okay wow. I spoil him way too much.)
Whose the furry friend in YOUR life!?! I'd love to hear about them!
Homemade Doggie Cake
A tasty blend of peanut butter, honey and carrots will make this cake your furry friend's favorite treat!
Ingredients:
1 egg
1/2 cup creamy, all-natural, butter
1/4 cup vegetable oil
1 teaspoon vanilla extract
1/3 cup honey (optional)
1 cup shredded carrots
1 cup flour, (whole wheat or white)
1 teaspoon baking soda
Directions:
Preheat the oven to 350 degrees.
In a medium bowl, combine the egg, peanut butter, oil, vanilla, and honey (optional).
Stir in the carrots, then gradually add the flour and baking soda until well combined.
Pour into a small and greased baking pan. I used a 5.75 x 3 inch mini loaf pan and it was perfect. a 6 cup ring mold also works.
Bake in the oven for 30-40 minutes, (mine was done after 30). Turn onto a wire rack and let cool completely.
Pan Sizes that work well:
5.75 x 3 inch mini loaf pan
6 cup ring mold
Storage: Store in an airtight container in the refrigerator for up to three days.
*All-natural peanut butter without added salt or sugar is best. Do not lite or sugar-free peanut butter, as those may have artificial sweeteners (such as xylitol) which is toxic to dogs.
It's always best to consult with your vet about any allergies your dog may have. 
Recipe Source: AllRecipes.com
All images and text ©
Stephanie Melchione for The Cozy Cook
*This post may contain affiliate links