This Creamy Chicken Tortilla Soup is SO easy to make and is full of your favorite Mexican flavors! It's a great recipe to make with leftover chicken and makes a perfect freezer meal!
If you love this, you'll love my Creamy Chicken Stew recipe!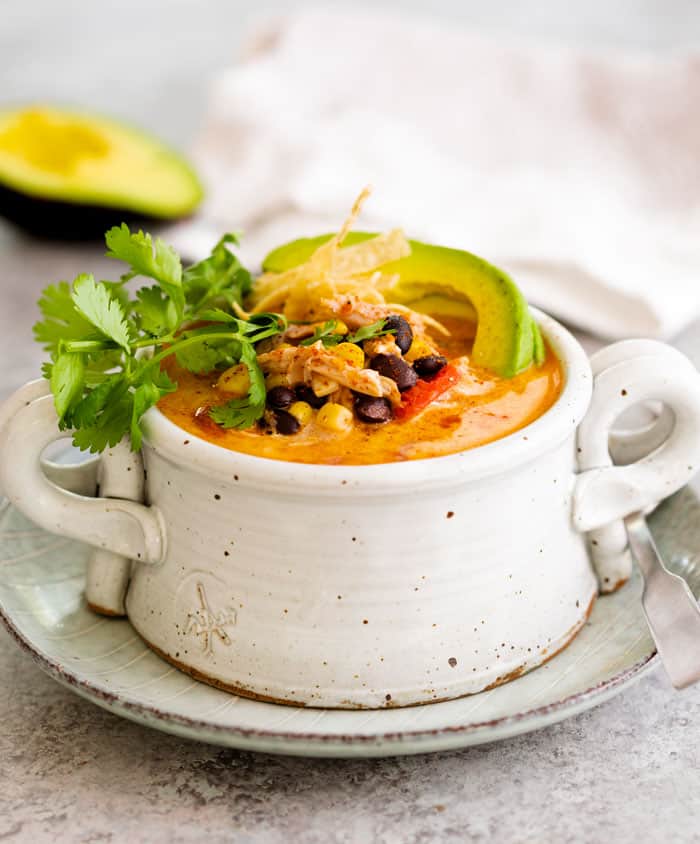 Creamy Chicken Tortilla Soup
I always eat way more of this soup than I should. I think it's the balance of the creamy broth combined with a little bit of kick from the cayenne pepper and taco seasoning.
This is such a simple recipe to make when you have leftover rotisserie chicken, and it's fun to experiment with the other ingredients too.
Let's get into what you need, and how to make sure your soup is super smooth and creamy.
Ingredients

Chicken Broth- Homemade tastes much better.
Flour
Butter
Cheddar Cheese- Shred your own from a block at home for best flavor and texture.
Onion
Bell Pepper- Can also use a Jalapeno Pepper
Garlic
Cooked Chicken- Great way to use leftover rotisserie chicken
Taco Seasoning
Diced Tomatoes
Corn
Black Beans
Cayenne Pepper
Cumin
Sour Cream
Cilantro
The Secrets to Smooth and Creamy Soup
Use a high-quality cheese
Cabot is great. If  you have a Whole Foods near you, Whole Foods 365 Sharp Cheddar Cheese is said to be the best for melting.)
Purchase a block and shred it at home
Let the cheese come to room temperature after shredding it, before you add it to the soup.
Reduce the heat of the base before you add the cheese
If the liquid is too hot, the fat from the cheese will separate too quickly and the consistency will be grainy or clumpy.
Sprinkle flour over the cheese after shredding
This helps to thicken the water that separates from the cheese once it begins to heat up.
Add the cheese gradually
Versus dropping it all in at once. Stir to combine as you do so.
Storing Leftovers
Leftovers should be stored in an airtight container and is best if eaten with 3-4 days.
This soup can be frozen.

Normally sour cream based soups don't freeze well but there is a small proportion of sour cream in this soup, enough to add a touch of creamy, but the overall texture of this soup is still pretty brothy, so you're safe!
The soup should be frozen in an airtight container and is best if used with 3 months.
Like My Soup Crocks?
I bought these soup crocks just for this soup. They're very study, handmade, super high quality, and you'll have them forever! They're also oven safe.
Try These Next!
Follow Me!
I've got a Free Meal Plan with 7 of my super popular recipes (complete with grocery list)! Sign up for my email list and I'll send it over now along with weekly dinner recipes!
And follow me on Facebook, Instagram, and Pinterest!
Creamy Chicken Tortilla Soup
This creamy chicken tortilla soup is a simple way to make use of leftover Rotisserie chicken! You'll love the way this creamy broth tastes with all of your favorite Mexican flavors!
Ingredients
1 cup cheddar cheese, shredded
1 Tablespoon flour, optional
2 Tablespoons butter
1 small yellow onion, diced
½ bell pepper, diced
3 cloves garlic, diced
2 cups cooked chicken, rotisserie works well
2 Tablespoons Taco Seasoning, 1 oz. packet
5 cups chicken broth
1 can diced tomatoes, NOT drained
3/4 cup corn
1 can black beans, drained and rinsed
1 pinch Cayenne Pepper
1 teaspoon cumin, optional
¾ cup sour cream, at room temperature
Fresh Cilantro, roughly chopped, to garnish
Instructions
Shred the cheddar cheese and set it aside to allow it to get to room temperature.

Toss the cheese with 1 Tablespoon of flour. This is optional but will help the soup remain smooth when the cheese is melted into it.

Melt the butter over medium heat in a large soup pot.

Add the diced onions and cook until soft and translucent, about 5 minutes.

Toss the chicken with the taco seasoning to coat it. Add it to the pot along with the diced bell pepper and garlic. Cook for 2 minutes, stirring occasionally.

Add the chicken broth, undrained diced tomatoes, corn, black beans, cayenne, and cumin.

Let the soup simmer for 15 minutes, partially covered.

Decrease heat to low.

Add the sour cream. Stir until it's almost fully combined, this may take a few minutes, but it will get there.

Sprinkle in the cheese gradually, stirring as you do so.

Once the cheese is melted, garnish with fresh cilantro and serve!
Notes
Cabot's hot habanero cheese is super hot and spicy. I love to use 1/4 cup of that and 3/4 cup cheddar in this soup. It adds a kick to this soup without making it too spicy.
Get the Handmade Soup Crocks pictured in this recipe here!
Nutrition
Calories: 302kcal, Carbohydrates: 13g, Protein: 19g, Fat: 19g, Saturated Fat: 10g, Cholesterol: 79mg, Sodium: 1093mg, Potassium: 552mg, Fiber: 1g, Sugar: 4g, Vitamin A: 1025IU, Vitamin C: 36.3mg, Calcium: 216mg, Iron: 2.3mg