These Waffle Iron Hash Browns are SO crispy and easy to make with frozen or fresh potatoes. Add onions and cheese for even more flavor!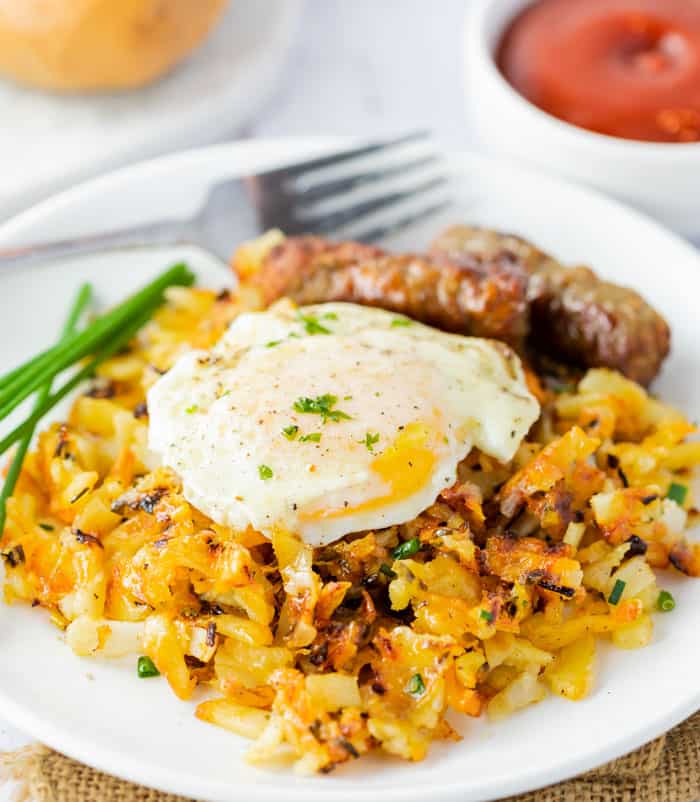 I have to say, nothing cuts to the core of me like a crispy potato. And these suckers, are crisp-pay. 
I have tried making hash browns all sorts of ways, but this is the first one to actually land itself on the blog. I've pretty much failed at every other attempt that I've made to get hash browns to come out this crispy.
I had no idea that the secret was to use a waffle iron!
What You Need:

Frozen Hash Browns- you can also use fresh, see below
Cheddar Cheese
Onions
Fresh Chives
Salt/Pepper
Nonstick Cooking Spray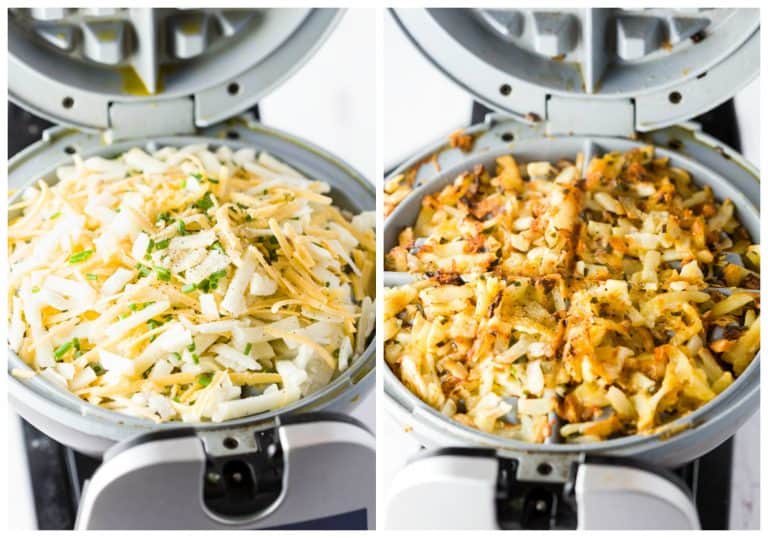 How to Make Waffle Iron Hash Browns:
-Frozen hash browns from the grocery store is a huge time-saver. (But you can use regular too, see below!)
-Make sure the waffle iron is well-coated with nonstick cooking spray. Before closing the lid, give the top of the potatoes a little spray.
-Add in some finely diced onions and lots of shredded cheddar cheese.
-Don't worry about keep the potatoes together, they are meant to fall apart. This just means that every single individual piece of grated potato is super crispy and flavorful.
-Don't be afraid to load up the waffle iron. The potatoes and onions decrease in size as they cook so you end up with less volume than what you start with.
-Open the lid to check on the potatoes as often as you want, then use a fork to remove them once they are as crisp as you want them to be!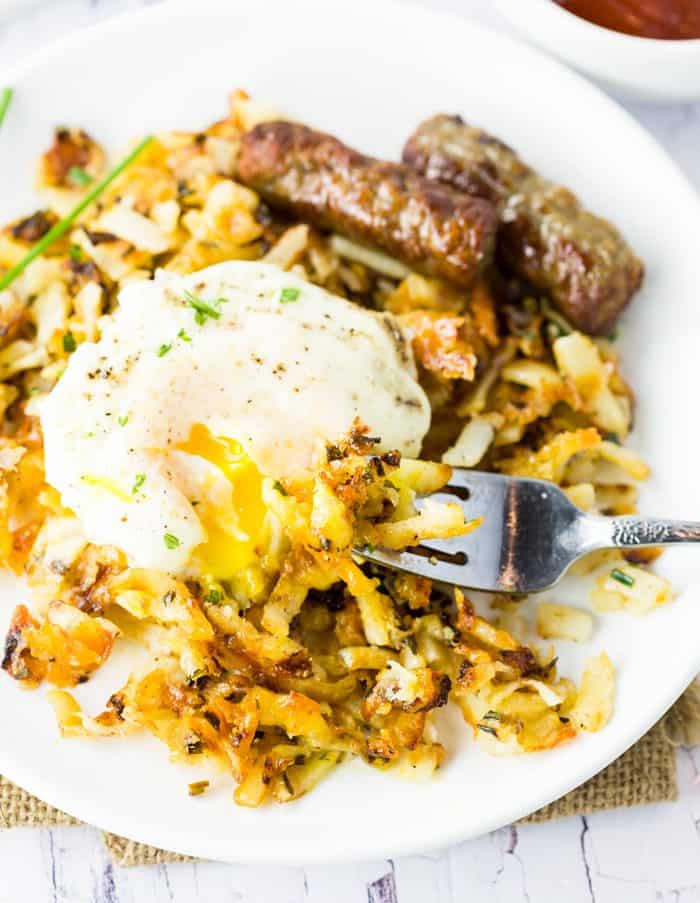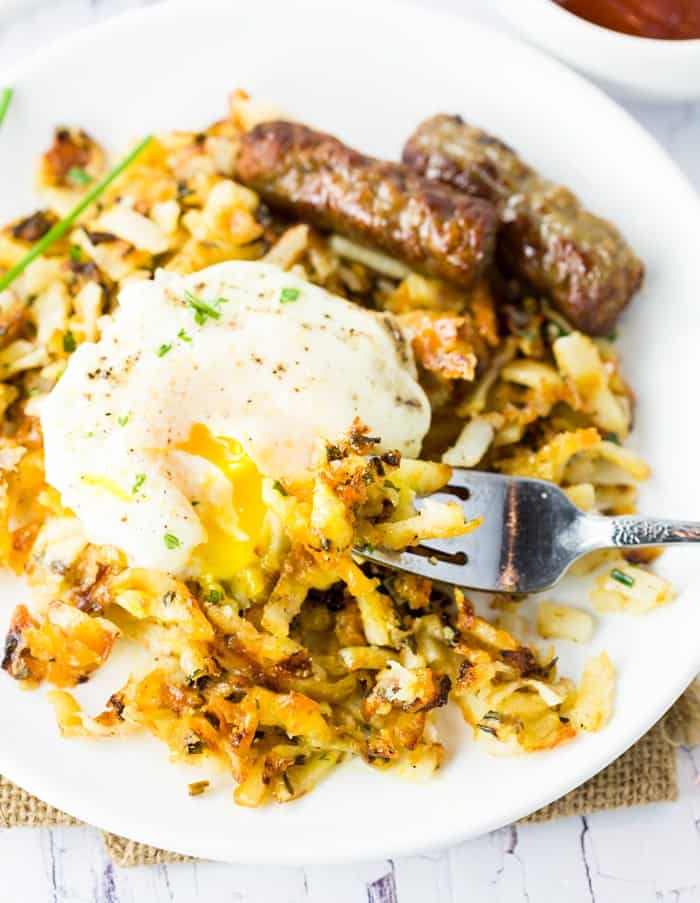 Using a Fresh Potatoes Instead of Frozen:
Fresh russet potatoes can also be used instead of frozen. For ultimate crispy results, shred the potatoes and soak them in water for 30 minutes (or longer). Use a colander to drain them and pat them completely dry.
What else can I make in the waffle iron?
More Breakfast Favorites
Get My Free Meal Plan
I've got a Free Meal Plan with 7 of my super popular recipes (complete with grocery list)! Sign up for my email list and I'll send it over now along with weekly dinner recipes!
And follow me on Facebook, Instagram, and Pinterest!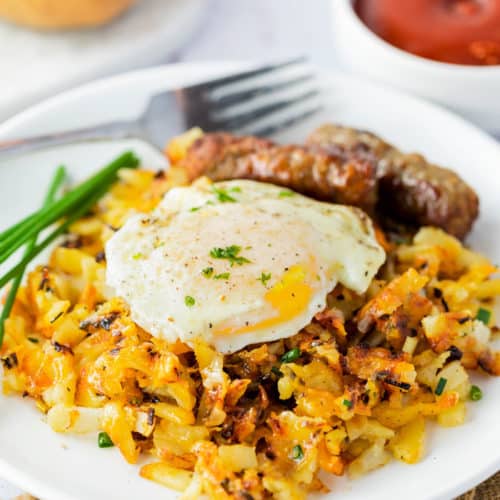 Waffle Iron Hash Browns
These Waffle Iron Hash Browns are SO crispy and easy to make with frozen potatoes. Add onions and cheese for even more flavor!
Ingredients
1 1/4 cup frozen hash browns
3/4 cup cheddar cheese, shredded
1/3 cup onions, diced
2 Tablespoons fresh chives, diced
Salt/pepper, to taste
Nonstick cooking spray
Instructions
Preheat the waffle iron and coat the top and bottom with nonstick cooking spray.

Combine all ingredients together in a small bowl and place in the pre-heated waffle iron. Waffle iron sizes may differ but simply load it up with as much potato mixture as will comfortably fit. It will decrease in size as it cooks. Top the potatoes with a little more nonstick cooking spray.

Close the waffle iron and wait until the indicator says that it's done, about 4 minutes. (Or just under 2 minutes on each side if yours rotates)

Open the lid. If you would like for the potatoes to be crispier or cooked further, simply close the lid and continue to cook. You can check on them as often as you want to until your desired consistency is obtained.

Use a fork to lift the potatoes out of the iron. Place on a serving plate and top with a delicious egg if desired!
Notes
I used Grown in Idaho thick cut hash browns for this recipe.
Nutrition
Calories: 440kcal, Carbohydrates: 37g, Protein: 13g, Fat: 26g, Saturated Fat: 10g, Cholesterol: 44mg, Sodium: 597mg, Potassium: 642mg, Fiber: 3g, Sugar: 2g, Vitamin A: 555IU, Vitamin C: 16.4mg, Calcium: 325mg, Iron: 0.8mg