This easy Lemon Ricotta Pasta recipe has the most flavorful Parmesan sauce and is loaded with perfectly seared chicken and delicious fresh spinach! Plus, it's ready in 30 minutes flat!
Be sure to try my One Pot Parmesan Garlic Pasta recipe next!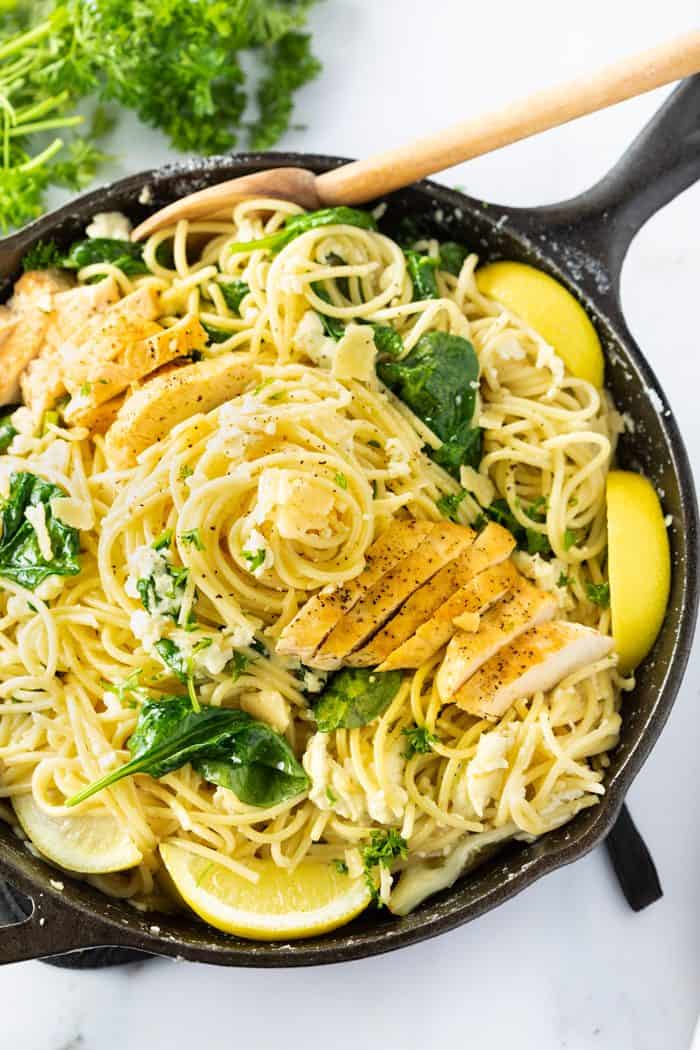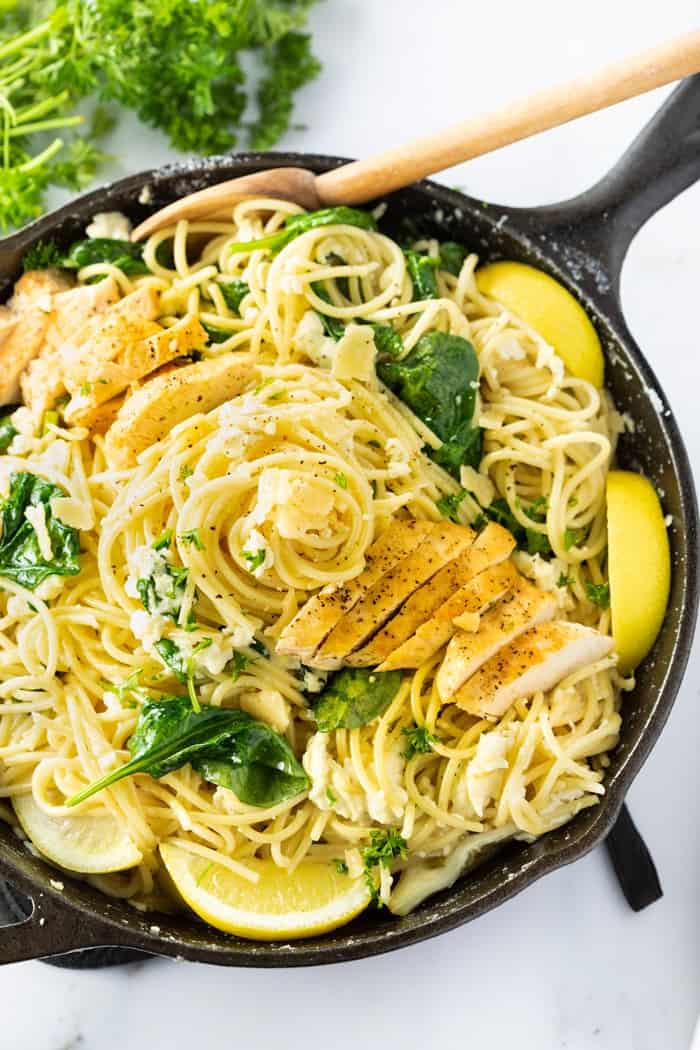 I always seem to come back to this lemon ricotta pasta recipe in the summertime. The the light, lemony Parmesan sauce calls my name in these warmer months.
I first published this one two years ago, but felt the need to re-shoot and re-share, (something that I've been doing with my favorite recipes lately).
Now, I insist you scan through my tips for making perfectly seared chicken, it takes this recipe over the top.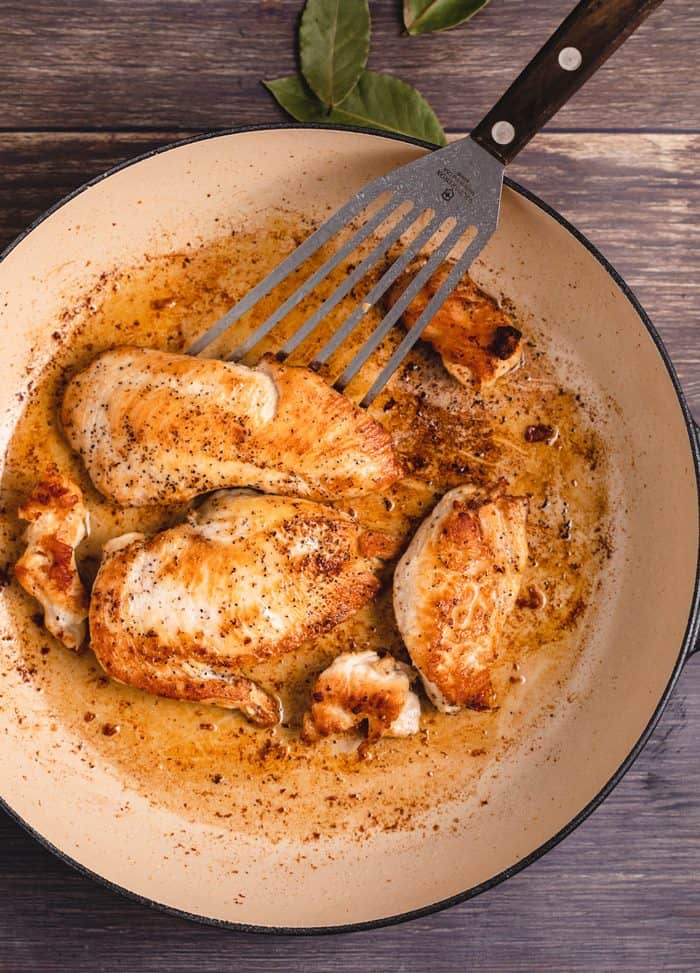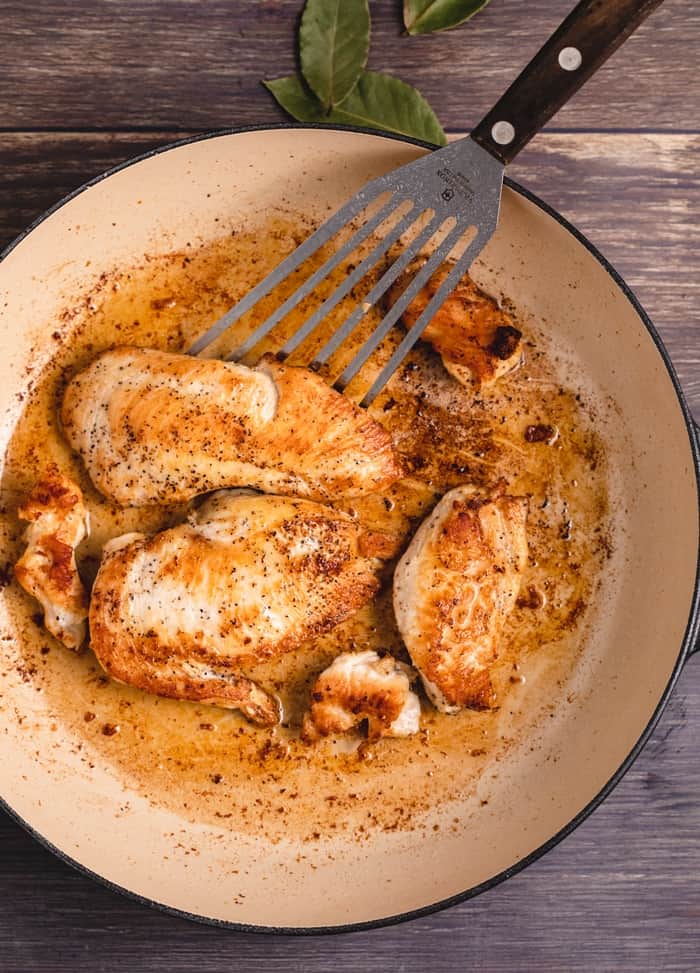 How to Make Perfectly Seared Chicken
✔️Cast iron skillets conduct heat very well and are perfect to use when searing meat.
✔️Medium-high heat works well for searing, and it's important to use oil with a high smoke point such as vegetable, canola, or peanut oil to prevent the meat from burning.
✔️It's important to refrain from moving the meat around as it cooks. Allowing the meat to stay in the same place in the skillet ensures that the sear isn't disrupted. You'll notice that the chicken starts to release from the surface when it's ready. If it's sticking a lot to the pan, it's not done searing.
✔️Butterfly the chicken or pound it thin to create pieces of equal size. This will allow them to cook evenly and prevent them from being too thick.
Substitute for Ricotta Cheese
If you're in a bind and don't have Ricotta on hand, cottage cheese is probably your best bet for this dish:
It's recommended that you sieve cottage cheese prior to using it as a Ricotta substitute:
To do this, place it into a strainer (in batches), and using the back of a spoon to press out the cottage cheese into another container that you can then use for the recipe.
👉These guys have other substitution options, although they are less likely to be found in your average kitchen.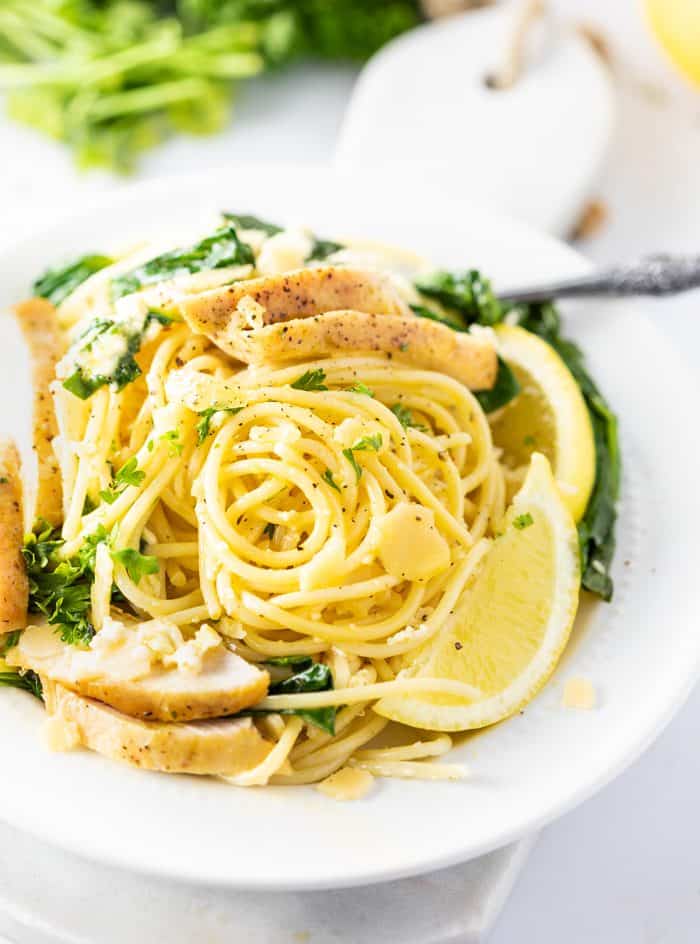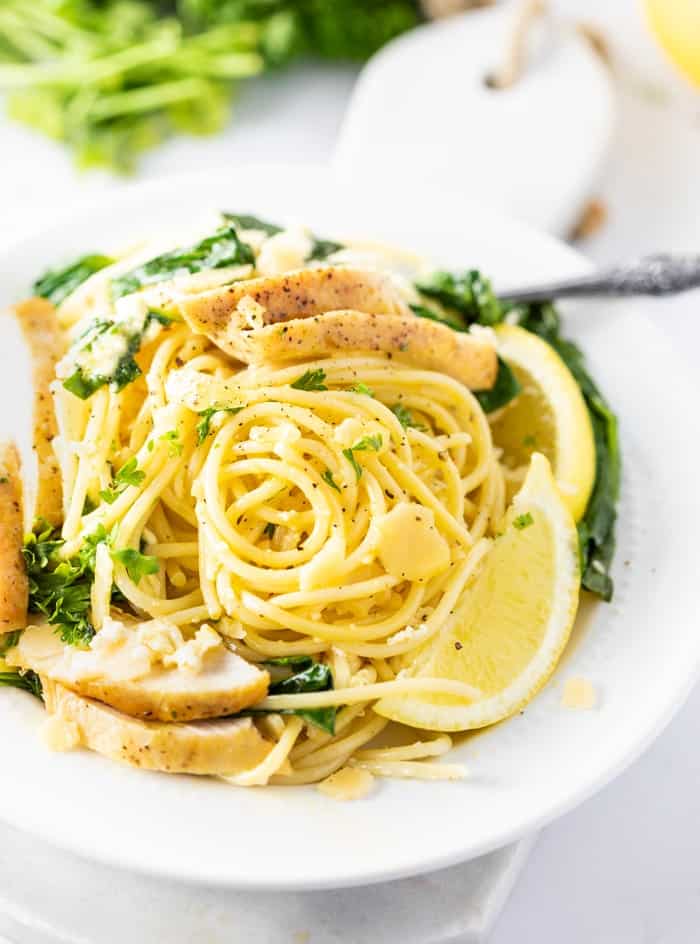 Pasta Substitutions
Long noodles work best in this recipe, such as angel hair or linguine.
Try These Next!
Follow Me!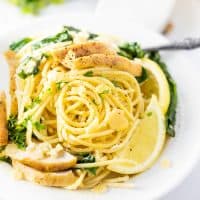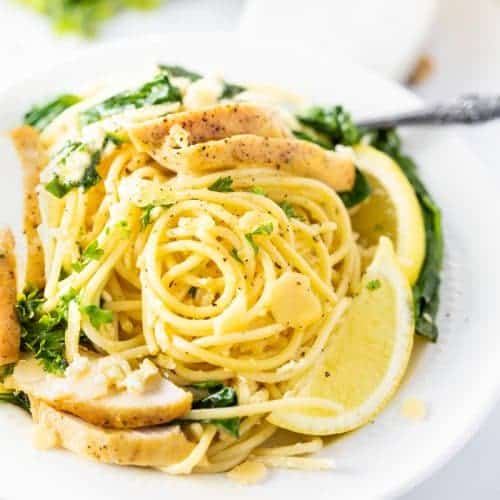 Lemon Ricotta Pasta with Chicken and Spinach
This easy Lemon Ricotta Pasta recipe has the most flavorful Parmesan sauce and is loaded with perfectly seared chicken and delicious fresh spinach! Plus, it's ready in 30 minutes flat!

Ingredients
2 Tablespoons oil, vegetable, canola, olive, or peanut oil are all fine!
1 boneless/skinless chicken breast
Salt/Pepper, to taste
1/2 pound spaghetti
1 cup reserved pasta water
1 + 1/2 teaspoon lemon zest
2 Tablespoon lemon juice
1 ½ cups part skim ricotta
1/2 cup shredded Parmesan, plus more to garnish
5 oz. fresh spinach
Instructions
Cook pasta according to package instructions, reserve 1 cup of pasta water prior to draining. Set aside.

As the pasta cooks, heat 2 tablespoons of olive oil in a

cast iron skillet

over medium-high heat.

Butterfly the chicken breast and cut the seam to create 2 thinner slices, each about an inch thick. Season each side with desired amounts of salt and pepper.

Sear the chicken in the heated skillet for about 3-5 minutes on each side. Refrain from moving the chicken around as it sizzles, it will hinder the nice golden sear color. If the pan gets too hot, reduce the heat to medium. Once each side is a nice, golden brown and the middle is cooked, set the chicken aside. Don't cut into it yet.

Reduce the heat of the skillet to medium low. Add half of the reserved water, lemon zest, lemon juice, ricotta, Parmesan, and drained pasta. Toss evenly to coat. Add additional reserved water as needed to obtain desired consistency.

Slice the chicken into strips and top the pasta with it. Finally, toss in the spinach and heat until it's just wilted.

Garnish with additional Parmesan if desired, and serve!
Notes
Although this recipe feeds 4, the portion sizes are fairly large. This could also serve 5 people. 
Nutrition
Calories: 705kcal, Carbohydrates: 91g, Protein: 37g, Fat: 20g, Saturated Fat: 8g, Cholesterol: 57mg, Sodium: 374mg, Potassium: 686mg, Fiber: 4g, Sugar: 3g, Vitamin A: 3785IU, Vitamin C: 13.2mg, Calcium: 448mg, Iron: 3.1mg
Recipe Source: CookingClassy