Skillet Chicken Alfredo Pasta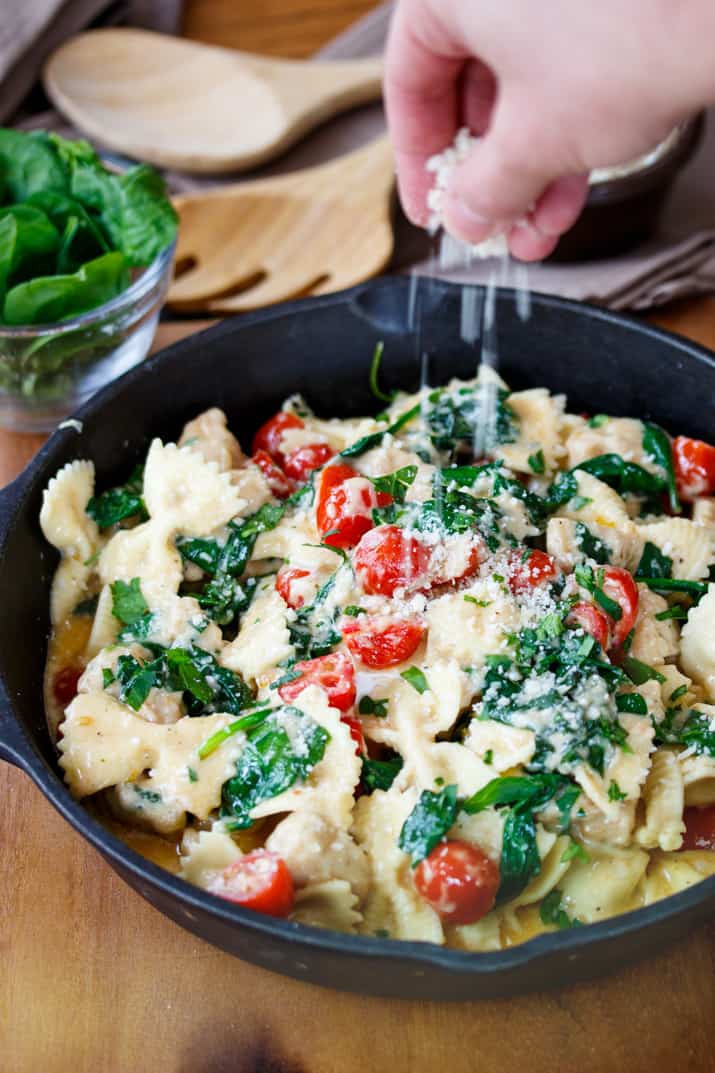 I think this Skillet Chicken Alfredo Pasta takes my admiration for the Pioneer Woman to the next level. (Ree? Are you out there? Can I come live on your ranch with you? I promise to be quiet and let you lick the spoon every time!)
………… (Sorry, little creepy). But her recipes are my jam. Have you ever watched a cooking show and actually made the recipe alongside with them?! That's what I did with this, and it was neato. I may have pretended that I have a big fancy-pants wooden lodge in the middle of nowhere like she does. What did people do before the Food Network?
I couldn't even WAIT to eat this- I literally took three pictures and called it a day. I grabbed a fork and ate it right from the skillet and I don't even care. How do ya like that!
Now. Let's talk variations. You could obviously go the more traditional Alfredo route and toss some broccoli in here instead of spinach and tomatoes, (although honestly the original recipe is amazing and you have to try it that way first, it's the rules). After that though, you can mix it up. Bacon would be great in here too (just go easy on the salt if you're adding bacon)…. You could even use shrimp instead of chicken, I tell ya…the options are endless. And if you do mix things up, the second rule is that you have to tell me what you did and how you liked it, so that I can copy you 😉
Thank you Ree Drummond, you are my hero.
Skillet Chicken Alfredo Pasta
Bow tie pasta tossed in a rich & creamy Alfredo sauce with chicken, spinach, and tomatoes. Ready in 30 minutes!
Ingredients:
12 ounces bow-tie pasta (farfalle)
2 boneless, skinless chicken breasts
Salt & Pepper, to taste
1 tablespoon butter
1 tablespoon olive oil
2 cloves garlic, minced
1/2 cup low-sodium chicken broth, plus more if needed for thinning*
1/2 cup half-and-half
1/4 cup heavy cream
1 cup good-quality grated Parmesan**
1 cup halved grape tomatoes
4 ounces baby spinach
2 tablespoons fresh parsley, minced
Directions:
Bring a large pot of water to a boil. Cook the pasta according to the package directions. Drain and set aside.
Cut the chicken into bite-sized pieces and season with salt and pepper. In a large high-walled skillet, (preferably an iron skillet if you have one), heat the butter and olive oil over medium high heat. You want the heat nice & high so that the chicken gets a nice, golden-brown color on the outside.
Add the chicken to the skillet and cook until each side is a nice, deep golden brown color and is cooked in the middle. Remove the chicken from the skillet and set aside.
To the same skillet, add the minced garlic and cook for one minute, then add the chicken broth. Let it bubble and reduce for about 2 minutes.
Add the half and half and heavy cream as well as additional salt and pepper if you'd like. Gradually whisk in the Parmesan cheese, stirring constantly until it's all well-incorporated and has thickened. (If you need to thin it, add a splash of chicken broth).
Reduce the heat to low once the sauce has reached your desired consistency. Add the chicken back to the skillet along with the tomatoes and spinach and mix until the spinach begins to wilt. Gently mix in the pasta with a rubber spatula and top with parsley. Serve immediately and prepare to be amazed 😉
*You can also use a dry white wine instead of chicken broth. I used Pinot Grigio and it was delicious.
**It works best to use the finely grated (powder-like) Parmesan cheese.
*This post may contain affiliate links