This Chicken Bacon Spinach Pasta recipe has penne that's tossed in a creamy Alfredo sauce with spinach and tomatoes. This restaurant quality meal will be a huge hit at your dinner table.
Love Alfredo Pasta? Check out my Olive Garden Alfredo Sauce recipe.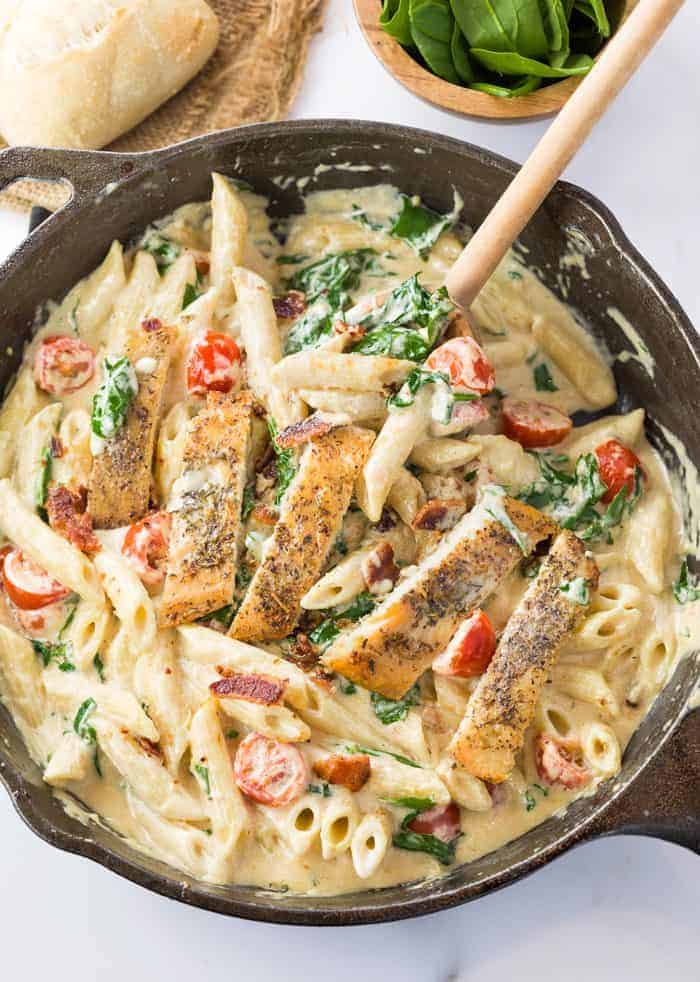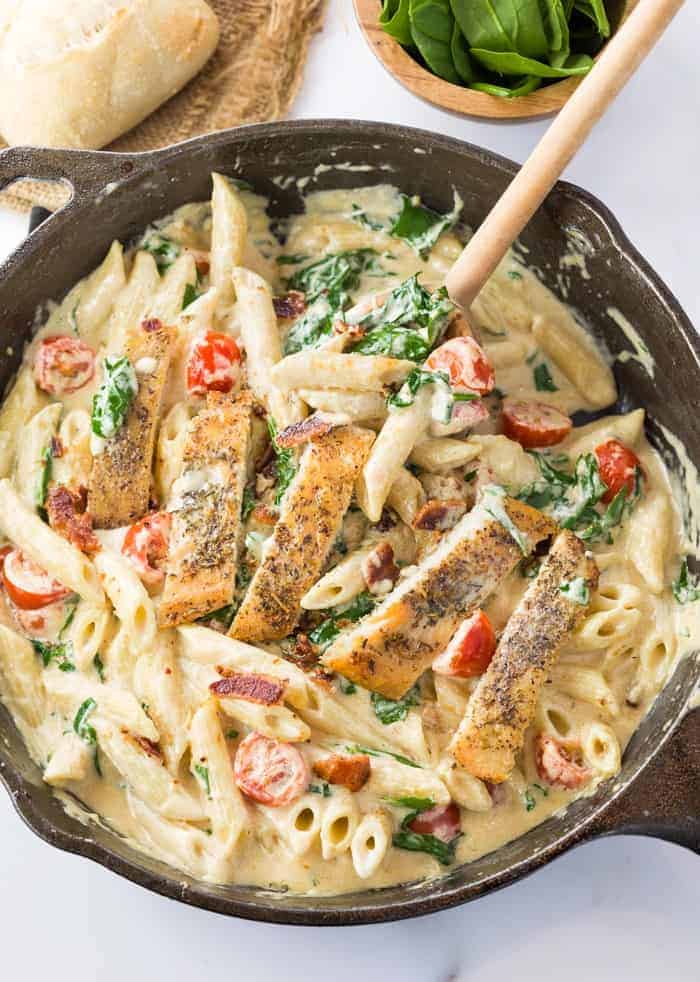 Chicken Bacon Spinach Pasta
"This tastes like it's from a restaurant!"- The first time my husband uttered these words to me was when I served him this Chicken Alfredo Pasta for the first time. I'll never forget it.
Let it be known, this recipe will blow your mind.
Cooking the chicken and the bacon in the pan before preparing the sauce makes this the BEST Alfredo sauce with the most flavor.
Ingredients

See recipe card at the bottom of this post for ingredient quantities and full instructions.

Vegetable Oil
Boneless Skinless Chicken
Italian Seasoning
Salt/Pepper
Bacon Strips
Penne

Alfredo Sauce

Garlic
Flour
Half and Half
Parmesan Cheese
Red Pepper Flakes
Cherry Tomatoes
Spinach
How to Make it
Season the chicken and sear it in oil until browned and cooked through. Remove from skillet.
Add bacon to the skillet and cook on each side until crispy. Remove and set aside.
Meanwhile, boil water and cook the penne.
Leave 2 TBS Bacon grease in the pan. Add garlic and cook for 1 minute.
Whisk in flour for 1 minute.
Gradually add the half and half.
Sprinkle in the Parmesan cheese.
Add tomatoes, spinach, and red pepper flakes.
Mix in the cooked penne.
Top with chicken and crumbled bacon. Serve!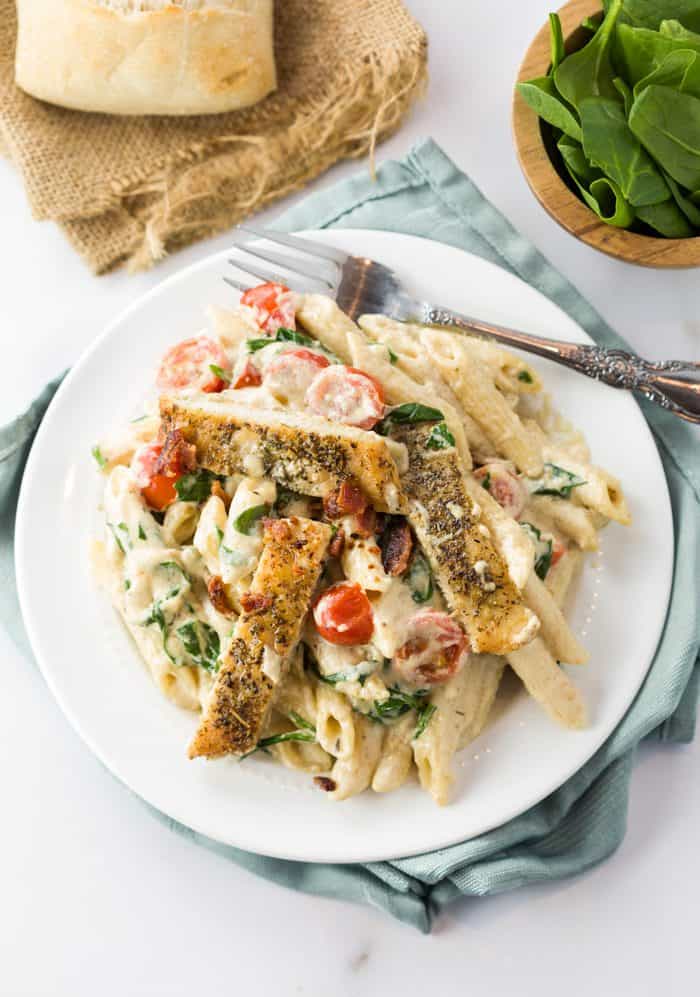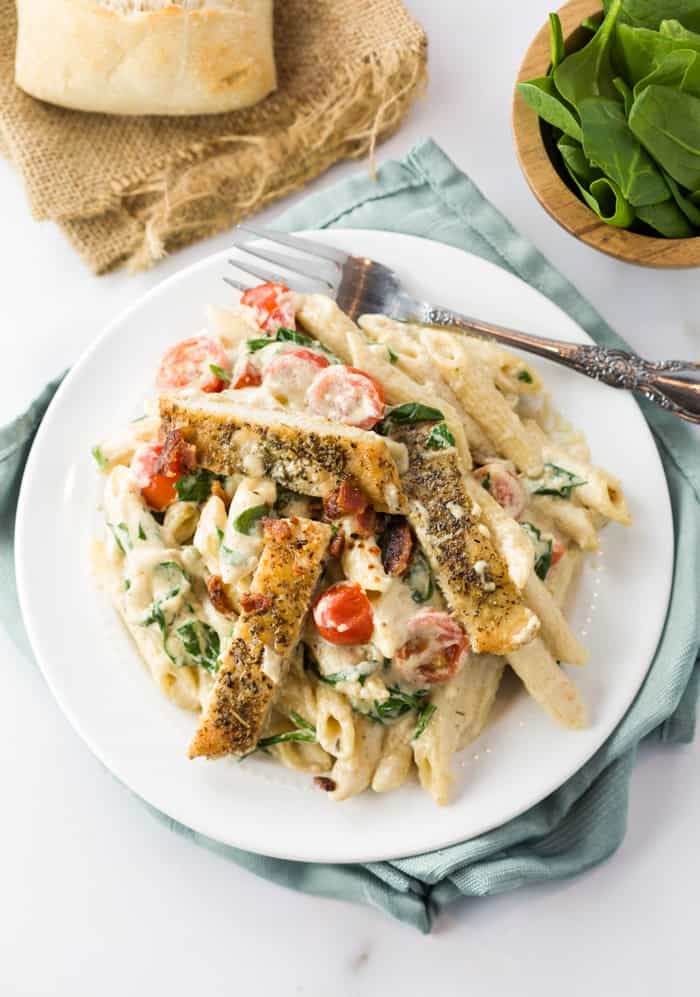 How to Make Extra Creamy Alfredo Sauce
Refrain from adding cold ingredients into warm pasta when you prepare it. This includes the cheese, half and half, and/or milk. The consistency will be super creamy if you follow this instruction.
Purchase a block of high-quality Parmesan cheese. Always shred the cheese yourself, it will taste and melt much better.
Let the cheese come to room temperature before adding it to the warm (not hot!) base. 
Add the cheese gradually as opposed to all at once.
Reader Reviews
Don't take my word for it! Check out what others have to say about this Chicken Alfredo Pasta:
"Fabulous recipe! It's become a family favorite and a real crowd pleaser!" –Emma
"This recipe is really delicious and very easy to prepare." – Roxana
"This dish is so excellent! Quite simple to make and wonderful flavor! I like a bit more red pepper flakes as i love that flavor. Give it a try you will NOT be disappointed!"- Darla
"Wow! Just made this for dinner and we loved it. The bacon and tomatoes were a delicious touch! Thanks so much!" –Karen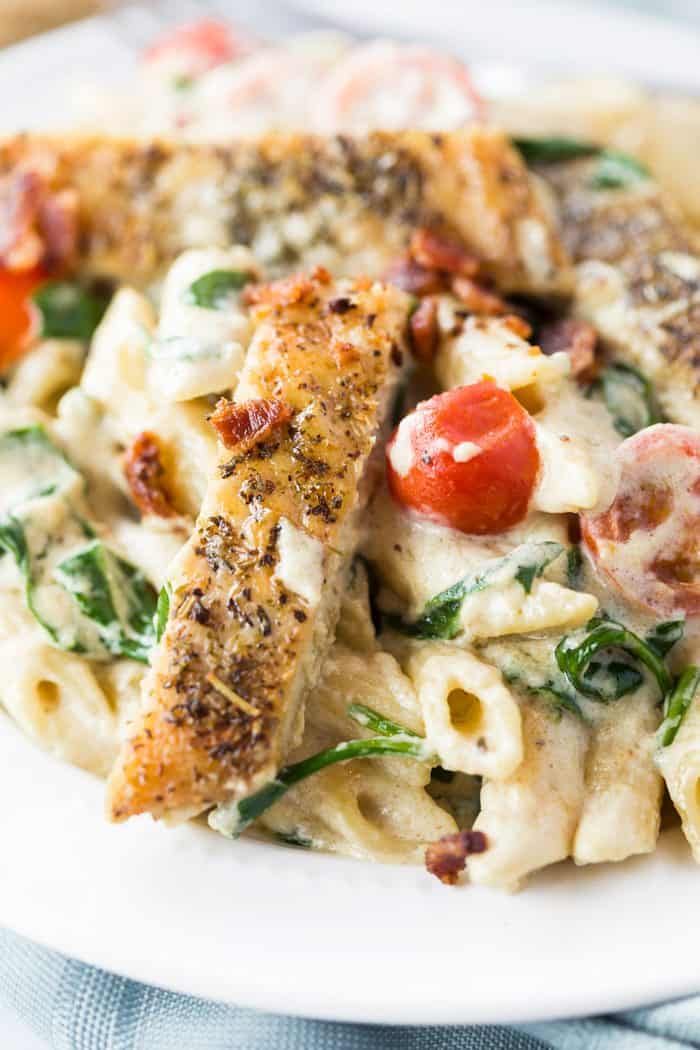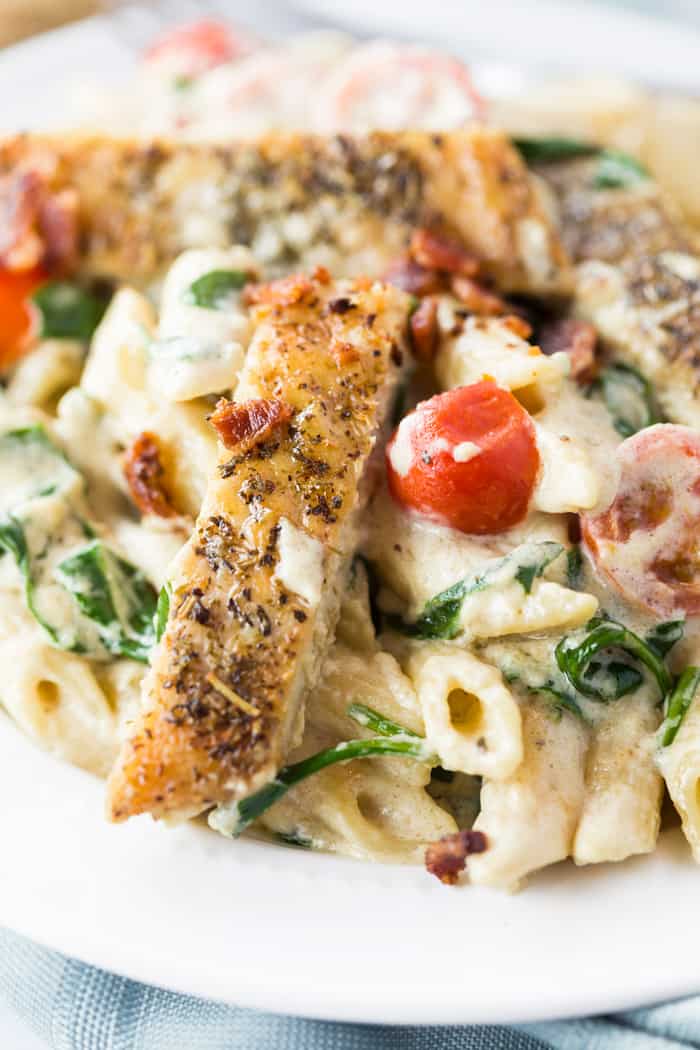 Storage
Refrigerator
Store in an airtight container in the refrigerator for up to 3 days.
Freezer
Cream based sauces don't reheat as well as the consistency changes due to the composition of the dairy. However you can still freeze this, just note it won't be exactly the same once reheated.
Store in an airtight container in the freezer for up to 3 months.
Try These Next!
Get My Free Meal Plan!
I've got a Free Meal Plan with 7 of my super popular recipes (complete with grocery list)! Sign up for my email list and I'll send it over now along with weekly dinner recipes!
And follow me on Facebook, Instagram, and Pinterest!
Did You Make This Recipe?
I would love for you to leave a rating and a comment below!
Chicken Bacon Spinach Pasta
This Chicken Bacon Spinach Pasta recipe has penne that's tossed in a creamy Alfredo sauce with tomatoes, spinach, and bacon! Your family will think this came from a restaurant!
Ingredients
2 tablespoons vegetable oil
1 boneless skinless chicken breast,, large in size
1 teaspoon Italian seasoning, a combo of thyme, oregano, & basil
Salt/Pepper, to taste
4 bacon strips
3/4 lb. penne pasta
Alfredo
2 teaspoons garlic, minced
2 Tablespoons all-purpose flour
2 cups half and half
1 + 1/3 cups Parmesan cheese, shredded
1 teaspoon red pepper flakes, optional
1 cup cherry tomatoes, halved
2 cups spinach, uncooked
Instructions
Shred the Parmesan cheese and set it aside to allow it to get to room temperature.

In a large cast-iron skillet, heat 2 tablespoons of vegetable oil on medium-high heat.

Butterfly the chicken breast and cut the seam to create 2 thinner slices, each about an inch thick. Season each side generously with Italian seasoning and desired amounts of salt and pepper.

Sear the chicken in the hot skillet on each side. Refrain from moving the chicken around as it sizzles, it will hinder the nice golden sear color. If the pan gets too hot, reduce the heat to medium. Each side will take 3-5 minutes. Once each side is a nice, golden brown and the middle is cooked, set the chicken aside.

Reduce the heat to medium low and add the bacon to the same skillet. Low and slow is the best way to cook bacon.

While the bacon cooks, prepare the pasta according to package instructions. Drain and set aside.

Once the bacon is cooked and crisp on each side, use tongs to remove it from the pan. Leave 2 tablespoons of bacon grease in the pan, and add the garlic. Cook for about 60 seconds.

Increase the heat to medium and gradually add in the flour, whisking constantly.

Temper the half and half by heating it in the microwave for 30 seconds. Add the half and half to the skillet and increase the heat to medium-high, stirring constantly. Once it starts to lightly bubble, decrease the heat to low.

Slowly sprinkle in the Parmesan cheese, stirring as you do so.

Once well-combined, add the tomatoes, spinach, and red pepper flakes. Cook for a few minutes until the tomatoes have softened slightly. Use a silicone spatula to gently mix in the penne.

Slice the chicken into strips and place it back in the pan, over the pasta. Sprinkle the top with bacon, and serve!
Nutrition
Calories: 688kcal, Carbohydrates: 65g, Protein: 27g, Fat: 34g, Saturated Fat: 15g, Cholesterol: 67mg, Sodium: 741mg, Potassium: 511mg, Fiber: 3g, Sugar: 3g, Vitamin A: 2285IU, Vitamin C: 13.9mg, Calcium: 524mg, Iron: 2.4mg