Chicken Bacon Spinach Pasta
This loaded chicken bacon spinach pasta dish is tossed in a thick and creamy garlic Parmesan  sauce. It's a perfect blend of flavors that will make you think you're eating at a restaurant!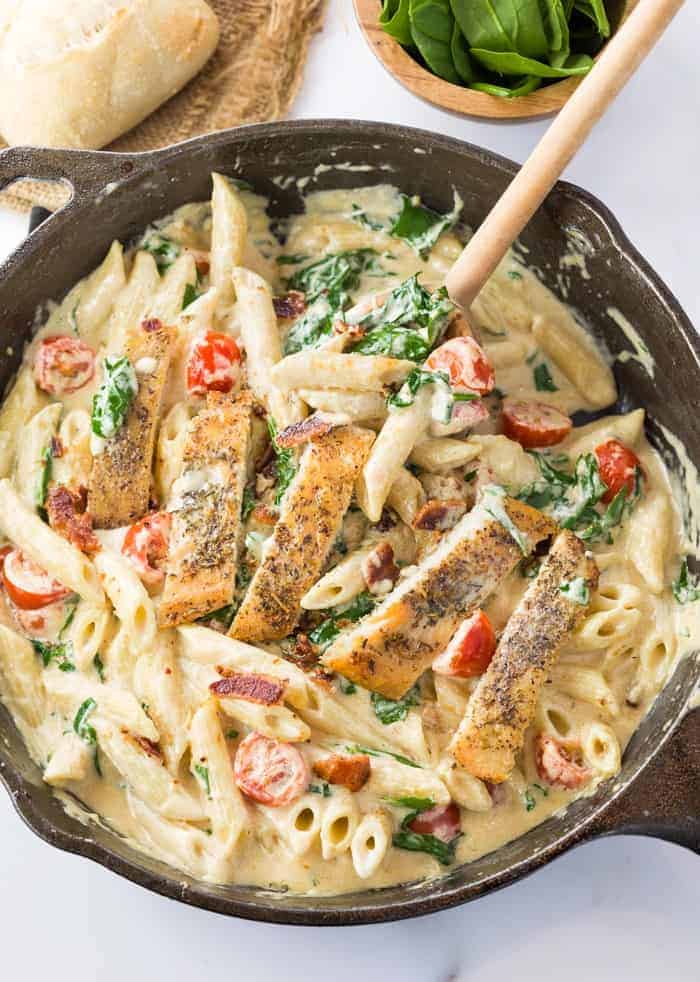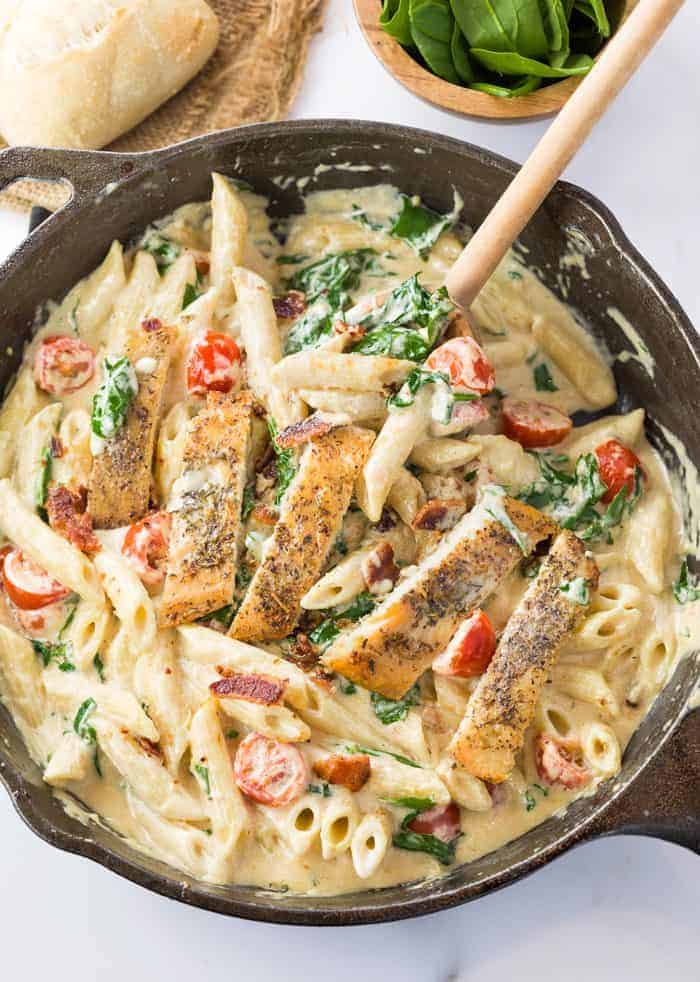 "This tastes like it's from a restaurant." Ahhh…music to my food blogging ears. Thank you hubby. He doesn't lie either. In fact, he's brutally honest about my recipes. But this one, is undoubtedly a keeper. The fresh tomatoes and spinach pair perfectly together, and I never met a creamy garlic Parmesan sauce that I didn't like. As simple as this recipe is, there are some tips about searing chicken that you should glance over first. Chicken that's seared properly makes all the difference when you're cooking.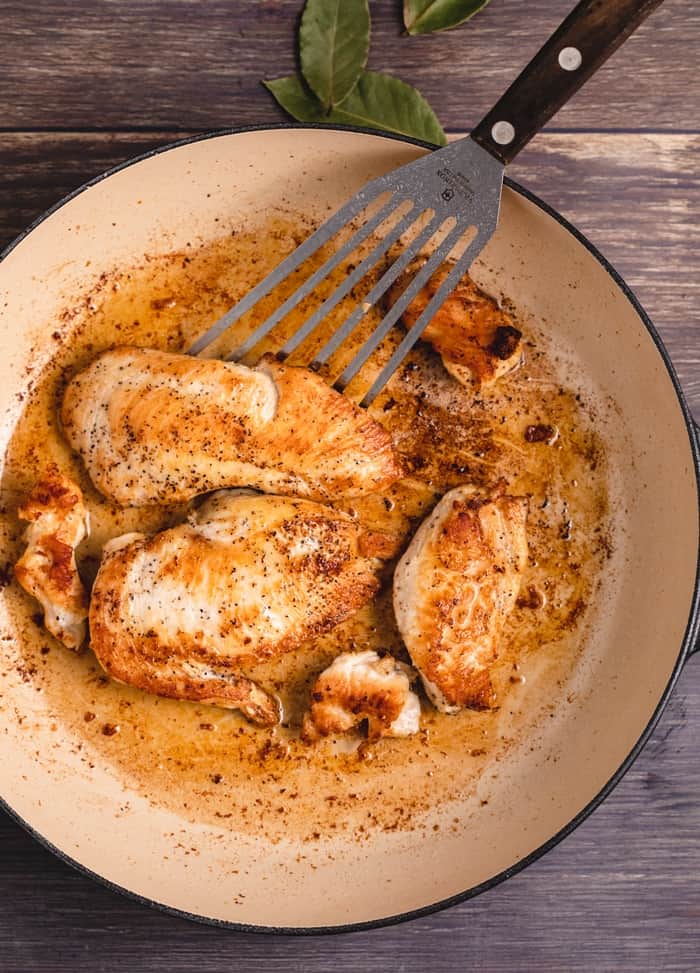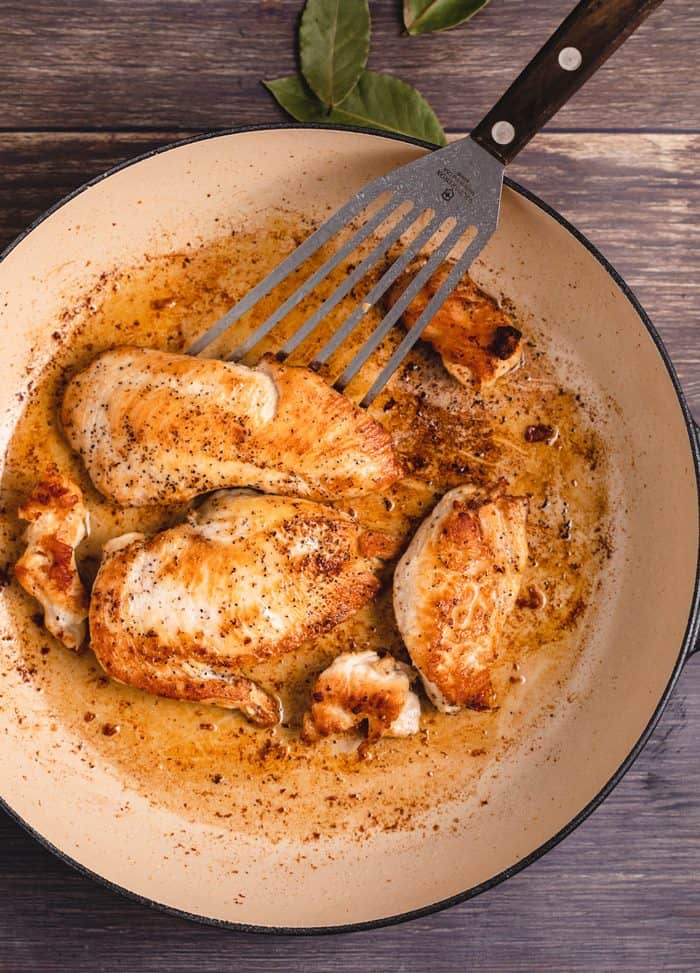 How to Make Perfectly Seared Chicken:
✔️Cast iron skillets conduct heat very well and are perfect to use when searing meat.
✔️Medium-high heat works well for searing, and it's important to use oil with a high smoke point such as vegetable, canola, or peanut oil to prevent the meat from burning.
✔️It's important to refrain from moving the meat around as it cooks. Allowing the meat to stay in the same place in the skillet ensures that the sear isn't disrupted. You'll notice that the chicken starts to release from the surface when it's ready. If it's sticking a lot to the pan, it's not done searing.
✔️Butterfly the chicken and cut the seam to create two thinner slices of equal size. This will allow them to cook evenly and prevent them from being too thick.
✔️Don't be afraid to season that meat and really get some flavor on there! Some of it will flavor the pan itself which will work it's way into the sauce that you'll cook in the same pan.
Of course you can also use any kind of pasta that you want for this meal, my husband just happens to be a penne kinda guy. Penne is also ideal for chunky and meaty dishes like this one. It's easy to grab a nice big forkful that includes a little taste of everything.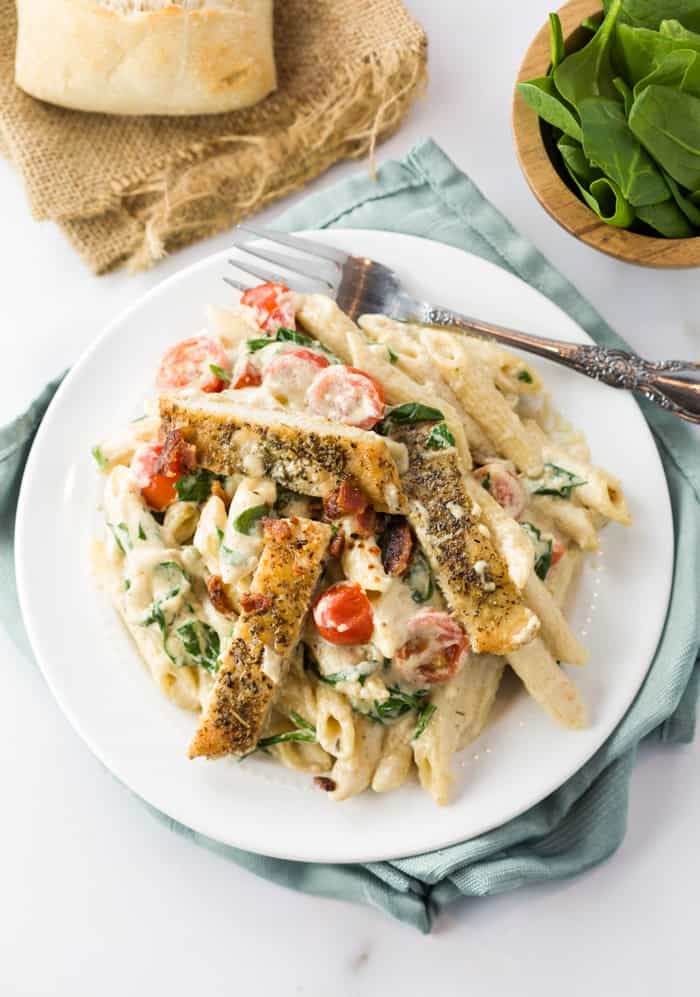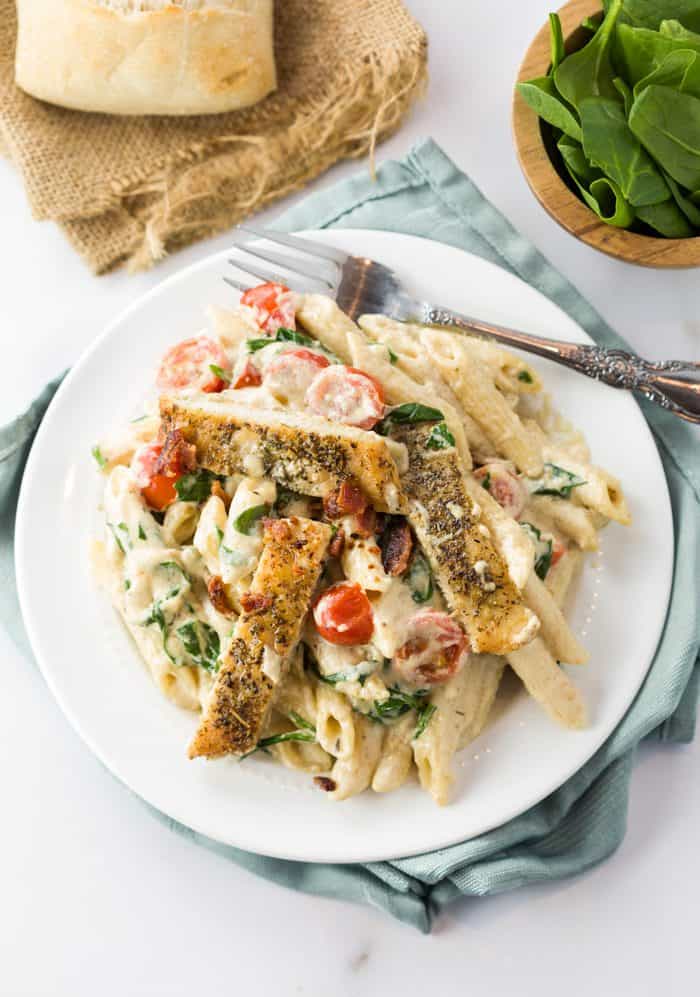 Penne vs. Penne Rigate:
The main difference between these two types of penne pastas is that penne rigate has ridges, and those ridges really help to lock-in flavor, which makes it ideal of creamy sauces such as this.
Feel free to experiment with the flavors on this one, perhaps substituting that spinach for kale, or the chicken for ground turkey or sausage! 😊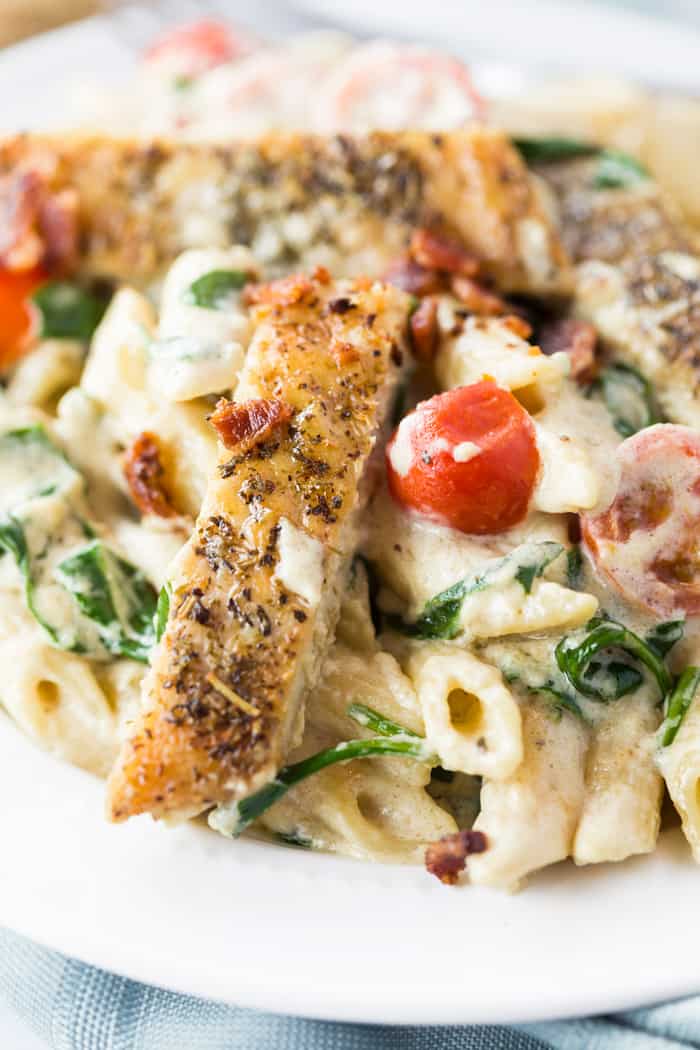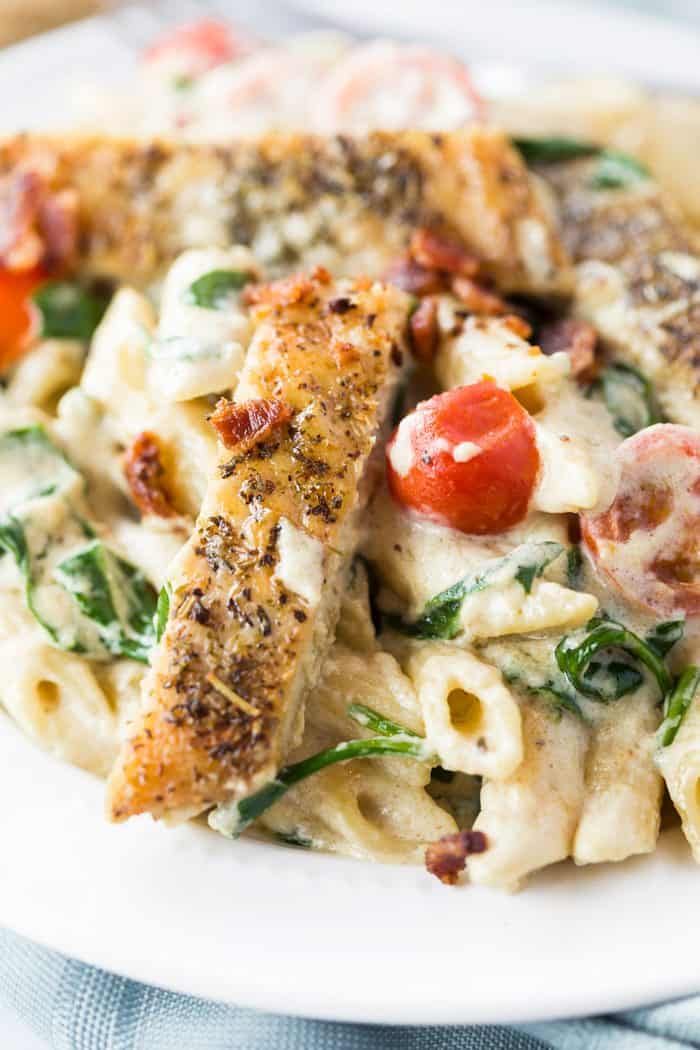 You should also try these!
Follow me!
Okay, last thing! You should probably join my free recipe email list! You'll get a weekly email with my brand new recipes. And follow me on Facebook, Instagram, and Pinterest. (Don't make this be our last goodbye!)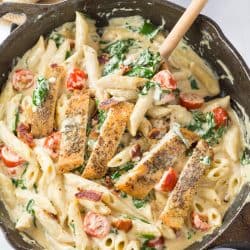 Servings: 4
Chicken Bacon Spinach Pasta
Course: Main Course
Cuisine: Italian
Keyword: chicken bacon pasta, chicken pasta
Perfectly seared chicken served over pasta that's smothered in a garlic Parmesan cream sauce with spinach and bacon!

Ingredients
2 tablespoons vegetable oil
1 boneless skinless chicken breast, large in size
1 teaspoon Italian seasoning a combo of thyme, oregano, & basil
Salt/Pepper to taste
4 bacon strips
10 oz. penne pasta
Garlic Parmesan Sauce
2 teaspoons garlic minced
2 Tablespoons all-purpose flour
1 + 1/3 cups half and half
1 + 1/3 cups Parmesan cheese shredded
1 teaspoon red pepper flakes
1 cup cherry tomatoes halved
2 cups spinach uncooked
Instructions
In a large cast-iron skillet, heat 2 tablespoons of vegetable oil on medium-high heat.

Butterfly the chicken breast and cut the seam to create 2 thinner slices, each about an inch thick. Season each side generously with Italian seasoning and desired amounts of salt and pepper.

Sear the chicken in the hot skillet on each side. Refrain from moving the chicken around as it sizzles, it will hinder the nice golden sear color. If the pan gets too hot, reduce the heat to medium. Each side will take 3-5 minutes. Once each side is a nice, golden brown and the middle is cooked, set the chicken aside.

Reduce the heat to medium low and add the bacon to the same skillet. Low and slow is the best way to cook bacon.

While the bacon cooks, prepare the pasta according to package instructions. Drain and set aside.

Once the bacon is cooked and crisp on each side, use tongs to remove it from the pan. Leave 2 tablespoons of bacon grease in the pan, and add the garlic. Cook for about 60 seconds.

Increase the heat to medium and gradually add in the flour, whisking constantly.

Temper the half and half by heating it in the microwave for 30 seconds. Add the half and half to the skillet and increase the heat to medium-high, stirring constantly. Once it starts to lightly bubble, decrease the heat to low. Mix in the Parmesan cheese. Once well-combined, add the tomatoes, spinach, and red pepper flakes. Cook for a few minutes until the tomatoes have softened slightly. Use a silicone spatula to gently mix in the penne.

Slice the chicken into strips and place it back in the pan, over the pasta. Sprinkle the top with bacon, and serve!
Nutrition Information
Calories:
688
, Fat:
34g
, Saturated Fat:
15g
, Cholesterol:
67mg
, Sodium:
741mg
, Potassium:
511mg
, Carbohydrates:
65g
, Fiber:
3g
, Sugar:
3g
, Protein:
27g
, Vitamin A:
45.7%
, Vitamin C:
16.9%
, Calcium:
52.4%
, Iron:
13.6%