This Island Chicken Marinade Recipe is perfect for grilling and super easy to make for your next BBQ. The recipe comes from an old waterfront restaurant and is the best marinade you've ever tried!

Be sure to try my Copycat Texas Roadhouse Steak Rub Recipe next!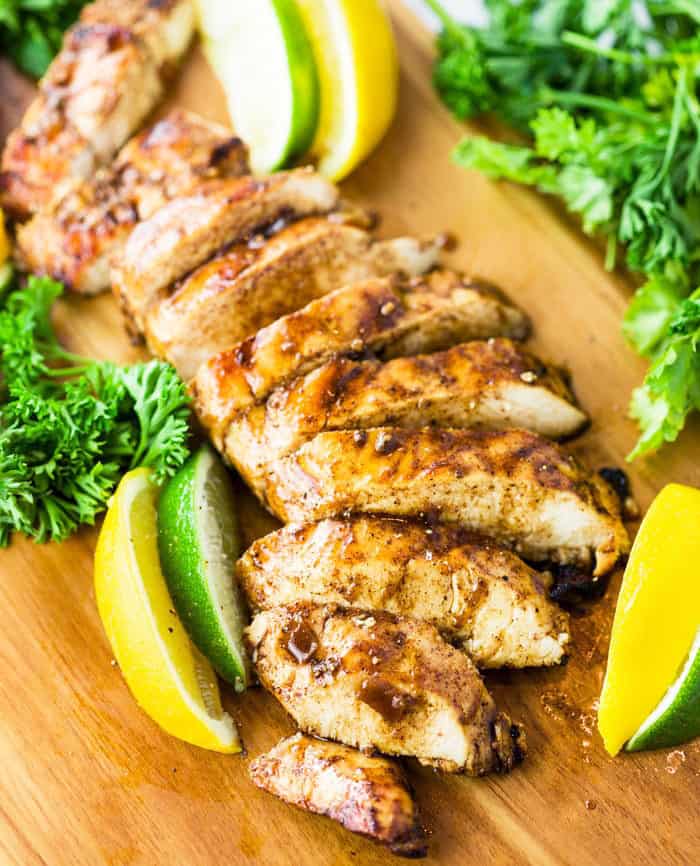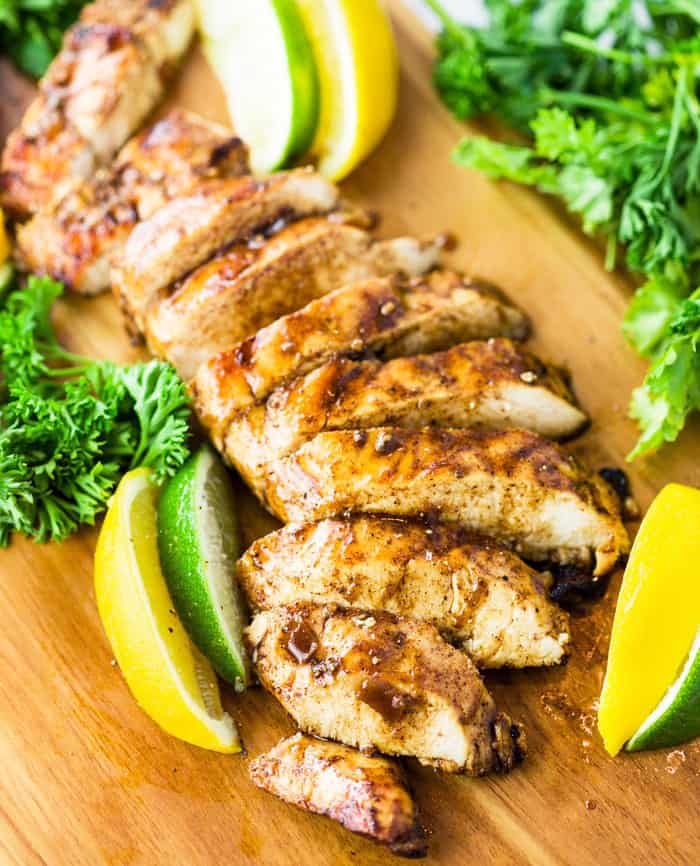 When I say that this is the best marinade recipe you'll ever try, I'm not even kidding in the slightest. It comes straight from a waterfront restaurant.
…My husband even had me make this for an entire bachelor party once. He was in charge of bringing the grilled meat. (Yes, it was a bachelor party in the woods, we live in New Hampshire. What can I say.)
Okay, so here's a quick look at what you'll need for this recipe: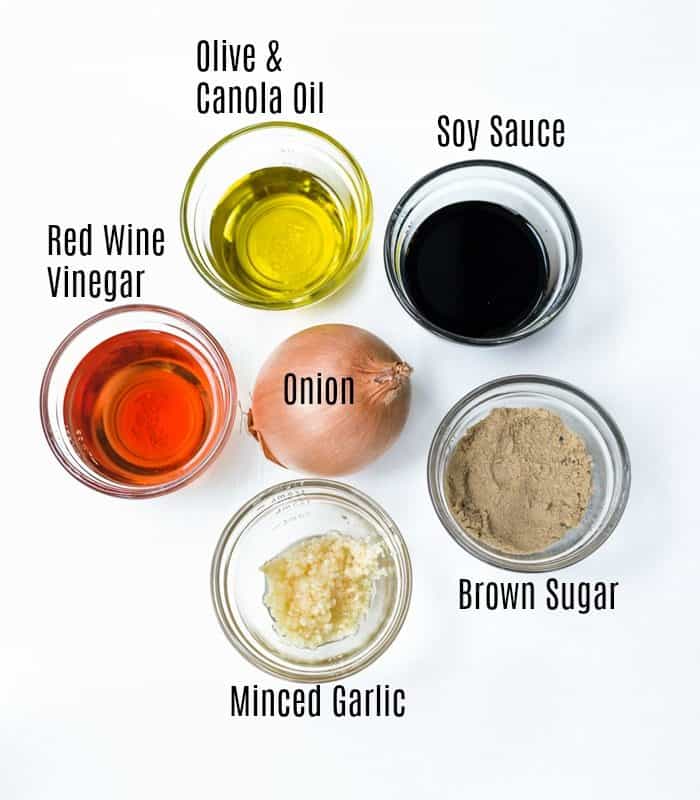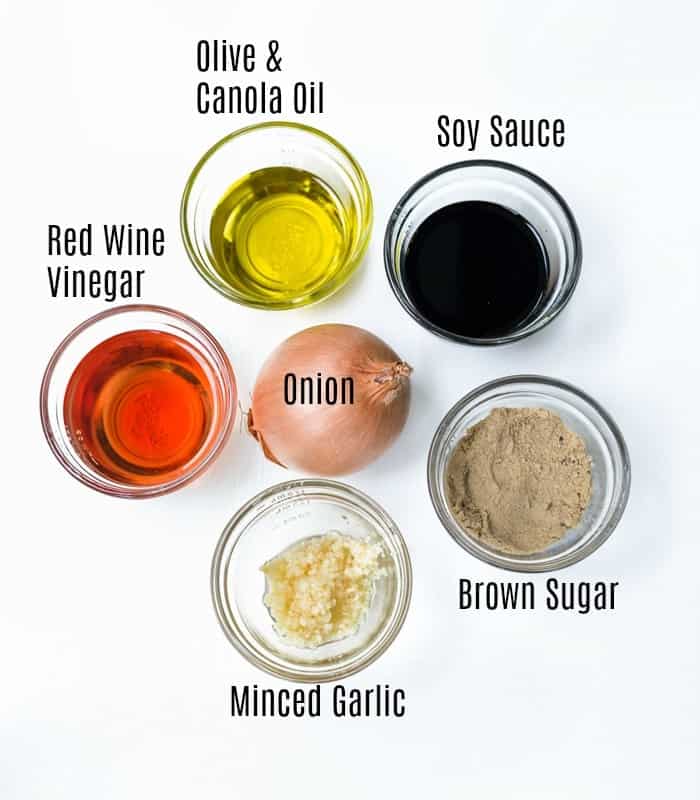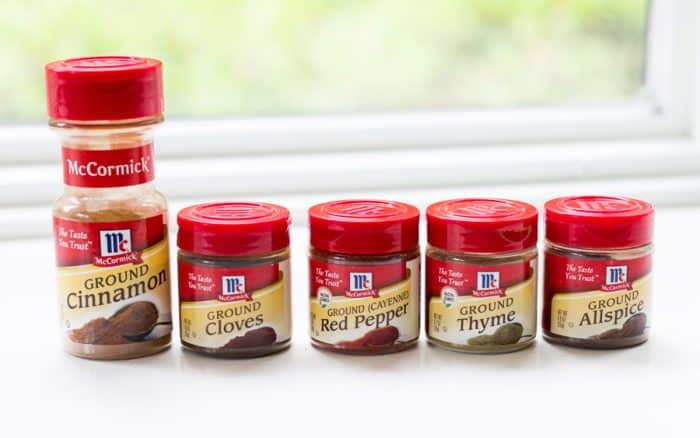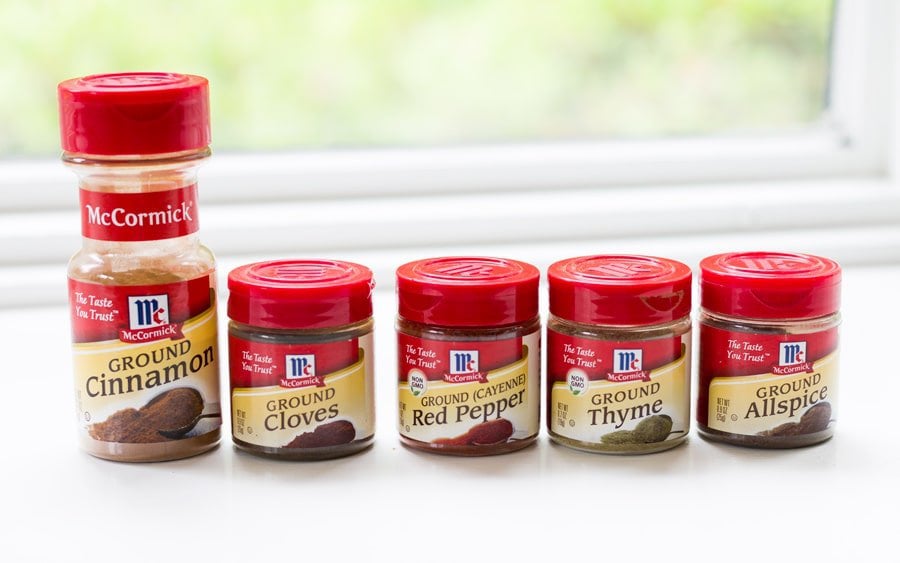 Note: You don't actually need ground thyme like I have in the picture there, I usually use dried thyme
Ground Thyme vs. Regular Thyme:
-If using ground Thyme instead of dried, use about 25% less than what you'd use for dried thyme.
And now, a few marinating and grilling tips to ensure ultimate success!
How Long to Marinate Chicken:
Chicken can safely marinate in the refrigerator for up to 2 days. (This is according to the USDA Food Safety and Inspection Service. Pretty legit.)
If you're pressed for time, you can marinate your chicken for as little as 30 minutes and still reap the benefits of all of those amazing flavors. Chicken does well with shorter marinating times than other meats do. (But, longer is still better.)
Freezing this Chicken Marinade
This marinade is perfect for freezing and should be stored in an airtight container and used within 3 months if possible.
Be sure to only store/freeze/use marinade that hasn't touched the uncooked chicken yet!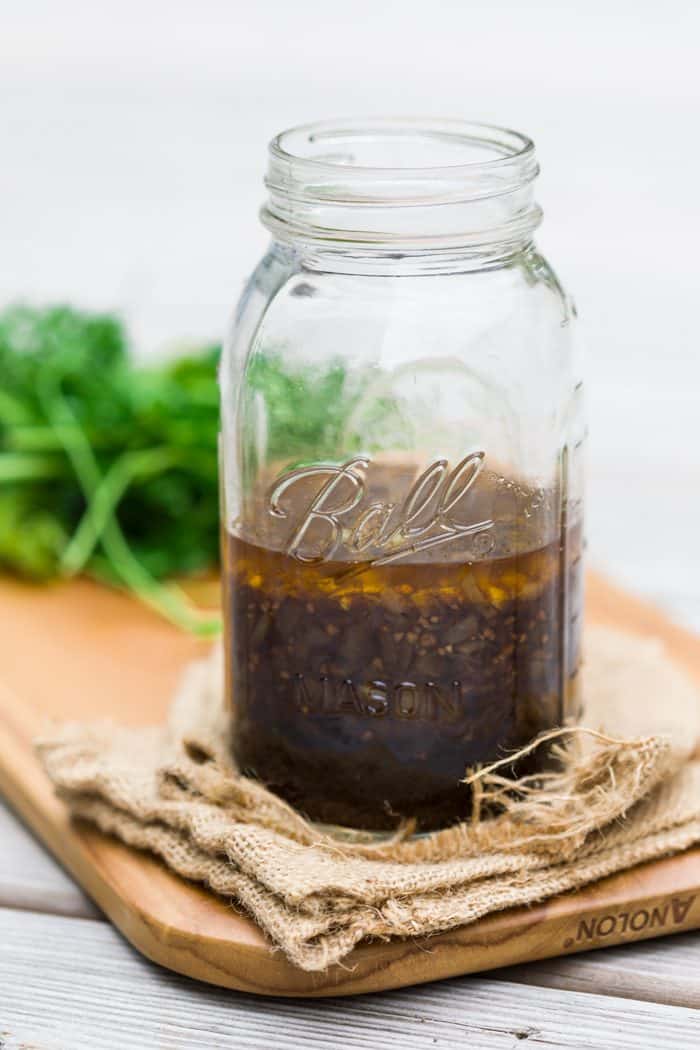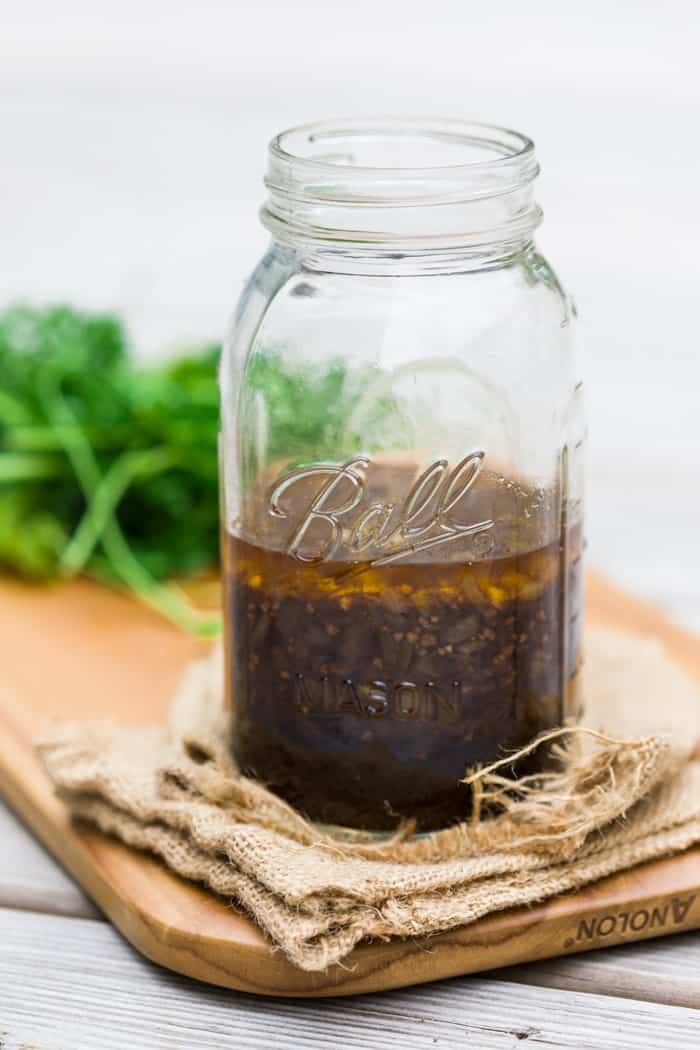 How to Grill Chicken:
-It's best to slice each chicken breast in half length-wise to give me two thinner slices that are about the same size as one another. OR, you can slice the chicken in half width-wise and pound each one flat. I do this for a few reasons:
It creates more surface area that gets to be smothered in this tasty marinade, which means more flavor!
Flatter chicken slices cook more evenly than a a plump piece of chicken does.
-Contrary to popular belief, it's best not to oil your grill grates before grilling. These guys can tell you why.
–Let the chicken rest for 5-10 after grilling it. The meat needs time to reabsorb the juices on the inside. Otherwise, the juice will pour out all over your cutting board. (And that's no good.)
How Long to Grill Chicken:
Boneless, skinless chicken breasts that have been flattened take about 4 minutes on each side under direct heat.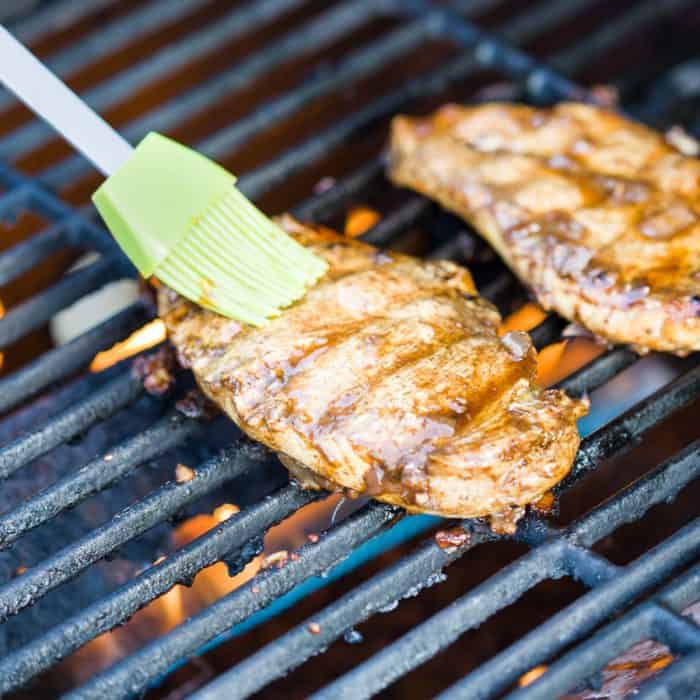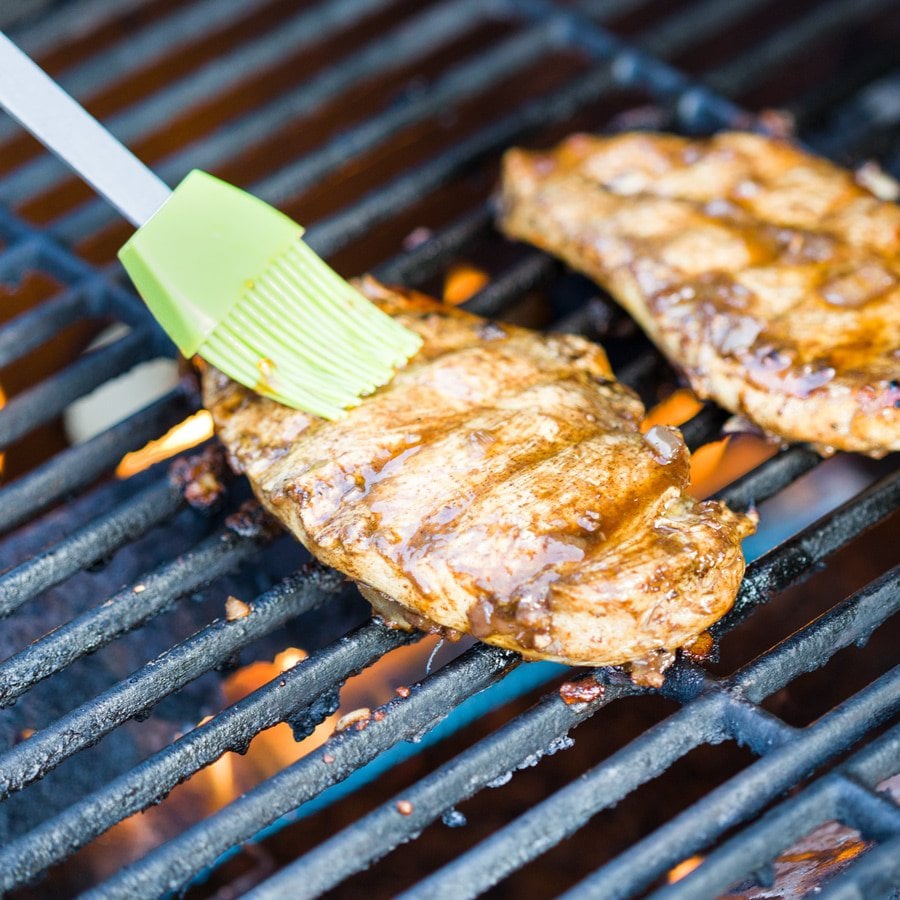 Try These Next!
Follow Me!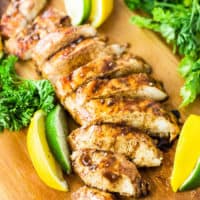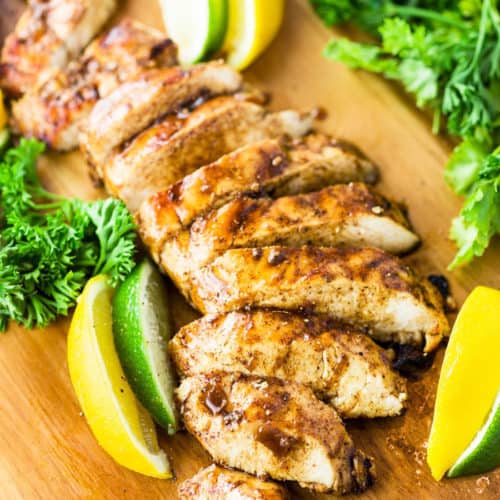 Island Chicken Marinade
This mouth-watering chicken marinade recipe comes straight from a waterfront restaurant and has a truly unbeatable flavor combination. You'll feel like you're eating on a tropical island!
Ingredients
2 tablespoons extra-virgin olive oil
2 tablespoons canola oil
1 large onion, peeled and chopped
2 tablespoons chopped garlic
1/3 cup packed dark brown sugar
1 ½ teaspoon ground allspice
¾ teaspoon dry thyme
¾ teaspoon black pepper
½ teaspoon ground cloves
½ teaspoon ground cinnamon
Pinch cayenne
½ cup reduced-sodium soy sauce or tamari
½ cup red-wine vinegar
Instructions
In a large saucepan, heat the canola and olive oil over medium heat. Add the onions and garlic and let cook, covered, for 4-6 minutes- until the onions are soft & translucent. Stir them occasionally as they cook.

Stir in the brown sugar, allspice, thyme, pepper, cloves, cinnamon and cayenne and remove from heat. Stir in the soy sauce and red wine vinegar.


Let the mixture cool completely before using it.

Chicken should marinade for at least 2 hours or overnight.

Set aside about 1/4 cup of the marinade to brush on top of the meat as it cooks, if desired.
Notes
This recipe makes enough to generously marinade 5-6 chicken breasts. I like to cut my chicken breasts in half so that each is thinner, giving you 12 chicken cutlets. 
I like to marinade my chicken for at least 2 hours, and up to 24. If your pressed for time, you can marinade for 30 minutes and still get really flavorful chicken! 
You can also use this marinade for chicken thighs, chicken wings, salmon, and other seafood! 
Do not reuse the marinade after using once.
Nutrition
Calories: 158kcal, Carbohydrates: 16g, Protein: 2g, Fat: 9g, Saturated Fat: 1g, Sodium: 1087mg, Potassium: 102mg, Sugar: 12g, Vitamin A: 10IU, Vitamin C: 2.8mg, Calcium: 26mg, Iron: 0.8mg
Recipe Source: HealthySeasonalRecipes.com