Lemon Garlic Grilled Shrimp
This Grilled Lemon Garlic Shrimp Recipe has an easy marinade that takes just minutes to throw together! Serve over some pasta noodles and you have a perfectly easy dinner!
Need a 15 minutes pasta side?! Try my One Pot Parmesan Garlic Pasta!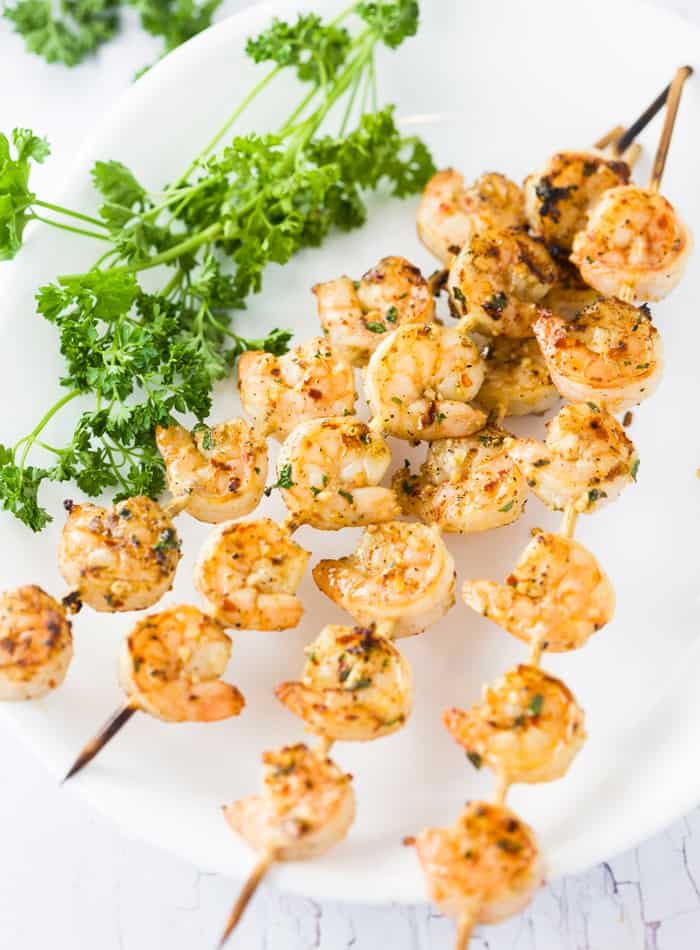 There is no better feeling as a home cook than to hear the sound of silence when you slap that food down on the table and everyone takes their first few bites. That is exactly what's going to happen if you make this simple grilled shrimp recipe. This is definitely one of my favorite summer recipes.
Now. Before we dive in, here are some easy tricks that I learned about making sure you make the best grilled shrimp.
How Long to Marinate Shrimp
The length of marinating time depends on what marinade you use:
Marinades that have citrus, (lemon/lime/orange for example), should marinade for no more than 30 minutes. The acid from the citrus eventually breaks down the shrimp and can make it mushy if you marinade it too long.
If no citrus is involved, an hour or more is fine.
What Size Shrimp for Grilling?
Larger shrimp work better for grilling. For an accurate gauge on size, look at the count number on the Tupperware or bag.
For example, the shrimp in these photos were labeled as "jumbo", but that term varies depending on where you buy from. The count number however, was 26/30. 30= how many shrimp of that size it takes to make a pound.
The larger the top number, the larger the shrimp size. Aim for a top number of 15 or higher when buying grilled shrimp.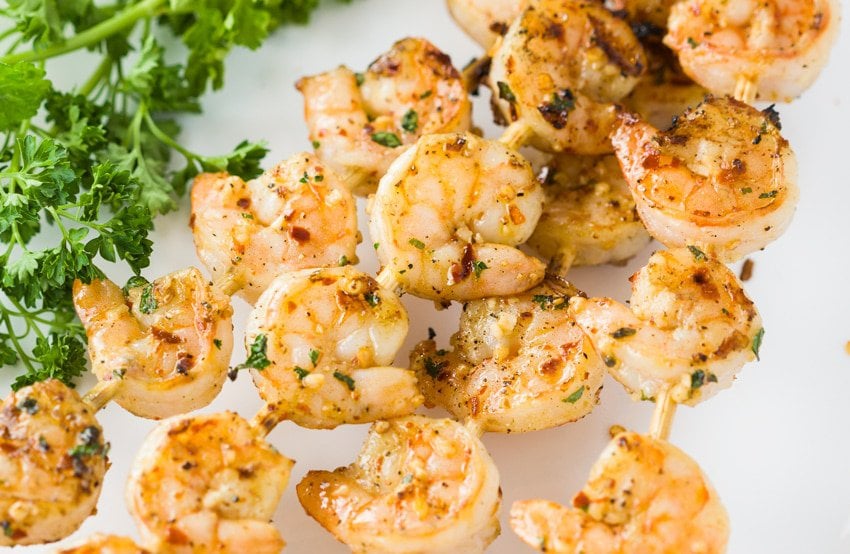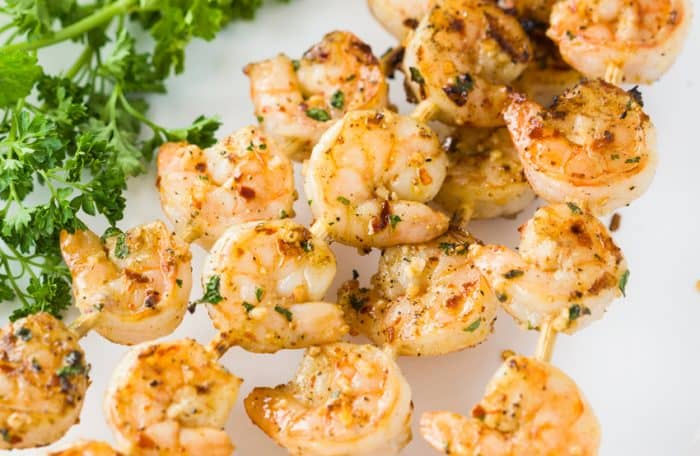 How Much Shrimp Per Person?
1/2 pound of shrimp per person is a good rule of thumb.
How Long Do You Grill Shimp?
Shrimp cook very quickly on the grill and only need 3-4 minutes per side.
How to Bake Shrimp
To bake these shrimp, preheat the oven to 450°.
Spray a baking sheet lightly with nonstick cooking spray and bake for 5-7 minutes.
How to Pan Fry Shrimp
For a frying pan method, add some oil in a few tablespoons of olive or vegetable oil to large pan over medium-high heat.
Once heated, add the shrimp (without the skewers is easier), and cook for 4-5 minutes, tossing occasionally.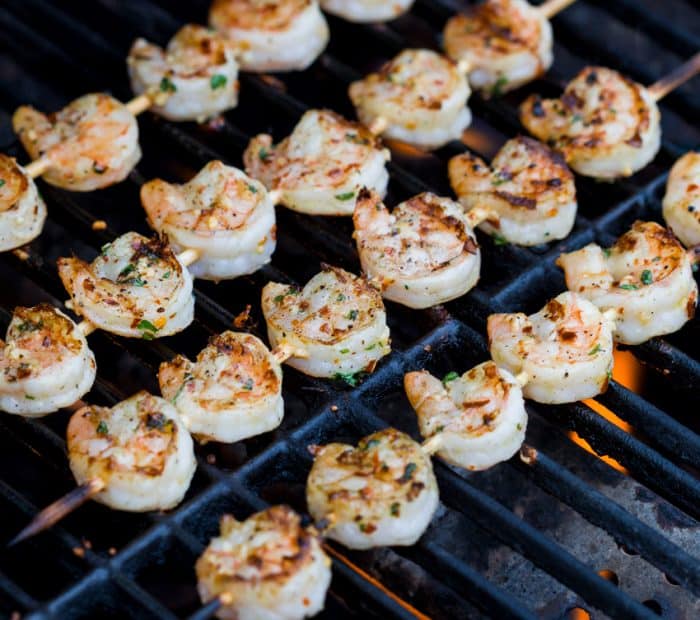 Try These Next!
Follow Me!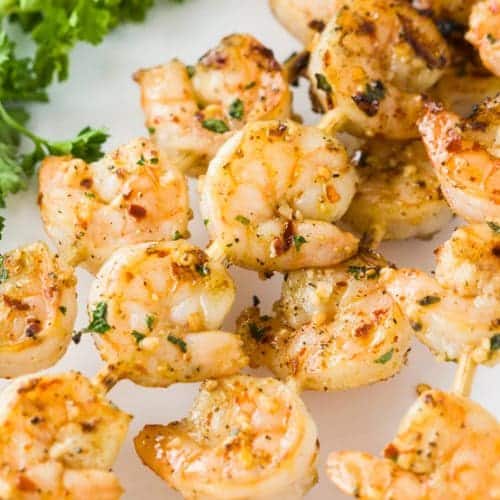 Lemon Garlic Grilled Shrimp
This simple lemon garlic marinade takes just minutes to throw together and gives you flavorful grilled shrimp that you'll want to eat all summer long! Plus, must-have tips for grilling shrimp!

Ingredients
1 lb. shrimp uncooked
1 teaspoon salt
½ teaspoon pepper
1/3 cup olive oil
2 Tablespoon lemon juice
1 Tablespoon garlic minced
½ teaspoon red pepper flakes
1 tablespoon parsley fresh & finely diced
Instructions
Soak your skewers in water (for about 1.5 hours) prior to grilling if desired. There is debate as to if this is actually necessary or not. (I don't usually have time and it's been fine!)

If the shell is still on the shrimp, carefully peel it away. Place the shrimp in a colander and rinse under cold water. Pat dry with paper towels and sprinkle with salt and pepper.


In a medium bowl, combine the remaining marinade ingredients. Carefully pour it into a thick freezer bag, then add the shrimp.


Marinade the shrimp for 20-30 minutes minutes. *Do not marinade longer than 30 minutes, as the acid from the lemon will begin to break down the shrimp after this time, which can leave them mushy.  


Heat the grill to high. Once heated, carefully place the skewers on the grill rack and cook them for about 3 minutes, then flip, and cook for another 3-4 minutes. Leave the cover open as they cook.


When done, the exterior will be a pinkish color and the outside edges should be white and opaque. Overcooking will cause the shrimp to become tough, so try not to get distracted. : )


Remove from the grill and serve, carefully peeling away the shell prior to eating!

Nutrition Information
Calories:
274
, Fat:
7g
, Saturated Fat:
1g
, Cholesterol:
571mg
, Sodium:
2935mg
, Potassium:
181mg
, Carbohydrates:
3g
, Protein:
46g
, Vitamin A:
315%
, Vitamin C:
19%
, Calcium:
336%
, Iron:
5%
Course: Main Course
Cuisine: American
Keyword: garlic shrimp, grilled shrimp