Instant Pot Hamburger Helper
This quick and easy instant pot hamburger helper puts dinner on the table in no time and tastes just like the classic hamburger helper recipe we know and love, minus the unknown ingredients! 
Try my Instant Pot Creamy Chicken Stew recipe next!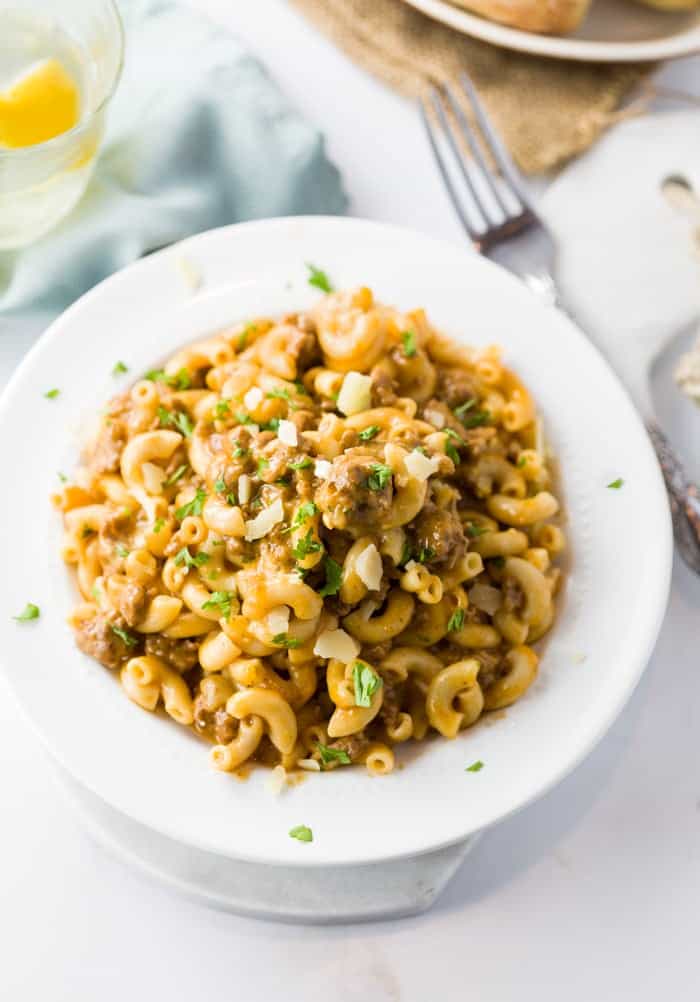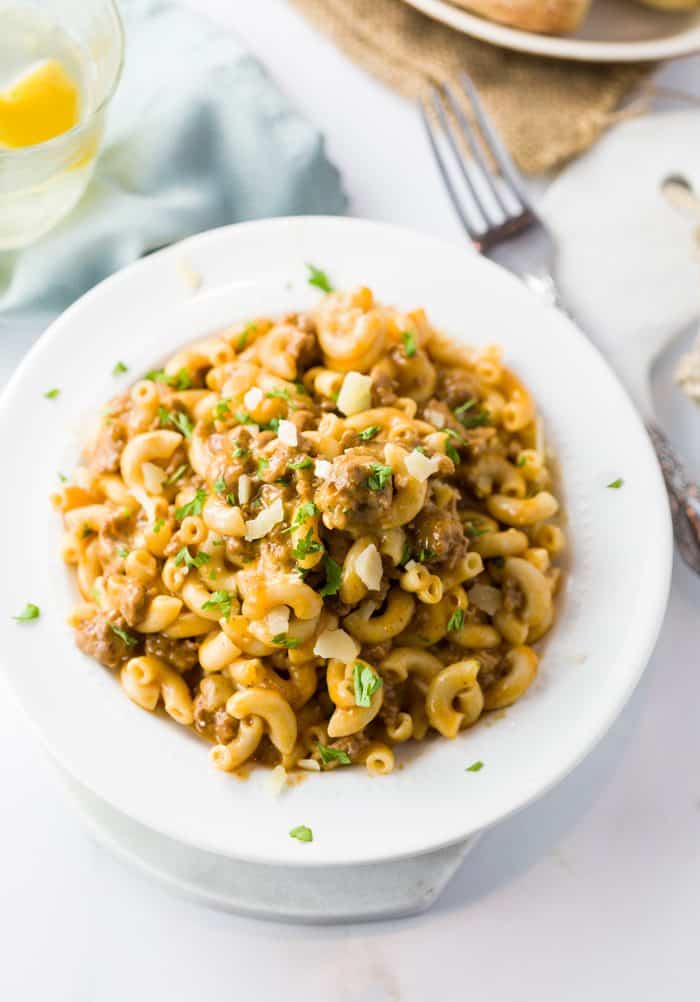 This is my toddler's number one favorite meal, and I feel absolutely fabulous giving it to her because there are no mystery ingredients, it's completely homemade, and I only have one pot left to clean at the end of the meal. I'll take it. Oh-and if you follow me on Instagram, you'll see on my stories that I *love* to freeze this. A ton of this. I make portion-sized foil packets to pop into the oven for my little girl's dinner on those nights when things are out of control and I need a quick dinner solution! Read on, I'll tell you how it's done!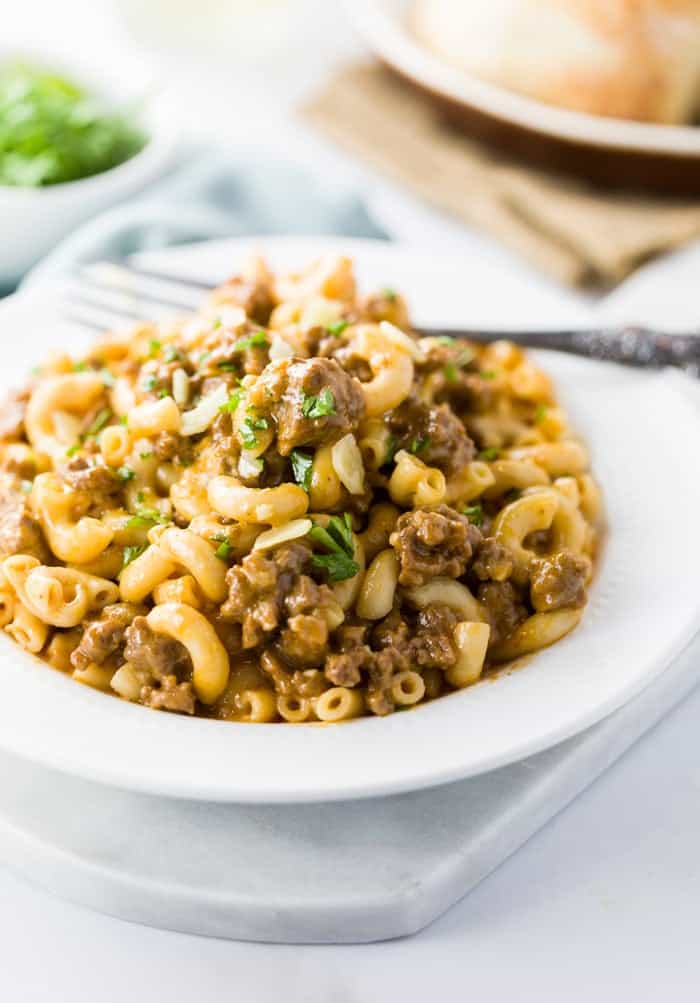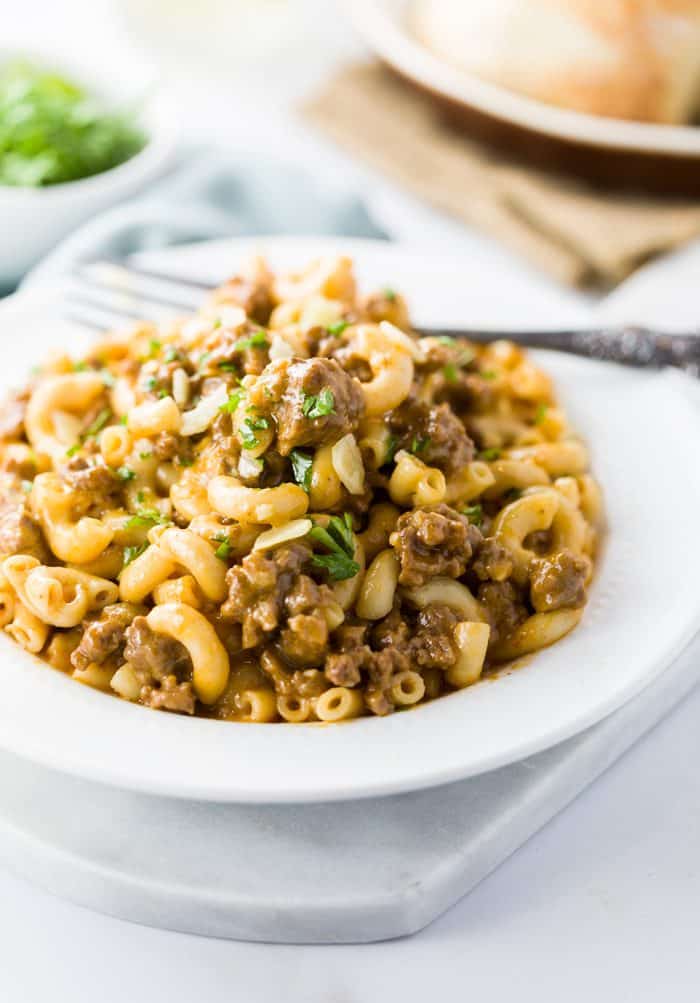 What Size Instant Pot did I use?
-I used my trusty 6-quart Instant Pot for this recipe, which is what I recommend for most families, and is what most Instant Pot recipes are based on. It can cook enough food for a family of four and won't take as long to come to pressure as an 8 quart will.
Can This Recipe Be Doubled in an 8 Quart?
Unfortunately there isn't enough room to double this recipe in an 8 quart Instant Pot.
Can you Freeze Macaroni?
Cooked Macaroni is a great food to freezer for future meals. Here are some tips for success:
-Cook the pasta to the Al Dente Point, but no more. That way the pasta won't be overcooked when you reheat it. For this recipe, the quick release of the pressure valve helps to halt the cooking process. It's also best to avoid reheating the pasta again before you freeze it.
-I love to make easy foil packets for freezing these. I lay out strips of foil on the counter and use a big spoon to create portions of desired size on each one, then I wrap it into a square packet, add the packets to a freezer bag, label it, and freeze! When you're ready to eat, just pop the entire frozen foil packet in the oven and bake at 350 degrees for about 20 minutes or so.
-Ziploc bags are also convenient freezing vessels, just let out any extra air in the bag. Laying it flat and freezing it in a uniform rectangle shape will take up less freezer space but will also allow the pasta to thaw out at the same rate when you remove it from the freezer.
What if the Burn Indicator Turns on During Pressure Cooking?
-If you're waiting for the Instant Pot to come up to pressure and notice a burn indicator, this is something that rectifies itself whenever I make this recipe and see that warning. It just takes a little bit of waiting before the pressure cooker will do it's thing.
-The more I use the Instant Pot, the more I see this message. I've learned to basically ignore it as long as I know that I've done my due diligence in making sure I've removed any specs of meat on the bottom of the pan that may have gotten stuck during while sauteing. I do this before I add any other ingredients.
–Adding vegetable oil on the bottom of the pan prior to browning the meat helps with this.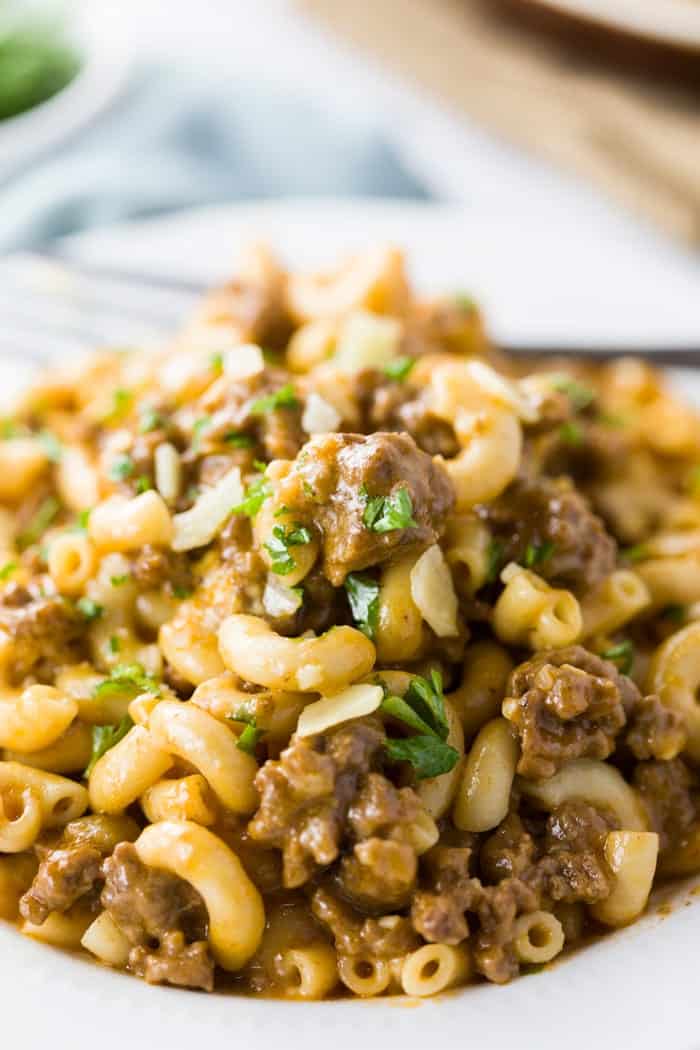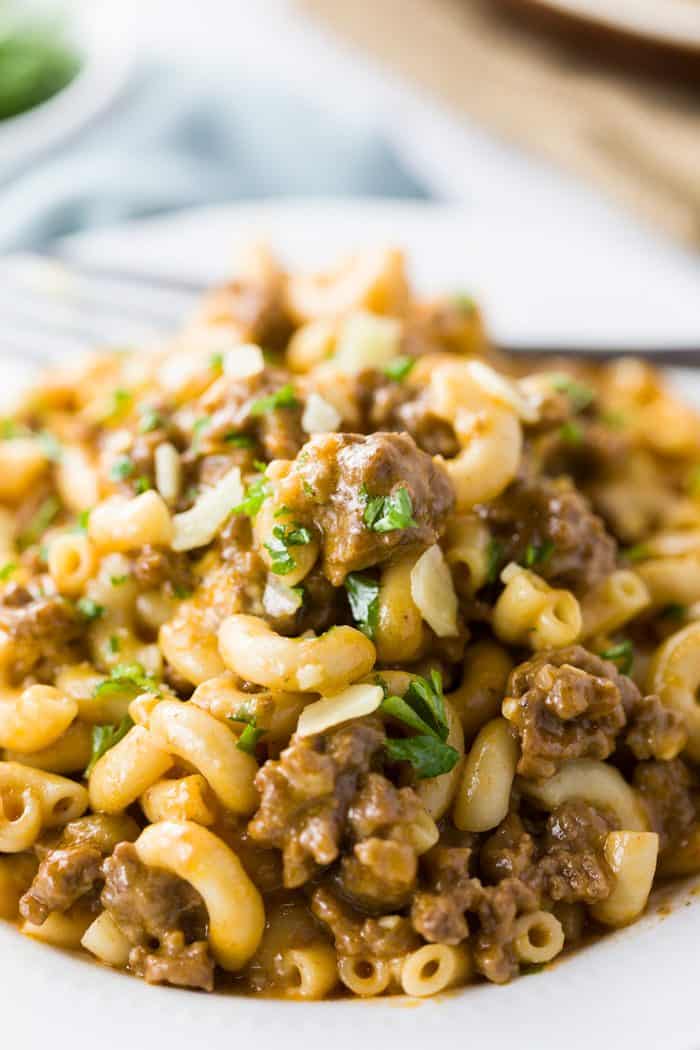 More of my favorite Instant Pot meals:
Follow me!
Now. If you like this recipe, you should probably join my free recipe email list! You'll get a weekly email with my brand new recipes. And follow me on Facebook, Instagram, and Pinterest. (Don't make this be our last goodbye!)
Instant Pot Hamburger Helper
This quick and easy instant pot hamburger helper puts dinner on the table in no time and tastes just like the classic hamburger helper recipe we know and love, minus the unknown ingredients!
Ingredients
1 Tablespoon vegetable oil
1 lb. ground beef
1 small yellow onion diced
1 Tablespoon minced garlic
Salt/Pepper to taste
1 Tablespoon Worcestershire sauce
2 Tablespoons tomato paste
4 cups beef broth
3 cups shredded cheddar cheese
16 oz. dried elbow macaroni (equal to a 1 lb. box)
Instructions
Set the instant pot to Sautee and add the vegetable oil.

Add the ground beef and cook and crumble for about 5 minutes.


Add the onions and cook for another 3-4 minutes or so, until the onions are soft and translucent and the meat is cooked through.


Add the garlic, Worcestershire sauce, tomato paste, and salt/pepper. Cook for 2 more minutes.


Pour in ¼ of the beef broth and scrape the bottom of the pot to release the cooked pieces of beef that have stuck to the bottom of the pot. This will give the sauce extra flavor but also prevents the burn indicator from turning on during pressure cooking.

Add the rest of the broth and submerge the macaroni into the sauce so that it's completely covered.


Lock the lid, seal the valve, and set the pressure cooking time to 5 minutes.


Once 5 minutes are up, quick release the steam valve. Gently stir in the cheese using a silicone spatula until well combined.


Garnish with chopped parsley or Parmesan flakes if desired, and serve!
Nutrition Information
Calories:
747
, Fat:
37g
, Saturated Fat:
20g
, Cholesterol:
113mg
, Sodium:
1072mg
, Potassium:
617mg
, Carbohydrates:
60g
, Fiber:
2g
, Sugar:
4g
, Protein:
39g
, Vitamin A:
650%
, Vitamin C:
3.3%
, Calcium:
458%
, Iron:
3.5%
Course: Main Course
Cuisine: American
Keyword: Beef, Instant Pot, Pasta