Instant Pot Mac and Cheese
This extra creamy Instant Pot Mac and Cheese cooks in just 5 minutes with only a single pot to clean! Your whole family will love this extra easy, cheesy meal!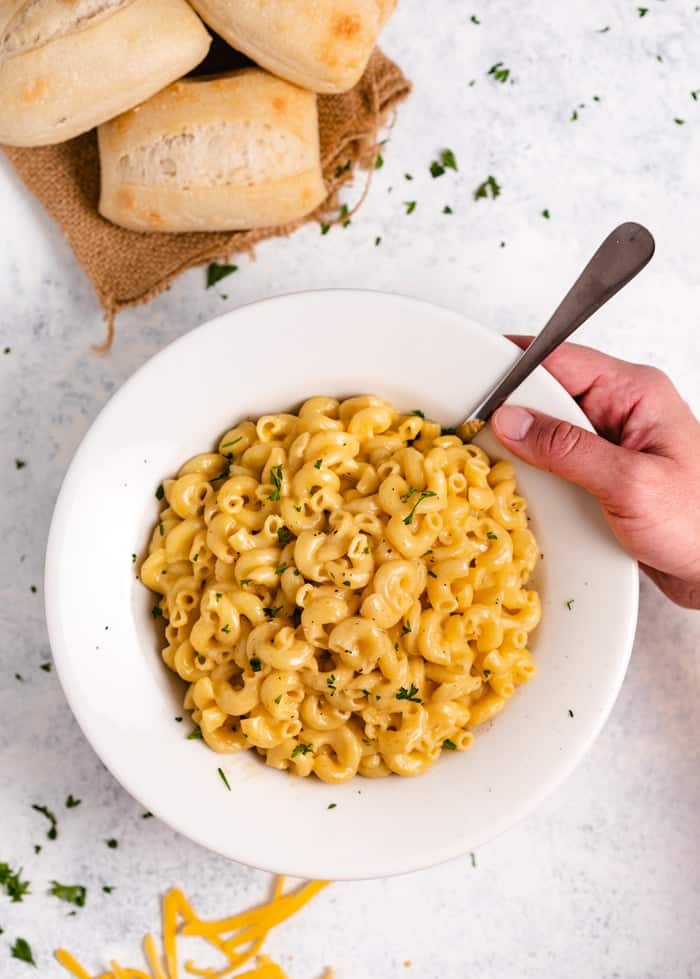 What Size Instant Pot did I use?
-I used my trusty 6-quart Instant Pot for this recipe, which is what I recommend for most families, and is what most Instant Pot recipes are based on. It can cook enough food for a family of four and won't take as long to come to pressure as an 8 quart will.
Can this Recipe be Doubled?
-This recipe yields too much to double in a 6 quart Instant Pot, (which has a 4 quart limit), but can be doubled in an 8 quart.
What Kind of Cheese is Best to use?
-I like to use 2 cups of cheddar cheese and 1 cup of mozzarella, however you could also make this a three cheese blend and throw in some Velveeta for increased creaminess, or even Monterey Jack cheese!
–Freshly Shredded cheese definitely melts much better than packaged shredded cheese. I always keep blocks of various cheeses in my fridge for this reason. The higher the quality, the better! Tillamook is a great brand if you can get your hands on it.
Can I add Meat?
-Meat, such as chicken, is easy to incorporate into this meal and adds even more flavor to it! The meat can be seared in the Instant Pot on saute mode along with some olive oil. Once it's cooked, remove the meat and add it back to the pasta once it has cooked and the cheese/milk, etc. has been added to it.
-After cooking the meat, use a silicone spatula to remove any remaining flecks of meat from the bottom of the pan. This will give more flavor to the sauce but will also help to prevent the burn indicator from turning on.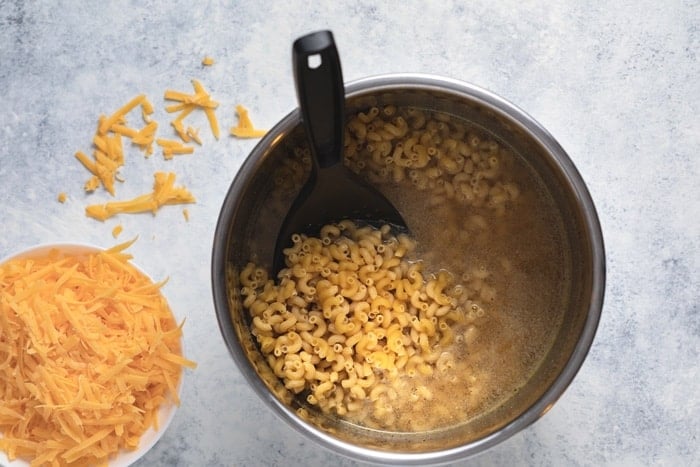 What if the Burn Indicator Turns on During Pressure Cooking?
-The more I use the Instant Pot, the more I see this message. As I long as I've made sure that I've removed any specs from the bottom of the pan before pressure cooking, I don't worry about the message as it will go away with a little bit of time.
Can I Freeze Macaroni and Cheese?
-Leftover macaroni and cheese can be frozen, and it makes for easy future meals for hungry kids. I like to freeze portion sizes in foil packets and pop them in the oven when I need a quick meal for my toddler.
–To reheat, I just pop the closed foil packet in a 350 degree oven for 15 minutes or so.
-Frozen macaroni and cheese is best if used within 3 months. 
Instant Pot Cooking Times for Other Kinds of Pasta
An easy rule of thumb when trying to determine how long to cook other types of pastas is to cut the stove-top cooking time in half, and possibly subject one additional minute.
Small/Medium Shells: 5 minutes
Rotini: 5 minutes
Penne: 6 minutes
Ziti: 7 minutes
More Instant Pot Favorites
Follow me!
Servings: 8
Instant Pot Mac and Cheese
Course: Main Course
Cuisine: American
Keyword: Instant Pot Mac and Cheese
This super creamy Instant Pot Mac and Cheese cooks in just 5 minutes with only a single pot to clean! Your whole family will love this extra easy, cheesy meal!

Ingredients
1 lb. elbow macaroni pasta
4 cups chicken broth
2 teaspoons dry mustard
½ teaspoon seasoned salt
1 teaspoon garlic powder
½ teaspoon pepper
2 Tablespoons butter
3 cups shredded cheese a mix of cheddar & mozzarella works well
1 cup whole milk
Parsley to garnish
Instructions
Add the chicken broth and seasonings to the Instant Pot and mix until well combined. Pour in the macaroni. Secure the cover and ensure the quick release valve is closed.

Pressure cook for 5 minutes and flip the quick release valve when finished to allow the steam to escape and slow down the cooking process.

Stir in the butter, cheese, and milk, until well-combined.

Sprinkle with parsley and serve!
Recipe Notes
-Velveeta Cheese and Monterey Jack cheese may also be incorporated!
-This can be stored in the refrigerator for 3-5 days. You can also freeze it in an airtight container, it's best if used within 3 months. 
Nutrition Information
Calories:
277
, Fat:
15g
, Saturated Fat:
8g
, Cholesterol:
47mg
, Sodium:
877mg
, Potassium:
195mg
, Carbohydrates:
20g
, Fiber:
1g
, Sugar:
1g
, Protein:
14g
, Vitamin A:
9%
, Vitamin C:
10.1%
, Calcium:
25.6%
, Iron:
3.9%