Instant Pot Chicken and Stuffing
So, I recently asked you guys on my Facebook page what types of recipes you want to see this year, and Instant Pot was definitely something that I heard loud and clear. (No better excuse to hop online and buy one, woo!) Nothing is more fun than having a new kitchen toy to play with. Mwahahahaaaa….
I knew right away which recipe to try first. My crock pot chicken and stuffing recipe is not just one of my favorites, but one of yours too. It's been pinned over a million times, and rightfully so. It's delicious. The question was, could the instant pot make this for me too?!
Well, my husband and I are kind of a pair of losers, so we made a whole "thing" about trying out this instant pot, as if it was this magical little bucket that was about to change our lives.
Ummmm, guess what. Instant Pots are magical little buckets that do change your life.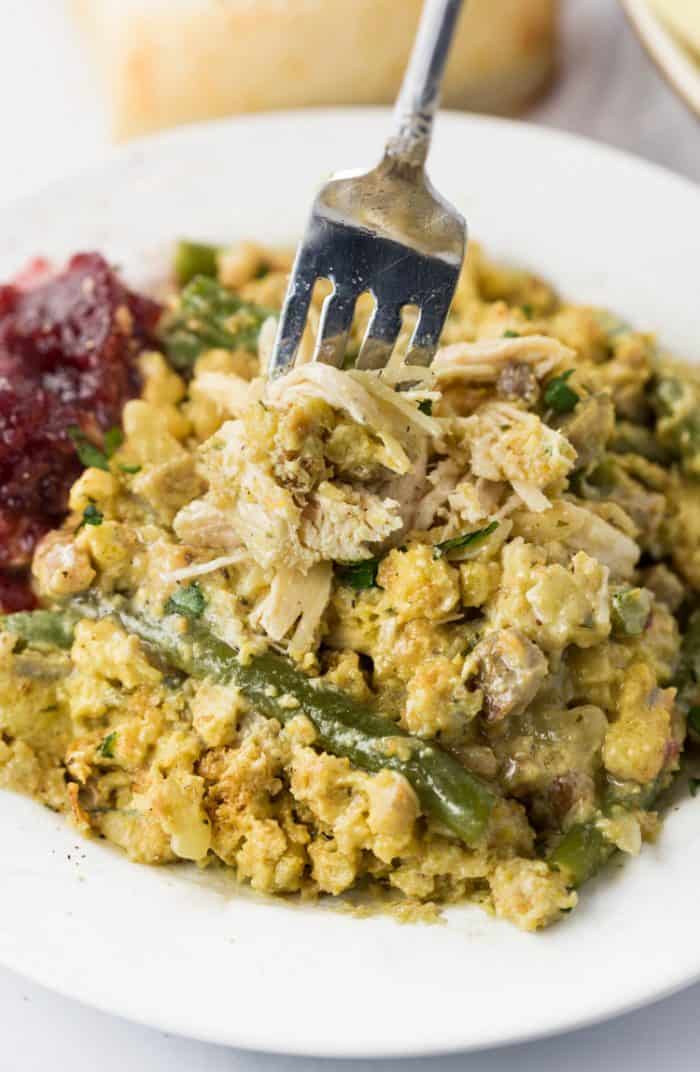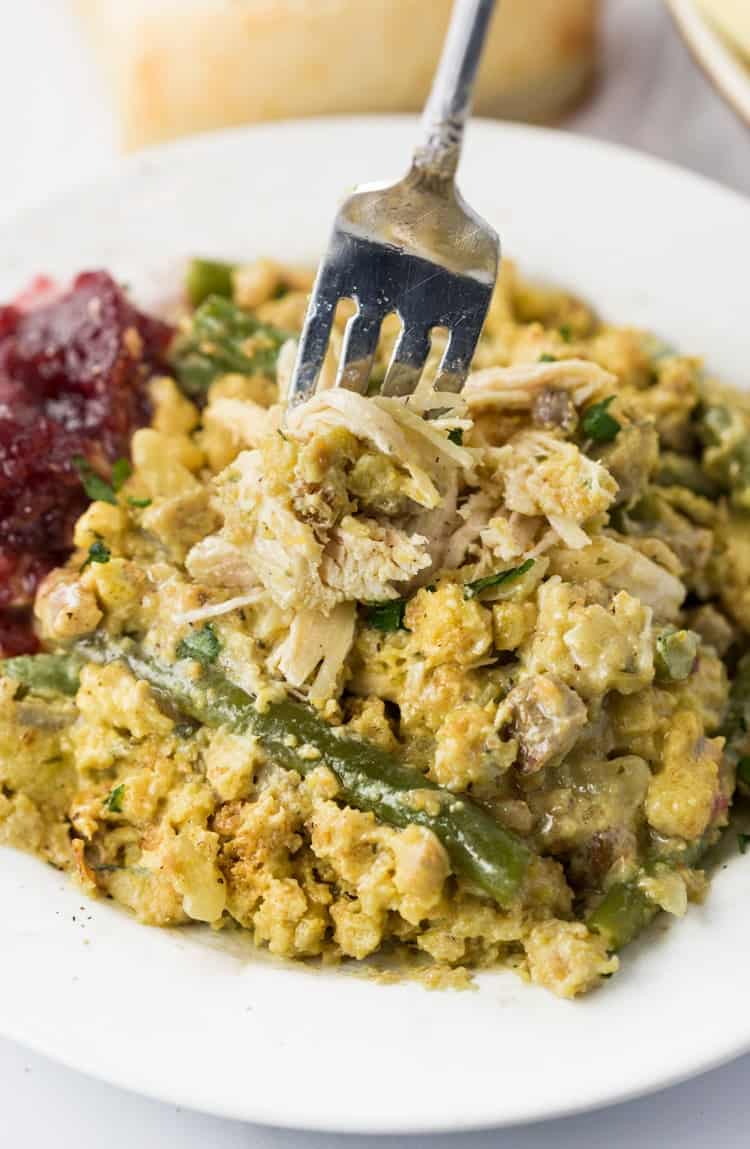 So there we stood. Staring at that shiny silver pot while the chicken cooked, not moving a muscle. Barely blinking. As if some little elf was going to sneak in and replace the frozen chicken with cooked chicken when we weren't looking. It's witch craft, I'm telling you. And I love it. This entire meal takes a *max* of 22 minutes, and that's if your chicken is frozen solid. Now that's impressive.
When you would prefer to prolong the cooking process, on a lazy Sunday perhaps, definitely try the slow cooker version as well. It's to die for.
PPST! If you like recipes like this, then you'll definitely want to join my email list and Facebook group 😉
Check out my other recipes!
Instant Pot Chicken and Stuffing
Moist and flavorful chicken that's quickly cooked to perfection along with savory stuffing and fresh green beans. With a max of 22 minutes of cooking time, you'll be eating in no time!
Ingredients:
4 large boneless skinless chicken breasts (fresh or frozen: see instructions.)
Salt/Pepper, to taste
3/4 cup low-sodium chicken broth (you can also use water)
1 (6 oz.) box stuffing mix (Stove Top & Pepperidge Farm are a few of my favorites)
1 (10.5 oz.) can of low-sodium cream of chicken soup
8 oz. sour cream* (equivalent to 1 cup) – Optional. For firmer stuffing, use ½ cup.
2 cups green beans, fresh or frozen
Optional stuffing additions:
1/3 cup diced onions
1/3 cup diced celery
1/4 cup dried cranberries
1/2 cup pre-cooked sausage, crumbled (I use Banquet Brown 'N Ready pre-cooked sausage links and finely dice them.)
Directions:
Season the chicken with desired amounts of salt and pepper.
Pour the chicken broth into the bottom of the pressure cooker and then add the chicken, (overlapping as needed).
Seal the vent, and press the "manual" or "pressure cook" button and set the timer to 14 minutes for frozen chicken, or 8 minutes for fresh/defrosted chicken.
As the chicken cooks, gently combine the stuffing, cream of chicken soup, and the sour cream until just combined. Don't over-mix.
Once the chicken timer goes off, quickly release the seal valve on the pressure cooker and wait for the steam to escape. Press the cancel button to turn the off the unit.
Open the lid and ensure that chicken is fully cooked. You'll notice a lot of moisture at the bottom, this is needed for the stuffing to cook.
Add the green beans on top of the chicken, seal the valve, and press the "manual" or "pressure cook" button again and set the timer for 2 minutes for fresh green beans or 4 for frozen. (If you prefer firmer green beans, cook them with the stuffing instead of steaming them separately.)
Release the valve, let the steam escape, and then add the stuffing on top.
Replace the lid and seal, and press the "manual" or "pressure cook" button and set the timer to 4 minutes. This will heat up the stuffing. (Since the stuffing will absorb the moisture, the pressure cooker won't steam again.)
Once finished, release the valve once more and let the steal escape.
Scoop out the stuffing, vegetables, and chicken, and serve!
*Sour cream substitutions:
Plain Greek Yogurt
Mayonnaise
1 cup evaporated milk + 1 tablespoon vinegar or lemon juice. Let stand 5 minutes to thicken.
*This post may contain affiliate links