Instant Pot Broccoli Cheddar Soup
This Broccoli Cheddar Soup is so thick and creamy, and takes less than 20 minutes of cooking time in the Instant Pot!
Be sure to try my Broccoli Cheddar Chicken and Rice Casserole recipe next!
So, you know how toddlers can be like, the hardest little creatures to feed? Because they'd rather be climbing on things they shouldn't be, or sticking foreign objects in their mouths, or trying to color the wall with crayons?
Welp, such was not the case once my little girl tried this soup. In fact, she ate like… more than I wanted her to. Because I truthfully would have preferred to eat this entire batch myself.
Mom of the year folks. Mom of the year.
How to Melt Cheese for the Creamiest Consistency
Use a high-quality cheese (Tillamook & Cabot are great. If  you have a Whole Foods near you, Whole Foods 365 Sharp Cheddar Cheese is said to be the best.)
Purchase a block and shred it at home. 
Let the cheese come to room temperature after shredding it, before you add it to the soup.
Reduce the heat of the base before you add the cheese. If the liquid is too hot, the fat from the cheese will separate too quickly and the consistency will be grainy or clumpy.
Sprinkle flour over the cheese prior to adding it to the warm base. This helps to thicken the water that separates from the cheese once it begins to heat up.
Add the cheese gradually as opposed to all at once. Stir to combine as you do so.
Avoid aged cheeses and hard cheese, (such as Parmesan). Those won't melt nearly as well.
Using an immersion blender is also great when you're making soup. It allows you to control the texture and thicken the soup without having to transfer it to a blender!
The Size of My Instant Pot
-I used my trusty 6-quart Instant Pot for this recipe, which is what I recommend for most families, and is what most Instant Pot recipes are based on. It can cook enough food for a family of four and won't take as long to come to pressure as an 8 quart will.
Using Homemade Chicken Stock
Whenever you make homemade soup, I highly suggest using homemade chicken stock. I promise, your cooking will taste ten times better.
Remember that you can always freeze leftover chicken carcass/meat and make chicken stock on a day when you have time! No defrosting necessary!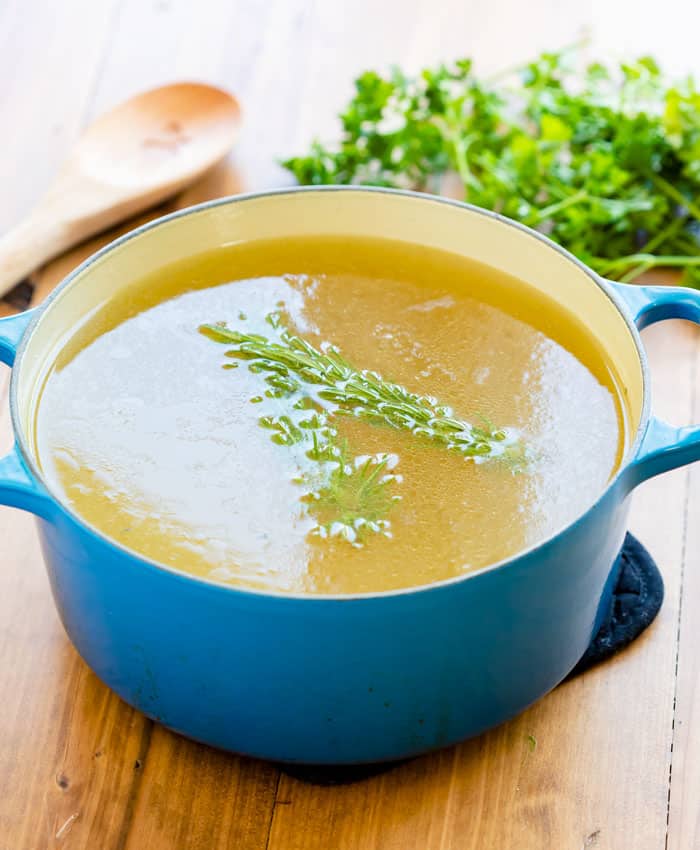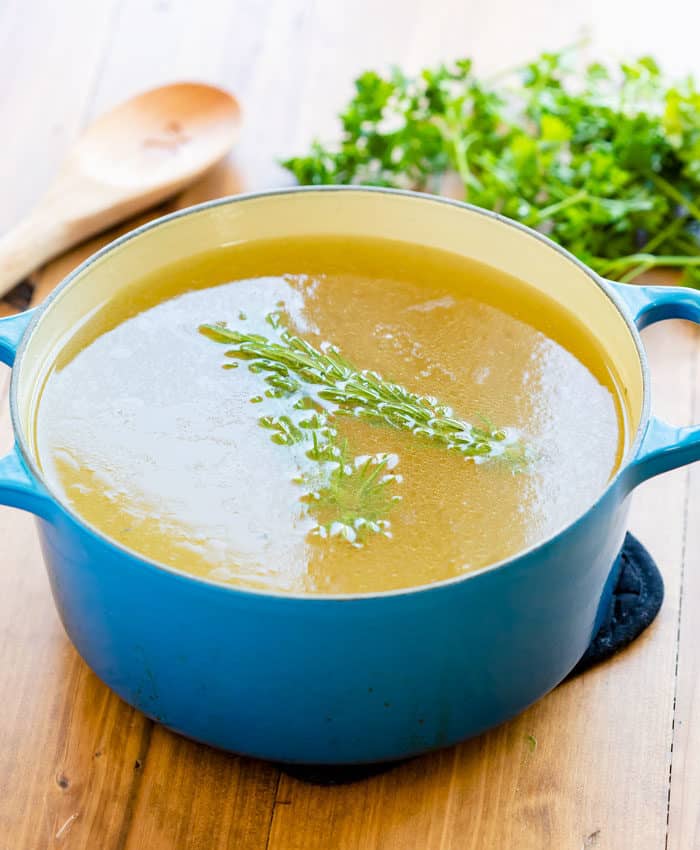 Tried This Recipe?
Leave a rating and a comment below, I love to hear from you!
Try These Next!
Follow me!
Instant Pot Broccoli Cheddar Soup
This thick and creamy instant pot broccoli cheddar soup soup is loaded with fresh broccoli and your favorite cheeses, and is ready in less than 20 minutes start to finish!
Ingredients
3 cups cheddar cheese*
3 Tablespoons butter
1 medium onion, finely diced
2 cups baby carrots, julienned
2 cloves garlic minced
1/4 cup all-purpose flour, + 1 additional Tablespoon, separated
3 cups chicken broth, can sub vegetable broth
6 cups broccoli florets
1 teaspoon paprika
1 teaspoon Dijon mustard
1/2 cup half and half, can sub whole milk
Salt/Pepper, to taste
Instructions
Shred the cheese and sprinkle with 1 Tablespoon of flour. Let the cheese come to room temperature. This is necessary a thick and creamy consistency.

Add the butter to the instant pot and press the Sauté button. Once the butter is melted, add the carrots and onions, and cook for about 2-3 minutes, until the onions are soft and translucent.

Add the garlic and 1/4 cup flour. Stir to evenly distribute the flour throughout the vegetables. Cook for an additional minute and then gradually add the chicken broth. Continue to stir until no lumps remain from the flour. (If the heat happens to shut off, hit the sauté button again.)

Add the broccoli and place the lid on the instant pot. Set it to cook on high (or press the 'pressure cook' button) for 8 minutes.

Once the 8 minutes are up, release the valve at the top, let the steam escape, open the lid, and turn off the instant pot.

Add the paprika and Dijon mustard and stir until evenly distributed. Stir in the half & half (or milk).

Gradually add the floured cheese, mixing well as you do so. Serve once the cheese is melted and well-combined.
Nutrition
Calories: 385kcal, Carbohydrates: 17g, Protein: 18g, Fat: 27g, Saturated Fat: 17g, Cholesterol: 81mg, Sodium: 913mg, Potassium: 598mg, Fiber: 4g, Sugar: 4g, Vitamin A: 7425IU, Vitamin C: 92.3mg, Calcium: 500mg, Iron: 2mg