Instant Pot French Onion Soup
This instant pot french onion soup features perfectly caramelized onions in a rich, dark broth topped with a toasted baguette and hot and bubbly Gruyere cheese. 
A big thanks to Hannaford for sponsoring this post! All opinions are my own.
Of all of the recipes I've set out to make in the instant pot, I was by far the most skeptical of this one. I am one stubborn French Onion Soup maker and I was sure that my little instant pot couldn't possibly know how to caramelize onions better than the low and slow method that I use when I make this recipe on the stovetop.
MY LATEST VIDEOS
Welp, don't I feel stupid. The instant pot did the damn thang. Now let's talk about exactly why that is.
Caramelized Onions.
Caramelizing occurs as water is removed from the onions and the sugars are broken down. The Instant Pot is able to do this quite well by using steam to pressure cook them. This simply expedites the breakdown process and allows the onions to caramelize more quickly.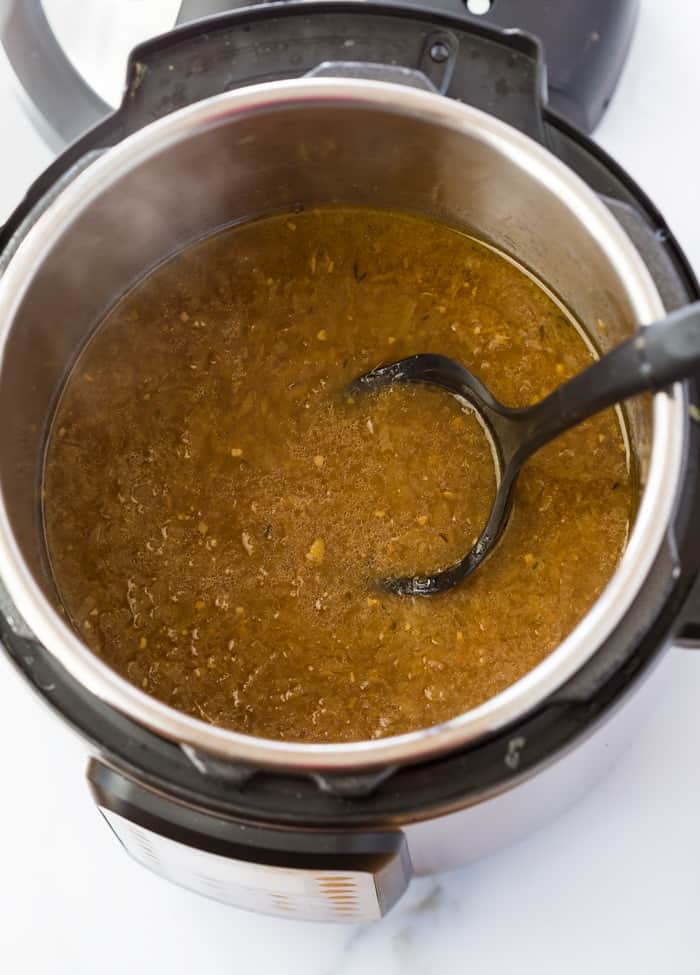 So, it turns out that this was quite possibly the best batch of French Onion soup I've ever had. Once again, I owe a big thank you to my magical silver bucket known as the instant pot. I'm sorry that I ever doubted you.
Using homemade broth:
I really like to recommend using homemade broth anytime you make soup, it makes suuuuuuch a difference. My mom used to tell me this all the time, but, we're not always good at listening to our mothers, are we now? Thankfully, I finally came to this conclusion on my own and make homemade chicken broth all the time. Then I just pop it in the freezer for when a soup-making day presents itself. Even if you can't swing it with the homemade beef broth, grab some Hannaford brand beef broth, which is splendid, and use homemade chicken broth for the rest.
To make homemade chicken broth, I run to Hannaford and grab one of their fresh rotisserie chickens for an easy dinner, and then just boil what remains (the whole carcass, any leftover meat), in water for a while with some onions. The longer you can boil it all together, the better. Then I just put it through a strainer to segregate the broth, and freeze it. Wa-bam. Easy.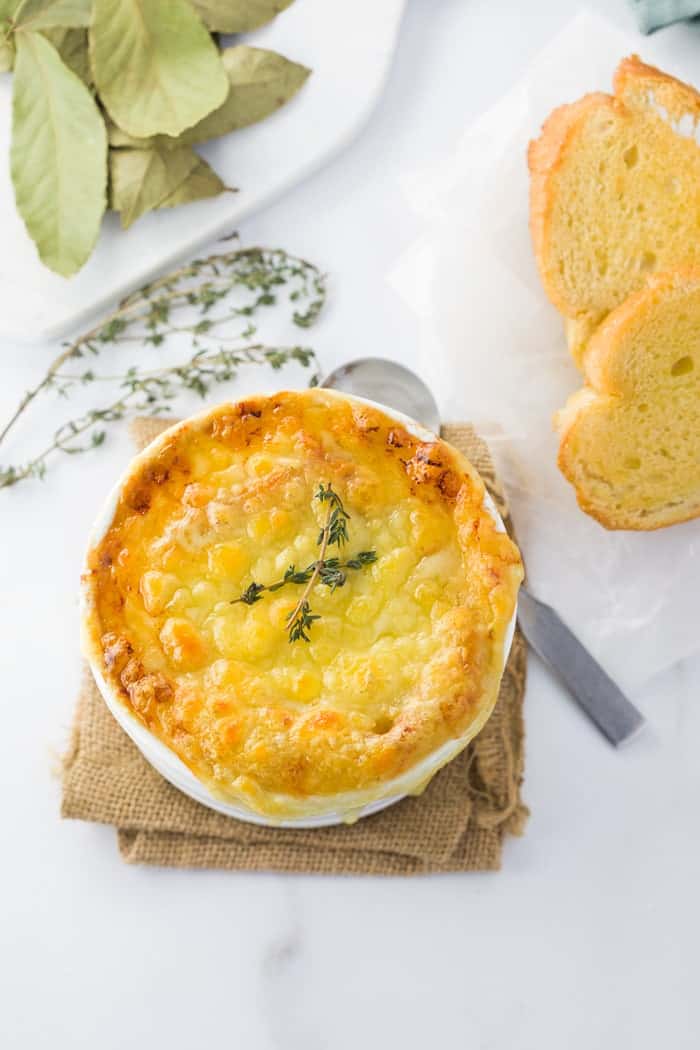 I have to say, I get a kick out of checking my phone to see the My Hannaford Rewards that I rack up from my grocery shopping excursions. You earn 2% rewards on your favorite foods you're already buying anyway! If you haven't created an account yet, I think you should probably get on that. It takes 2 seconds. (Like it actually really does though.) It only took a few shopping trips and I've already accumulated $6.50 in earned rewards. That's pretty substantial, I've been a reward member of other grocery stores and never actually saw anything come out of it! They'd scan a silly little keychain thing (that I could never find), and I'd wait for something exciting to happen, but nothing ever did. Lame.
With My Hannaford Rewards you just punch your phone number in or scan your reward barcode from your phone, and then you can actually see over time how much you're earning. Every quarter you'll get a reminder to use the rewards and they'll get applied to your next purchase. So easy.
The app also lets you 'clip'  coupons just by tapping them, and they are customized based on the types of things that you usually shop for. No more sifting through flyers that are filled with discounts on things you'd never actually buy. I'm telling you guys, it's a win.
So in conclusion, Instant Pots never cease to amaze me, French onion soup is delicious, and Hannaford rewards are an awesome way to rack in some savings when you grocery shop. Now go slice up some onions!
Follow me!
Now. If you like this recipe, you should probably join my free recipe email list! You'll get a weekly email with my brand new recipes. And follow me on Facebook, Instagram, and Pinterest. (Don't make this be our last goodbye!)
Instant Pot French Onion Soup
This instant pot french onion soup features perfectly caramelized onions in a rich, dark broth topped with a toasted baguette and hot and bubbly Gruyere cheese.
Ingredients:
5 Tablespoons butter
4 large yellow onions, finely sliced
2 large sweet onions, finely sliced
4 sprigs fresh thyme
2 Bay leaves
¾ cup dry white wine (I used Chardonnay)
1 Tablespoon flour
4 cups beef broth**
1 + ½ cups chicken broth**
3 Tablespoons olive oil
1 loaf French Bread
6 slices Gruyere cheese*
Directions:
Press the sauté button on your instant pot. Wait until "hot" is displayed, then add the butter. (Waiting until it's hot prevents smoking.)
Once melted, add the onions, thyme, and bay leaves. Use a large silicone spatula and stir occasionally, allowing the butter to coat the onions. Do this for about 5 minutes, the onions will start to soften and release liquid.
Add three Tablespoons of water to the instant pot, cover, and hit the "pressure cook" button. Set the timer for 20 minutes. Hit the quick release valve to release the pressure.
Remove the lid and press the sauté button again. Let it cook for 5 more minutes to release some of the liquid, then add the wine and let it simmer for an additional 20 minutes to let the wine cook out and allow the onions to fully caramelize.
Remove the bay leaves and the thyme. Sprinkle the flour over the onions and stir to combine. Heat for an additional minute.
Add the beef and chicken broth, and let it bubble for another 10 minutes while you prepare the baguettes.
Preparing the baguettes:
Thickly slice the French bread diagonally, in roughly the size as the serving bowls you'll be using. Brush each side with olive oil and sprinkle lightly with salt. Place in a single layer on a baking sheet and bake at 350 degrees for about 5 minutes, until the top begins to turn brown and the bread is nice and firm. Watch them carefully to ensure they don't burn.
Serving the soup:
Set the oven temp to a broil.
Fill oven-safe bowls with the soup and top each with a baguette and a thick slice of gruyere cheese. Place the bowls on a baking sheet and broil them in the oven for 3-5 minutes, until the top is a golden-brown and bubbly. Carefully remove, top with additional fresh thyme, and serve.
If you don't have oven-safe bowls, you can melt the cheese on the baguettes in the oven and then place the cheesy bread on top of the filled-soup bowls.
*Other cheese options include Comte or Emmental (Swiss)
**Homemade beef/chicken broth always takes a soup from good to great– always use homemade if possible. (I often make chicken stock from leftover rotisserie chicken that we eat for a quick meal!)
All images and text ©Stephanie Melchione for The Cozy Cook