This instant pot french onion soup features perfectly caramelized onions in a rich, dark broth topped with a toasted baguette and hot and bubbly Gruyere cheese. 
Be sure to try my French Onion Smothered Pork Chops recipe next!
Of all of the recipes I've set out to make in the instant pot, I was by far the most skeptical of this one. I am one stubborn French Onion Soup maker and I was sure that my little instant pot couldn't possibly know how to caramelize onions better than the low and slow method that I use when I make this recipe on the stovetop.
Welp, don't I feel stupid. The instant pot did the damn thang. Now let's talk about exactly why that is.
Caramelized Onions
Caramelizing occurs as water is removed from the onions and the sugars are broken down. The Instant Pot is able to do this quite well by using steam to pressure cook them. This simply expedites the breakdown process and allows the onions to caramelize more quickly.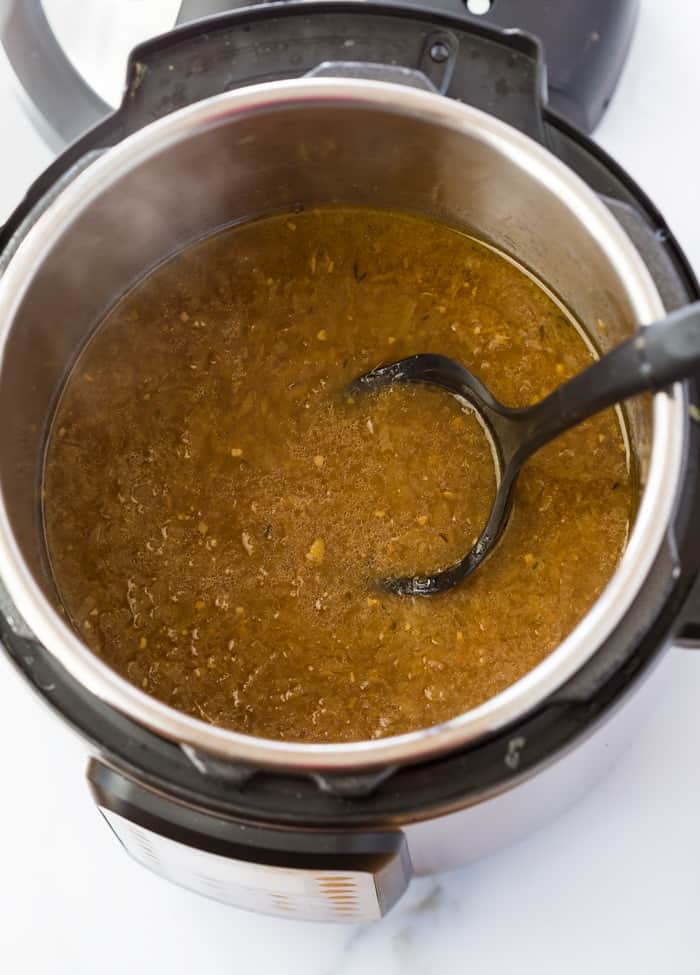 So, it turns out that this was quite possibly the best batch of French Onion soup I've ever had. Once again, I owe a big thank you to my magical silver bucket known as the instant pot. I'm sorry that I ever doubted you.
Using Homemade Chicken Stock
Whenever you make homemade soup, I highly suggest using homemade chicken stock. I promise, your cooking will taste ten times better.
Remember that you can always freeze leftover chicken carcass/meat and make chicken stock on a day when you have time! No defrosting necessary!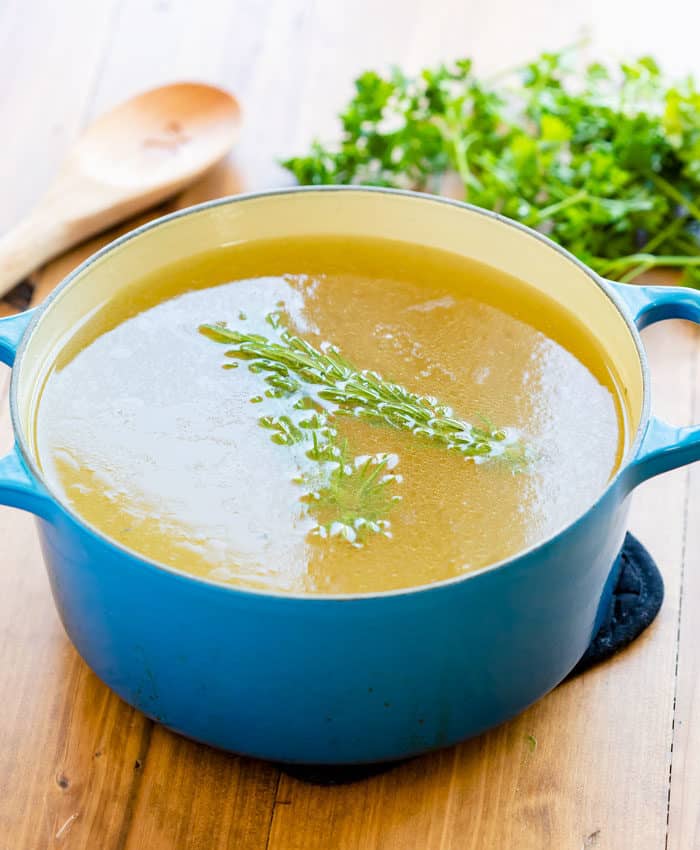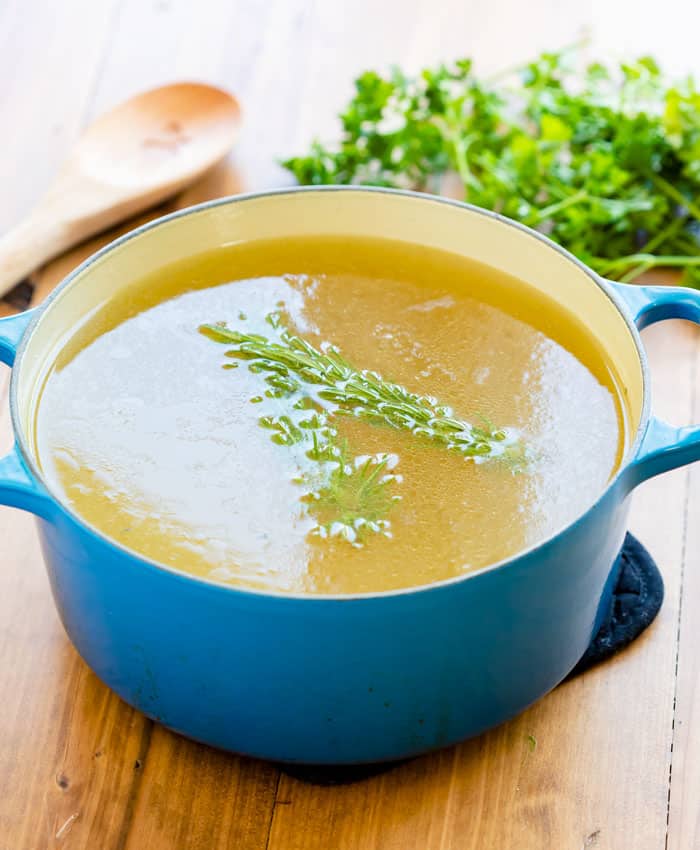 What Size Instant Pot did I use?
-I used my trusty 6-quart Instant Pot for this recipe, which is what I recommend for most families, and is what most Instant Pot recipes are based on. It can cook enough food for a family of four and won't take as long to come to pressure as an 8 quart will.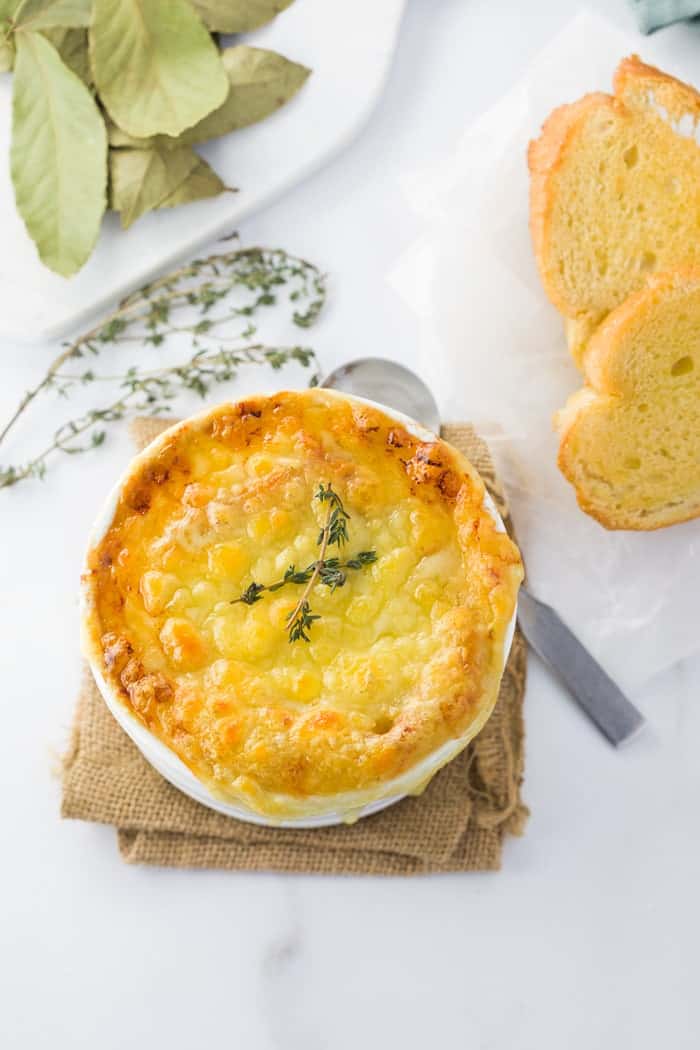 Best Cheese for French Onion Soup
Gruyere cheese, though pricey, is the absolute best for French Onion Soup. Other more affordable options include Swiss and Provolone, or a combination of the two.
Try These Next!
Follow me!
Instant Pot French Onion Soup
This instant pot french onion soup features perfectly caramelized onions in a rich, dark broth topped with a toasted baguette and hot and bubbly Gruyere cheese.
Ingredients
6 Tablespoons butter
4 large yellow onions, finely sliced
2 large sweet onions, finely sliced
2 sprigs fresh thyme
2 Bay leaves
¾ cup dry white wine, I used Chardonnay
4 cups beef broth
1.5 cups chicken broth
3 Tablespoons olive oil
1 loaf French Bread
6 slices Gruyere cheese*
Instructions
Press the sauté button on your instant pot. Wait until "hot" is displayed, then add the butter. (Waiting until it's hot prevents smoking.)

Once melted, add the onions, thyme, and bay leaves. Use a large silicone spatula and stir occasionally, allowing the butter to coat the onions. Do this for about 5 minutes, the onions will start to soften and release liquid.

Add three Tablespoons of water to the instant pot, cover, and hit the "pressure cook" button. Set the timer for 20 minutes. Hit the quick release valve to release the pressure.

Remove the lid and press the sauté button again. Let it cook for 5 more minutes to release some of the liquid, then add the wine and let it simmer for an additional 20 minutes to let the wine cook out and allow the onions to fully caramelize.

Remove the bay leaves and the thyme stems.

Pour in the beef and chicken broth. Let it simmer for another 10 minutes while you prepare the baguettes. 
Preparing the baguettes:
Thickly slice the French bread diagonally, in roughly the size as the serving bowls you'll be using. Brush each side with olive oil and sprinkle lightly with salt. Place in a single layer on a baking sheet and bake at 350 degrees for about 5 minutes, until the top begins to turn brown and the bread is nice and firm. Watch them carefully to ensure they don't burn.
Serving the soup:
Set the oven temp to a broil.

Fill oven-safe bowls with the soup and top each with a baguette and a thick slice of gruyere cheese. Place the bowls on a baking sheet and broil them in the oven for 3-5 minutes, until the top is a golden-brown and bubbly. Carefully remove, top with additional fresh thyme, and serve.

If you don't have oven-safe bowls, you can melt the cheese on the baguettes in the oven and then place the cheesy bread on top of the filled-soup bowls.
Notes
*Other cheese options include Comte or Emmental (Swiss) High quality beef and chicken broth make a huge difference in the flavor of this soup! Note: The baguettes can be made up to 3 days ahead of time and can be stored in an airtight container once they've completely cooled.
Nutrition
Calories: 369kcal, Carbohydrates: 17g, Protein: 12g, Fat: 26g, Saturated Fat: 12g, Cholesterol: 55mg, Sodium: 1001mg, Potassium: 415mg, Fiber: 2g, Sugar: 9g, Vitamin A: 590IU, Vitamin C: 15.9mg, Calcium: 343mg, Iron: 1.2mg