Instant Pot Split Pea Soup
This thick and savory instant pot split pea soup is filled with carrots, onions, potatoes, and ham- and takes less than an hour from start to finish! 
I have a bold statement to make. Once you try this split pea soup recipe, you won't ever try another one. This is the same recipe that I make on the stove-top and you should just take a gander at the comments. People are obsessed. And I honestly can't blame them, this soup is on point. It's thick, hearty, and full of flavor. I can't even take credit for it either. This recipe comes from my mom, (as all of the best recipes do). She is also the one who introduced me to the instant pot method, so once again, I owe her one. 
Split Pea Soup with a Ham Bone:
This is the best way to make use of leftover ham, and definitely the best way to use a leftover ham bone. The ham bone gives the broth so much amazing flavor. Just toss the uncleaned bone right into the broth. If you'd rather save the bone for a soup-making day down the road, you can definitely freeze the bone for future use.
MY LATEST VIDEOS
Ham Bone Substitutes for Split Pea Soup:
Using smoked ham shanks or ham hocks are a great alternative and also add tremendous flavor. (If you can ask the butcher for one or the other, a shank is meatier and more preferable for this recipe.)
Chopped salted pork and/or chopped smoked bacon can also be substituted.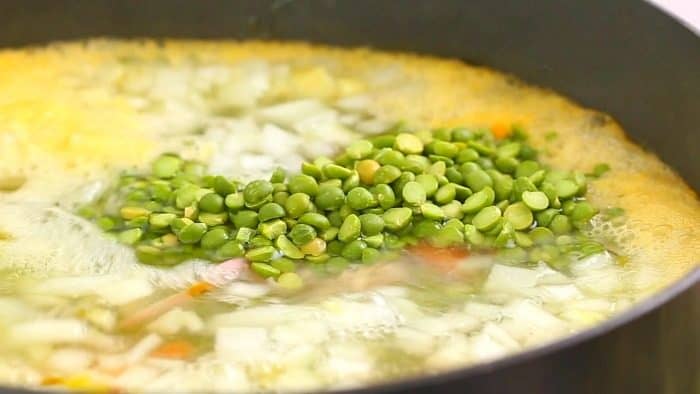 Soaking your peas overnight:
Soaking your peas overnight, or for several hours is optional, but you may choose to soak your split peas overnight or for a few hours before making this soup, it tends to produce a thicker broth.
Other ways to use up a leftover ham:
This lentil soup recipe, which also comes from my mom, is another delicious way to make use out of leftover ham/ham bones.
What Size Instant Pot did I use?
-I used my trusty 6-quart Instant Pot for this recipe, which is what I recommend for most families, and is what most Instant Pot recipes are based on. It can cook enough food for a family of four and won't take as long to come to pressure as an 8 quart will.

You should also try these!
Follow me!
Join my free email list to get notified with my new recipes for the week, and follow me on Facebook, Pinterest, Instagram, and Twitter. I'm very social 🙂
Servings: 6 servings
Instant Pot Split Pea Soup
Course: Soup
Cuisine: American
Keyword: Instant Pot, Split Pea Soup Recipe, weeknight dinner recipe
This thick and savory instant pot split pea soup is filled with carrots, onions, potatoes, and ham and takes less than an hour from start to finish!
Ingredients
4 cups chicken broth
4 cups water
1 small ham bone or ham hock optional but preferred!
1 yellow onion finely diced
1.5 cups carrots thinly sliced
1 Tablespoon butter
2 Tablespoons Olive Oil
1 lb. dry split peas, rinsed
2 cups ham diced
2 bay leaves
2 sprigs thyme
1 ½ Tablespoons onion powder optional
1 tablespoon garlic mined
1-2 teaspoons salt optional: the ham bone adds salt to the soup already
1 russet potato diced into cubes
Instructions
Add all of the ingredients to the instant pot. Make sure the pot isn't more than 2/3 full.

Secure the lid and set it to cook on high (or press the 'pressure cook' button) for 25 minutes.

Once finished, let 10-15 minutes pass before you trigger the quick release valve. This will allow most of the pressure to release naturally, allowing the soup to cook a little bit longer.

Remove the ham bone/hock, the bay leaves, and thyme stems. Serve!
Nutrition Information
Calories:
396
, Fat:
20g
, Saturated Fat:
6g
, Cholesterol:
57mg
, Sodium:
1622mg
, Potassium:
906mg
, Carbohydrates:
29g
, Fiber:
8g
, Sugar:
4g
, Protein:
24g
, Vitamin A:
108.4%
, Vitamin C:
21.7%
, Calcium:
6.1%
, Iron:
14.5%