Slow Cooker Honey Sriracha Chicken Sliders
Tender, slow cooker chicken simmers in a mouth-watering honey sriracha sauce for the best sweet and tangy chicken slider recipe.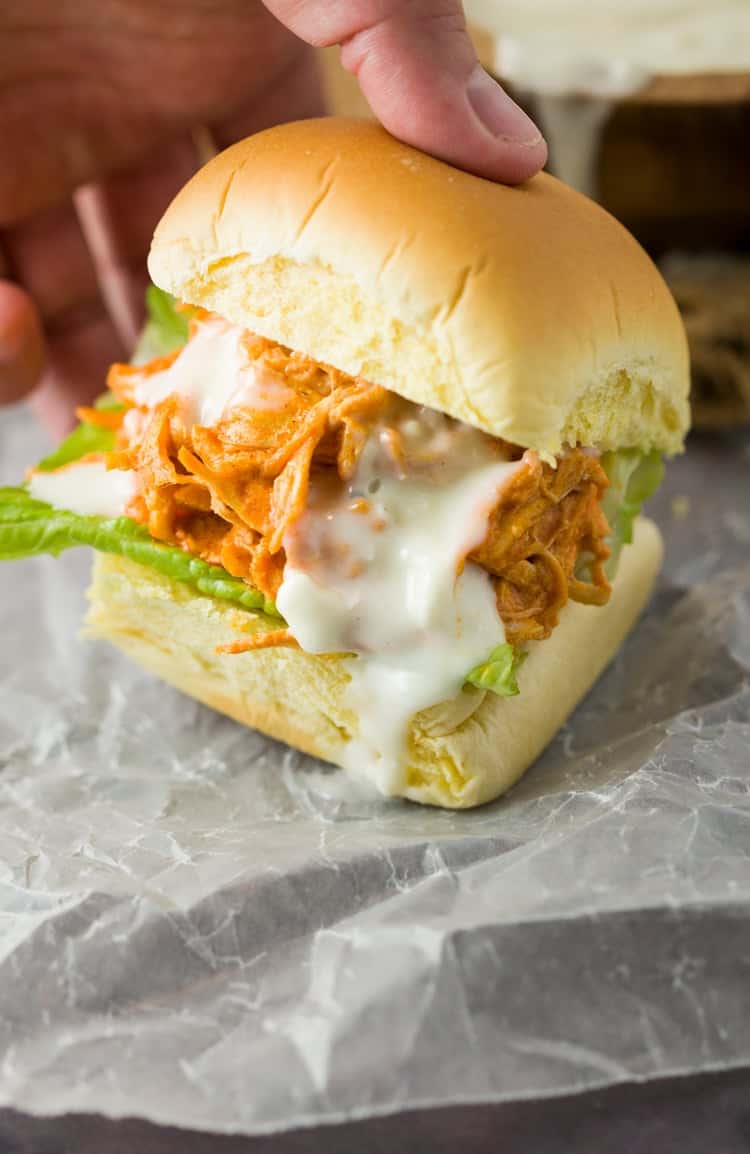 A big thanks to Martin's Famous Potato Rolls for sponsoring this post, all opinions are my own.
I can't believe my husband did it again. He seriously has this way of getting me hooked to everything that he likes to eat. How does he do that? (Does he whisper things in my ear when I'm sleeping!?)
When I first met him, I wouldn't have wanted anything to do with sriracha sauce. (Or mussels, lobster, spicy tacos, or buffalo chicken pizza.) But I will also say this. Mayo. No matter how much he pleads, I still, will not eat mayo. (Okay fine there is one recipe where I will eat a teensy bit of mayo but that is fully my decision and I'm totally okay with it.)
So now he has me going through this honey sriracha sauce phase and it's kind of taking over my life. In a good way though. These chicken sliders are completely addicting, and this particular recipe is pretty forgiving. Like if you don't have apple cider vinegar, it'll be alright. I do have one request though- and you do have to take me up on it. You ready?
You have to use Martin's Dinner Potato Rolls. Not because they're kind enough to sponsor this post and support my blog. But because their rolls are flippin' phenomenal. They're sweet, and buttery, and perfect.
Here in New Hampshire, we don't have a ton of freshly baked bread at our disposal. I used to think that we did, until I started to visit my husband's family on Long Island. Now they, have freshly baked bread readily available. They have delicatessens left and right. (Not the kind you find at the grocery store. Like real, sandwich shops.)
Welp, wouldn't you know it. Martin's is a family owned company in Pennsylvania. Thanks to my BFF, I've visited there a time or two as well, and they also know their bread. Go figure.
I suppose my point is this. You can get slow cooker chicken recipes like they're going out of style. But Martin's Potato Rolls are truly one of a kind, and I mean it. If I'm lying you can come back here and yell at me. But you won't 😉
Follow Me!
You should probably join my free recipe email list. You'll get a weekly email with my brand new recipes. And follow me on Facebook, Instagram, and Pinterest. (Don't make this be our last goodbye!)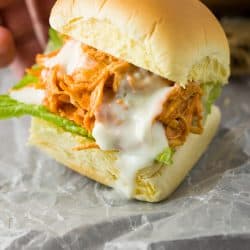 Slow Cooker Honey Sriracha Chicken Sliders
These slow cooker honey sriracha chicken sliders feature tender, slow cooked shredded chicken smothered in a sweet and tangy honey sriracha sauce, placed in a fresh slider roll and drizzled with savory blue cheese.
Ingredients
Honey Sriracha chicken:
3 large boneless/skinless chicken breasts
½ teaspoon garlic powder
½ teaspoon paprika
Salt/Pepper to taste
4 Tablespoons butter
3 Tablespoons honey
2 Tablespoons Sriracha sauce or more if you prefer spicier
½ cup Buffalo sauce
2 teaspoons apple cider vinegar
6 oz. cream cheese softened (3/4 cup)
For Sliders:
1 bag Martin's Dinner Potato Rolls
½ cup chunky blue cheese dressing
8 butter lettuce leaves
Instructions
Place the chicken breasts next to each other at the bottom of the crock pot and sprinkle the tops with garlic powder, paprika, and desired amounts of salt and pepper.

Place the remaining honey sriracha chicken ingredients around the chicken (not on top.) Heat on low for 4 hours. Then, use a fork to shred the chicken. Stir until the sauce is distributed evenly throughout. Continue to heat on low until ready to serve.

To serve, place a lettuce leaf on the bottom of each roll. Scoop a heaping portion of honey sriracha chicken onto each slider and drizzle with a Tablespoon of blue cheese. Enjoy!
Nutrition Information
Calories:
343
, Fat:
16g
, Saturated Fat:
8g
, Cholesterol:
65mg
, Sodium:
1037mg
, Potassium:
226mg
, Carbohydrates:
32g
, Fiber:
1g
, Sugar:
12g
, Protein:
19g
, Vitamin A:
1030%
, Vitamin C:
3.5%
, Calcium:
193%
, Iron:
2.4%
Course: Main Course
Cuisine: American
Keyword: crowd pleasers, party food, Slow Cooker