This Balsamic Chicken Skillet recipe includes a flavorful balsamic marinade, perfectly seasoned potatoes, and veggies of your choice. All you need is one skillet and you're on your way to dinner!
Be sure to try my Copycat Longhorn Parmesan Crusted Chicken recipe next!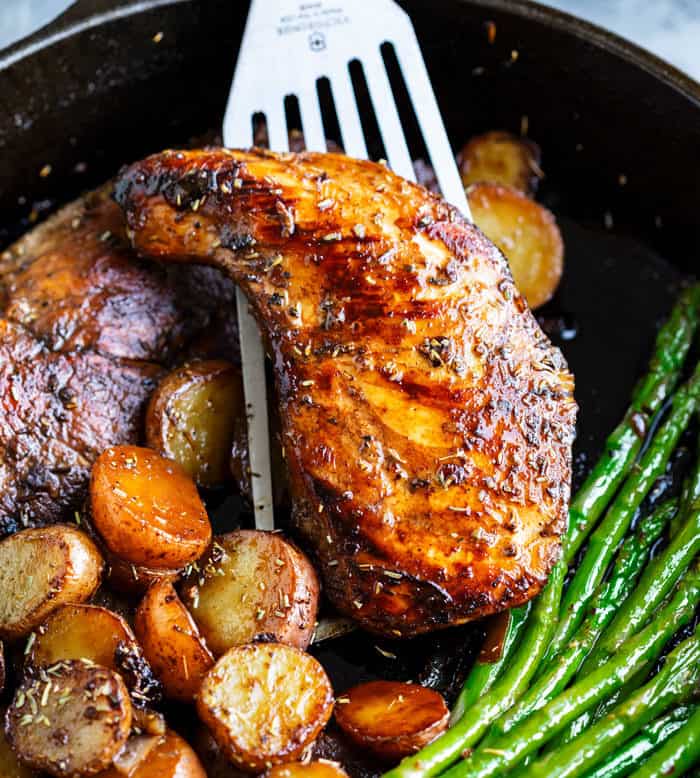 I'm just gonna say it. This meal is going to make you want to lick your skillet clean. I really owe this genius flavor combination to my dear friend, The Flavor Bible.
The honey, garlic, mustard, and other ingredients are all creatively selected (by chefs) as the best way to compliment the Balsamic Vinegar. The balance is perfect.
Better yet, the whole recipe is cooked in just skillet! Gotta love a good one pot meal.
Ingredients for Balsamic Chicken Marinade

Balsamic Vinegar
Honey
Garlic
Mustard powder
Olive Oil
Chicken Broth
Onion
Italian Seasoning
How to Butterfly a Chicken Breast
I like to butterfly my chicken breast and cut the seam before searing or grilling as it creates two thinner slices of equal size. Here is an additional visual on how to do it.
This allows them to cook evenly, it creates a flatter surface area for cooking, and the middle isn't quite as plump. I find this easier than pounding the whole chicken breast flat.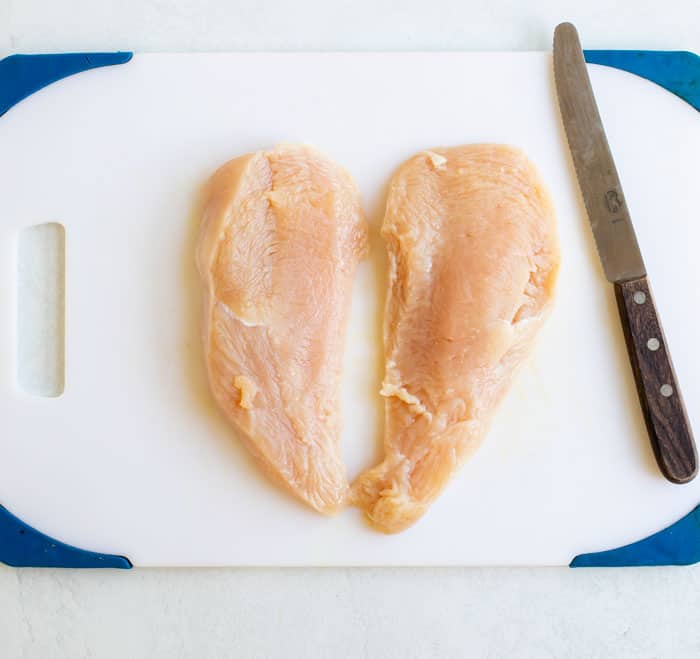 Make-Ahead Method
You can prepare this and marinate your chicken for up to 2 days prior to cooking it, although 2 hours is also more than sufficient.
30 minutes will do the trick during busy nights as well.
The Best Potato Seasoning
This potato seasoning recipe is from my Grandmother, and I'll cherish it forever. I use it on potatoes, pork, and chicken.
Just toss the potatoes in some olive oil in a large bowl, then sprinkle them generously with this seasoning. I love making it in bulk and saving it for later!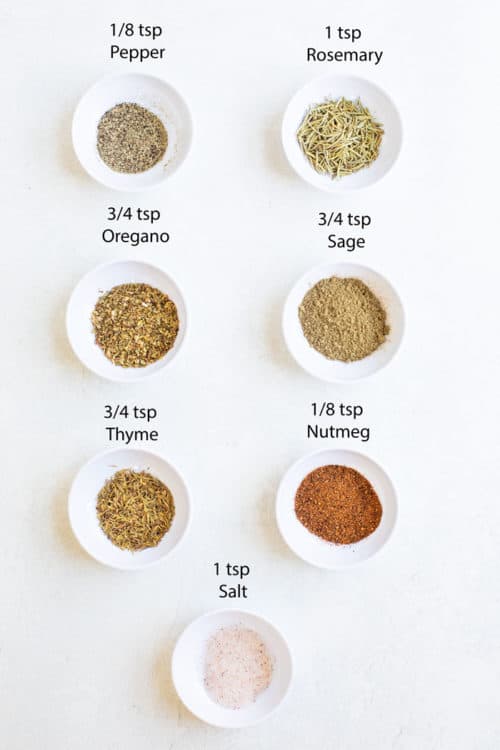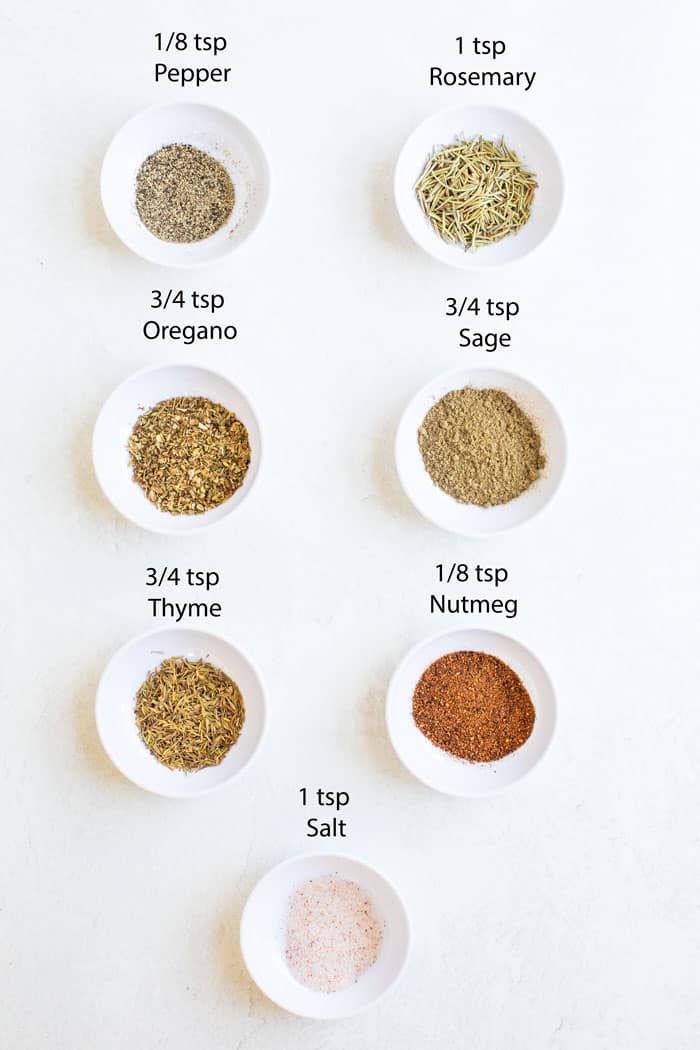 Try These Next!
Follow Me!
Try This Recipe?
👇Leave a comment and let me know what you think!
Balsamic Chicken Skillet
This Balsamic Chicken Skillet recipe is an easy dinner that comes together in just one pan along with perfectly seasoned potatoes and your vegetables of choice!
Ingredients
1 large chicken breast
1 cup baby red potatoes, scrubbed clean and & dried
2 Tablespoons Olive Oil
Salt/Pepper, to taste
Balsamic Marinade
1 teaspoon mustard powder
1 teaspoon Italian Seasoning
¼ cup chicken broth
2 cloves garlic, minced
2 Tablespoons honey
1/3 cup balsamic vinegar
1/3 cup Olive oil
½ cup onion, finely diced (optional)
Potato Seasoning
2-3 Tablespoons olive oil
1 teaspoons rosemary
¾ teaspoons oregano
¾ teaspoons thyme
¾ teaspoons sage
1/8 teaspoons nutmeg
1 teaspoon salt
1/8 teaspoon pepper
Instructions
Marinade the Chicken:
Butterfly the chicken to create two thinner pieces of equal size. Season with desired amount of salt and pepper.

Combine the Balsamic marinade ingredients in a gallon freezer bag and add the chicken. Seal the air out and let it marinate for 30 minutes or more in the refrigerator.
Season the Potatoes:
Slice the potatoes into pieces no more than ½ inch thick. I like to trim the round end off so the potatoes can lay flat in the skillet.

Combine the potato seasonings in a small bowl.

Add the potatoes slices and 2-3 Tablespoons olive oil to a new medium-sized bowl.

Sprinkle generously with potato seasoning. Toss to coat. You can save any extra potato seasoning for another time.
Prepare the Skillet Meal:
Carefully add the chicken to the preheated skillet and leave it untouched to allow for a nice sear. About 5 minutes or so.

Use kitchen tongs to lift the chicken and check the bottom. If it stills to the skillet, it may not be quite ready. Once it's reached a deep golden-brown color, flip and cook for another 4-5 minutes. Reduce the heat to medium if needed.

Once you flip the chicken, add the potatoes and any additional vegetables.

Once seared and cooked through, remove the chicken from the skillet and let it rest for 5 minutes to allow the juices to absorb before you slice it. The potatoes and vegetables can finish cooking during this time.

Once the potatoes and vegetables are tender, remove from the skillet and serve.

Garnishing with fresh Thyme or Rosemary adds a nice touch!
Notes
Vegetables such as asparagus, bell peppers, onions, broccoli, carrots, etc. make a wonderful addition to this skillet as well and can be added at the same time as the potatoes.
---
This Balsamic Marinade makes enough for 2-3 chicken breasts if you're increasing the serving size. Do not reuse the marinade after it's been used once.
---
The chicken can marinate for up to 24 hours.
---
Nutrition
Calories: 546kcal, Carbohydrates: 48g, Protein: 52g, Fat: 14g, Saturated Fat: 3g, Cholesterol: 145mg, Sodium: 2842mg, Potassium: 1436mg, Fiber: 4g, Sugar: 26g, Vitamin A: 140IU, Vitamin C: 23.4mg, Calcium: 119mg, Iron: 3.7mg