Copycat Panera Broccoli Cheddar Soup
This easy Copycat Broccoli and Cheese Soup from Panera taste just like the restaurant recipe! PLUS, learn the trick for getting thick and creamy soup every time!

If you like this recipe you'll love my Copycat Olive Garden Zuppa Toscana and Chicken Gnocchi Soup!
I can honestly say that I am probably more obsessed with Panera's Broccoli Cheddar Soup than anyone on earth.
I literally view a bowl of their soup the way I view currency. Like if I save $5 on something, my immediate thought is, "Score! That's like a free bowl of Panera's Broccoli Cheddar Soup!"
It's always soup. Nothing else. I don't care if I save thousands of dollars, that's just thousands of bowls of soup. (Which is heaven.)
Pro Tips You Need to Know for Panera's Copycat Broccoli Cheddar Soup Recipe:
There's a few secrets that you need to know to make sure that your soup is just as creamy as Panera's is.
Nothing is worse than getting all excited to make this soup at home, only to have it turn out grainy. That's just not cool. We're going for smooth and creamy here. Read on! 
How to Melt Cheese for the Creamiest Consistency
Use a high-quality cheese. (Cabot is great. If  you have a Whole Foods near you, Whole Foods 365 Sharp Cheddar Cheese is said to be the best.)
Purchase a block and shred it at home. Packaged cheese contains cellulose which is used to keep the cheese from clumping together in the bag, but it prevents the cheese from melting smoothly. See more here.
Let the cheese come to room temperature after shredding it, before you add it to the soup.
Reduce the heat of the base before you add the cheese. If the liquid is too hot, the fat from the cheese will separate too quickly and the consistency will be grainy or clumpy.
Sprinkle flour over the cheese prior to adding it to the warm base. This helps to thicken the water that separates from the cheese once it begins to heat up.
Add the cheese gradually as opposed to all at once. Stir to combine as you do so.
Avoid aged cheeses and hard cheese, (such as Parmesan). Those won't melt nearly as well.
Quality is Key
Using high-quality ingredients will ensure that your end result is the best it can be.
This includes starting with a high-quality butter.
Freshly minced garlic is much more flavorful than jarred minced garlic.
Homemade chicken broth always yield much better results. (See next section below.)
High-quality cheese is a must. (Tillamook and Cabot are good brands. If you have a Whole Foods near you, Whole Foods 365 Sharp Cheddar Cheese is said to be the best.)
Using Homemade Chicken Stock
Whenever you make homemade soup, I highly suggest using homemade chicken stock. I promise, your cooking will taste ten times better.
Remember that you can always freeze leftover chicken carcass/meat and make chicken stock on a day when you have time! No defrosting necessary!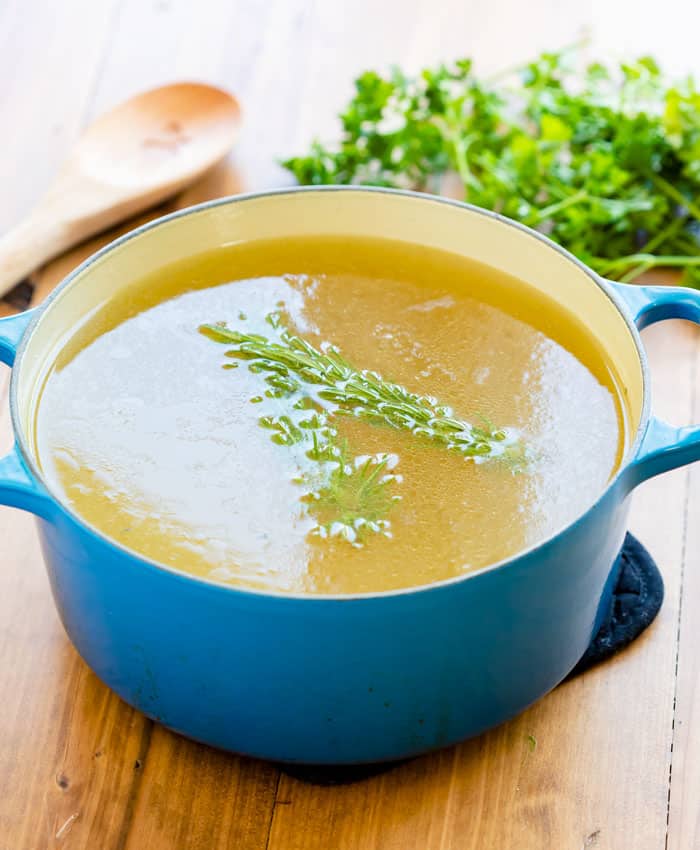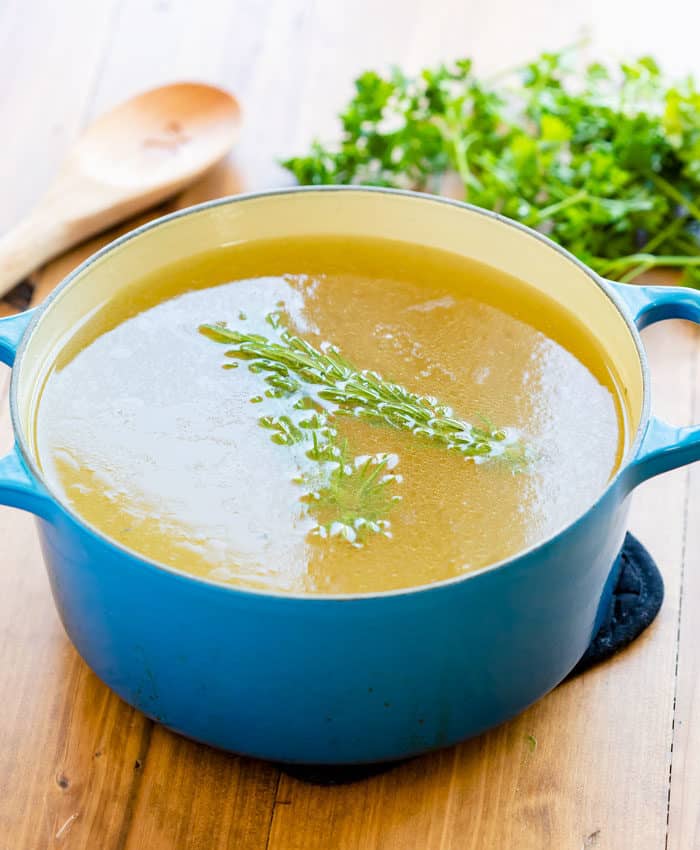 Can You Freeze Broccoli Cheddar Soup?
-Unfortunately, soups with dairy don't reheat well after being frozen, especially when cheese is involved.
-You certainly can freeze this soup, and I have before, but note that the consistency won't be the same when reheated.
Storing Leftovers
-Leftover soup should be refrigerated in an airtight container and is best if eaten within three days.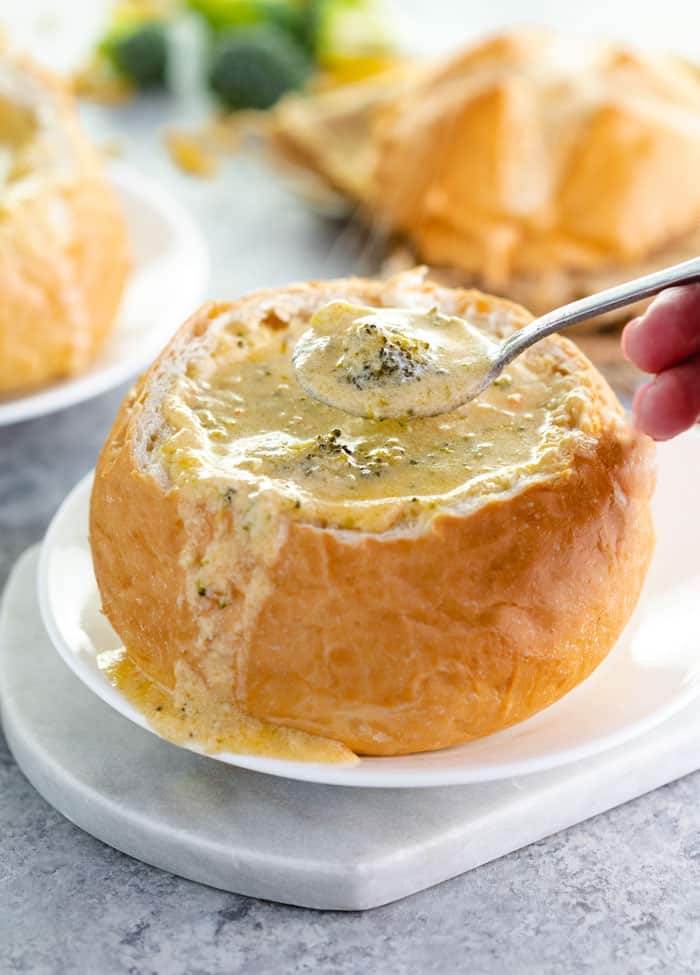 Follow Me!
Try These Next!
Copycat Panera Broccoli Cheddar Soup
This thick and creamy Copycat Panera Broccoli Cheddar Soup is so easy to make at home. Learn all of the pro tips for achieving the ultimate creamy consistency, just like the restaurant!

Ingredients
1/2 stick unsalted butter, high-quality
1/2 medium yellow onion, finely diced
2 cloves garlic, minced
2 cups half and half, See Notes
3 cups chicken broth
2 Tablespoons flour, separated
1/4 teaspoon nutmeg
1/4 cup carrots, julienned
4 cups broccoli florets, about 1 head
2 1/2 cups sharp cheddar cheese, about 8 ounces
Salt and pepper to taste
Instructions
Grate the cheese and let it come to room temperature.

Melt the butter in a large pot or dutch oven, over medium heat.

Add the onions and heat until soft and translucent, about 5 minutes.

Add the garlic and cook for an additional minute.

Add one Tablespoon of flour and stir to combine. Heat for one minute, stirring continuously.

Slowly pour in the chicken broth and stir to combine. Add in the nutmeg.

Add the half and half, increase the heat slightly to bring the mixture to a light bubble and allow it to thicken, about 5 minutes.

Reduce the heat to medium. Add the carrots and broccoli to the soup and let the mixture simmer until the vegetables are very tender. Stir occasionally as it cooks.

Turn off the heat and place the pot on a cool burner. Allow the base to cool for 5 minutes.

Sprinkle the remaining 1 Tablespoon of flour over the shredded cheese.

Add the cheese/flour in 4 separate batches, stirring to incorporate as each batch is added.

Once the cheese is melted and combined, serve it immediately and enjoy!
Notes
Instead of half and half, you can use one cup of heavy cream and one cup of milk.  Alternatively, you can use all milk, but note that the soup won't be as thick and creamy. 
Nutrition
Calories: 608kcal, Carbohydrates: 18g, Protein: 25g, Fat: 49g, Saturated Fat: 30g, Cholesterol: 149mg, Sodium: 1270mg, Potassium: 700mg, Fiber: 2g, Sugar: 3g, Vitamin A: 3390IU, Vitamin C: 96.5mg, Calcium: 702mg, Iron: 1.8mg