Crock Pot Creamy Chicken Stew
This Crock Pot Creamy Chicken Stew has a thick and creamy broth that simmers slowly with red potatoes and your favorite vegetables.
Be sure to try my super popular Crock Pot Chicken and Stuffing recipe next!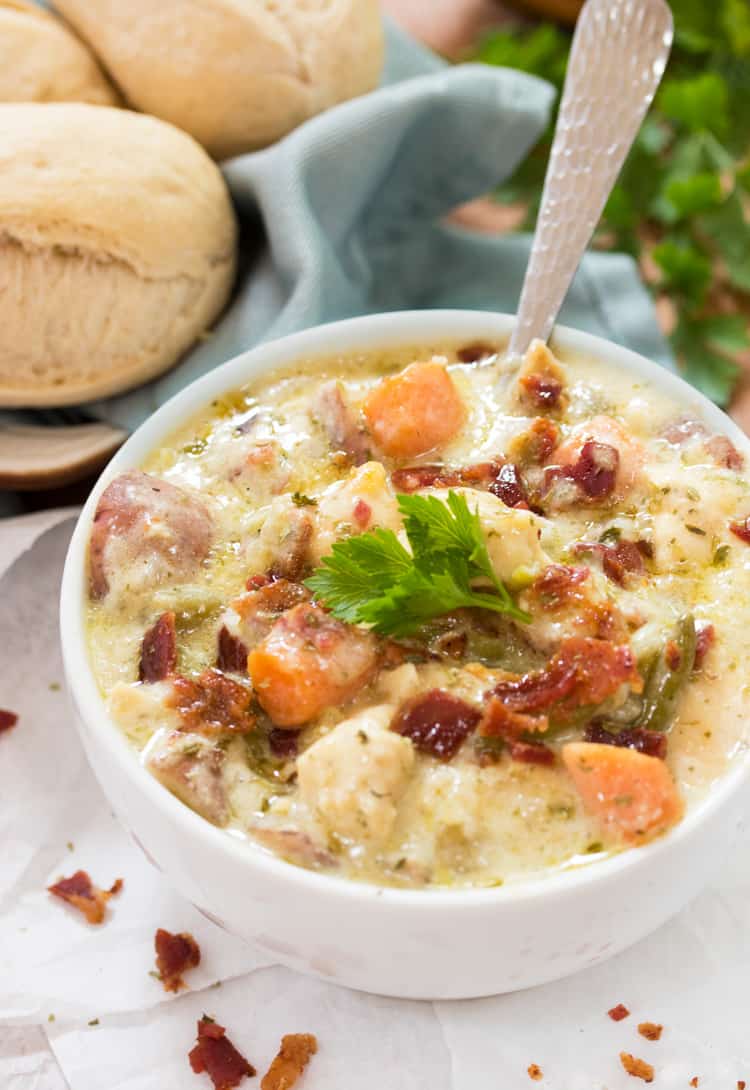 There are few things as comforting as a warm bowl of chicken stew, fresh out of the crock pot. I'm a sucker for soups and stews all year 'round. Are you like that too?
There are just a few things you need to know to make this the the BEST stew you've ever had!
Adding Dairy to the Crock Pot:
Cold dairy products have a tendency to curdle when added to hot liquids. Here are some ways to prevent your dairy from curdling:
I recommend you temper the dairy mixture before adding it to the crock pot.
I also recommend that you cook this on low as opposed to high.
Use whole milk if possible, as the extra fat content can prevent it from curdling.
Storing Leftovers
Refrigerating: This stew should be refrigerated in an airtight container for up to three days.
Freezing: Dairy-based soups don't always reheat well after being frozen as the dairy separates slightly, so just know that the consistency won't be quite the same, but you can still freeze it.
About the Ranch Seasoning
The Ranch seasoning in this stew is what sets it apart from the other Chicken Stew recipes out there. It's what keeps you wanting more!
I like to buy my Ranch seasoning in bulk because I use it in so many recipes.
A 1 oz. packet of Ranch seasoning is equal to 2 tablespoons.
Readers have tried this with equal amounts of Onion Dip Seasoning and liked the results!
If you're a fan of Ranch, be sure to check out all of my Recipes with Ranch!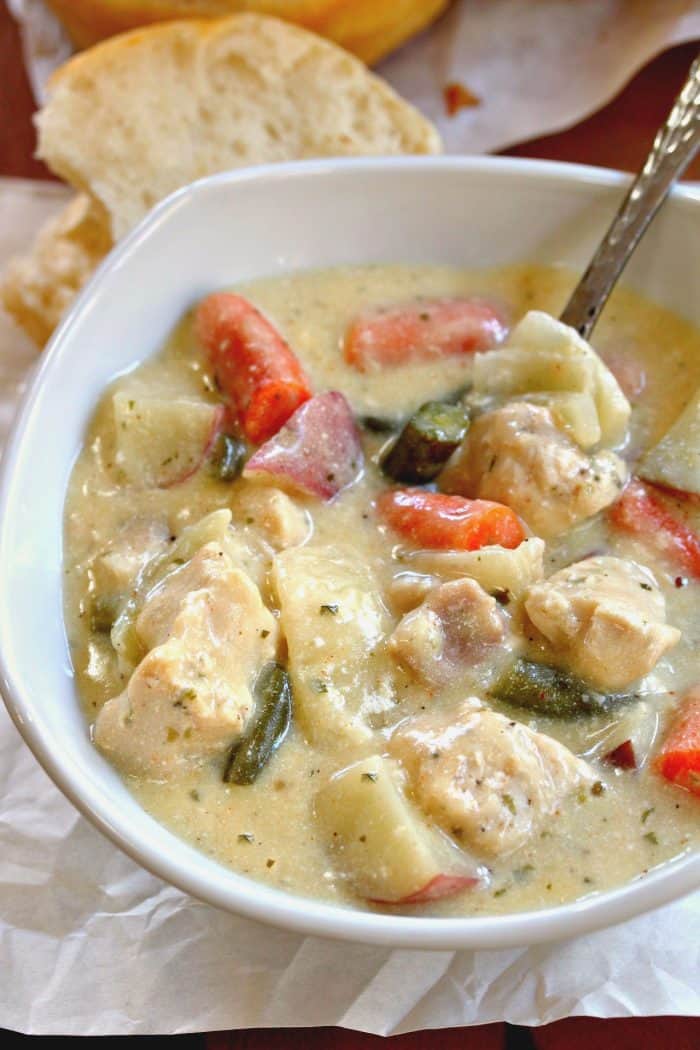 What to Serve with Creamy Chicken Stew
Can This Be Made in the Instant Pot?
It sure can, and you don't sacrifice any flavor or texture in the process! Check out the recipe here!
My Favorite Crock Pot
If you're in the market for a new Crock Pot, I just bought myself this one.
It has a timer that will switch to warm once the time is up.
You can also put the pot on the stove, which totally comes in handy when I make gravy from my Crock Pot Mississippi Pot Roast.
Try These Next!
Follow me!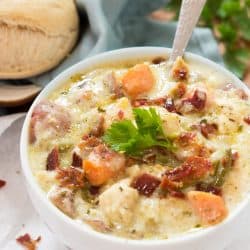 Servings: 4
Crock Pot Chicken Stew
Course: Soup
Cuisine: American
Keyword: chicken stew, creamy chicken stew, crock pot chicken stew
This crock pot chicken stew has a thick and creamy broth that simmers slowly with red potatoes and your favorite vegetables. This stew is amazing on its' own or served over biscuits!

Ingredients
2 boneless chicken breasts, cut into bite sized pieces
2.5 teaspoons Italian seasoning
Salt/Pepper
1 Tablespoon butter
1 medium onion, diced
4 red potatoes, sliced
1 cup baby carrots
¾ cup green beans
½ cup celery, diced
10.5 oz. cream of chicken soup
1 cup whole milk*
1 cup sour cream
1 oz. dry ranch dressing mix equal to 2 tablespoons
1 teaspoon Parsley flakes
5 slices bacon, cooked/crumbled, to garnish (optional)
Instructions
Melt the butter on the bottom of the crock pot. Add all of the vegetables on top and stir to coat with the butter.

Season the cubed chicken with Italian seasoning and desired amounts of salt and pepper.

Mix together the soup, milk, sour cream and ranch dressing mix. Temper the mixture by heating it for 30 seconds in the microwave. Pour on top of the chicken.

Cover the crock pot and cook on low for 6-8 hours. Low and slow is the best with milk and dairy products.


Sprinkle with parsley and crumbled bacon and serve. This tastes delicious over biscuits!

Recipe Notes
*The extra fat in whole milk will prevent it from curdling, along with tempering it beforehand and cooking it low and slow.
Slow cookers do vary in terms of heat and cook time, thus the 6-8 hour range. You know your slow cooker best!
Check out the step-by-step video of this recipe at the top of the post! 
Pressed for time? Try the Instant Pot version! 
Nutrition Information
Calories:
431
, Fat:
15g
, Saturated Fat:
7g
, Cholesterol:
67mg
, Sodium:
1268mg
, Potassium:
1488mg
, Carbohydrates:
52g
, Fiber:
5g
, Sugar:
9g
, Protein:
20g
, Vitamin A:
5100%
, Vitamin C:
25%
, Calcium:
130%
, Iron:
3.2%