This Southwest Salad is loaded with seasoned chicken, black beans, corn, guacamole, sour cream, and more; then it's drizzled with homemade Cilantro Lime Dressing!
Be sure to check out my Crispy Chicken Salad and Chef Salad next!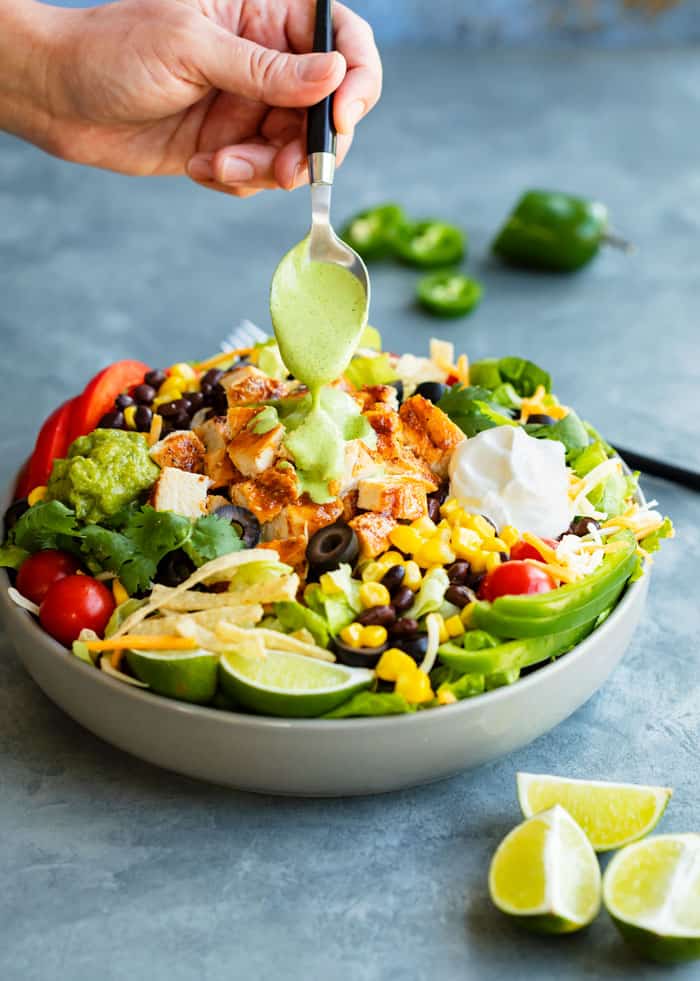 Southwest Salad
This Southwest Salad is loaded with everything you could ever want! You'll be content for days after eating this!
These are the ingredients that I used, but there are about a million other options too. Let's get into it.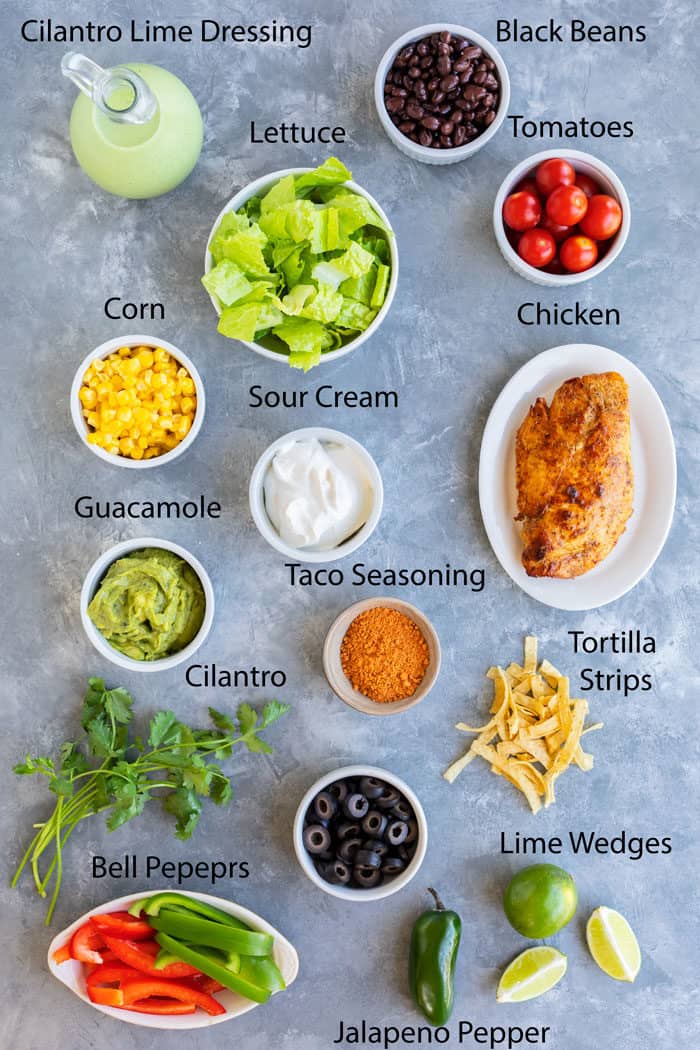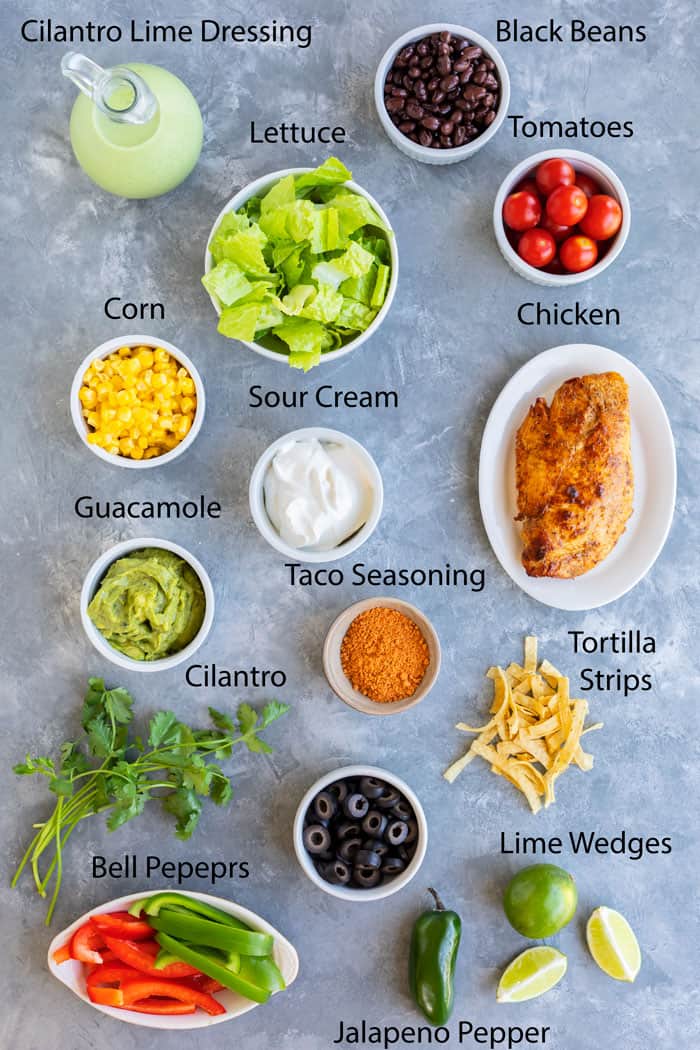 Ingredients in Southwest Salad
If you really want a complete list of what kinds of spices, fruits, vegetables, meats, starches, and extras that come from the Southwest, these guys have you covered.
To sum it up, this recipe's got Guacamole, Corn, Peppers, Sour Cream, Cilantro, Tomatoes, Black Beans, and more.
Additional ingredient options not included in this recipe include: Avocado, Ground Beef, Pork, Red Onions, Rice, Pinto Beans, and more.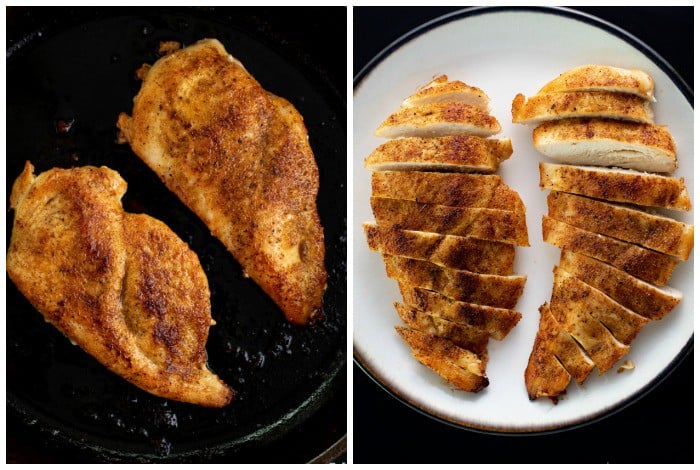 I loving getting a good sear on my chicken, or even making blackened chicken with this salad.
Blackened Chicken:
Blackened Chicken is thoroughly charred on the outside, but still juicy on the inside. It's common for blackened chicken to be coated in a Cajun or spicy seasoning prior to being cooked.
-Use a cast iron skillet. This conducts heat the best and can withstand the high heat for a long period of time.
-Thinner slices of meat ensures the middle cooks and not just the outside.
-Don't toss the meat around while it cooks. Let it be in order to obtain a rich, colored crust on the outside.
-If the meat sticks to the pan when you attempt to lift it, it's not even properly seared yet (and definitely not blackened).
-Let the chicken rest for 5-10 minutes before slicing into it, to allow the chicken to fully absorb the juices created during the cooking process.
-Ventilate the stove-top if you can, and open some windows if possible. This does create some smoke. But it's totally worth it.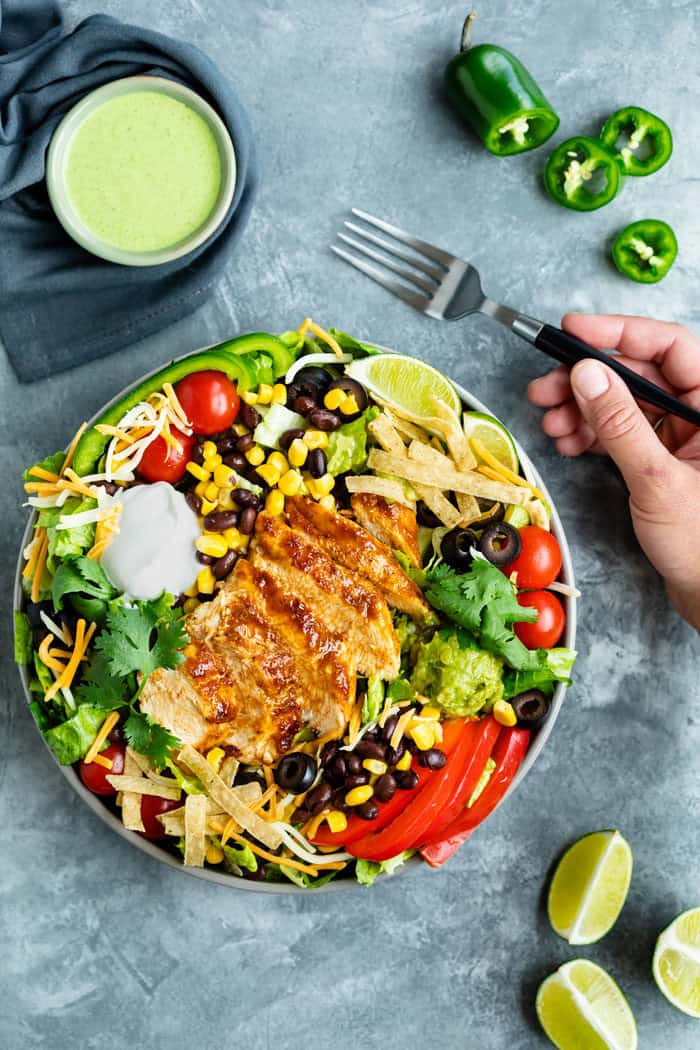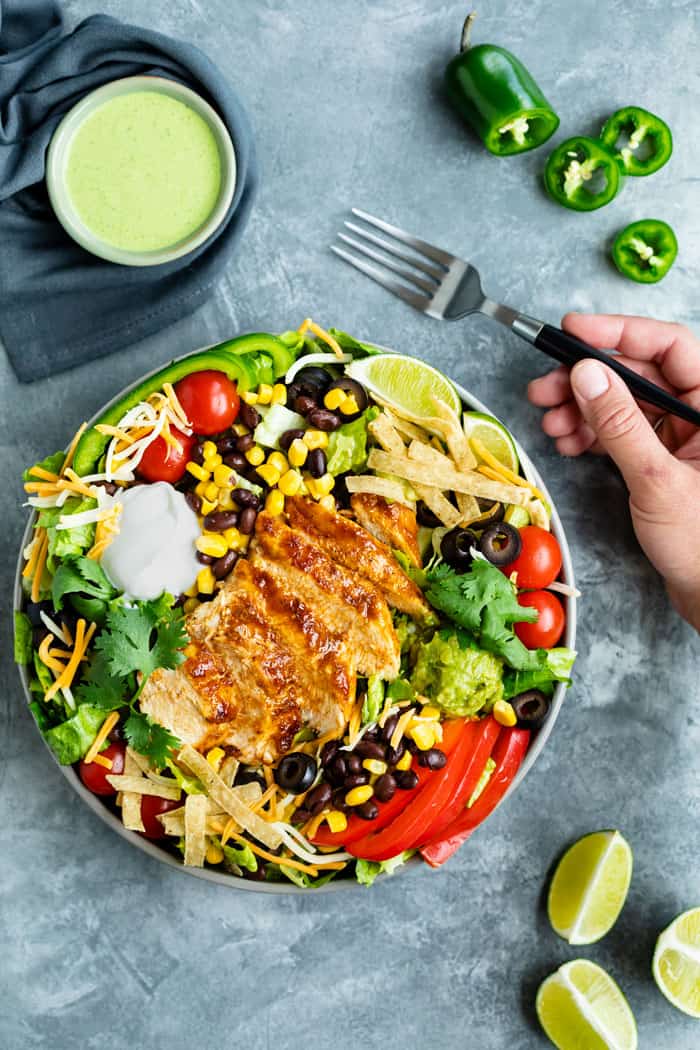 Salad Dressing for Southwest Salad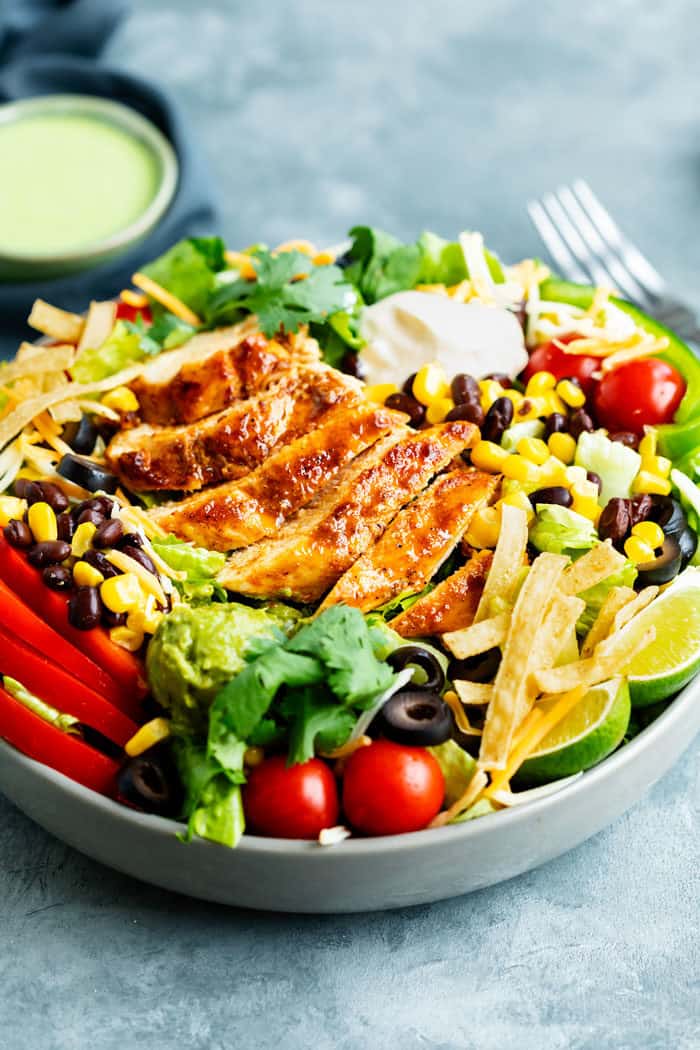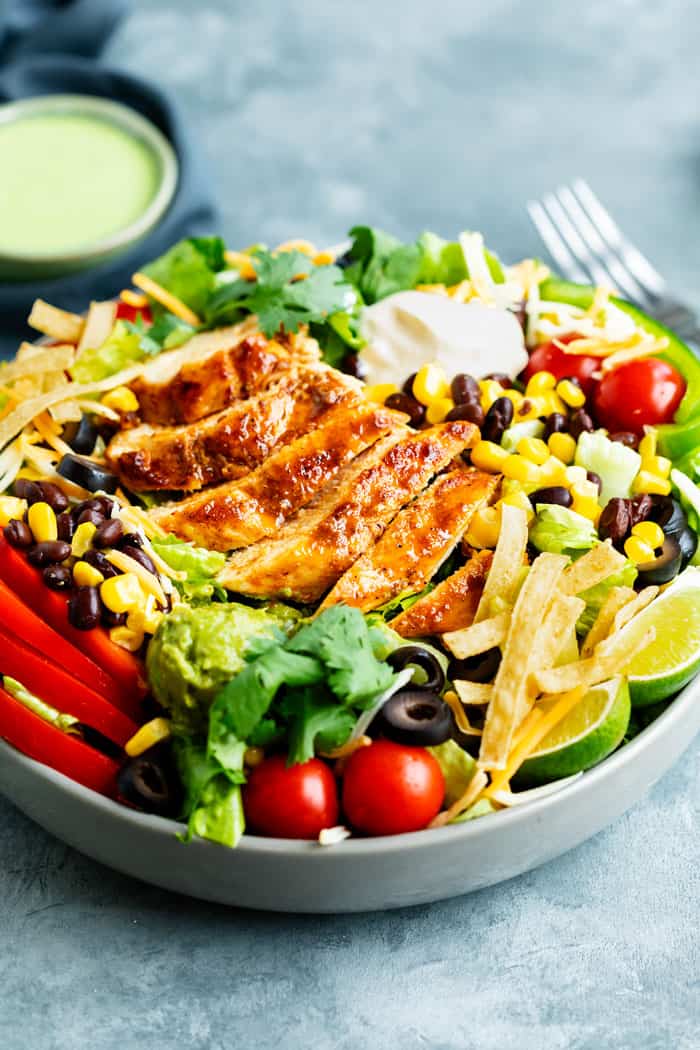 Try These Next!
Meow Gallery: The layout none is not available in this version.
Get my Free Meal Plan!
I've got a Free Meal Plan with 7 of my super popular recipes (complete with grocery list)! Sign up for my email list and I'll send it over now along with weekly dinner recipes!
And follow me on Facebook, Instagram, and Pinterest!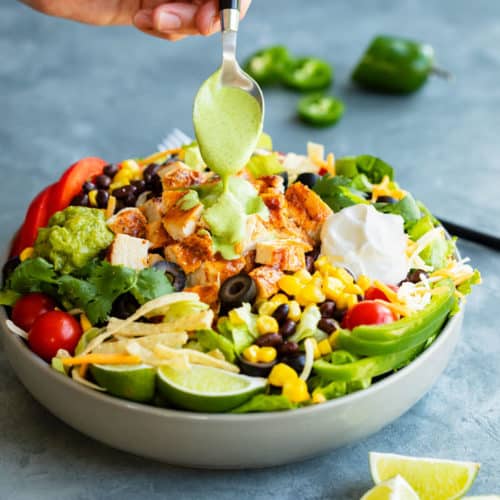 Southwest Salad with Cilantro Lime Dressing
This Southwest Salad is loaded with seasoned chicken, black beans, corn, guacamole, sour cream, and more; then it's drizzled with homemade Cilantro Lime Dressing!
Ingredients
½ of a small chicken breast, *See Notes
2 Tablespoons taco seasoning
1 Tablespoon avocado oil, can sub vegetable, canola, or olive
1 ½ cups chopped romaine lettuce
4 cherry tomatoes
¼ cup black beans, drained and rinsed
¼ cup corn
1/8 cup black olives
4 slices bell peppers, any color
1 jalapeno pepper, seeded & diced
2 Tablespoons guacamole
2 Tablespoons sour cream
2 sprigs fresh cilantro
¼ cup tortilla strips
½ cup Mexican cheese, shredded
2 Tablespoons Cilantro Lime Dressing
Instructions
Heat the oil in a cast iron skillet over medium-high heat. Season the chicken generously on each side with taco seasoning.

Add the chicken to the heated skillet and let it sear on the first side, untouched, for five minutes. It will begin to release from the skillet once it's ready to flip.

Use kitchen tongs to carefully flip the chicken once it's reached a deep golden brown color, and sear the other side for 4-5 more minutes, decreasing the heat slightly if needed.

Remove from the heat and let it sit for at least 5 minutes prior to slicing it to allow the juices to absorb.

Fill a large bowl (or even a pie diswith the romaine lettuce. Top it with all additional ingredients and serve immediately!
Notes
*Typically, the chicken breasts that you get at the store are very large. I like to butterfly my chicken breasts to create two thinner slices of equal size. They cook more evenly this way and this creates more surface area to sear. I usually only use one half per salad.
Nutrition
Calories: 929kcal, Carbohydrates: 62g, Protein: 52g, Fat: 55g, Saturated Fat: 17g, Cholesterol: 139mg, Sodium: 1473mg, Potassium: 1754mg, Fiber: 18g, Sugar: 26g, Vitamin A: 19300IU, Vitamin C: 512.3mg, Calcium: 469mg, Iron: 5.2mg