This Caprese Chicken has the most flavorful balsamic sauce, seasoned and seared chicken, fresh tomatoes, and basil. It comes together quickly in a skillet before a brief bake in the oven to melt the fresh mozzarella cheese!
Be sure to serve this with greens and beans and roasted potatoes!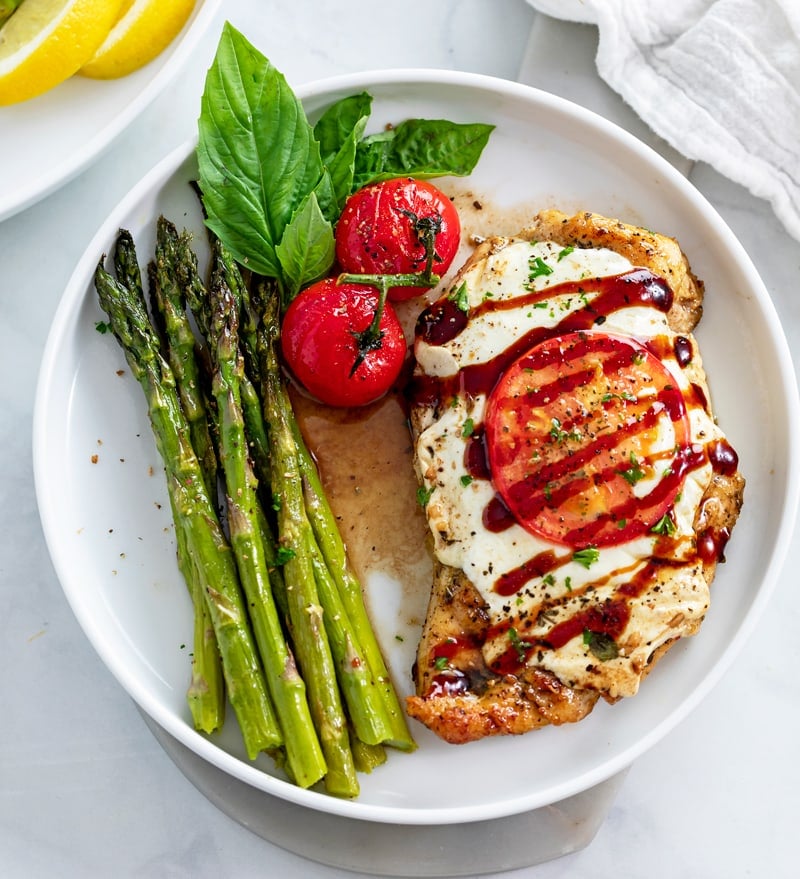 Caprese Chicken
When it comes to easy chicken recipes, I think this Caprese Chicken just jumped to the top of my favorites list! This comes together so quickly in a skillet before a quick bake in the oven to melt that delicious, fresh mozzarella cheese.
This is a great way to make use of fresh garden tomatoes and basil, and it pairs really well with a variety of roasted vegetables and potato dishes!
(PS- my picky eater loves this meal!) Read on to learn exactly what makes this recipe taste so delicious.
How to Make It
See recipe card below this post for ingredient quantities and full instructions.
To start, sear seasoned chicken in a skillet. This creates a beautiful golden crust on the outside of the chicken and leaves a ton of flavor, (i.e. fond!) on the bottom of the pan, which is deglazed with white wine. (Chicken broth can be used if you don't cook with wine.)
From there, we make a delicious balsamic sauce, which starts with a little butter and minced garlic.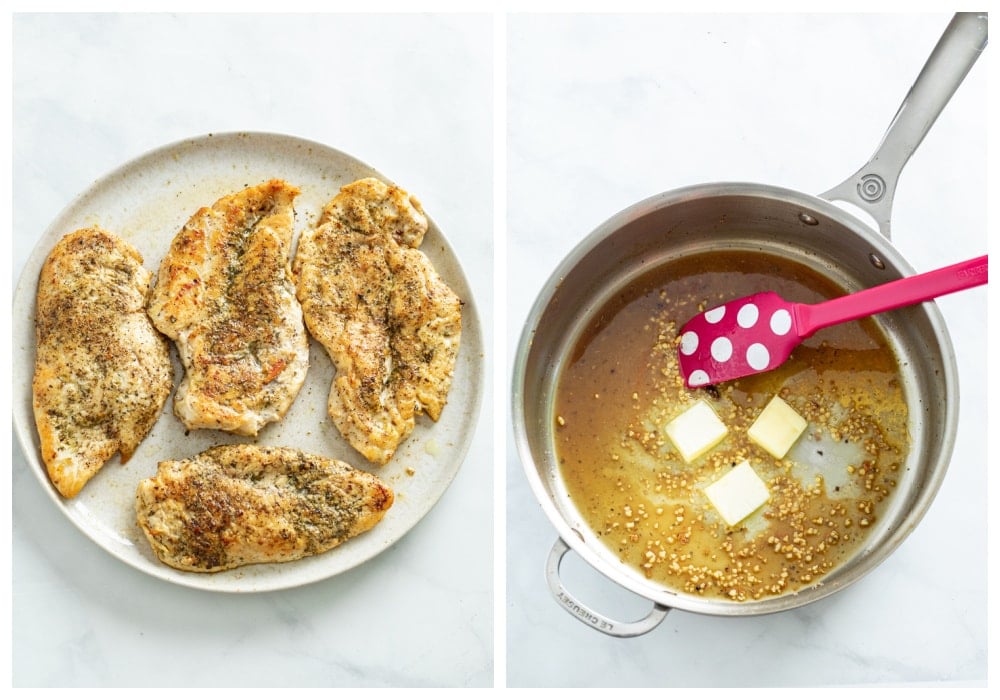 Add Chicken broth, balsamic vinegar, and honey. Bring the sauce to a gentle boil and let it reduce for 5 minutes, then remove from heat and add the chicken back.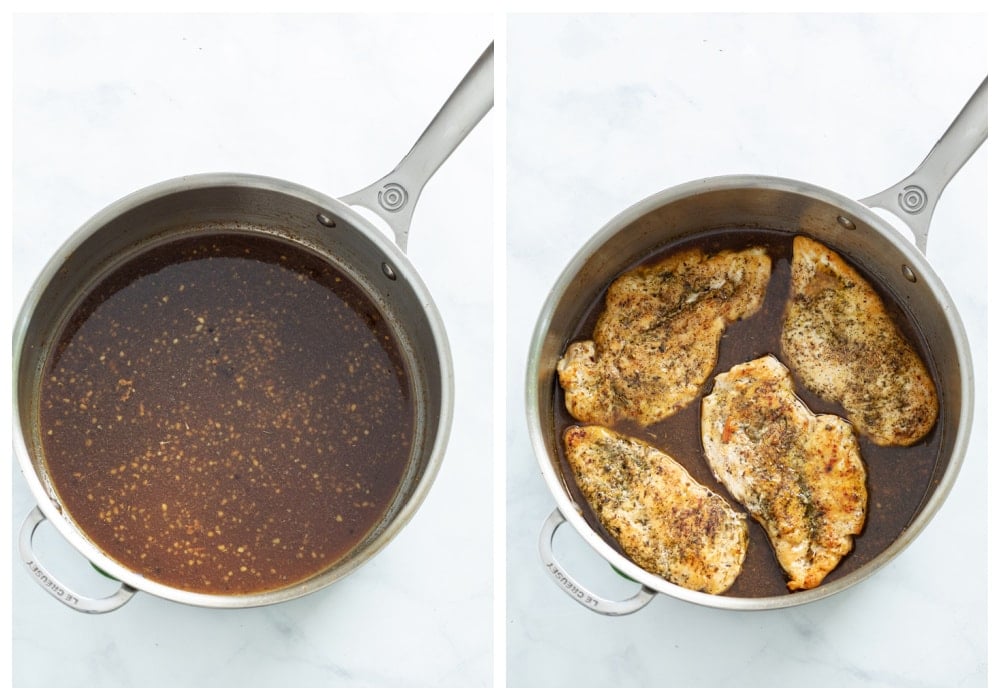 Top the chicken with fresh mozzarella, sliced tomatoes, and dried basil. Cherry tomatoes add a nice finishing touch to the dish.
Bake for 10 minutes, then broil for 3. Drizzle with balsamic glaze, top with freshly cracked pepper, and garnish with fresh basil and voila! Dinner is done.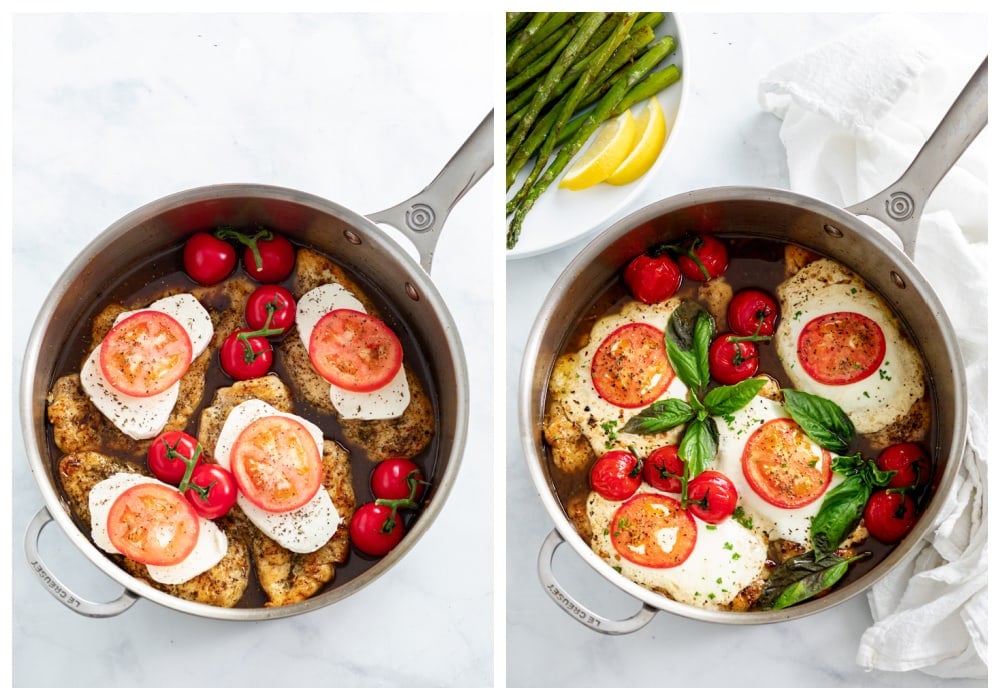 What to Serve With Caprese Chicken
Pro Tips

Wine: Sauvignon Blanc is the best wine to use in this recipe, followed by Chardonnay, and then Pinot Grigio. Chicken broth can be used if you don't cook with wine.
I use Pompeian Gourmet Balsamic Vinegar for this recipe.
Storage
Store in an airtight container and refrigerate for up to 3 days or freeze for up to 3 months.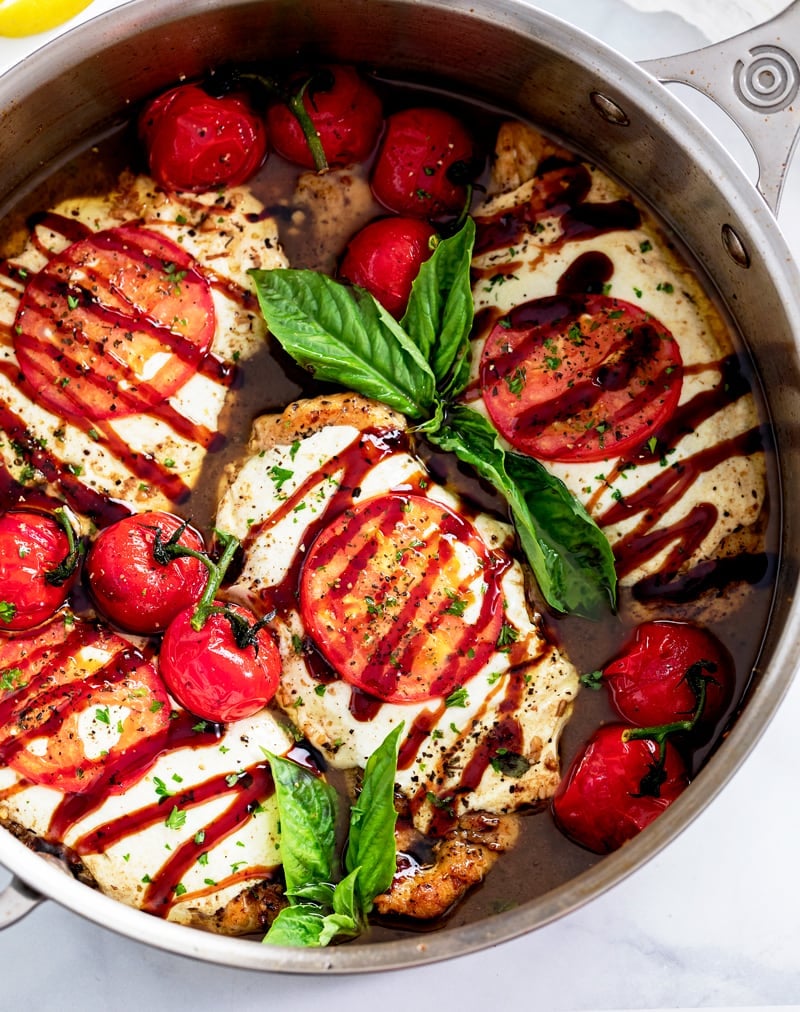 Tools For This Recipe

(Amazon affiliate links)- Check out all of my kitchen essentials here.
Try These Next
Get My Free Meal Plan
I've got a Free Meal Plan with 7 of my super popular recipes (complete with grocery list)! Sign up for my email list and I'll send it over now along with weekly dinner recipes!
And follow me on Facebook, Instagram, and Pinterest!
Tried This Recipe?
Leave a review, I love hearing your feedback! ⭐⭐⭐⭐⭐
Caprese Chicken
This Caprese Chicken is an easy dinner recipe with the most flavorful balsamic sauce, seasoned and seared chicken, fresh tomatoes, and basil.
Ingredients
Chicken
2 large boneless skinless chicken breasts
Salt/Pepper
2 teaspoons Italian seasoning
2 tablespoons olive oil
8 slices fresh mozzarella, whole milk/low moisture melts best
1 whole tomato, thinly sliced
1 cup cherry tomatoes
Balsamic Sauce
1/3 cup dry white wine, see notes
3 cloves garlic, minced
3 tablespoons butter
1/3 cup Balsamic vinegar
1/3 cup chicken broth
3 tablespoons honey
1 teaspoon dried basil
For Serving
Fresh Basil
Balsamic Glaze
Freshly Cracked Pepper
Instructions
Preheat oven to 425°F.

Slice the chicken in half lengthwise to create 2-3 thinner slices. Place in a gallon freezer bag (or in between saran wrap) and use the textured side of a meat mallet to pound it to ½ inch thick. Pat completely dry. Season each side with salt, pepper, and Italian seasonings.

Heat olive oil in a large skillet over medium-high heat. Sear the chicken in batches for 3-4 minutes per side, until a golden crust has developed. Set aside.

Add the wine to the skillet over medium heat and use a silicone spatula to "clean" the bottom and sides of the skillet. Let it reduce by half, 3-4 minutes.

Melt the butter, then add the garlic and cook for 2 minutes. Add the balsamic vinegar, chicken broth, and honey and stir to combine. Bring to a gentle boil. Let it simmer and reduce for 5 minutes, remove from heat.

Transfer the sauce to a 9 x 13-inch baking dish if your skillet isn't oven safe.

Add the chicken to the sauce along with any juices from the plate. Top each piece of chicken with 2 slices of mozzarella and 1 slice of tomato, then sprinkle with dried basil. Arrange the cherry tomatoes around the chicken.

Bake for 10 minutes, or until the cheese is just melted, then broil at 425 (or a low broil), for about 3 minutes. Watch it carefully during this time. Remove from oven. Drizzle with balsamic glaze and garnish with fresh basil. Serve with roasted asparagus or roasted potatoes.
Notes
---
The nutritional information provided is an estimate and is per serving. This recipe makes 4 servings. 
Nutrition
Calories: 472kcal, Carbohydrates: 22g, Protein: 26g, Fat: 30g, Saturated Fat: 14g, Polyunsaturated Fat: 2g, Monounsaturated Fat: 11g, Trans Fat: 1g, Cholesterol: 104mg, Sodium: 573mg, Potassium: 451mg, Fiber: 1g, Sugar: 18g, Vitamin A: 993IU, Vitamin C: 12mg, Calcium: 332mg, Iron: 2mg