These Italian-style meatballs require NO browning! This is an easy dump and go recipe that's a great way to feed a crowd or store in the freezer for future pasta dinners, subs, and appetizers! You've just found your new favorite meatball recipe!
Slow Cooker Meatballs
Welcome to the easiest way to make a meatball!
When I made these for the first time, I was skeptical about them actually holding their shape in the Slow Cooker without browning them first. Turns out, this method works like a charm!
The Slow Cooker is the easiest way to make a big batch of tender Italian meatballs for a crowd, your family, or during weekday meal prep.
You can easily double this recipe and can even prepare it all a day ahead of time.
It also makes a great freezer food!
Have I convinced you yet?
Ingredients

See recipe card below for ingredient quantities and full written instructions.

80% Ground Beef- See below for different meat options and combinations.
Egg
Parmesan Cheese
Garlic- Fresh garlic minced at home, a garlic twister makes it easy!
Italian Breadcrumbs– I recommend my homemade breadcrumb recipe.
Onions
Salt/Pepper
Fresh Parsley
Marinara Sauce– Try my homemade marinara!
Additional Meat Options
An equal combination of ground beef, sausage, and veal is also very tasty!
Ground turkey or ground chicken may also be incorporated
How to Make them
Combine the meatball ingredients gently with your hands. Roll into 1.5 inch balls.
Place in them in a lightly greased Slow Cooker.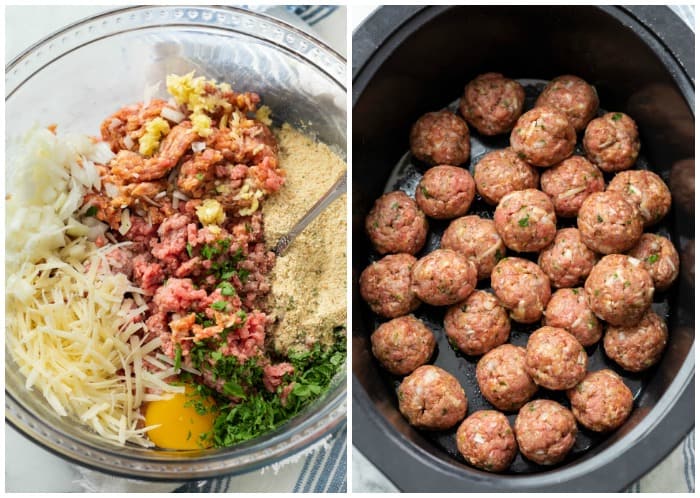 Top with marinara sauce, no need to stir. Heat on high for 3-4 hours or on low for 6-7.
Stir, serve, and enjoy!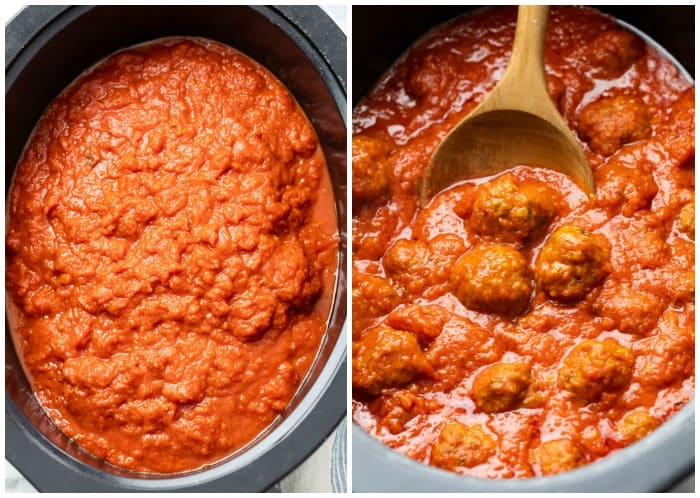 Doubling this Recipe
This recipe is easy to double.
Place the first batch of meatballs in the Slow Cooker and top with some of the sauce. Then add the remaining meatballs and sauce on top of that.
Allow the Crock Pot an additional 20 minutes or so to get up to temperature.
The meatballs are done when the internal temperature reaches 160°F.
Make Ahead Method
Mix the meat a day ahead of time.
Form into balls and place on a baking sheet.
Cover with plastic wrap or foil. Refrigerate overnight.
Place in the Slow Cooker, add the sauce, and add an additional 20 minutes of cooking time for them to come to temperature.
Storage
Store in an airtight container in the refrigerator for up to 3 days, or in the freezer for up to 3 months.
What to Serve This With
Try These Next!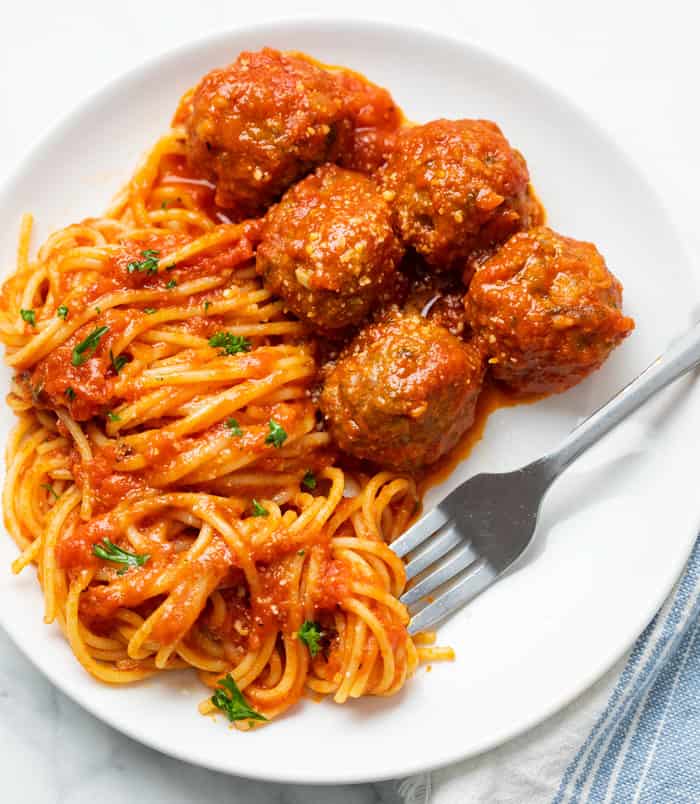 Get my Free Meal Plan
I've got a Free Meal Plan with 7 of my super popular recipes (complete with grocery list)! Sign up for my email list and I'll send it over now along with weekly dinner recipes!
And follow me on Facebook, Instagram, and Pinterest!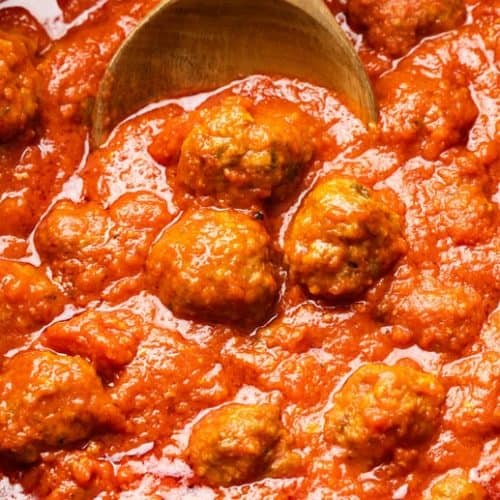 Slow Cooker Meatballs
These Italian-style Slow Cooker Meatballs make an easy dump and go recipe with no browning necessary! An easy freezer-friendly recipe that's perfect for pasta and subs.
Ingredients
1.5 lb. ground beef, preferably 80% lean
1 large egg, slightly beaten
1/3 cup Parmesan cheese
3 cloves garlic, finely diced
½ cup breadcrumbs, Italian or Plain
½ cup minced onion
¾ teaspoon salt
¼ teaspoon pepper
¼ cup Parsley
Instructions
Gently combine all meatball ingredients in a large bowl, don't overwork the meat, we want tender meatballs.

Use a tablespoon to scoop up the meat and roll them into balls, about 1.5 inches around.

Lightly grease the bottom of the Slow Cooker. And place the meatballs inside, it's okay if you need to stack them.

Add the marinara sauce. No need to stir.

Cook on high for 3-4 hours or on low for 6-7.

Stir it gently a few times prior to serving.
Notes
Using a combination of ground Italian Sausage and/or ground veal works well too.
---
This recipe is easy to double and it's okay to stack additional meatballs on top of each other. Just note that it might take a little bit of time to come up to temperature.
---
The meatballs are sufficiently cooked when the internal temperature is 160 degrees.
---
Nutritional Info is for one meatball with sauce. This recipe makes 29 meatballs.
---
If feeding a large crowd, this recipe will satisfy two pounds of cooked pasta.
Nutrition
Calories: 89kcal, Carbohydrates: 5g, Protein: 6g, Fat: 5g, Saturated Fat: 2g, Cholesterol: 23mg, Sodium: 397mg, Potassium: 258mg, Fiber: 1g, Sugar: 3g, Vitamin A: 298IU, Vitamin C: 5mg, Calcium: 31mg, Iron: 1mg