Copycat Olive Garden Salad Dressing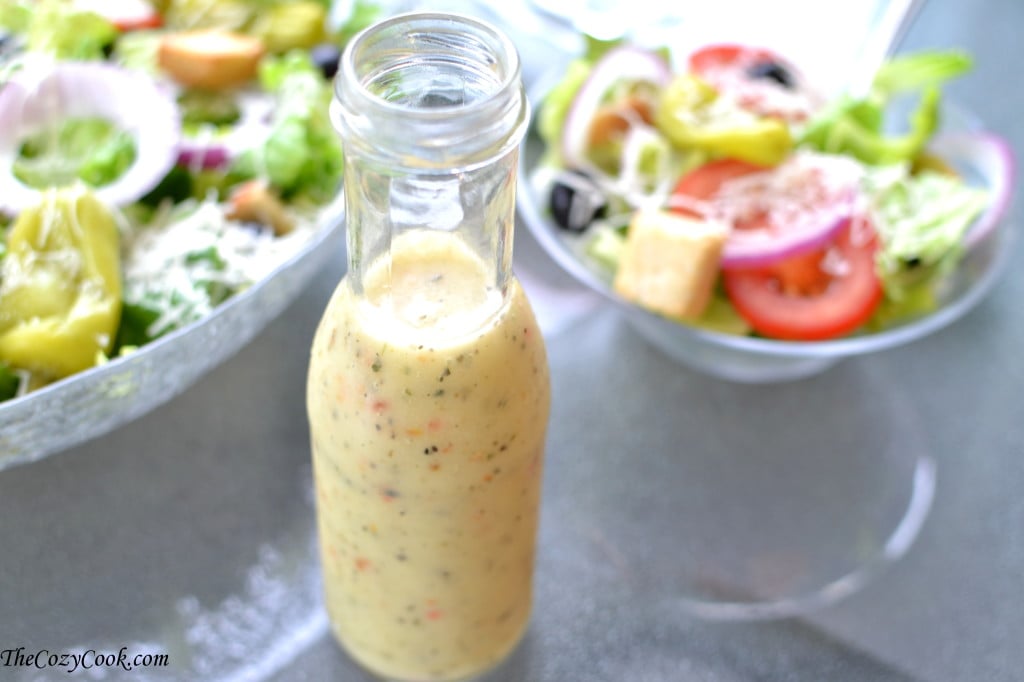 Ah… Olive Garden Salad Dressing. One of the best things to happen to salad EVER. It's so flavorful and accompanies all of those savory salad ingredients perfectly. Especially when topped with some of that grated Parmesan cheese. (Oh, and those Olive Garden breadsticks dipped into this salad dressing? OMG…)
So on that note, I have a confession. I completely, one-hundred percent totally embarrass myself every time I go to Olive Garden. I'm a huge HUGE salad fan. I used to order chicken Caesar salad every time I went out. Now I at least have to order a side salad with everything I get. So for Olive Garden to offer unlimited salad…I mean what am I supposed to do? Other than
take it extremely seriously and focus on strategically cramming in as much of that salad into one meal as possible. At this point, I just have them put my REAL meal right in a to-go box. Not only does that time in the long run, (time that can be spent asking for more salad, obviously….) but it gives me a chance to not-so-subtly let the wait staff know that I mean business. By the end of it all, when I'm ready to be rolled out of the building, I try to ease my guilt by tipping them enough to have bought twice as many salads as I ate. It's a pretty barbaric routine, but I can't HELP it. I'm serious people, I have a problem.
I've never even entertained the idea of trying to make their salad dressing (or breadsticks) at home. I just figured it can't be done! Why bother. But yesterday, I ran out of Italian salad dressing and I really wanted some. So FINE, I figured I'd look up an Olive Garden Salad dressing recipe online. I knew there was no way it would taste the same, but it'd be something. So mix up all the ingredients I did. It took me like 5 minutes. I threw it in the fridge and didn't give it another thought until dinner. Mark and I had a little salad-sesh while the rest of our meal finished cooking. What came next, I still do not believe. The Olive Garden Salad dressing recipe that I just tried, TASTED like Olive Garden Salad Dressing! Was this for REAL?! Well after that point I basically blacked out and HOUSED the salad down like it was the last one on earth. Now I'd have no choice but to go ALL out and mimic their entire salad- Lettuce, tomatoes, black olives, croutons, red onions, and my husband's favorite: pepperoncini's. (You can buy them at the store where the jarred vegetables are.) Of course then you have to top it off with Parmesan Cheese… and then finally……….this dressing.
This post could literally go on for days, (again, I have a serious problem)… so I'm pulling myself away now…. But you make that dressing and you eat it UP! 😉
Copycat Olive Garden Salad Dressing
This savory Italian Salad Dressing is so easy to make a home and tastes just like its from the restaurant itself- you won't believe it!
Ingredients:
1 (.7 oz.) packet Italian Dressing Mix
3/4 cup olive oil (high-quality olive oil yields much better results in this recipe)
¼ cup & 2 Tablespoons distilled white vinegar
¼ cup water
½ teaspoon sugar
½ teaspoon Italian seasoning
½ teaspoon salt
¼ teaspoon pepper
¼ teaspoon garlic powder
½ Tablespoon mayo (not miracle whip)
Directions:
Mix everything thoroughly together and refrigerate. That's it!
*I recommend thoroughly shaking in a tightly closed container to combine-it will settle much more slowly:)
Mixture will settle upon sitting, simply shake before each use.
This will keep for 4 weeks in the refrigerator.
Salad Ingredients:
Lettuce, tomatoes, black olives, croutons, red onions, and  pepperoncini's
*This post may contain affiliate links