Cherry Cheesecake Cupcakes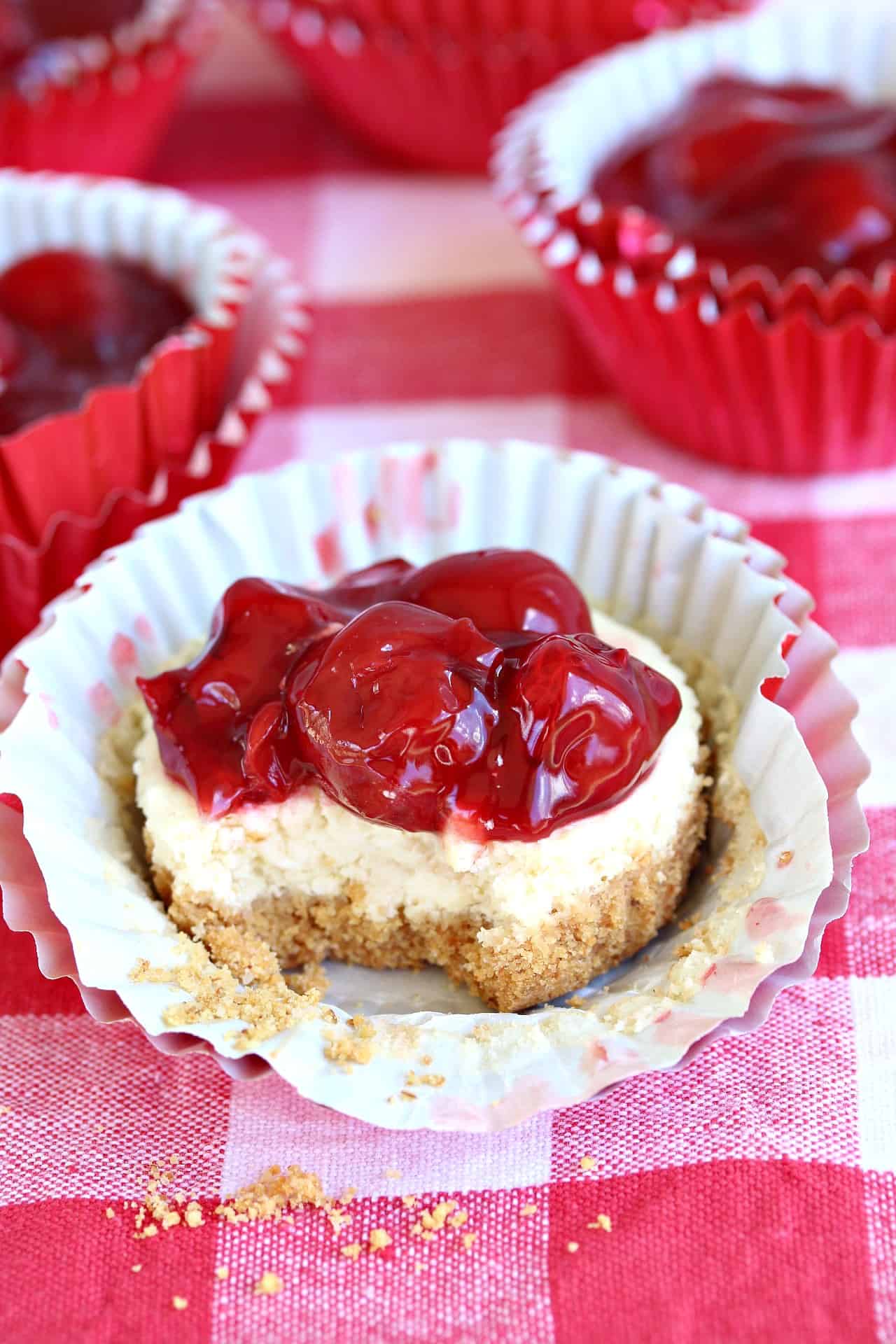 Sometimes, nothing hits the spot like good ol' cheesecake. I brought these to a little girl's night recently… I was afraid that I might be a little too lazy to make a homemade concoction for this little swaray, but these are too easy- I had no excuse. You can even use Nilla Wafers instead of making a crust 😉 And the topping is totally customizable.
I personally like to freeze these… and eat them frozen. Is that weird?! I LOVE frozen desserts… if even they're not really meant to be frozen….
The graham cracker crust is sweet and buttery, and the filling is oh-so creamy, with the most subtle hint of lemon!  And don't even get me started on the cherry topping…it's just classic.
Welp, I'm hungry! I hate it when I talk myself into hunger… it really doesn't take much. I was pretty much hungry after I wrote the word cheesecake. Dang.
What's your favorite easy dessert?!!? 
You know…………these little gems are perfect for the holidays coming up 😉 People aren't shy about eating them either- you don't even need a plate 😉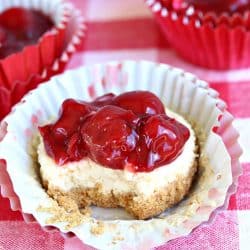 Cherry Cheesecake Cupcakes
A sweet, buttery crust topped with creamy cheesecake and classic cherries. Ready in 35 minutes from start to finish!
Ingredients:
Crust
1.5 cups graham cracker crumbs
1/2 cup butter, melted
1/4 cup sugar
24 cupcake liners
Filling
16 oz. cream cheese, softened
1/4 cup sugar
2 large eggs
1 Tablespoon lemon juice
2 teaspoons vanilla extract
21 oz. cherry pie filling
Directions:
Crust
Preheat oven to 350 degrees.
Line each tin with a cupcake liner. Combine all of the crust ingredients in a large bowl & divide evenly on the bottom of each cupcake liner and press down until firm to form the crust.
Bake for 5 minutes and remove from the oven. Let it cool completely in the tin.
Filling
Combine all of the filling ingredients except for the cherry pie filling. [br][br]
Disperse evenly into each muffin tin, leaving each 2/3 full. [br][br]
Bake for 15 minutes, or until set. [br][br]
Top each with cherry filling and chill in the fridge until cooled completely.
I love to freeze these in an airtight container 😉 They defrost well and even taste good frozen!
All images and text ©
*This post may contain affiliate links