A sweet and buttery graham cracker crust topped with creamy cheesecake filling and mouth-watering cherries.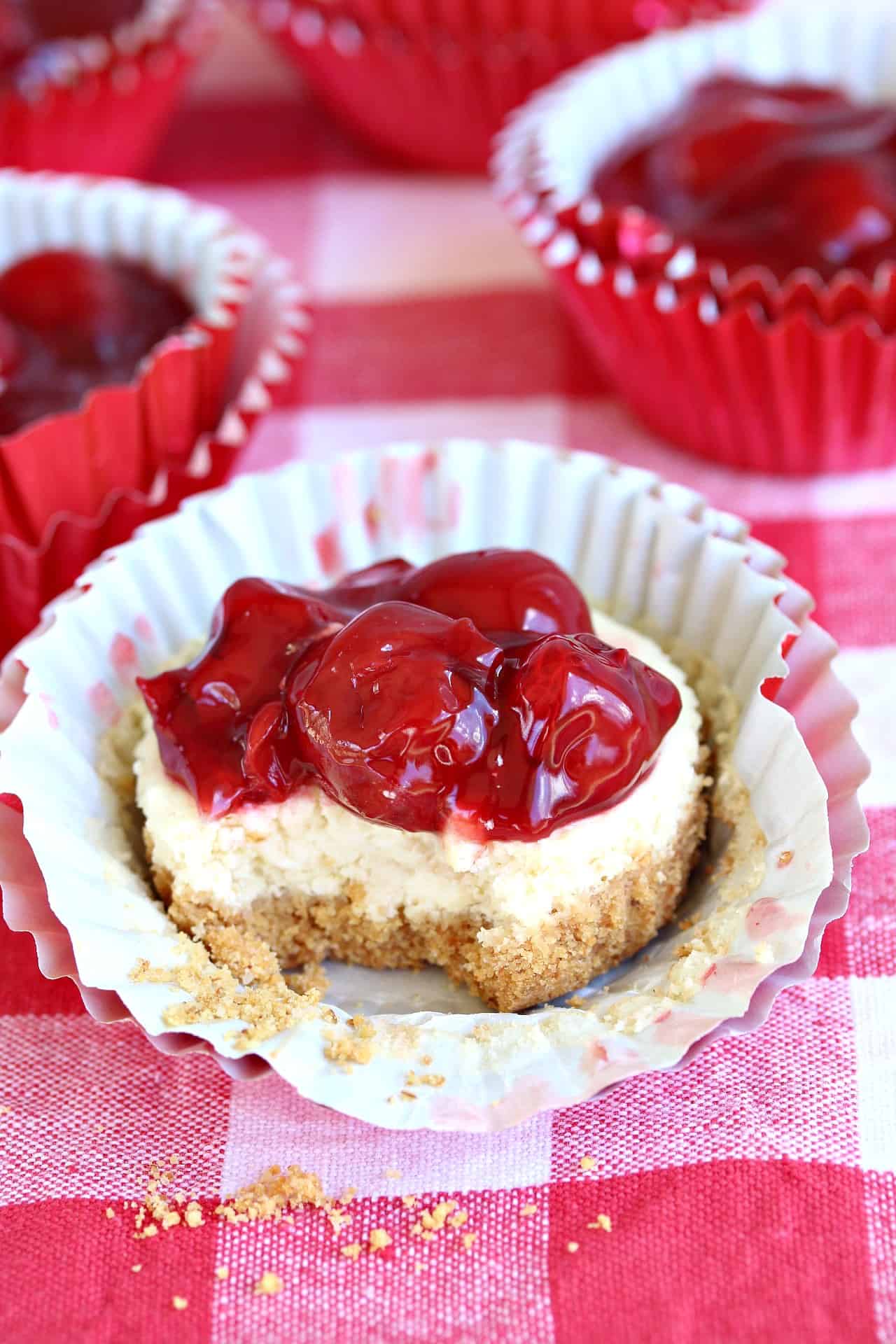 I'd like to see your face when you serve these to a group of people and witness them all dispensary in literally, a matter of minutes. I mean, I like to serve a successful dessert as much as the next person but people tend to inhale these, I don't know what it is, (other than the fact that cheesecake is amazing and I'm obsessed with it as well).
The Secret to Smooth Cheesecake
Have you ever made a lumpy cheesecake? Yeah, me too. It still tastes good but it's not really what you aim for. The key is in the temperature of the ingredients:
Let the cream cheese and eggs sit at room temperature for at least an hour before beginning.
Beat the cream cheese separately from any other ingredient until it's smooth and whipped. After that, you're good to add the other ingredients as instructed.
Other Pie Filling Options
Strawberry
Blueberry
Blackberry
Berry Medley
Follow Me!
I've got a Free Meal Plan with 7 of my super popular recipes (complete with grocery list)! Sign up for my email list and I'll send it over now along with weekly dinner recipes!
And follow me on Facebook, Instagram, and Pinterest!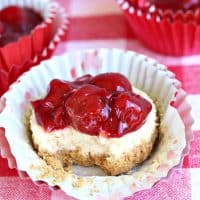 Cherry Cheesecake Cupcakes
A sweet, buttery crust topped with a creamy cheesecake filling and beautiful cherries.
Ingredients
Crust
1.5 cups graham cracker crumbs
1/2 cup butter, melted
1/4 cup sugar
24 cupcake liners
Filling
16 oz. cream cheese, *at room temperature*
1/4 cup sugar
2 large eggs, *at room temperature*
1 Tablespoon lemon juice
2 teaspoons vanilla extract
21 oz. cherry pie filling
Instructions
Preheat oven to 350 degrees.

Line each tin with a cupcake liner. Combine all of the crust ingredients in a large bowl & divide evenly on the bottom of each cupcake liner and press down until firm to form the crust.

Bake for 5 minutes and remove from the oven. Let it cool completely in the tin.

Use a hand mixer to beat the cream cheese until light and fluffy, the cream cheese must be at room temperature to ensure a smooth consistency. Add the sugar together until smooth.

Whisk the eggs in a small bowl. Use a silicone spatula to carefully fold in the eggs until just combined. Add the lemon juice and vanilla extract and mix gently until just combined. Do not overmix.

Transfer into each muffin tin, leaving each 2/3 full.

Bake for 15 minutes.

Top each with cherry filling and chill in the fridge until cooled completely.
Notes
I love to freeze these in an airtight container 😉 They defrost well and even taste good frozen if you ask me!
Nutrition
Calories: 171kcal, Carbohydrates: 15g, Protein: 2g, Fat: 11g, Saturated Fat: 6g, Cholesterol: 44mg, Sodium: 138mg, Potassium: 66mg, Sugar: 6g, Vitamin A: 445IU, Vitamin C: 1.2mg, Calcium: 29mg, Iron: 0.4mg