This simple Ham and Cheese Quiche can be made ahead of time and is totally freezer friendly! A hint of caramelized onions along with savory ham and two kinds of cheese makes this an unbeatable flavor combination!
In need of recipes for leftover ham? Try these next! Split Pea Soup | Ham and Bean Soup | Ham Casserole with Broccoli and Rice| Scalloped Potatoes and Ham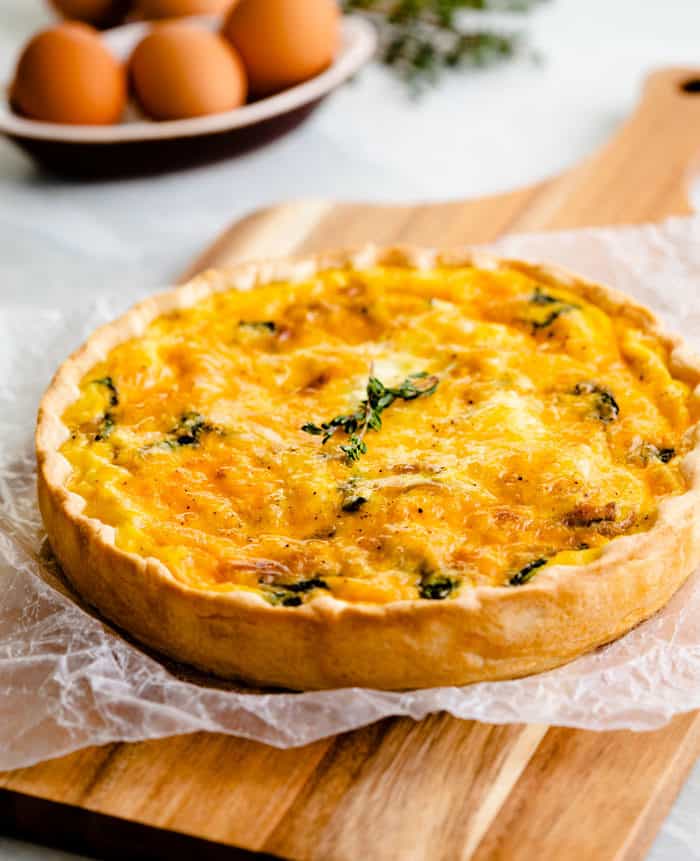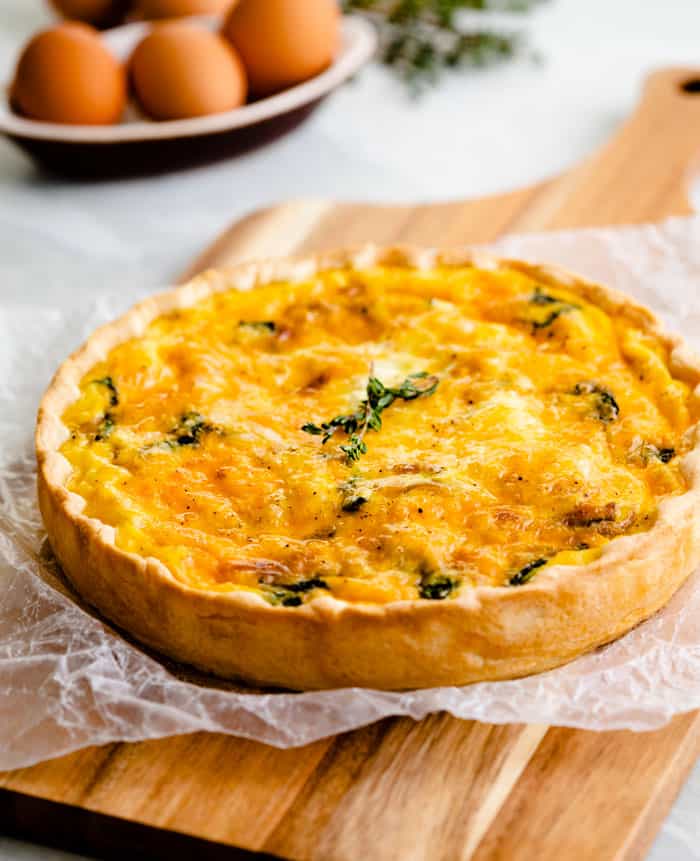 When it comes to versatile recipes, quiche is pretty much at the top of the list.
You can make it ahead of time, you can freeze it, and you can pretty much toss in whatever you have in the fridge. The list of cheeses, meats, and veggies that you can add is endless.
Alright, let's get those quiche questions answered! …(Quiche Questions, say that then times fast!)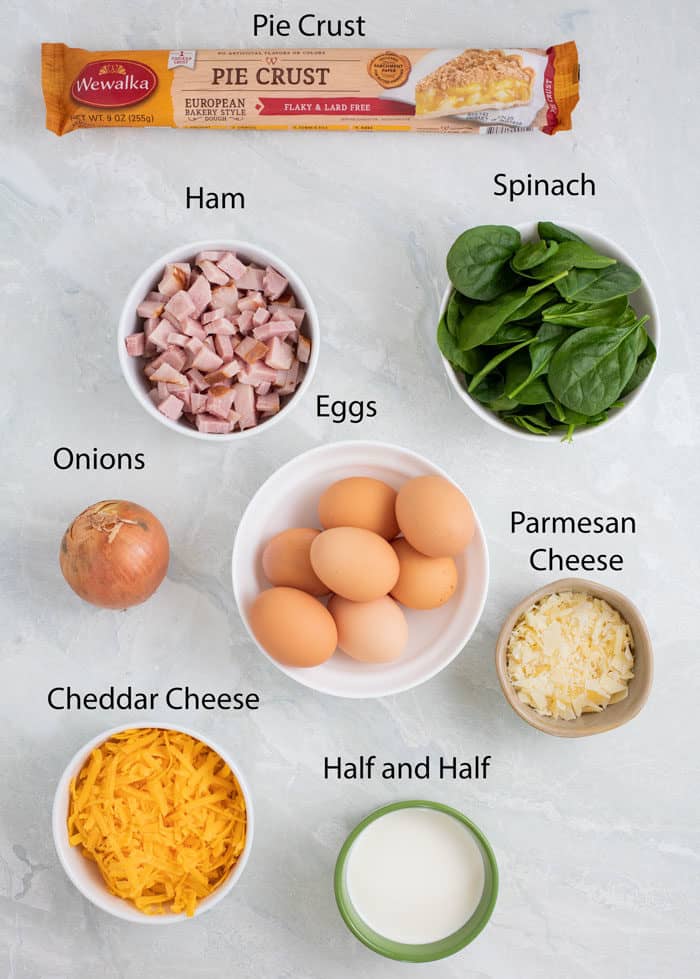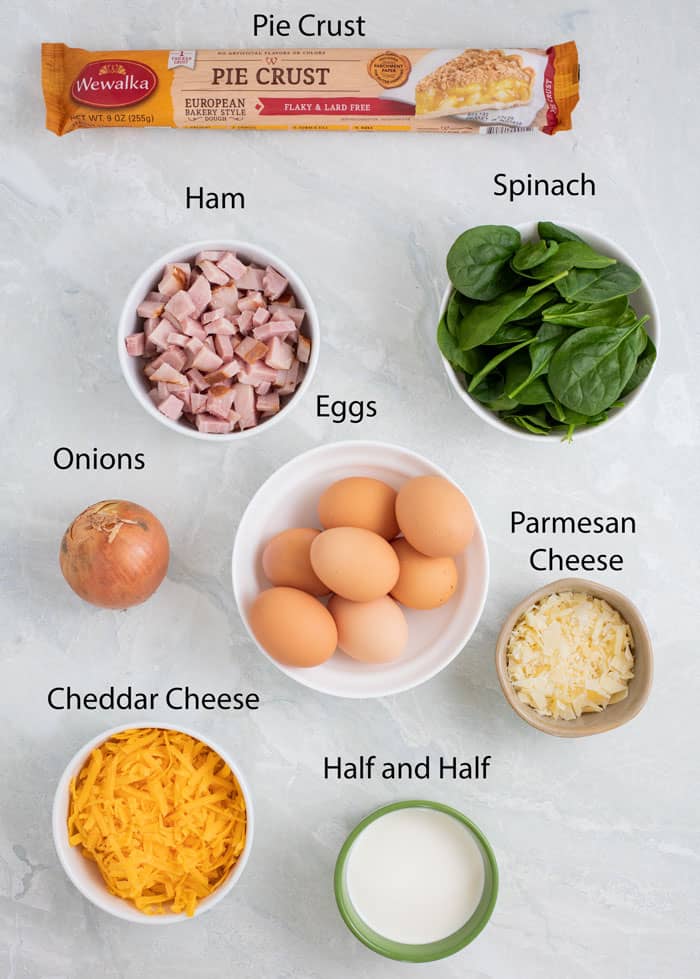 Filling Options for Quiche
There are hundreds of delicious ingredients that you can choose to add to quiche, here are some of my favorites:
Cheeses: Feta, Monterery Jack, Parmesan, Cheddar, Cheddar Jack, Pepper Jack, Swiss, Gruyere, Gorgonzola.
Meats: Sausage, Pepperoni, Ham, Bacon.
Veggies: Bell Peppers, Mushrooms, Spinach, Onions, Cherry Tomatoes, Sun Dried Tomatoes, Green Onions.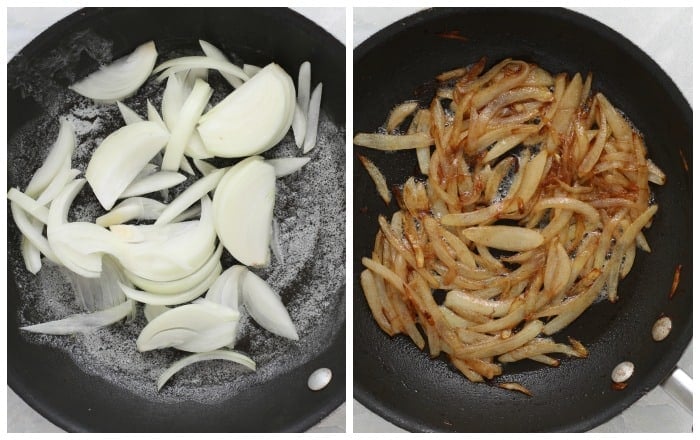 Making Quiche Ahead of Time
To make quiche ahead of time, bake it as instructed and let it completely cool. Store it in the refrigerator for up to three days.
To reheat, cover it with foil and bake at 325 degrees for about 15 minutes, until just heated through.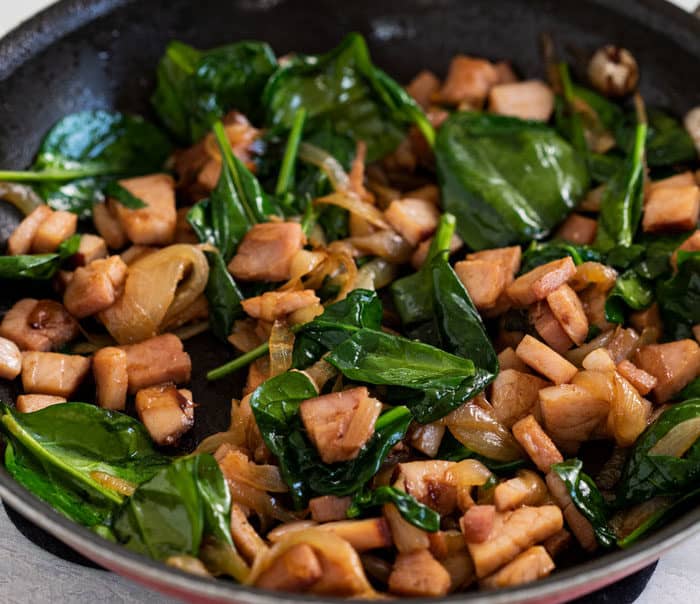 Blind Baking Pie Crust For Quiche
What Does it Mean to Blind Bake Pie Crust?
Blind Baking a Pie Crust is when you bake it ahead of time before you add the filling to it and bake it some more.
The point behind blind baking it is to obtain super crispy, firm crust, especially when adding a liquid filling to it.
Should you decide to blind bake the crust first, check out these instructions on how to do it.
Do you have to Blind Bake Pie Crust for Quiche?
I debated whether or not I wanted to blind bake my crust but ultimately decided that I wanted to keep this recipe quick and easy.
I was definitely happy that I skipped this step as my crust was firm and crisp without it. I used Wewalka pie crust and was very happy with the results. (Not paid to say that.)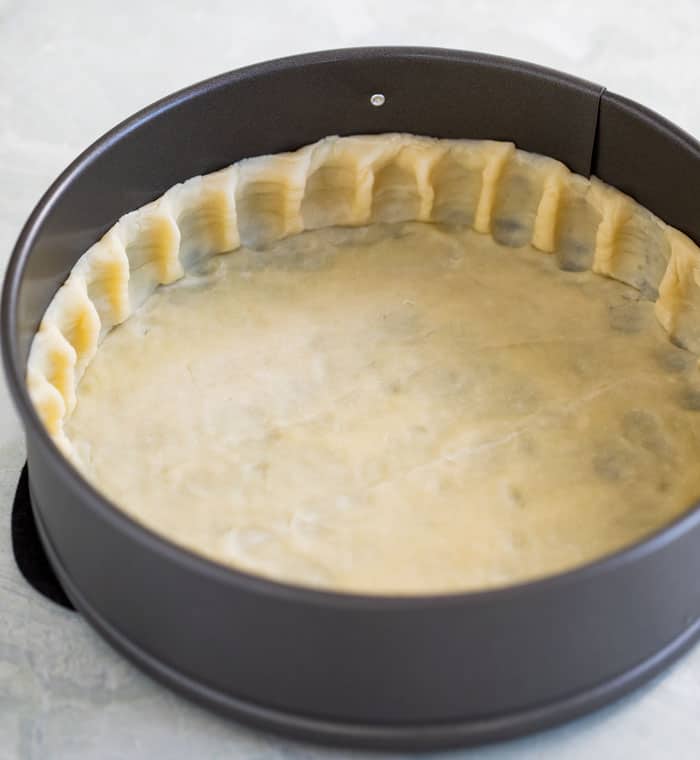 Using a Springform Pan
I decided to use a 9 inch springform pan so that I could unstrap the pan after the quiche cooled and remove the entire thing without risk of breaking it.
You can also use a regular 9 inch pie pan, or you can check out these alternatives to a springform pan.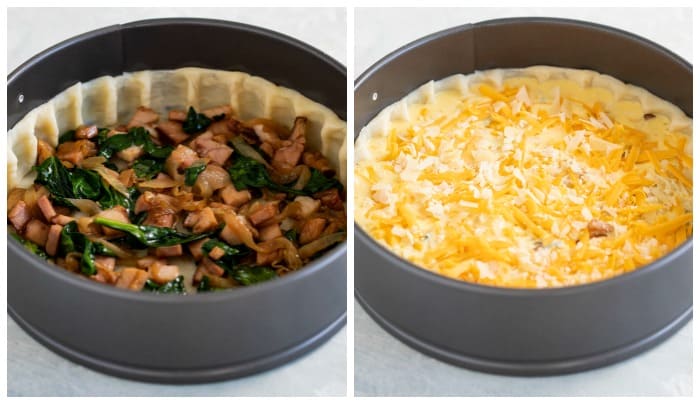 How to Make Crustless Quiche
To make a crustless quiche, simply follow all directions as-is, and ignore the crust references. Nothing else needs to be changed.
A springform pan or pie pan may also be used for crustless quiche.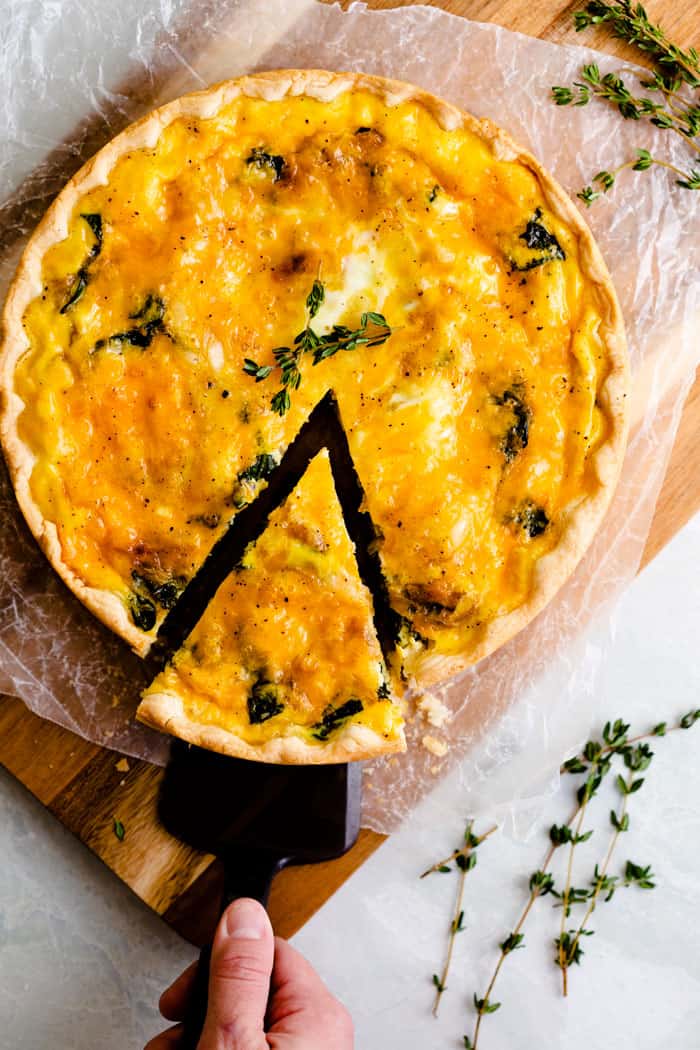 Storing Leftovers
Leftovers should be stored in the refrigerator and are best if eaten within 3-4 days.
Quiche can be frozen for up to 3-4 months.
Reheating Frozen Quiche
Let frozen quiche defrost in the fridge overnight if possible, then bake it, covered, at 325 degrees for 15 minutes or until warmed through.
You may also reheat quiche from a frozen state. Cover it all with foil and bake it at 350 degrees for 30-35 minutes.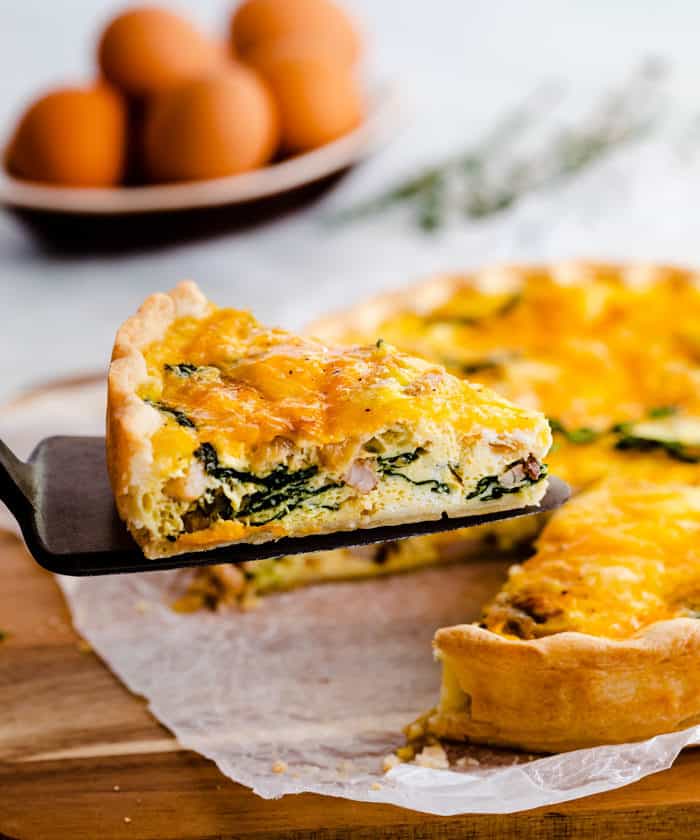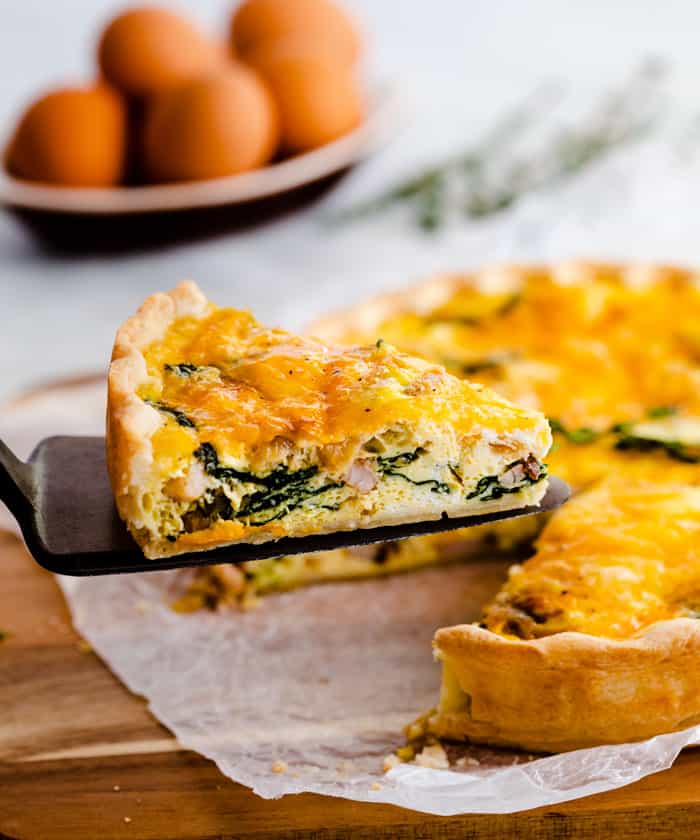 Try These Next!
Get my Free Meal Plan
I've got a Free Meal Plan with 7 of my super popular recipes (complete with grocery list)! Sign up for my email list and I'll send it over now along with weekly dinner recipes!
And follow me on Facebook, Instagram, and Pinterest!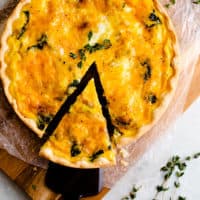 Ham and Cheese Quiche
This simple Ham and Cheese Quiche can be made ahead of time and is totally freezer friendly! A hint of caramelized onions and two kinds of cheese makes this an unbeatable flavor combination!
Ingredients
1 frozen or refrigerated pie crust, skip if going crustless
1 small onion
2 Tablespoons butter
1 cup ham, diced
1 cup fresh spinach
7 eggs
¾ cup half and half
1 cup cheddar cheese
½ cup Parmesan cheese
Garnish Options
Chopped Bacon, Green Onions, and/or Parsley
Instructions
Preheat oven to 375 degrees.

Check the instructions of your pie crust, frozen pie crust usually needs to sit out before being unrolled. If so, take it out of the freezer and let it sit as you prepare the next steps.

Slice the onion into ½ inch strings, not too thin as they will reduce as they cook.

Melt the (2 TBS) of butter in a medium skillet over medium-low heat and add the onions.

Cook for about 20 minutes, until they begin to turn brown and caramelize. Stir frequently as they cook.

Add the diced ham and cook for an additional 7 minutes to allow the flavors to combine.

Toss in the spinach and cook until the spinach begins to wilt, about 2 minutes. Remove from heat.

Crack the eggs into a medium bowl. Add the half and half and whisk vigorously for two minutes.

Spread the pie crust into a lightly greased 9-inch pie pan or

Springform Pan

. (I used a springform pan so that I could remove the entire quiche without harming it.)

Spread the ham/onions/spinach filling over the bottom of the crust. Top with half of the cheeses.

Pour the egg mixture on top. Leave a little bit of extra room as the eggs rise as they bake and you don't want the filling to overflow.

Top with remaining cheese.

Bake for 35-40 minutes, until the top begins to brown and the middle is set. (Mine took 35 minutes so check it at that time.)

Let it cool for 5-10 minutes prior to serving.

Garnish with bacon, green onions, and/or parsley and serve!
Notes
Milk can be used instead of half and half if absolutely necessary. I find that it dilutes the flavor of the eggs slightly while half and half makes the mixture creamier.
Nutrition
Calories: 449kcal, Carbohydrates: 17g, Protein: 22g, Fat: 31g, Saturated Fat: 15g, Cholesterol: 252mg, Sodium: 766mg, Potassium: 285mg, Fiber: 1g, Sugar: 1g, Vitamin A: 1225IU, Vitamin C: 3.1mg, Calcium: 310mg, Iron: 2.2mg