This Chicken Scallopini recipe has golden chicken cutlets that are smothered in a tomato-based wine reduction sauce and served with spaghetti. It may sound fancy, but this budget-friendly recipe has the simplest ingredients that are probably right in your pantry!
Don't forget a side of Garlic Bread with Cheese!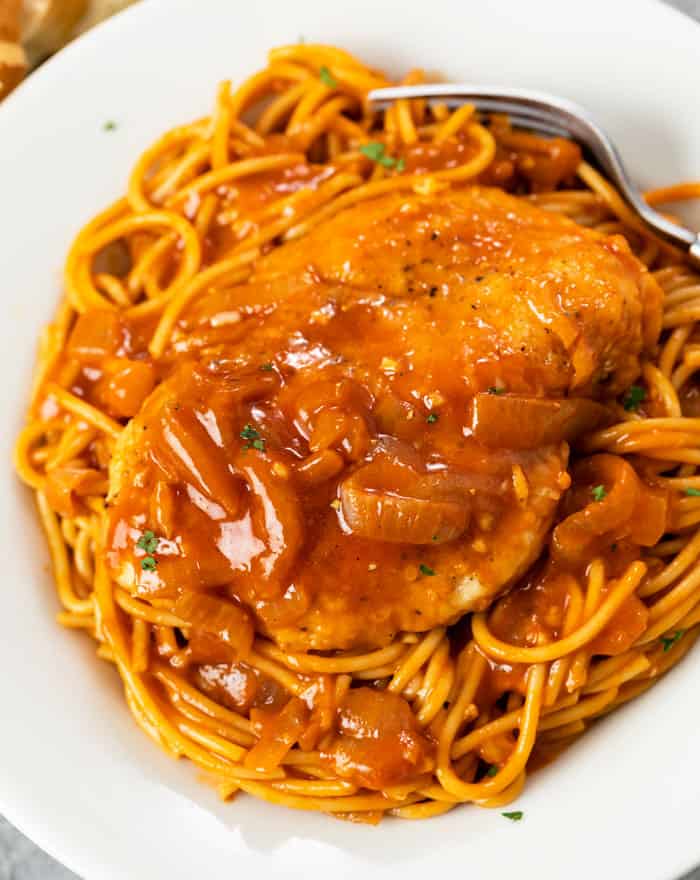 You're going to be shocked to find how much this recipe tastes like it's straight from a fancy restaurant. And I can tell you the reason for that.
This recipe is from a fancy restaurant.
My Mother in Law was able to get her hands on this recipe from a restaurant in New York. (Which is very surprising when you look at the ingredients, they're extremely simple.)
When you make this for the first time, you're going to probably question how it's going to turn out. It's just such a unique and interesting combination of simple ingredients but they come together in the best way. You'll see.
What is Chicken Scallopini?
"Scaloppine" refers to thin cutlets of meat (typically chicken, pork, or veal), that's dredged in flour, fried, and smothered in a wine reduction sauce.
The most common scallopini recipes online have a lemon reduction sauce, similar to chicken piccata. This recipe is a tomato-based sauce with a white wine reduction.
It might sound fancy, but the ingredients and steps in this recipe are very straightforward, you got this.
How to Make it
See recipe card at the bottom of this post for quantities and full instructions
Butterfly the chicken and cut the seam to create 2 thinner pieces of equal size.
Season with salt and pepper. Coat generously in flour. Cook in vegetable oil until each side is crisp and golden brown.
Remove the chicken and leave 1 tablespoon of oil in the pan. Add 1 tablespoon of butter and the onion strings. Cook until softened, add the garlic and cook for 1 more minute. Add the wine and cook for another 5 minutes.
Combine the gravy mix and 1 cup of cold water. Add to the pan. Bring to a boil, reduce to a simmer. Add the tomato sauce.
Cover partially and cook for 20 minutes. Meanwhile, boil the pasta. Drain and add it to the sauce.
Use kitchen tongs to toss and coat the pasta in the sauce.
Add the chicken back and spoon the sauce over it. Cover for 5 minutes to warm the chicken.
Serve!
How to Cut Chicken for Scallopini
The key to a great chicken cutlet is getting nice thin slices of chicken.
I like to butterfly the chicken breast and cut the seam to create two thinner slices of equal size. From there, you can also pound the chicken to make it even thinner.
PRO TIP: Flash freeze the chicken for 20 minutes, this firms them up and makes them much easier to slice evenly.
Try These Next!
Get My Free Meal Plan
I've got a Free Meal Plan with 7 of my super popular recipes (complete with grocery list)! Sign up for my email list and I'll send it over now along with weekly dinner recipes!
And follow me on Facebook, Instagram, and Pinterest!
Tried This Recipe?
Leave a review, I love hearing your feedback! ⭐⭐⭐⭐⭐
Chicken Scallopini
This Chicken Scallopini has crispy chicken cutlets smothered in a tomato wine reduction sauce with spaghetti. It may sound fancy, but this recipe is made with simple staple ingredients and is very budget friendly!
Ingredients
1 packet Brown Gravy Mix + 1 cup cold water, or make my easy homemade brown gravy!
2 boneless skinless chicken breasts
salt/pepper to taste
½ cup flour
¼ cup vegetable oil
1 Tablespoon salted butter
3/4 yellow onion, sliced into thin strings
1 Tablespoon garlic,, minced
1 cup dry white wine, (you can substitute chicken broth)
8 oz. Hunts tomato sauce
3/4 lb. thin spaghetti
Instructions
Butterfly the chicken breasts and cut the seam to create two thinner pieces of equal size.

Season each side with salt and pepper. Dredge generously in the flour right before frying.

Heat the vegetable oil in a skillet over medium-high heat. Fry the chicken until golden brown on each side, the chicken will release from the pan when it's done searing. Fry in batches if necessary and add more oil as needed.

Set the chicken aside and reduce heat to medium. Leave 1 tablespoon of oil in the pan and add 1 tablespoon butter.

Add the onion strings, and cook over medium heat until very soft.

Add the garlic and cook for 1 more minute.

Add the wine and cook for another 5 minutes.

Mix the gravy with one cup of cold water an add it to the skillet. Bring to a boil, then reduce to a simmer. Add the tomato sauce.

Simmer over medium-low for about 15 minutes, partially covered. It will thicken as it continues to simmer.

Meanwhile, boil pasta according to package instructions. Drain well. Add to the sauce, use kitchen tongs to mix until well incorporated. Add the chicken and cover for 5 minutes. Serve and enjoy!
Nutrition
Calories: 560kcal, Carbohydrates: 83g, Protein: 26g, Fat: 9g, Saturated Fat: 5g, Cholesterol: 44mg, Sodium: 399mg, Potassium: 676mg, Fiber: 4g, Sugar: 6g, Vitamin A: 350IU, Vitamin C: 7mg, Calcium: 42mg, Iron: 3mg