This One Pot Tuscan Chicken Pasta is so easy to make and has a delicious garlic cream sauce that your family will love!
Serve this recipe with a side of my Cheesy Homemade Garlic Bread!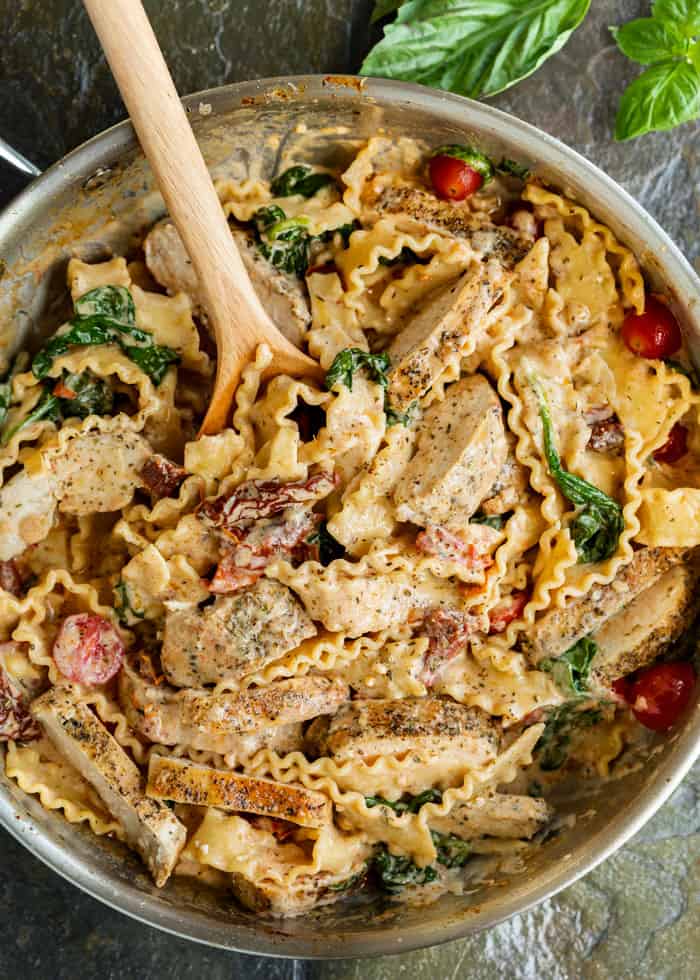 Tuscan Chicken Pasta
I've been on a major pasta kick this week, and I don't like to play favorites with my recipes, but this one definitely a keeper. (And the whole one-pot factor is a major bonus.)
So… lets talk about the ingredients. 🤤
Ingredients

Parmesan Cheese– High quality, finely grated yourself at home
Flour- Optional.
Olive Oil
Boneless Chicken Breasts- I use 2-3 for this recipe, which makes 4 servings.
Italian Seasoning- Use this generously.
Salt/Pepper
Butter- The higher quality, the better. (You can even make your own!)
Garlic– Mince it yourself for ultimate flavor
Sun-Dried Tomatoes- Found in the canned produce aisle at the store. It can also be in the produce section.
Chicken Broth– Homemade is always best!
Heavy Cream– You can also use half and half. I don't recommend milk as that easily curdle.
Pasta of Choice- I used mafaldine. Tortellini, Ravioli, Linguine, and Penne work well too!
Fresh Spinach
Cherry Tomatoes– Optional, I like the pop of color that they add.
Perfectly Seared Chicken
✔️Cast iron skillets conduct heat very well and are perfect to use when searing meat.
✔️Medium-high heat works well for searing.
✔️It's important to refrain from moving the meat around as it cooks. Allowing the meat to stay in the same place in the skillet ensures that the sear isn't disrupted. You'll notice that the chicken starts to release from the surface when it's ready. If it's sticking a lot to the pan, it's not done searing.
✔️Don't be afraid to season that meat and really get some flavor on there! Some of it will flavor the pan itself which will work it's way into the sauce that you'll cook in the same pan.
How to Make Perfect Tuscan Cream Sauce
Purchase a block of high-quality Parmesan cheese. Always shred the cheese yourself, it will taste and melt much better.
Let the cheese come to room temperature before adding it to the warm (not hot!) base.
Sprinkle flour over the cheese. This helps to thicken the water that separates from the cheese once it begins to heat up.
Add the cheese gradually as opposed to all at once.
Tips For This Recipe
I don't recommend using milk for this Tuscan Chicken Pasta, it's much more likely to curdle. (It's happened to me too many times.) Heavy cream is best, half and half will work too, just don't let the sauce come to a boil if you use half and half.
You can always boil the pasta separately and add it to the sauce after if you prefer.
Several different pasta options work well for this recipe, including ravioli, tortellini, linguine or penne.
Storage
Leftovers can be stored in an airtight container in the refrigerator and is best if used with 3 days. Cream-based sauces are best if eaten fresh but you can still microwave leftovers.
This recipe doesn't freeze too well as the dairy in the cream sauce separates and changes the consistency when reheated. (But if needed, I still freeze it anyway.)
Try These Next!
Get My Free Meal Plan
I've got a Free Meal Plan with 7 of my super popular recipes (complete with grocery list)! Sign up for my email list and I'll send it over now along with weekly dinner recipes!
And follow me on Facebook, Instagram, and Pinterest!
Did You Make This Recipe?
I would love for you to leave a rating and a comment below! How'd you do?! ⭐⭐⭐⭐⭐
One Pot Tuscan Chicken Pasta
This SUPER creamy Tuscan Chicken Pasta will quickly become your family's favorite dinner recipe! It's made in just one pot with fresh garlic, spinach, sun-dried tomatoes, seasoned chicken, and extra creamy pasta!
Ingredients
½ cup Parmesan Cheese, finely grated
1 Tablespoon flour, (optional)
2 Tablespoons olive oil
1 ½ lbs. boneless skinless chicken breasts
2 Tablespoons Italian seasoning
Salt/Pepper, to taste
1 Tablespoon Butter
3 cloves garlic, minced
1/3 cup sun-dried tomatoes, sliced into strips
1 cup chicken broth
1 cup heavy cream, can sub half and half
½ lb. pasta of choice, I used mafaldine
2 cups fresh spinach
1 cup cherry tomatoes, halved (optional)
Instructions
Grate the Parmesan cheese very finely and set it aside, allowing it to come to room temperature. Toss it with 1 Tablespoon of flour if desired for a creamier consistency when melted.

Season both sides of the chicken generously with Italian seasoning, salt, and pepper.

Heat the olive oil over medium-high heat in a large pan.

Sear the chicken in the hot skillet on each side. Refrain from moving the chicken around as it sizzles, it will hinder the nice golden sear color. If the pan gets too hot, reduce the heat to medium. Each side will take 3-5 minutes. Once each side is a nice, golden brown and the middle is cooked, set the chicken aside.

Set the heat to medium and melt the butter. Add the garlic and sun-dried tomatoes. Cook for 1-2 minutes.

Add the chicken broth and heavy cream. Increase heat to bring the sauce to a light bubble, then decrease to medium-low, whisking as you do so.

Gradually whisk in the Parmesan cheese until well-combined.

Add the pasta and heat until cooked through, (refer to package instructions for timing). It may take longer as the sauce isn't boiling. You may cover the pot as the pasta cooks, stirring occasionally.

Once the pasta is al dente, add the spinach and cherry tomatoes, stir to combine. The spinach will wilt quickly.

Cut the chicken into strips and top the pasta with it. Serve, and enjoy!
Nutrition
Calories: 721kcal, Carbohydrates: 55g, Protein: 52g, Fat: 33g, Saturated Fat: 18g, Cholesterol: 203mg, Sodium: 691mg, Potassium: 1378mg, Fiber: 5g, Sugar: 6g, Vitamin A: 2778IU, Vitamin C: 24mg, Calcium: 284mg, Iron: 4mg