Christmas Cookie Dip
Ahhh… Christmas Cookie Dip. I love recipes that you literally cannot screw up. Because with everything going on during the holidays, I don't have time for "Pinterest Fails". Like instead of getting a colorful arrangement of the most perfect cookies known to man, you end up with a pile of lumpy goo on a baking sheet. Nah. No time for that. Not this month.
So instead, I like to throw a bunch of stuff into a bowl, mix it, and call it a day. You can even buy the cookies. I give you permission. (Although these classic shortbread cookies only need four ingredients and are perfect with this dip.) Sugar cookies are great too. But anyway.
Slight segway here, but, can I just say, thank God for Amazon Prime? How did anyone ever Christmas Shop before it?! How did anyone ever do anything before it?! I don't think I'd even remember to buy shampoo if I couldn't just hit a button and have it delivered in 2 days. (Which I just did by the way because I'm using an old travel-sized one until it gets here.) Mom brains and Amazon Prime go together like cookies and Christmas Dip 😉
Welp, I hope your holiday planning is going well, and I hope this Christmas Cookie dip saves your life in a pinch. If you decide to further explore your holiday dessert options, I have to recommend my no-bake Oreo truffles. They're insanely easy, and they literally melt in your mouth.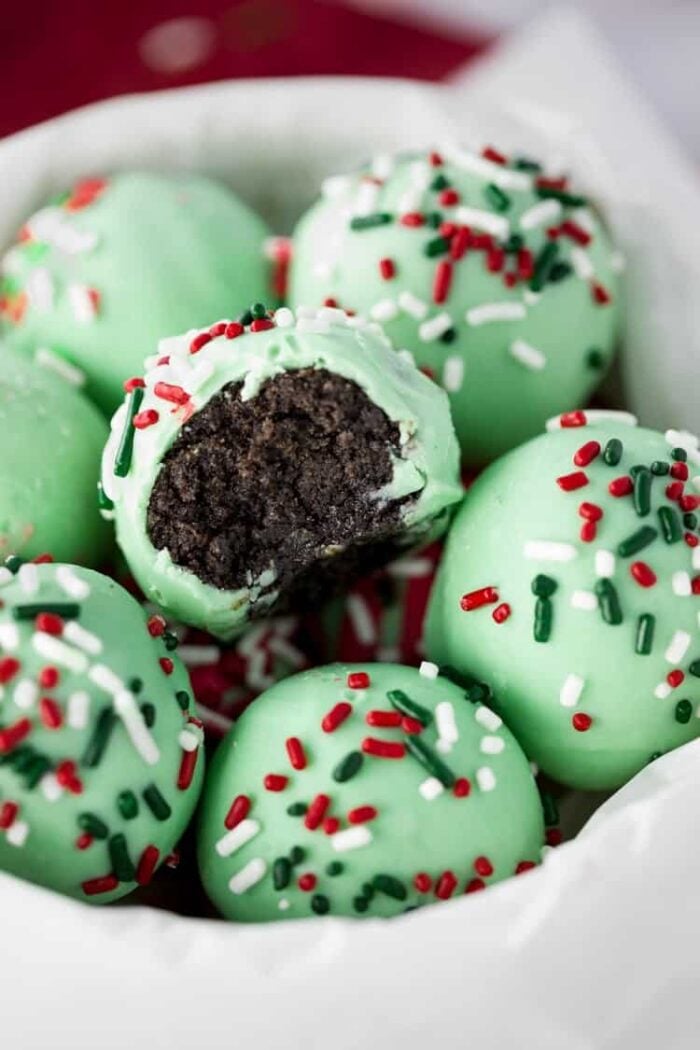 Check out my other recipes!
Christmas Cookie Dip
This white and Fluffy Christmas Cookie Dip is topped with sprinkles and served with your favorite cookies, fruit, or pretzels. A sweet and simple snack that's perfect for the holidays!
Ingredients:
½ cup Greek vanilla yogurt
3 oz. cream cheese, softened
3 Tablespoons butter, softened
1 teaspoon vanilla
¼ – ½ powdered sugar
¼ cup flour
1/3 cup red and green sprinkles
Shortbread Cookies, for dipping (fruit and pretzels are also great!)
Directions:
In a large bowl, use an electric mixer to beat the yogurt, cream cheese, and butter until light and fluffy. (About 5 minutes)
Add the vanilla, ¼ cup of the powdered sugar, and flour. Beat until well-combined.
(Best Part): Take a taste. If you want sweeter dip, add 1/8 – ¼ cup more powdered sugar.
Serve with cookies, fruit, and/or pretzels and enjoy!
*This post may contain affiliate links