Turkey Shepherd's Pie is an easy and delicious way to use up leftover Turkey! Toss in any variety of frozen vegetables for a complete family dinner.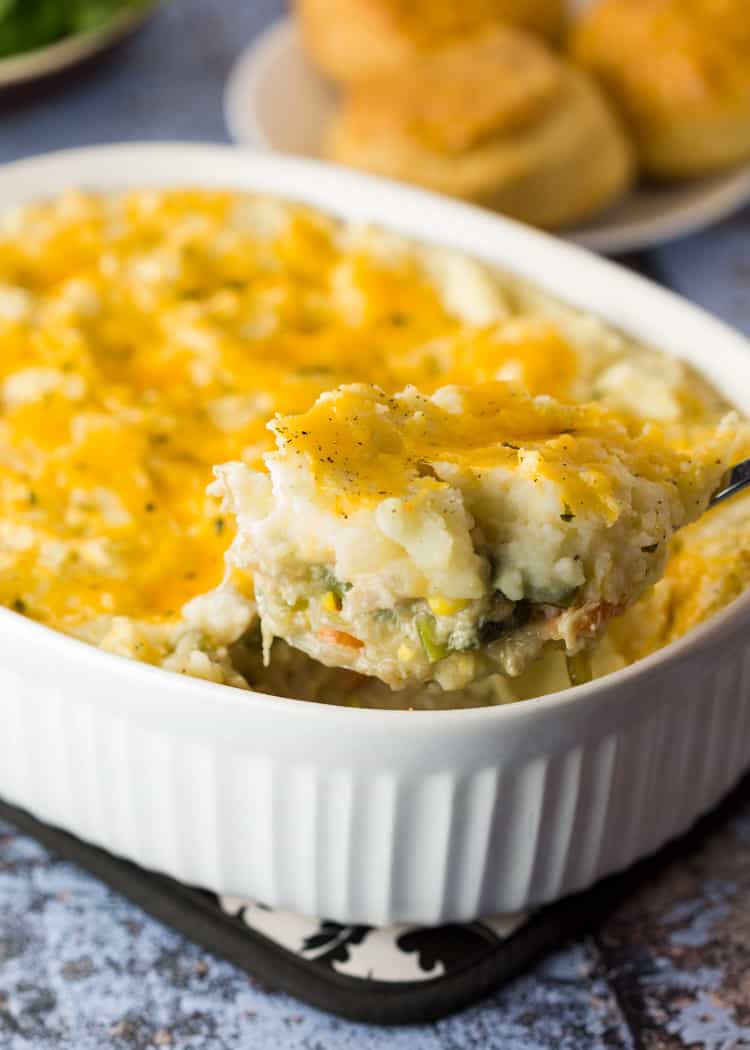 What kind of person thinks about what they'll make with their Thanksgiving leftovers, before they even have any Thanksgiving leftovers? This freak of nature over here, that's who (*points at head*). What I love about this Turkey Shepherd's Pie is that it really doesn't require anything more than dumping what you already have into a casserole dish and baking it. And let's face it, after Thanksgiving, no one feels like doing much more than that.
The only thing I actually do plan on doing once the Turkey is done, is watching movies. Lots and lots of movies. We've got a pretty good list going on our fridge right now. Elf, Home Alone, National Lampoon's Christmas Vacation, Bad Santa, (my husbands's choice)….The Sound of Music, (my choice). The only question that remains is will my one-and-a half year old actually let us lay around watch movies all day? (No, the answer to that is no). But we are fully kidding ourselves into thinking that she will and so, the movie list remains.
What are your Thanksgiving plans?
Family? Seeing lots and lots of family? Playing some Turkey Day Football? Watching some Turkey Day Football?
By the way, if your morning involves travel, definitely prepare some make-ahead freezer breakfast sandwiches to take with you. You're going to need your energy.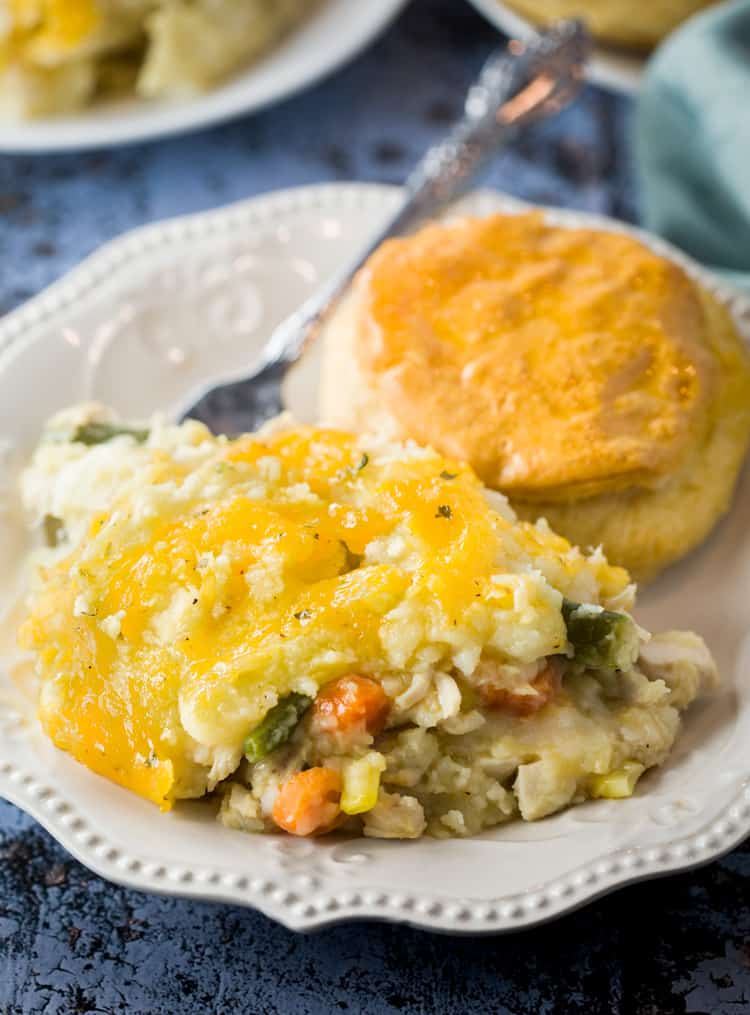 Want more leftover turkey ideas?
Pssst! You should probably join my free recipe email list! You'll get a weekly email with my brand new recipes. And follow me on Facebook, Instagram, and Pinterest. (Don't make this be our last goodbye!)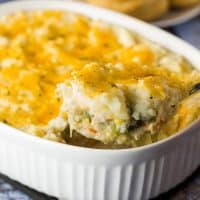 Turkey Shepherd's Pie
Juicy turkey tossed with a medley of vegetables and gravy. All topped with cheesy mashed potatoes and baked to golden perfection.
Ingredients
2 tablespoons butter
¾ cup onions, diced
1/3 cup celery, diced
1/3 cup carrots, diced
1 clove garlic, minced (about 1-1.5 teaspoons jarred minced garlic)
2 ½ cups diced turkey meat, leftover from Thanksgiving, or from a rotisserie
¼ cup green beans, can sub peas
1/3 cup corn
Salt and pepper, to taste
½ teaspoon dried thyme
2 cups mashed potatoes, about 4 medium potatoes needed for this
1 cup grated cheddar cheese
Instructions
Preheat the oven to 350 degrees.

Melt the butter in a large skillet over medium heat.

Add the onions, celery, and carrots. Cook uncovered, until the onions are soft and translucent. About 5 minutes.

Add the minced garlic and cook for an additional minute.

Add the turkey, corn, and green beans (or peas) in addition to the salt, pepper, and thyme.

Gently stir in the gravy: If preparing a packet of gravy, cook that separately according to package instructions. Once thickened, add it to the skillet.

Once the mixture is heated through, pour it into a one-quart casserole dish, spreading it into one even layer.

If using leftover mashed potatoes, heat them a bit to make it easy to stir and spread. Add half of the cheese to the potatoes and stir to combine.

Spread the potatoes in an even layer over turkey mixture and top with the remaining cheese.

Cover and bake for 30 minutes. Serve warm, and enjoy!
Nutrition
Calories: 416kcal, Carbohydrates: 35g, Protein: 25g, Fat: 19g, Saturated Fat: 11g, Cholesterol: 94mg, Sodium: 612mg, Potassium: 638mg, Fiber: 3g, Sugar: 4g, Vitamin A: 2395IU, Vitamin C: 29.2mg, Calcium: 235mg, Iron: 1.4mg