Turkey Ramen Noodle Soup
Alright. I know. It's November 22nd, Thanksgiving is tomorrow, and you're probably sick of turkey before you've even eaten it. BUT, let me just say this. This turkey is drizzled with soy sauce and tossed in sesame oil for an Asian twist that will make you forget that you're even eating Turkey. (And by the way, if you're not eating turkey, a rotisserie chicken is absolutely perfect for this meal.) And either option is perfect for making your own stock, which makes this soup that much more comforting.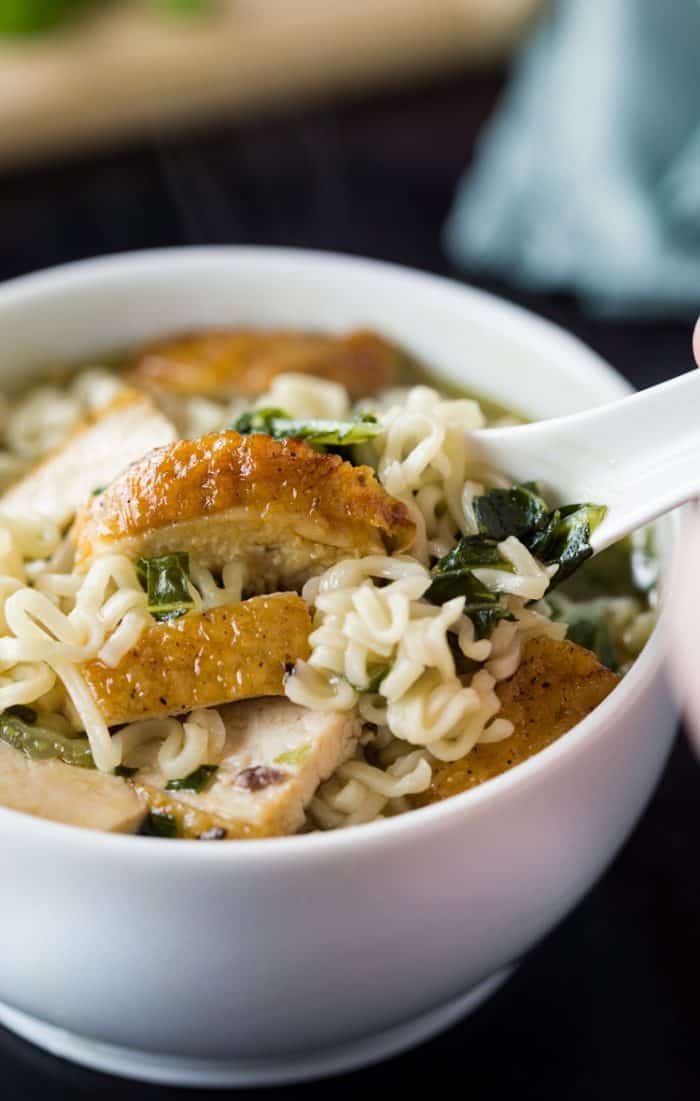 I was excited to share this meal idea with my husband as I was making it, but I could tell he had his doubts. He doesn't admit that he's a picky eater but man, he's a picky eater. Anyway he devoured this soup. Like, tip-the-bowl-and-pour-every-last-drop-in-your-mouth kind of devour. Like, we have no leftovers kind of devour.
(I think I prefer the picky eater in him.) 
Check out my other recipes!
Turkey Ramen Noodle Soup
Juicy turkey is heated in sesame oil with a splash of soy sauce, then immersed in a savory turkey stock with Bok Choy and classic Ramen Noodles.
Ingredients:
2 Tablespoons sesame oil
2 Tablespoons soy sauce
2 cups diced turkey
4 cups turkey stock (preferably homemade)
1 (3 oz.) packet ramen noodles (toss the flavor packet)
1 heaping cup Bok Choy, Chiffonade
¼ cup diced scallions for topping, optional
Directions:
In a large soup pot, heat the sesame oil over medium heat.
Drizzle one tablespoons of soy sauce over the turkey and toss to coat. Add the turkey to the sesame oil and heat for about 5 minutes, stirring occasionally.
Pour in the turkey stock and add remaining tablespoon of soy sauce.
Bring the soup to a boil and add the Ramen Noodles and Bok Choy. Boil the ramen for the amount of time indicated on the package, then remove from the heat right away.
Ladle into soup bowls, top with diced scallions, and enjoy!
*This post may contain affiliate links