Easy Easter Egg Fudge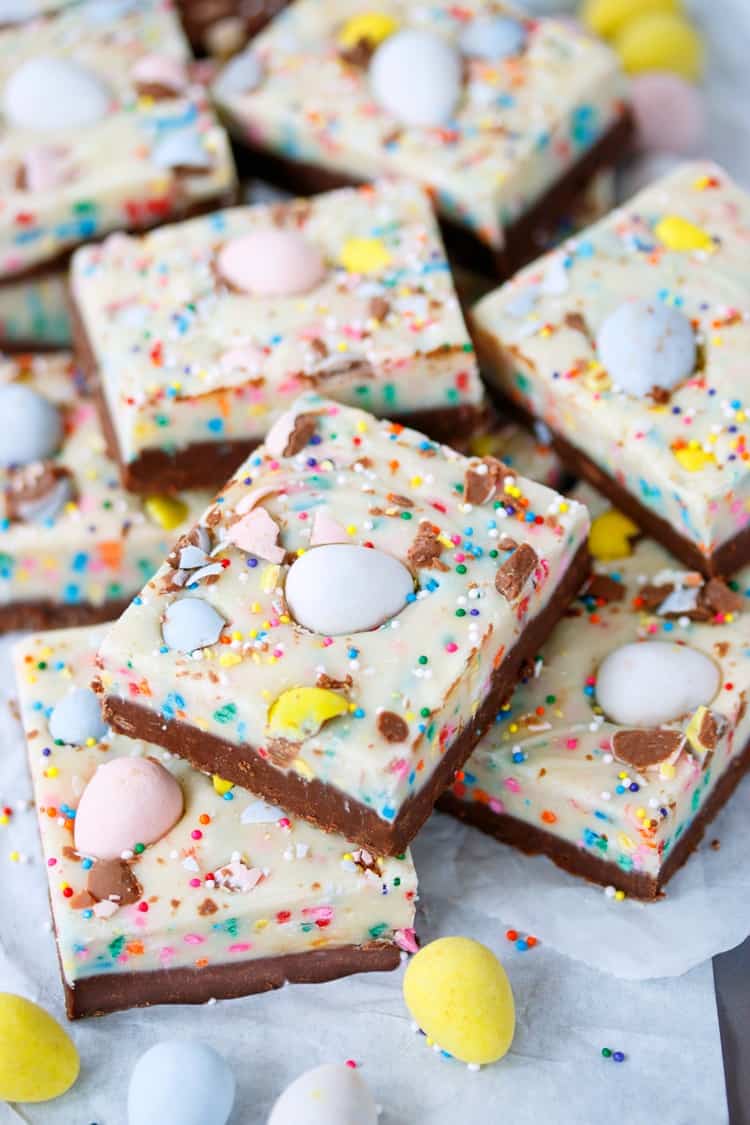 Heyyyyy, look at me! I'm actually posting a holiday recipe before the holiday gets here! I'm rarely organized enough to do that, which is mostly to blame on the mom-brain that I've developed over the past 11 months. Man, I couldn't tell you what I had for breakfast this morning but I sure as heck can tell you how many pairs of PJ's my daughter has left before I need to do a load of laundry. (That would be three pairs, by the way.)
Anyway, what are we doing? Oh…. FUDGE!! Fudge-fudge-fudge. And not just any fudge, but Easter Egg Fudge! WOO! I thought of this little creation at 3:30am the other morning when I was busy not-sleeping and instead feeling myself slowly succumbing to one of my daughter's colds. You can cram a lot of random thoughts in during those early morning hours, and thanks to it, I am all stocked up on Easter Egg Fudge, wahooo!! It's a fair tradeoff I'd say.
I was able to make this fudge, start to finish during a brief naptime session, which was extra awesome, as it's hard to find the time for lengthy recipes these days. (Or recipes period. I know you hear me out there!) So if you have an Easter gathering to attend and need to bring something in a pinch, this could be just the thing!
I hope everyone has a HAPPY, healthy Easter holiday. And don't forget to make my mom's (best ever) pea soup with your leftover ham! (Seriously. It IS the best ever.)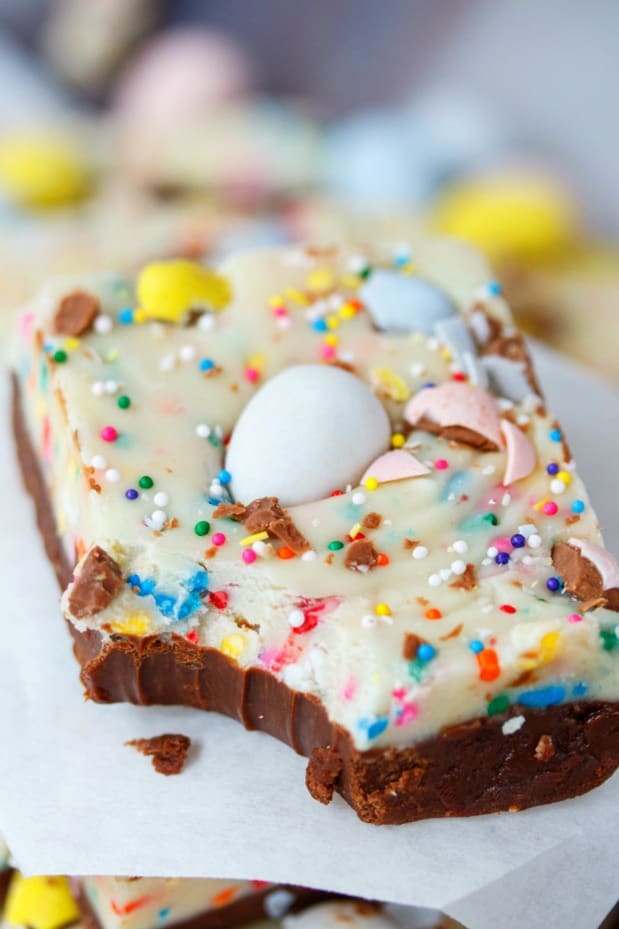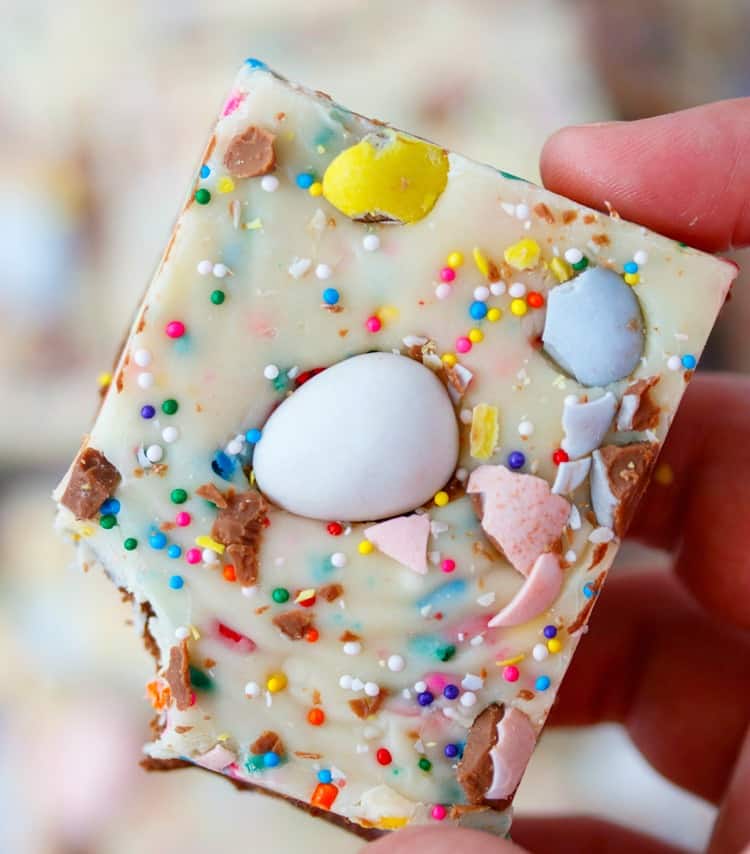 Easy Easter Fudge
Ingredients
Chocolate Fudge Layer
1+1/2 cups semi-sweet chocolate chips
*HALF* of a (14 oz.) can of full-fat sweetened condensed milk
2 Tablespoons Marshmallow Creme (Fluff)
White Fudge Layer
1+1/2 cups white chocolate chips
*HALF* of a (14 oz.) can of full-fat sweetened condensed milk
2 Tablespoons Marshmallow Creme (Fluff)
1 teaspoon vanilla extract
⅓ cup sprinkles, plus an additional Tablespoon
1 cup Cadybury mini eggs
Instructions
Line an 8x8 inch baking pan with foil, leaving enough to hang over the edges so that you can easily lift it out once it's set.
Take at least 9 mini eggs and set them aside to remain whole. The rest can be chopped into a variety of sizes to decorate the top of the fudge. Set aside.
Mix all of the chocolate fudge over together in a medium saucepan over medium heat. Stir continuously until melted and smooth. Pour into the baking pan and use a rubber spatula to spread it out evenly.
In another saucepan, mix the chocolate chips, condensed milk and Fluff over medium heat until melted and smooth. Remove from heat and stir in the Vanilla until completely combined.
Gently and slowly fold in the ⅓ cup of sprinkles. Don't over-mix or the colors will bleed. Pour it over the chocolate layer and spread until smooth.
Sprinkle the remaining Tablespoon of sprinkles over the top of the fudge. Take the whole Cadbury mini eggs and place them in 3 rows of 3 on the top of the fudge, then sprinkle the remaining chopped eggs on top.
Cover with foil and place in the fridge for 4 hours to set, or at room temperature overnight to set.
Once set, lift the fudge out of the baking pan by holding onto the excess foil. Flip it gently onto a cutting board, remove the foil from the bottom of the fudge, then flip it back around onto the cutting board.
Use a sharp knife to slice the fudge into one-inch squares. If the fudge has been in the fridge for more than 4 hours, you may need to let it sit at room temperature for 20 minutes until you can slice it.
Notes

Make sure you only use sprinkles (aka jimmies), to fold into the fudge. If you use the little ball sprinkles, (nonpareils), they colors will bleed. You can use the ball sprinkles for the top though.


Recipe Adapted from: Sally's Candy Addiction

*This post may contain affiliate links