Sausage and Cheese Wontons
Crunchy wontons that are filled with savory sausage and a two-cheese combo, then fried to perfection and served with dipping sauce.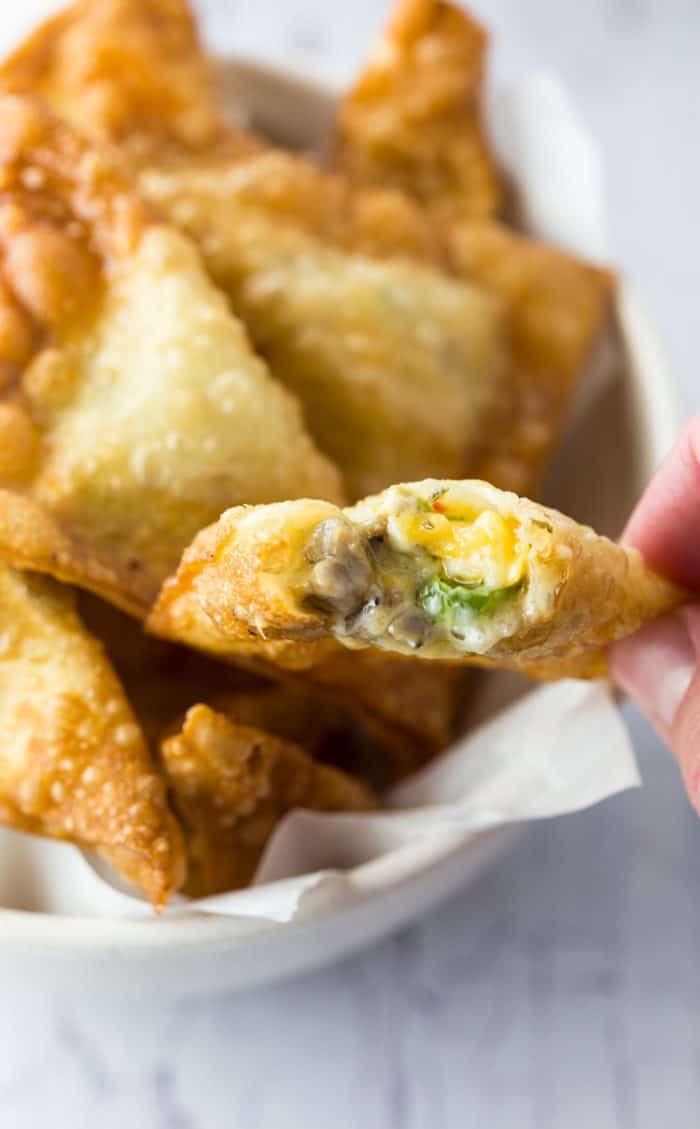 I think I'm going to keep coming up with ways to stuff wontons. Like, for the rest of my life. Fried wontons are pretty much the key to happiness. Especially when they're filled with sausage and cheese. (Not to mention, there's ranch dressing in the mix, which makes the filling so creamy.) You take a bite into that golden-brown, crunchy wonton filled with warm, cheesy-sausage goodness and for a minute, the world is still.
…Do I like food too much?
These reheat really well by the way, and in no time flat. Just pop them into a warm oven for a few minutes and bingo, you're good. The oven only needs to be a low warm temperature, too high and the wontons will burn. And burnt wontons make me cry.
I decided to make these with sweet sausage but you can be devilish and try hot Italian sausage, as long as everyone is okay with a little kick. And if you want even more kick, throw some jalapeno peppers in the mix instead of bell peppers, wa-bam.
Oh, and I seriously recommend sweet and sour sauce for dipping, the sweetness is a perfect offset to the savory sausage and cheese. Good Lord, I'm starving now.
So, how else can you fill a wonton?
….Why, with sweet cream cheese, jalapeno popper dip, or good old fashion Crab Rangoon!
Check out my other recipes!

Sausage and Cheese Wontons
Crunchy wontons that are filled with savory sausage and a two-cheese combo, then fried to perfection and served with dipping sauce.
Ingredients
½ lb. sausage cooked and crumbled (sweet or hot Italian- either works!)
1 teaspoon salt
¼ cup chopped green pepper
¾ cup shredded cheddar cheese shredded
¾ cup shredded cheddar jack cheese
½ cup Ranch Dressing
1 large egg beaten*
12 oz. wonton wrappers
Instructions
In a large pan over medium heat, add the sausage, salt, and green pepper. Cook and crumble until browned and cooked through. Drain any excess grease.

Decrease the heat to low and mix in the cheeses and ranch dressing until well combined. Remove from heat.

Remove about 5 wontons at a time and cover the rest of the package with a dish towel to keep them moist.

Use a 1/2 teaspoon scoop and drop the sausage mixture into the middle of each one. Don't place any more than 1/2 teaspoon as the wonton won't be able to seal around it.

Fold each wonton diagonally in half to form a triangle. Dip your fingers into the beaten egg, which helps act as a glue. Press your fingers around the wonton filling to seal, removing all air from the inside. Repeat until you've run out of sausage filling.
To Fry:
Deep fryers work great with these, however if you don't have one, heat 2-3 inches of vegetable oil in a high walled pan (dutch ovens work well) until it is just under 350 degrees. (I put my electric stove to just under the medium-high mark).

You can use an extra wonton wrapper to test the temperature. Place it in the oil and ensure that it doesn't cook too quickly or burn. Adjust the heat accordingly if needed.

Fry 4-5 wontons at a time, each for about 45 seconds to a minute, (or until golden brown).

They may want to stick to the bottom of the pan at first but if you let them be, they should pop up after they fry for little bit. Once they do, gently flip them so that they fry evenly on the top and the bottom.

Place them on a plate lined with paper towels to cool. (The hard part is resisting the urge to pop one in your mouth before it cools a little!)
To Bake:
Preheat oven to 375 degrees. Spray a baking sheet with nonstick cooking spray and place the sheet in the oven for about 5 minutes. Heating the sheet will ensure that the wontons are nice and crisp on the bottom when they bake, and don't end up too soft.

Remove the baking sheet from the oven and place the wontons on top. Coat the wontons with a light layer of nonstick cooking spray.

The wontons will need to bake for about 10-12 minutes, however it's best to start checking on them around the 5 minute mark. Remove them from the oven when they are crisp and golden brown.
Recipe Notes
Yield 30 wontons. Perfect for 6-8 servings.
Nutrition Information
Calories:
377
, Fat:
23g
, Saturated Fat:
8g
, Cholesterol:
74mg
, Sodium:
1018mg
, Potassium:
152mg
, Carbohydrates:
26g
, Protein:
14g
, Vitamin A:
285%
, Vitamin C:
4.5%
, Calcium:
183%
, Iron:
2.1%
Course: Appetizer
Cuisine: American
Keyword: easy appetizer recipe, easy breakfast recipe, game day recipe