No Bake Strawberry Cheesecake Pops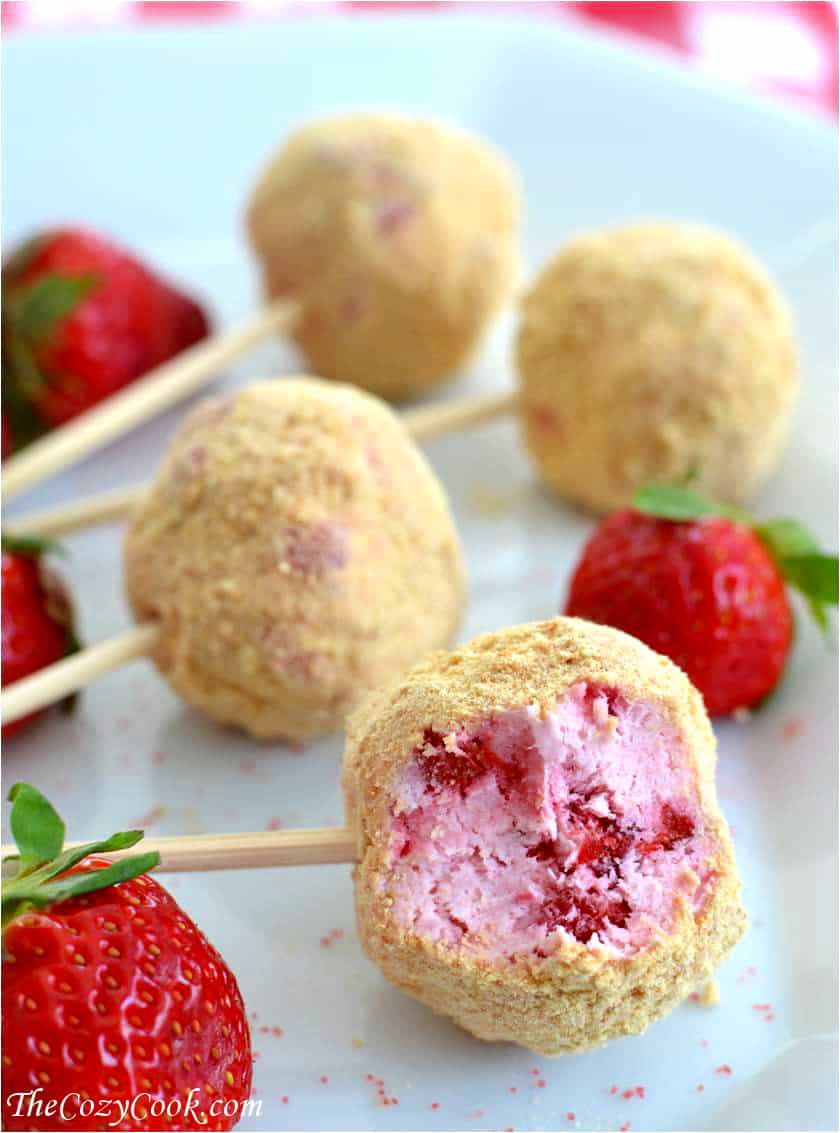 So … it's been about a year since I posted these the first time. I just made them again, (March, 2015) and I can't get over them. Let's review my cheesecake recipe list….
Cheesecake Cupcakes?-Check. Cheesecake Stuffed Strawberries?- Check. Chocolate Chip Cheesecake Brownies?- Check. Butter Pecan Cheesecake Squares?- Check. Cheesecake Sugar Cookies? -Yup.
So, you get the point. Me likes my cheesecake. And one day I decided to try to freeze little balls of it. Because if I don't find a way to properly portion cheesecake… I'm in big trouble. These are my favorite in the summer. Anytime I want a bite of cheesecake, I just skip to the freezer (yup, skip… if it's for cheesecake, I'm skipping.) and there it is. I'm not saying I always stick to one… or two… or three… but at least the option is there, right? That's gotta be worth something.
What's your favorite way to eat Cheesecake?
…Perhaps just in its natural form? Is it weird that I've never actually made just a normal cheesecake?
Well anyhoo. If you don't have strawberries, that's okay. You can still make this- just ditch the strawberries. Although if you ask me, strawberries and cheesecake go just as well as chocolate and peanut butter. MMMM-MM!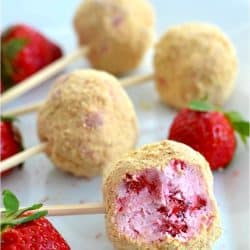 No Bake Cheesecake Pops
These deliciously creamy No-bake Strawberry Cheesecake pops are SO tasty- great for any occasion and freezable until ready to serve.
Ingredients
2 8 oz. packages cream cheese, softened
1/2 cup powdered sugar
1/4 cup granulated sugar plus another tablespoon
1 teaspoon vanilla extract
1/2 cup sour cream
3/4 cup strawberries finely diced
Instructions
Using an electric mixer, mix the cream cheese and sugars together until well blended. (save the extra tablespoon sugar for later)

Add the sour cream and vanilla, mixing further until well blended. (Having the ingredients nearly at room temperature helps them to blend better.)

Sprinkle the diced strawberries with the tablespoon of sugar. Fold into cheesecake mixture. Place in a container to freeze overnight (or 7-8 hours)

Break frozen mixture a bit with a spoon and let sit for about 10 minutes. Take small handfuls and roll into balls (the shape doesn't have to be perfect at all, we can fix these later) Set them aside and place them in the freezer in groups as you go.

Pour graham crack crumbs on a plate. Remove cheesecake balls from freezer (in groups). Perfect the balls a bit, clean your hands, and one by one, cover them generously with graham cracker crumbs. Have your hands full of crumbs as you cover them. As you do so, perfect the shape of the balls and place them in a container to freeze as you finish each one.

When ready to serve, slide a popsicle stick in the middle of each one (I had kabob sticks so I cut those in half and used those!)