This mouth-watering mashed potato casserole is loaded with creamy mashed potatoes and topped with Crispy Chicken Tenders, corn, cheddar cheese, and a drizzle of brown gravy! It's easy to make ahead of time and bake later for a quick family dinner!
Love casserole recipes? Be sure to try my Twice Baked Potato Casserole recipe next!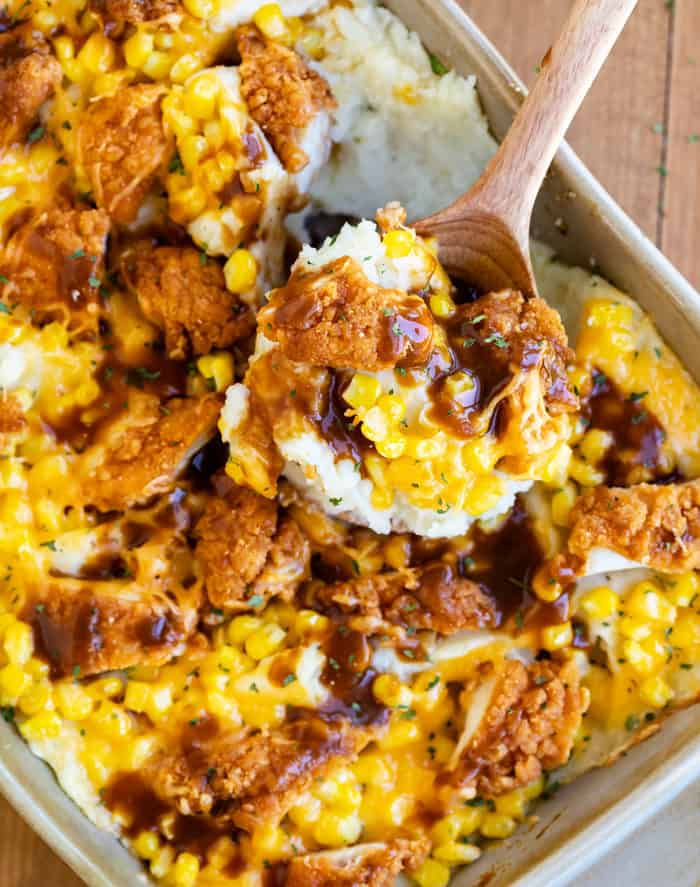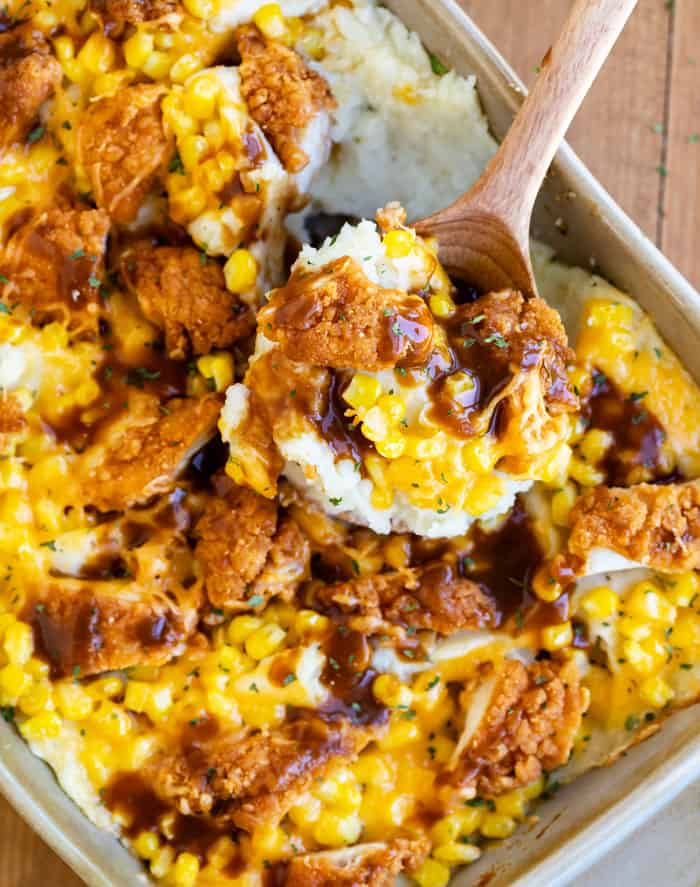 Mashed Potato Casserole
Sunday meal prep has been my jam lately, and I'm so thrilled to be growing my collection of casseroles that are easy to throw together and can made ahead of time.
Not to mention, if you find yourself with some leftover mashed potatoes, then this dinner is a no-brainer.
Ingredients

Mashed Potatoes- My homemade recipe is portioned perfectly for this recipe.
Corn– Frozen or drained from a can
Cheddar Cheese– Shredded from a block at home for best results
Chicken Tenders- It's GREAT with my homemade chicken tenders but you can also use frozen.
Brown Gravy- My homemade brown gravy is SO easy and takes 10 minutes! (But a packet works too.)

Make it from Scratch!
How to Make the Best Mashed Potatoes
Everything from the type of potato you use, how you boil the potatoes, and even to how you mash them up is important. Be sure to check out my mashed potato recipe for all the info!
Vegetable Variations:
Frozen peas, carrots, corn, and green beans make excellent vegetable options in this casserole!
Make-Ahead Method:
Prep Work:
When Ready to Bake:
Heat up the potatoes. (On stove top or in the microwave)
Top with frozen corn, cheese, and chicken.
Bake for 15 minutes.
Reheat the gravy in the microwave or stove top.
Drizzle the gravy over the casserole and serve!
Storing Leftovers
Leftovers can be stored in an airtight container in the fridge and are best if used within 3 days.
You can reheat in the microwave or in an oven at 350°.
You can also freeze leftovers in an airtight container, it's best if used within 3 months.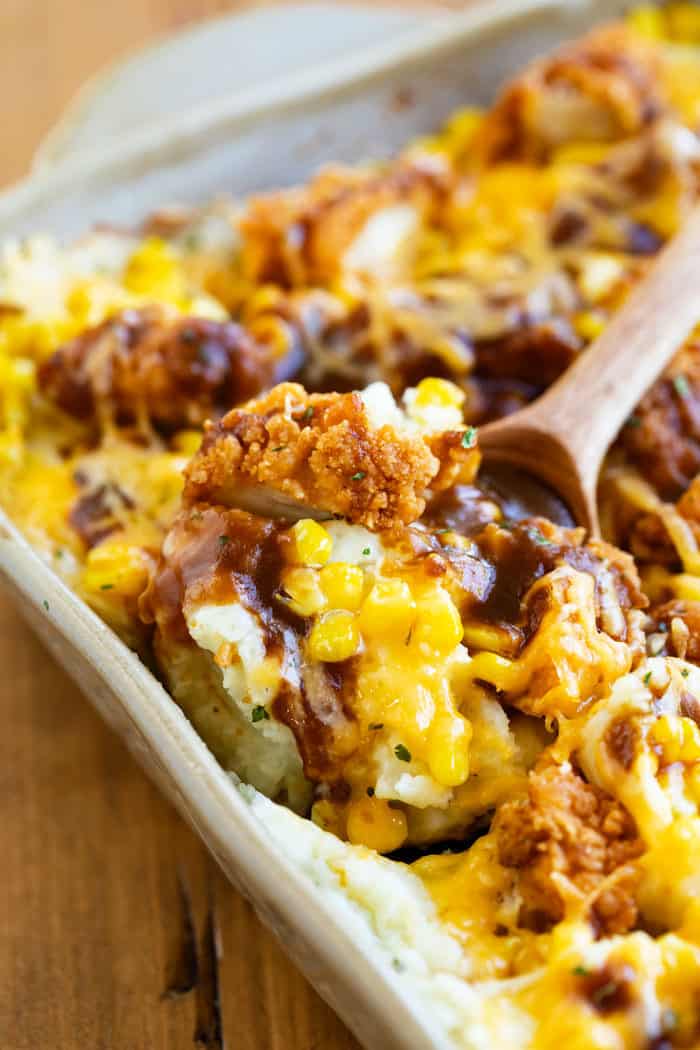 Try These Next!
Get My Free Meal Plan
I've got a Free Meal Plan with 7 of my super popular recipes (complete with grocery list)! Sign up for my email list and I'll send it over now along with weekly dinner recipes!
And follow me on Facebook, Instagram, and Pinterest!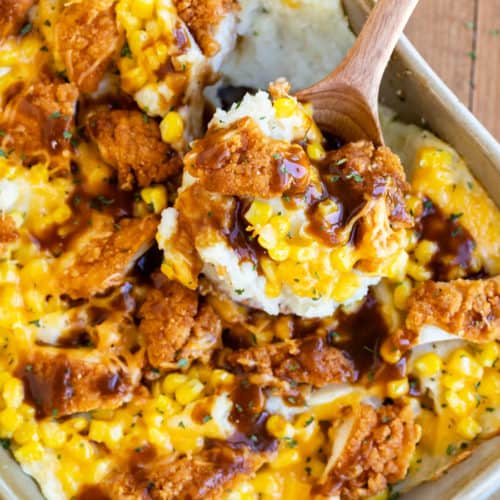 Mashed Potato Casserole with Crispy Chicken
This mouth-watering mashed potato casserole is topped with Corn, Cheddar Cheese, Tyson® Chicken Strips, and a drizzle of brown gravy! It's easy to make ahead of time and bake later for a quick family dinner!
Ingredients
For Casserole:
5-6 cups mashed potatoes, my homemade version is portioned for this recipe
1 cup corn
1 cup cheddar cheese, freshly grated
8 Chicken Tenders, I prefer my homemade recipe but frozen may be used
Brown Gravy, you can also use a packet
Instructions
Preheat the oven to 400 degrees Fahrenheit.

If using frozen chicken tenders, let them sit at room temp for about 5 minutes if you prefer to slice them first, this allows them to soften.

Spread the potatoes on the bottom of a 9 x 13 casserole dish.

Note: If your mashed potatoes are cold, warm them first.

Top with corn and cheese.

Carefully slice the chicken strips into pieces of desired size and top the casserole dish with them.

Bake uncovered for 20 minutes if using frozen chicken tenders and 15 minutes for homemade.

Prepare the gravy on the stove top while the casserole finishes baking.

Drizzle desired amount of gravy over the casserole dish and serve!
Nutrition
Calories: 757kcal, Carbohydrates: 111g, Protein: 34g, Fat: 21g, Saturated Fat: 11g, Cholesterol: 104mg, Sodium: 2418mg, Potassium: 1774mg, Fiber: 7g, Sugar: 11g, Vitamin A: 345IU, Vitamin C: 55.6mg, Calcium: 222mg, Iron: 2.9mg